July 3/16 14:48 pm - Schurter & Rissveds Take Final Titles of MTB Worlds

Posted by Editoress on 07/3/16

The 2016 Mountain Bike World Championships concluded on Sunday in Nove Mesto, Czech Republic, with Nino Schurter (Switzerland) successfully defending his Elite Men's title, and joining Julien Absalon (France) as the only riders with five Elite XC titles. Earlier in the day, Jenny Rissveds brought Sweden their second title of the Championships in the Under-23 Women's race.
For Canada, Catherine Fleury was the top Canadian U23 woman, in 22nd place, while Leandre Bouchard was the top Elite man in 20th.

Over 23,000 fans came out to watch the men's race bring the Championships to a conclusion, and they saw some exciting racing over the course of the week.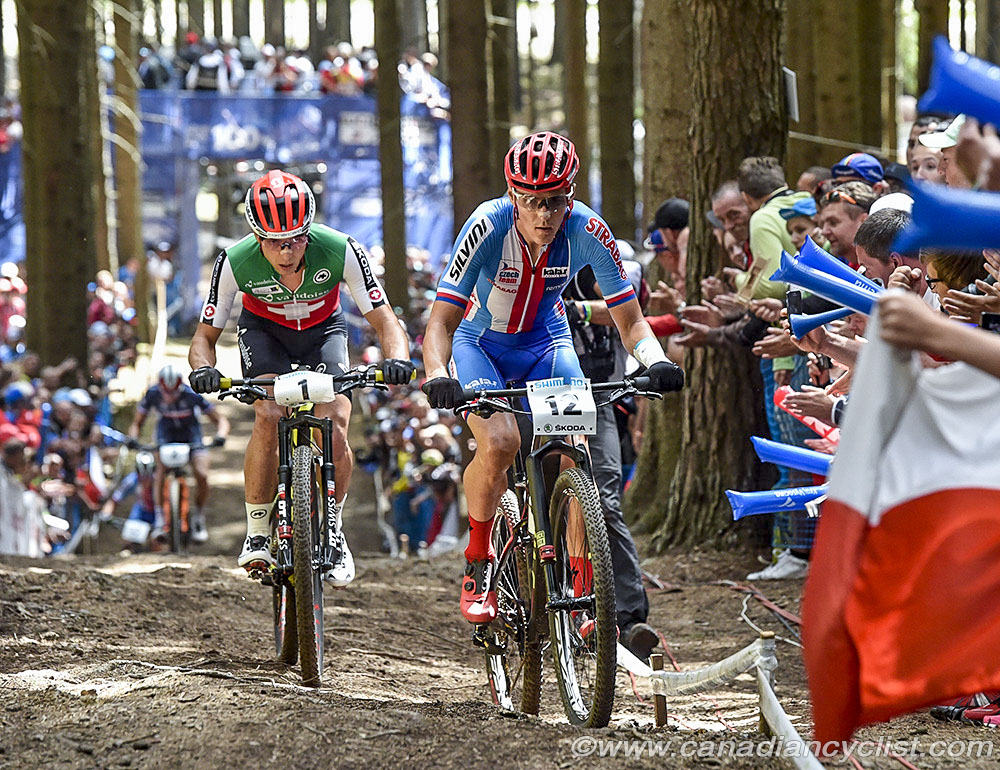 Jaroslav Kulhavy leads Nino Schurter
Kulhavy was very aggressive from the start of the race, opening a gap with Schurter and fellow Czech rider Ondrej Cink by the end of the start lap. Absalon, starting a little slower, gradually bridged up to the leaders, joining them on the third lap of the six lap race. Schurter decided a lap later that it was time turn up the heat and launched an attack on one of the steep climbs. Absalon and Kulhavy tried to follow, shedding Cink, but couldn't make the connection.

The two chasers stayed together until the last lap, when Kulhavy was able to get away on a climb, coming into the finish 17 seconds behind Schurter, with Absalon at 30 seconds.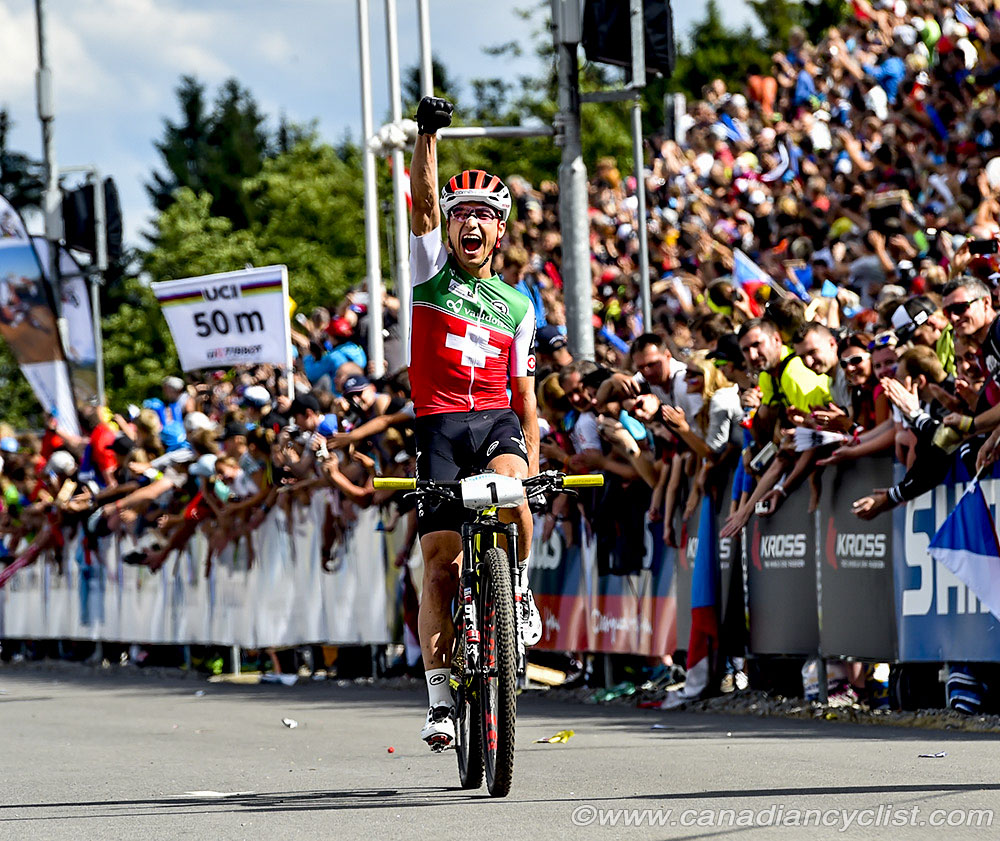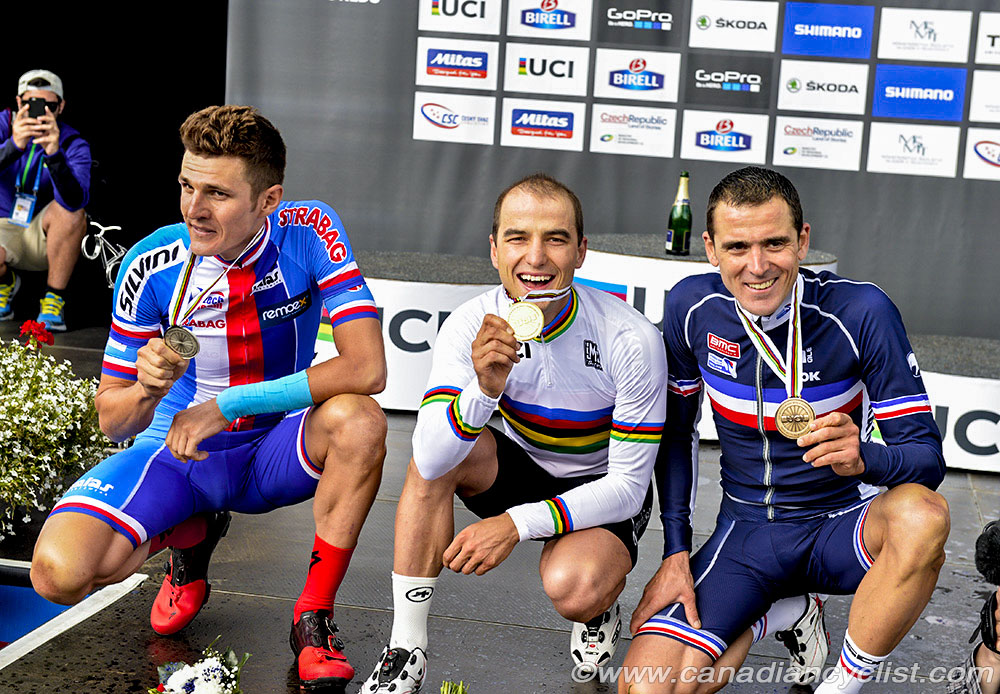 "I'm super happy about this race, it was a nice win," said Schurter. "It was a nearly perfect race for me. Jaroslov went fast out from the start and I was able to go with him and draft quite nicely behind him. When Absalon joined us I thought well now it's better to attack and see if the others could respond. It is amazing, the crowd go wild when he [Kulhavy] comes by. That's really great atmosphere here. It is always nice to battle with Absalon, and the best feeling is to beat those two. I am really happy about this win."

"It was a very nice race, but Nino was super strong today and I had not such good legs," commented Kulhavy. "I didn't catch my tempo and it was a pretty hard race for me. I did good with beating Absalon, it was a perfect world championship in Czech Republic, and I'm very satisfied. The spectators are so amazing and it was the best championship ever in mountain biking. The atmosphere is crazy."

Schurter now joins Absalon with five Elite titles, and each of them hold a total of eight individual titles, including Junior and Under-23 wins. However, as Schurter pointed out, "there is still the matter of the two Olympic gold medals that Julien has, so I have some catching up to do."

Bouchard, who started well back in the men's 104 rider field, moved into the top-30 on the start lap and then steadily took a few more spots each lap. Nino Schurter of Switzerland successfully defended his title, finishing five minutes and four seconds in front of Bouchard. Other Canadian results include Derek Zandstra in 33rd, Andrew L'Esperance in 53rd, Raphael Gagne in 54th and Geoff Kabush in 68th. Evan McNeely did not finish.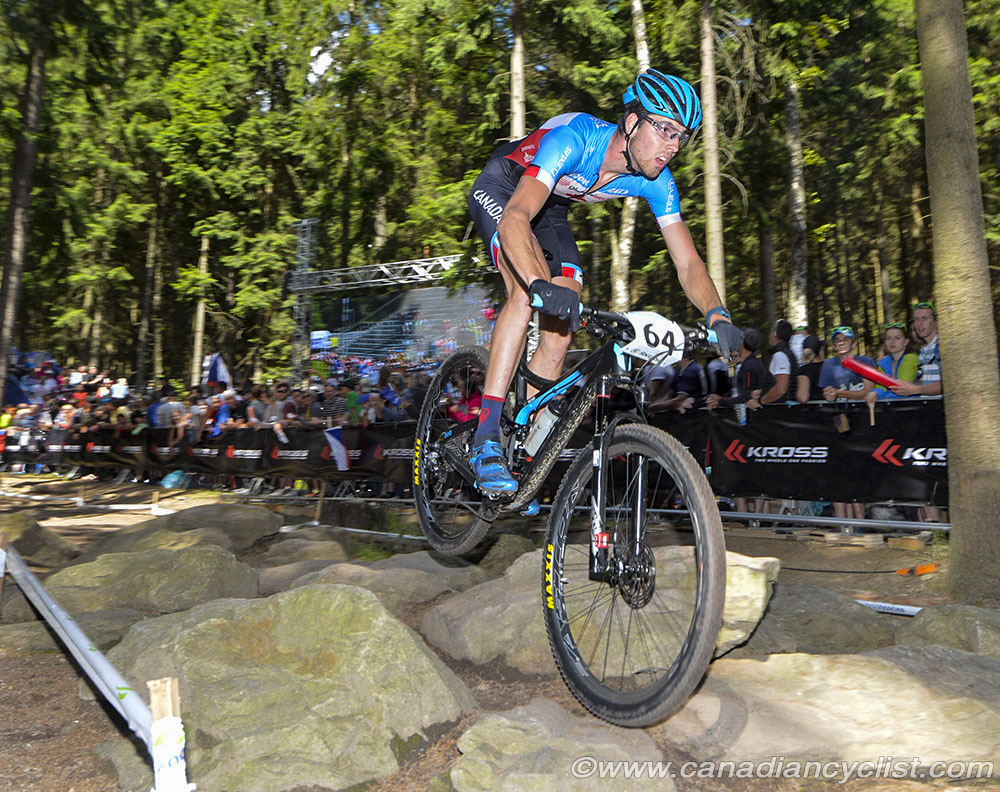 Leandre Bouchard
"It's been my best year so far," said Bouchard. "I was a little bit back at the start because of my plate number [64], but I am normally a good starter, so with the long start loop I knew that I could move up. It feels awesome to be in the top 20. The crowd here is so noisy it just makes you push and push. I'm really happy with this race."





Leandre Bouchard (French)


In the U23 women's race, a group of four riders formed at the front of the race on the start lap, with Evie Richards of Great Britain joining Rissveds, and Swiss riders Sina Frei and Alessandra Keller. Rissveds delayed her attack until the second lap of the 19 kilometre race, mindful of how Frei had countered her attack at the European Championships to win that title.

On the second lap Rissveds dropped the other riders to solo in for the title. Keller held the silver medal position until the final lap, when Frei surged by her team mate to finish 1:04 behind Rissveds. Keller finished a further 18 seconds back.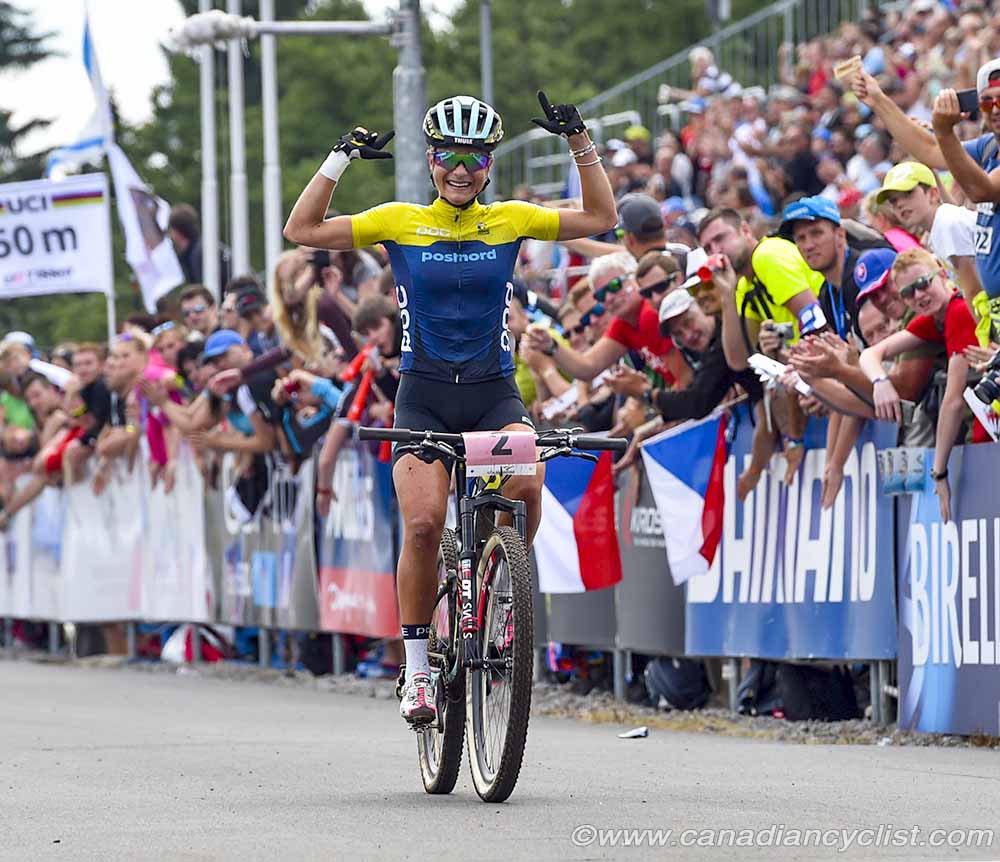 Jenny Rissveds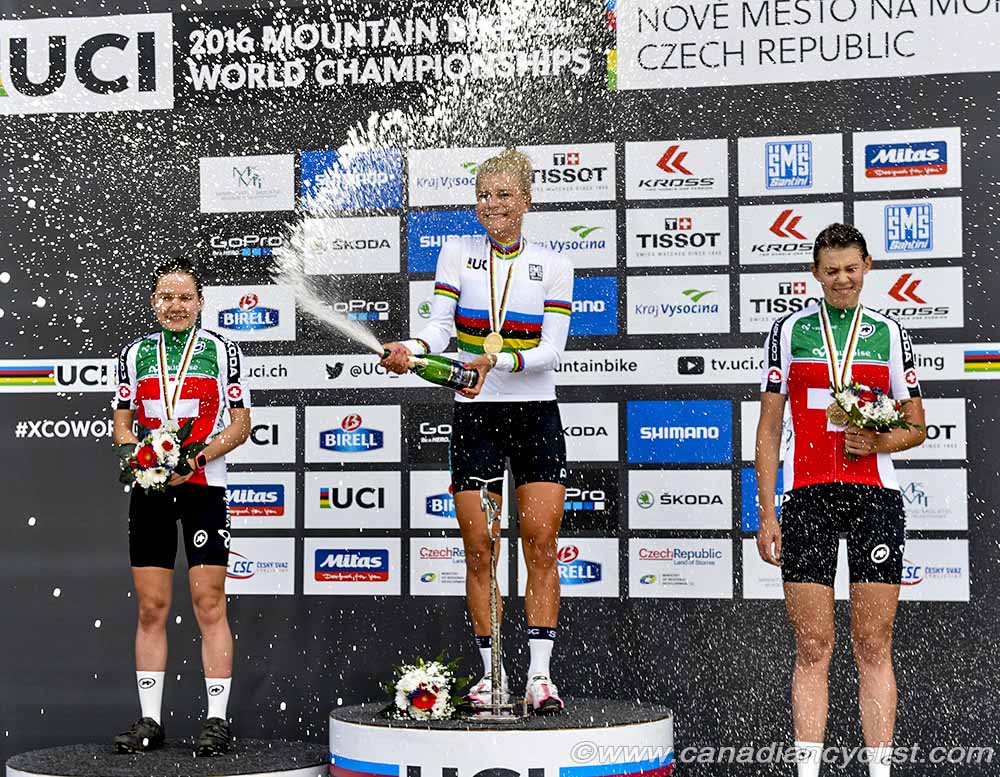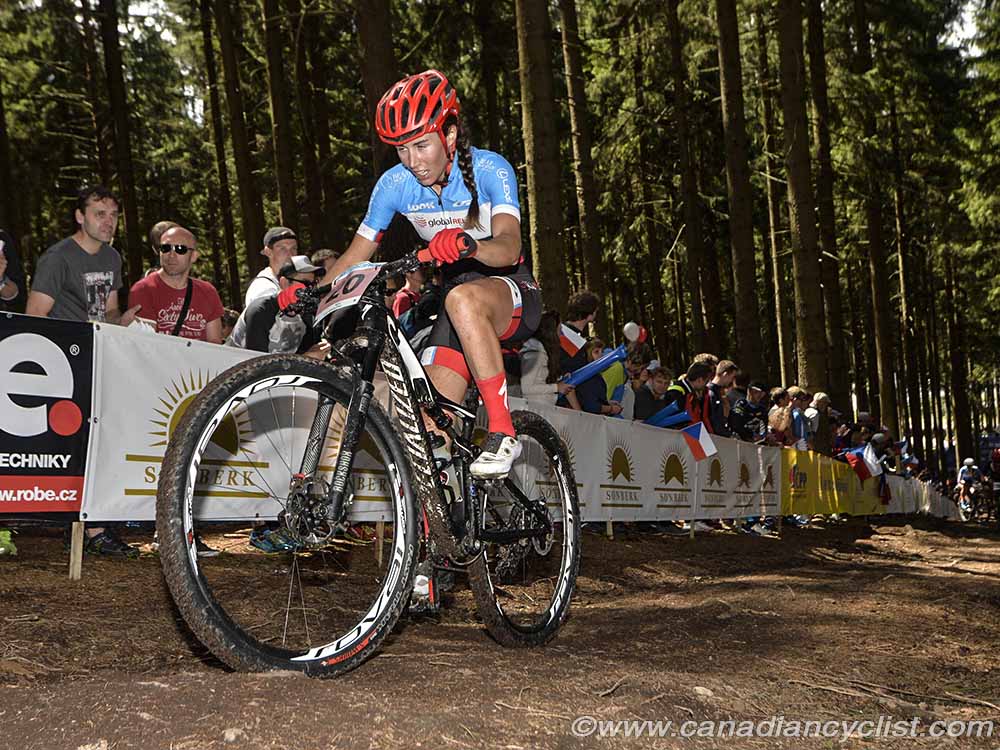 Catherine Fleury
"The course here is like Sweden with the rocks and the roots, so I like it very much and I think it is good for me," commented Rissveds. "Sina surprised me in the Europeans, when she was so strong and I could not go with her. So, this time I was more cautious and rode with the others for a while to study and see where I was strong and they were strong, before I made my attack."

Fleury, who is racing for the first time after injuring her ankle in a crash at a German World Cup event in May, rode consistently around 20th all race, dropping a couple of spots in the last lap. Other Canadian results include Frederique Trudel in 25th, and Soren Meeuwisse in 30th.

"I haven't raced since Albstadt [World Cup], and with my ankle it was hard to run on some of the steep climbs. I gave everything that I had for today. I'm a little bit disappointed about my result and how I felt out there, but days like this happen, and for me it was today."






Results
Fatal error
: Uncaught Error: Object of class PDO could not be converted to string in /home/canadiancyclistcom/canadiancyclist.com/public/modules/news.php:528 Stack trace: #0 /home/canadiancyclistcom/canadiancyclist.com/public/modules/news.php(517): getrelatedgallery() #1 /home/canadiancyclistcom/canadiancyclist.com/public/dailynews.php(58): getDailyNewsArticle() #2 {main} thrown in
/home/canadiancyclistcom/canadiancyclist.com/public/modules/news.php
on line
528