February 21/18 12:56 pm - NextGen Women's Coach Jenny Trew - Filling in the Gaps

Posted by Editoress on 02/21/18

Jenny Trew is one of three coaches to join the national track team in the past six months, and has taken on the role of NextGen Endurance Women coach. The endurance women's program is the most developed and successful of Canada's track programs, and has already started to see turnover in riders from the development stream to the Olympic pool. Trew rode with the national team and a number of professional squads, including winning a stage of the Tour of PEI in 2009.

"I was a racer for a number of years, retiring in 2011. With the help of Denise Kelly transitioned into coaching. At that point I started working with Vince [Caceres] out of The Cyclery [Ottawa store] and took over their team program there and decided to build it as a program to help move riders from provincial to national level / national team / professional level. The program had the purpose of teaching and coaching them, and giving them skills, as opposed to just having a race calendar."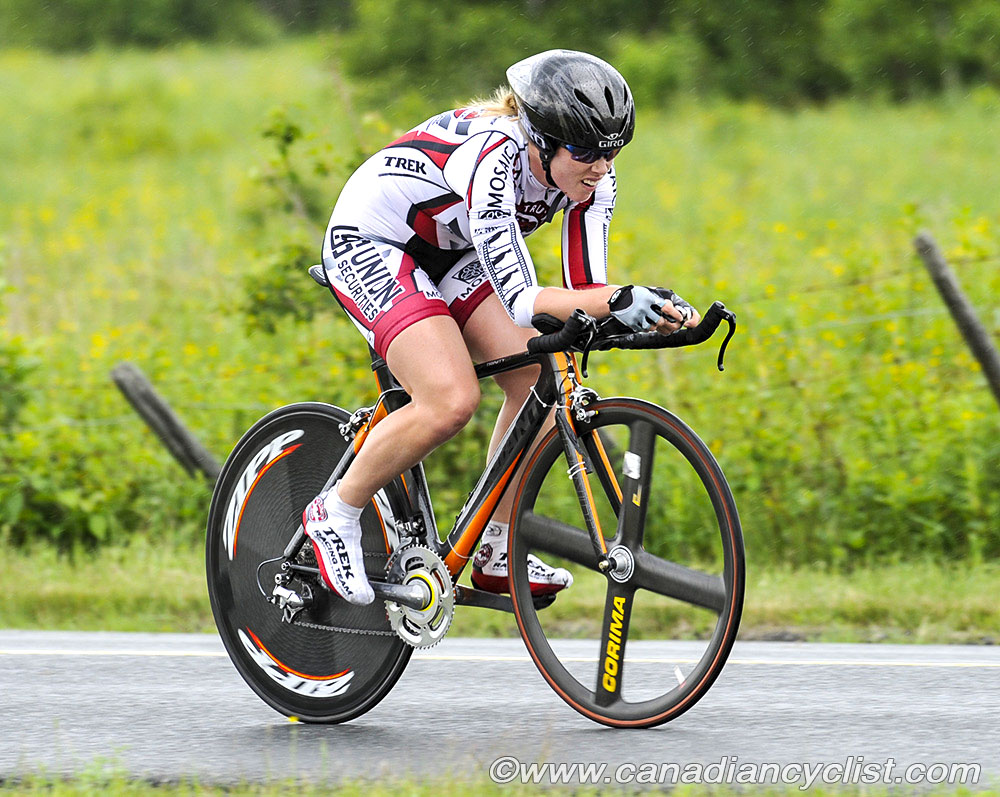 2009 Road Nationals ITT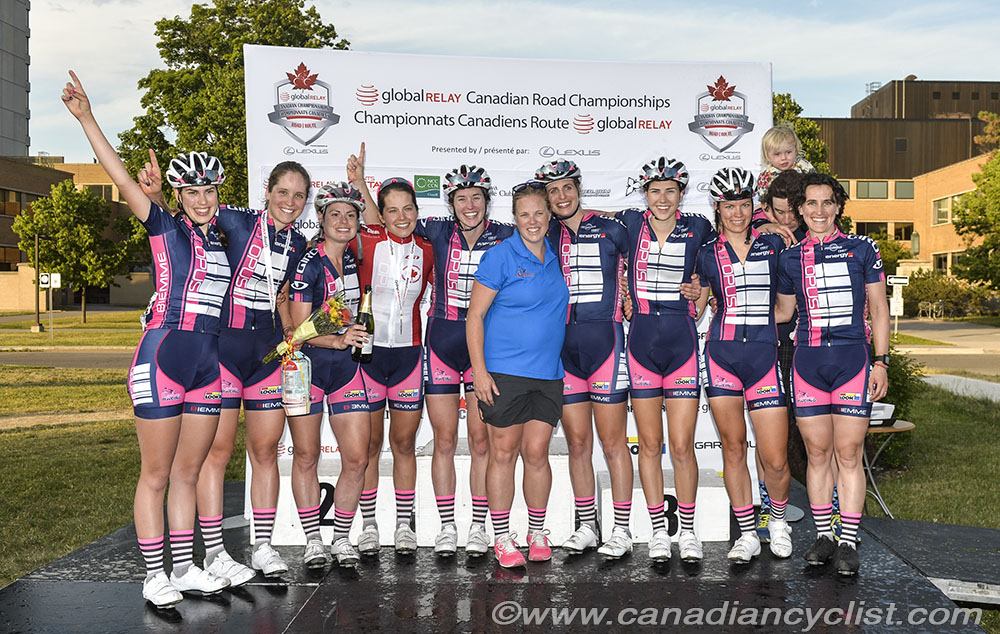 2016 Road Nationals with The Cyclery-Opus team - (Jenny in center in blue)
"It was through this that I realized how much passion I have for coaching, and how much I love it. I was never too far away from track cycling and did some stuff with Ontario cycling, so when this job was posted in the Spring, I couldn't not apply."

As the oldest and most developed track program, the women's endurance program is the one most in need of a system to bring in fresh athletes as some riders retire. and Trew admits the demands are considerable.

"I'm coming in at a really exciting time, because it has really started to pick up speed. In the first couple of years, Cameron Jennings [former NextGen coach] was laying the groundwork for it and I've been lucky to have a really good cohort come through the Junior ranks this year; Erin Attwell, Laurie Jussaume, Maggie Coles-Lyster and Devaney Collier from the year before. So I've got a really solid group; I think part of that is because you are starting to see the years and years of success of the Elite program bringing our top talent onto the track. So that's been really exciting."

"But, we are still talking about relatively young athletes, so a lot of of what I've been doing since I've come in is trying to see where the athletes are at and filling in the developmental gaps that everybody is obviously going to have. So, we are getting them prepped so they have the skills and the physical and mental abilities to work within the Elite program with Craig [Griffin, Elite women's track endurance coach]."

The NextGen program has already started to see athletes move up to the Elite team, as well as representing Canada last month at the World Cup, so how do the two squads coordinate their programs?

"Hopefully we have a certain amount of continuity between the programs, and Craig has definitely helped me guide where the girls need to go, because I need to know what the Elite program is doing, to understand what holes need to be filled. It's been really neat to watch Ariane [Bonhomme] and Kinley [Gibson] step up, and see how seamlessly they are fitting in, it's really exciting to see the whole evolution of the system starting to turn out athletes. Ideally, it's one long line, but there's always work to be done. Hopefully, it's not a two-way process, but more of a pushing forward."

The men's endurance program has established a UCI road squad, which spends time racing in Europe - does Trew envision a similar system for the women?

"I think the women can, for the most part, get all the racing they need in North America; as long as we don't keep losing teams and races! That having been said, we are aligning quite closely with The Cyclery team, which is a pretty natural transition, since last year it had Ariane and Kinley and Sarah Giovanetti all within that team already, so it's a pretty easy transition. So we've been working to keep that team there, it's been pretty valuable within Canadian cycling, and we'll have a number of riders there so we can make sure that they are getting the optimal amount of road racing. So, similar to the guys, but a bit different. We won't be doing any European projects at this point, they are all new enough that I don't feel it is necessary to go to Europe to get the racing they need."

The Elite program will move into a heavy focus on Olympic qualification after these world championships; what about the NextGen program?

"We're not structured in the same Quad plan as the Olympic Performance Pool. So the big thing for us is to keep pushing athletes and filling those gaps, and hopefully those athletes can take the step forward and integrate into the Elite program. For me, right now I see a lot of the gaps as being technical, so we are spending a lot of time on the track and we are already starting to see big improvements from the girls. Also, just due to our climate, it's hard to get the aerobic base that is needed to match with the Elite program."

"Our Elite program is one of the best in the world, with some of the best athletes in the world, so it takes a lot of endurance. We are really good in Canada at getting athletes up to a certain level without a large amount of aerobic base, and so we are trying to backfill that a bit, so they can handle the workload to succeed at the world level."

And what about bringing in new riders, as others graduate to the Elite program?

"I think we are starting to see it. The primary intake is Junior Worlds; one of the benefits of having Craig go to Junior Worlds is that he was able to see what the rest of the world is doing and where we rank, and also spend some time with the athletes. We have some really promising young riders coming up. So, the Junior Worlds pool is definitely one place that we are looking pretty heavily."

"But I truly believe that in women's cycling we need to be porous, and we need to be open to female athletes that come in later or from a different sport. I've always tried to keep an open mind, and see who's out there. If we had been looking at just a Junior pool, then Annie Foreman-Mackey wouldn't have fit, and that doesn't make any sense. We can't lose those athletes either."