October 18/20 12:03 pm - Finn Iles 4th at DH World Cup #2

Posted by Editoress on 10/18/20

Canadian champion Finn Iles (Specialized Gravity) finished fourth in Elite men on Sunday at the second round of the Downhill World Cup, in Maribor, Slovenia, less than one second out of first place behind Loris Vergier (Santa Cruz). Mark Wallace (Canyon Collective) was 17th in Elite men and Seth Sherlock (Intense Factory) was 21st in Junior men.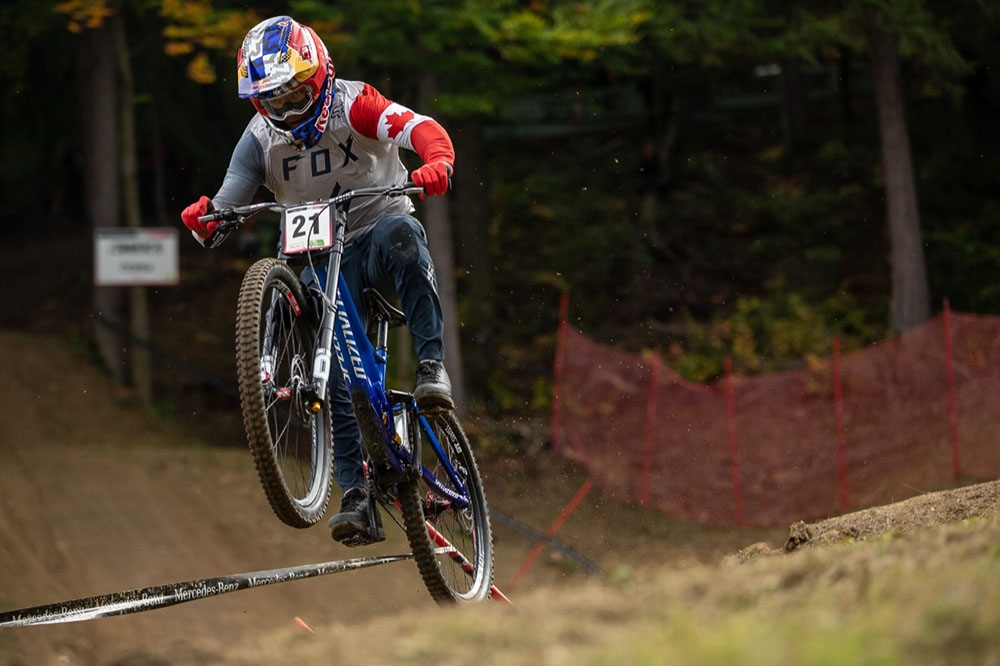 Finn Iles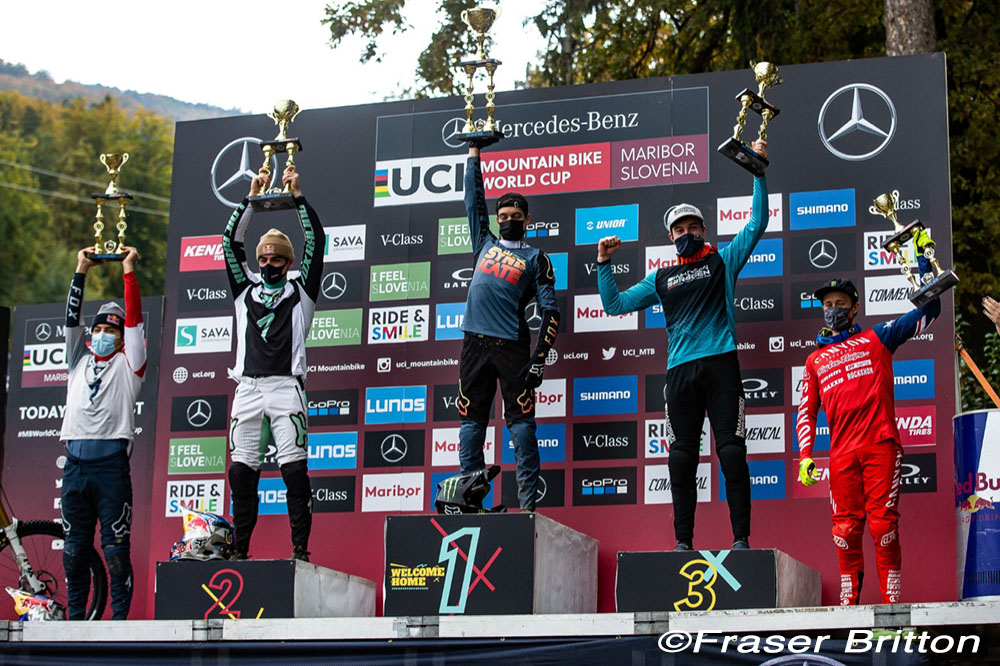 L to r: Finn Iles, Loic Brun, Loris Vergier, Matt Walker, Troy Brosnan
Held on a slightly modified version of the course used for Round 1 on Friday, the conditions were very different, with sun on lower sections and the track mostly dry after the slippery mudfest riders faced in the previous race.

However, the change in conditions did not affect the outcome for the winners in three of four categories, with Oisin O'Callaghan (The YT Mob) repeating as Junior men's winner, Leona Pierrini (France) doing the same in Junior women and Vergier repeating in Elite men. Only the Elite women had a new winner, with Nina Hoffman (Nina Hoffman Racing - STIF) beating the first round winner, Marine Cabirou (Scott Downhill Factory), by nearly two seconds. Eleonora Farina (MS Mondraker) took third.

In the men's race, Greg Minnaar (Santa Cruz Syndicate) was the first to go under 3:10, and was subsequently knocked off the top step by Angel Alonso (The YT Mob), who was in turn replaced by Aaron Gwin (Intense Factory). Iles, starting seventh from last, then took the Hot Seat, before Matt Walker (Madison Saracen) bumped him, with Vergier immediately replacing Walker, putting Iles in third with three riders to go. Troy Brosnan (Canyon Collective) slotted in behind Iles, and Thibaut Daprela (Commencal - MUC-Off) could only manage tenth, leaving just defending World Cup overall champion Loic Bruni (Specialized Gravity) to ride. Bruni flipped between first and second through the splits, before finishing an infinitesimal 57-thousandths of a second behind close friend Vergier.

"It was crazy," said Vergier. "My race didn't feel as good as two days ago - I had some mistakes and felt too cautious in some spots. I was really tired, but I think everyone is the same. I really didn't expect this, but I was solid again. It was super tight, but, f--k, best day! You cannot imagine what it was like [the tight battle with Bruni]; we grew up together and I've always been like his little brother. He's always been faster than me and I always looked up to him and what he does, but now I feel like I'm battling with him."

"It was difficult with two races; we had two Qualies and you had to save a little bit of energy. So, we are all tired ... it's been two weeks of racing [including world championships the week before]. Mentally, I was ready to fight again, but on the track I didn't show it; I was more cautious. But it paid off, so I'm really happy."
Maribor DH World Cup #2: Final results
Maribor DH World Cup #2: Qualifying results