August 26/21 10:14 am - France Takes Junior Titles, Canadians Finish Top-20

Posted by Editoress on 08/26/21

France continues to dominate these world championships, following up yesterday's Team Relay victory with wins in both the Junior women's and men's races. Canadian riders had top-20 results in both races by first-time Worlds participants, with Nicole Bradbury finishing 16th in the women and Cole Punchard 19th in the men.

The rain that was forecast earlier in the week never materialized, with riders facing hot and dusty conditions - already, after two days, the cross-country circuit is getting rutted and blown out in sections.

The women's race saw Tatiana Tournut, a member of the winning Team Relay squad, take an early lead, but by the halfway mark her team mates Line Burquier (also on the Team Relay squad) and Olivia Onesti had moved up to the leaders. Burquier, sporting the Number 1 plate, rode clear of the others on the last lap to solo in for her second rainbow jersey in two days. Italy's Sara Cortinovis battled Onesti for silver, but the French rider outsprinted her at the finish line.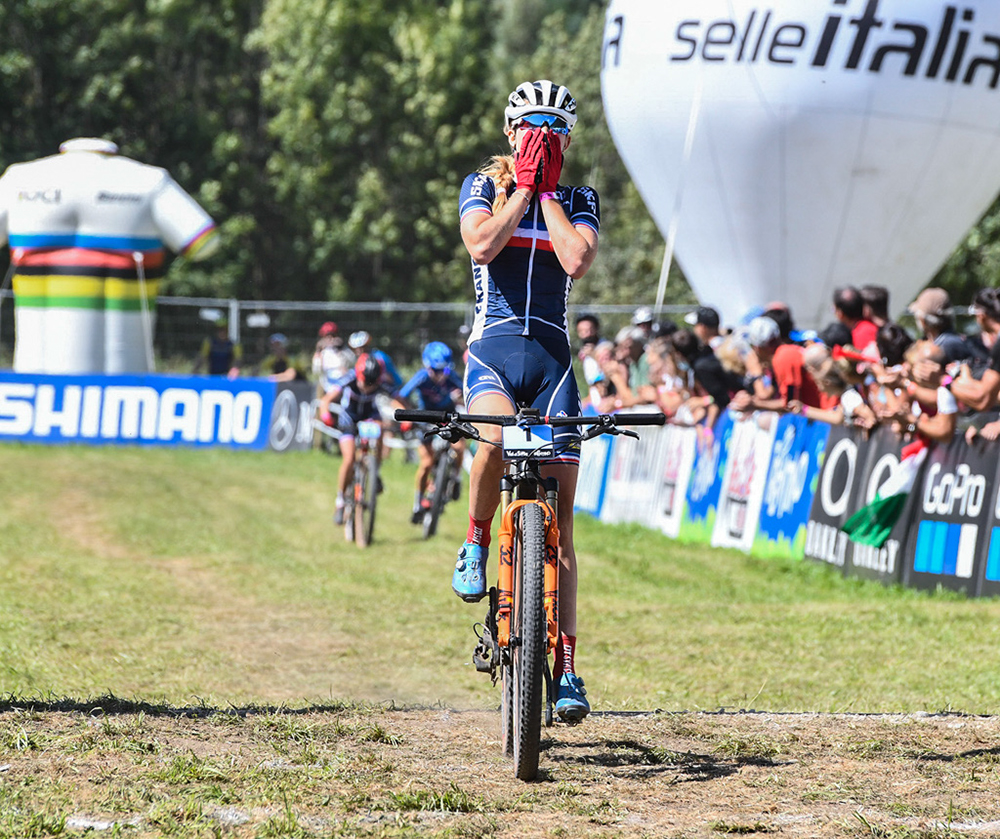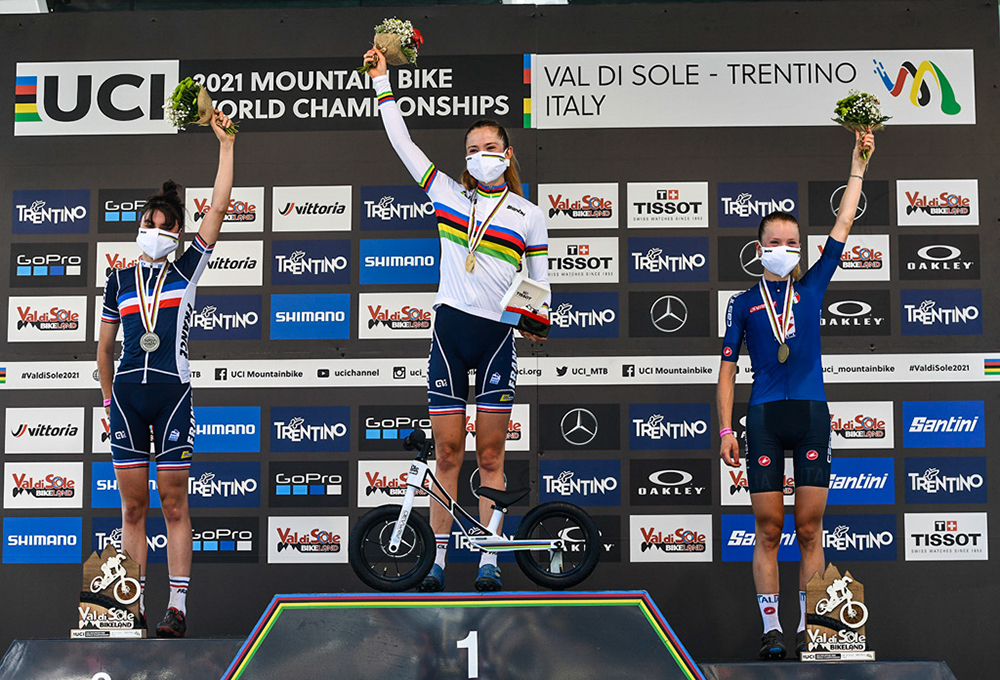 Bradbury rode into the top-15 for the first half of the race before getting passed by a late charging Swedish rider to bump her down to 16th. In other Canadian results, Marie Fay St-Onge moved up steadily to finish 21st, Ella Meyers was 29th and Mara Roldan was pulled with two laps to go.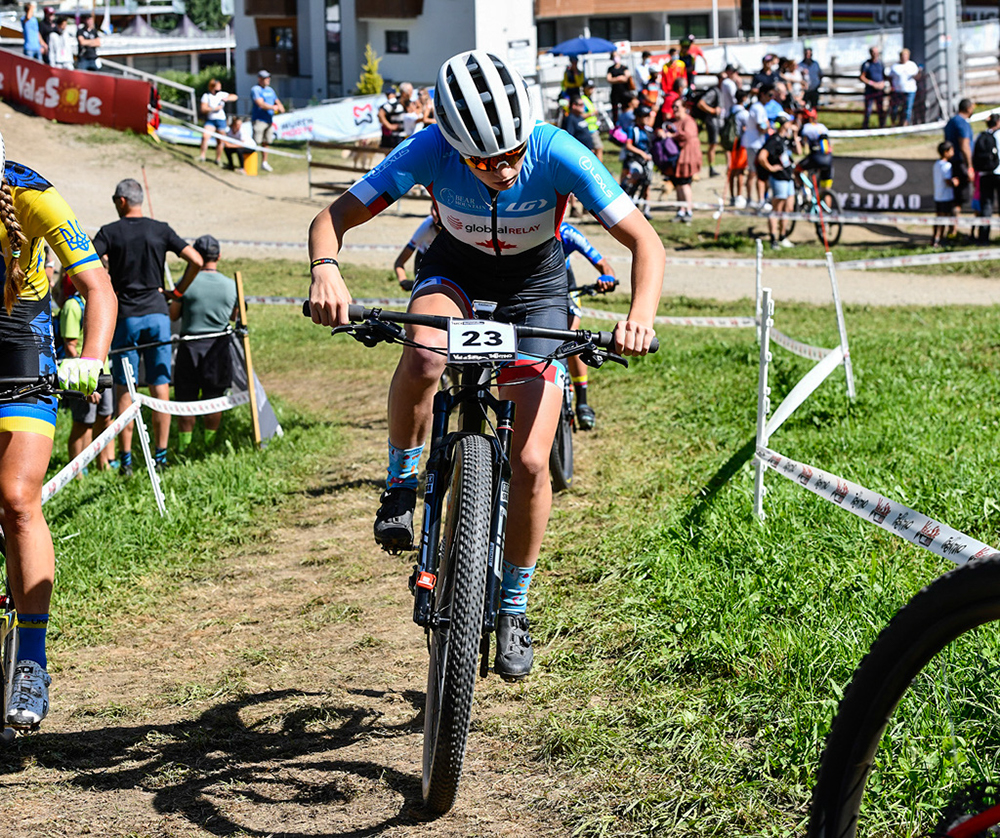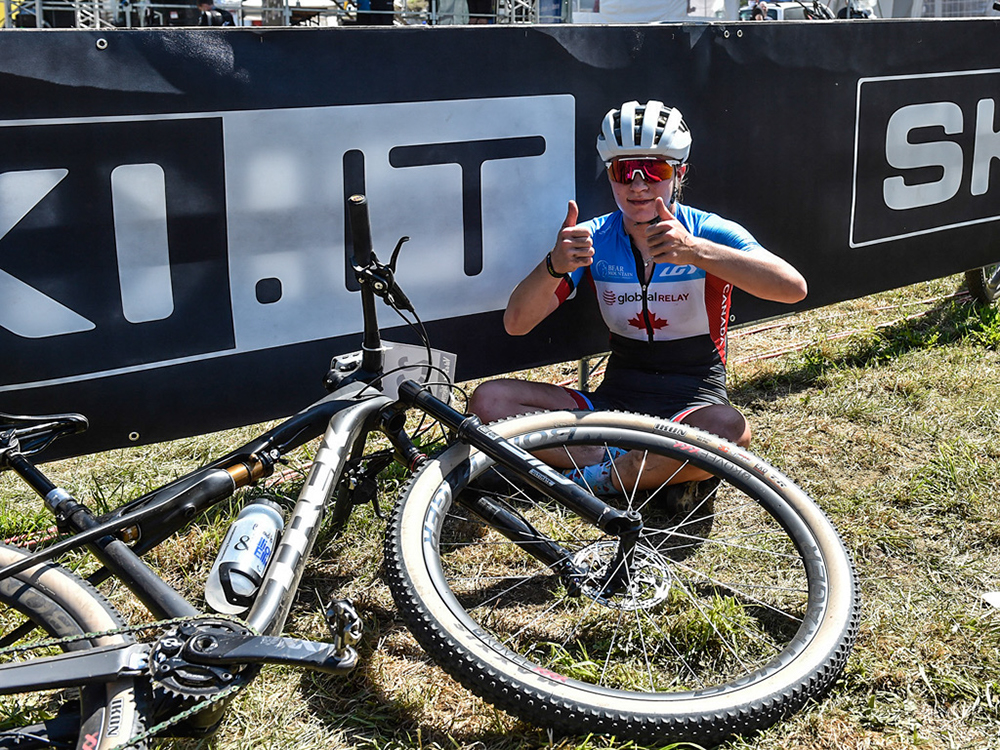 "I was hoping for a little better," admitted Bradbury. "I got cutoff at the start, which was expected, so I was a little disappointed in that. And the climbs killed me today. But I'm happy with 16th, I'm very happy."

Bradbury made what appeared to be a very daring pass on the rock garden descent, "I almost crashed! It was half a crash, I landed on my frame and I thought I was going over [the bars]. I just noticed on the climbs she [another rider] was killing me and on the descents I was on the brakes the whole time, so I thought I'd better pass her before or on the descent. I tried and it worked, but barely. It worked, but it was terrifying."

This is Bradbury's first Worlds and she admitted, "it's very hard. It was fun and I like the venue. Being in a big race is really cool. I did a Swiss Cup last weekend and it was my biggest race until this. I definitely want to come back, but it was really, really, really hard."

The men's race saw top ranked Adrien Boichis - also a member of the winning Team Relay squad - take the lead after the start loop and steadily ride away from the rest of the field to add another rainbow jersey to his collection. Boichis won by over a minute and appeared to be in no difficulty all race. Behind, it became a two-way battle for silver in the second half of the race between Camilo Andres Gomez of Colombia and Nils Aebersold of Switzerland. Gomez pulled away on the final lap to beat Aebersold by eight seconds. The last Colombian to win a medal in cross-country was Egan Bernal, as a Junior, in 2006.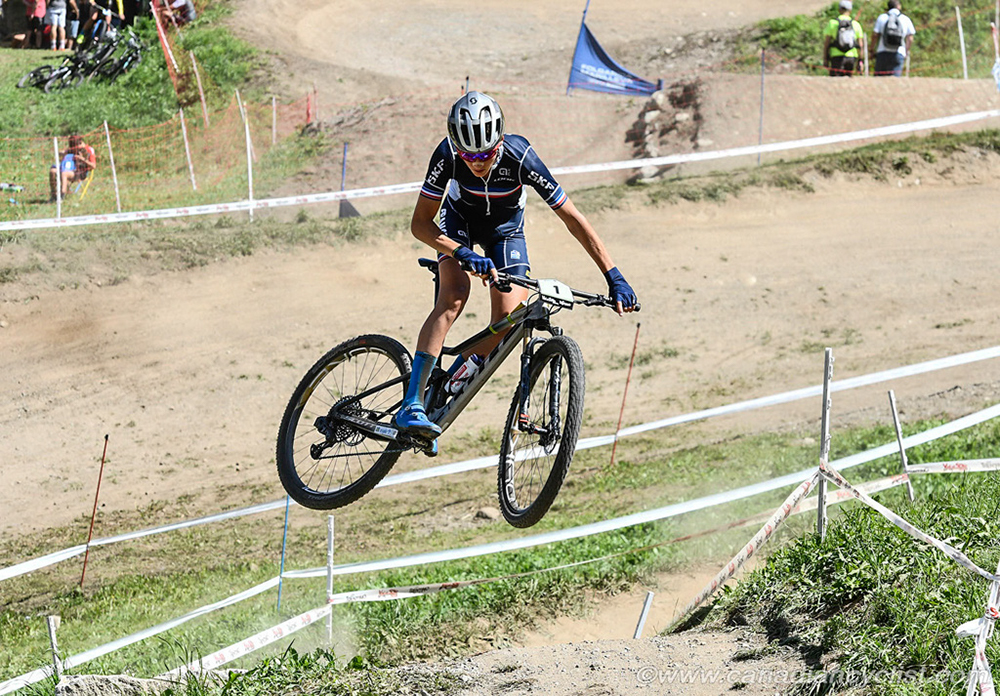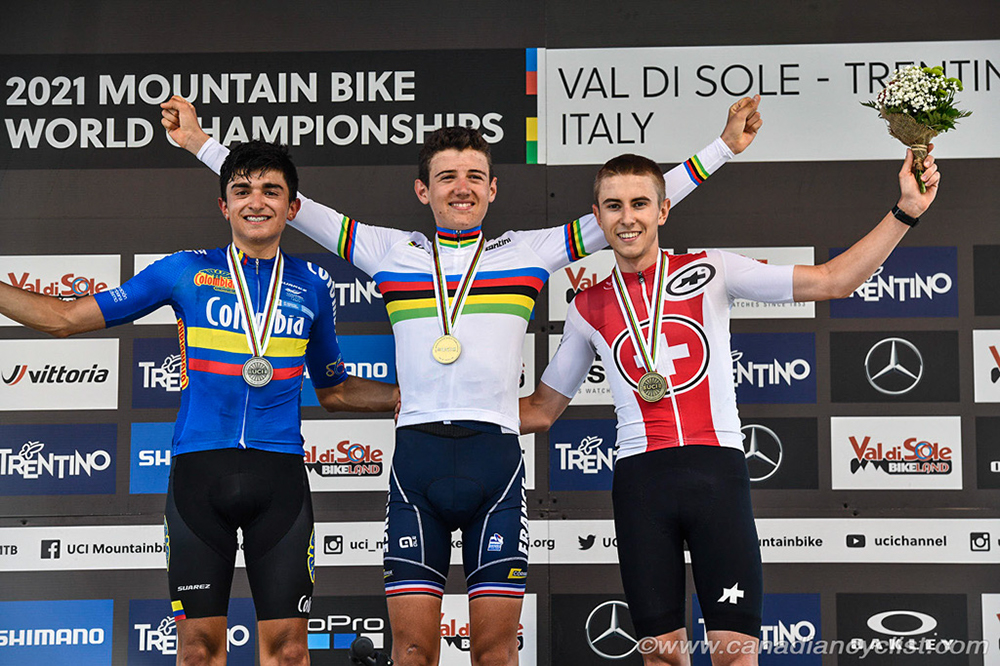 Cole Punchard had a strong start to his race, after lining up on the front line. At the end of the first lap (plus start loop), he was sitting eighth, but started to fade; dropping to tenth a lap later, then 15th in the third lap, but managing to hold on to a top-20 result. Other Canadian results were: Owen Clark in 35th, Zorak Paille in 53rd and Lief Rodgers in 59th.

"It was pretty good; I had a front row start and was top five in the start loop," said Punchard. "But I just went out a little bit too hard and paid the price in the second half. I just tried to hang on for the rest of the race. I was looking for maybe a top-10 at the best, but the legs weren't feeling that great today, so I'm glad to come away with a 19th."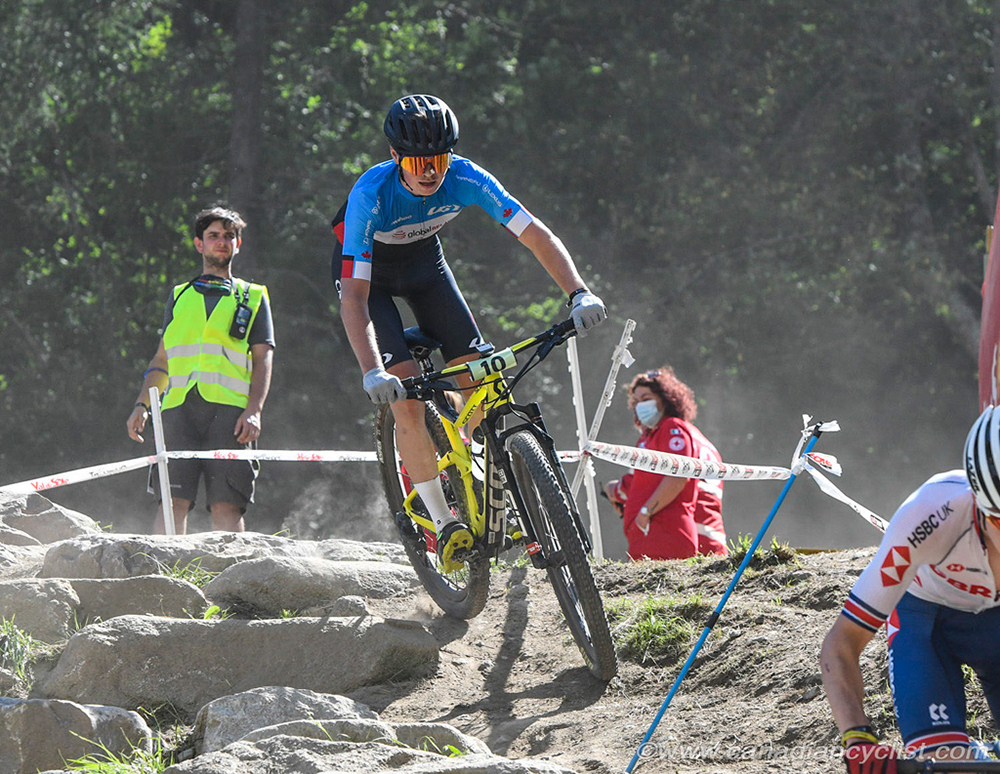 Punchard is also attending his first Worlds, and it was an eye-opener: "I've done a lot of training over these past two years and when you come to the Worlds it really shows you how fast the top guys are. Definitely there's some room to improve for next year. I'm going to get right back into the training and I'm going hard for next year."
MTB World Championships: Junior Women and Men XC results