Roces Canada Ltd., located in Barrie, Ontario was recently appointed the exclusive Canadian distributor for Northwave Cycling products.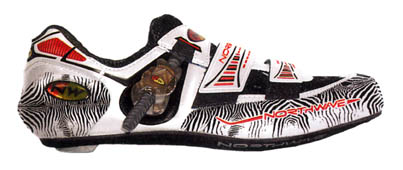 The new Genetix road shoe is now in stock and available in the "Zebra" cosmetic, designed for Mario Cipollini, as well as a more conventional look.
This latest model from Northwave works with any pedal system without the need for an interface. The 6.8mm sole is over a millimeter thinner than any competitors sole and is achieved by using a super-strong titanium stiffener plate, coupled with a titanium cleat carrier. The material around the plates is Du Pont Zytel nylon, reinforced with carbon and fiberglass.
The upper is made of Lorica and the most breathable mesh found in any cycling shoe. The insole is cork, providing comfort, coolness and vibration absorption.
The foot is secured with two Velcro straps and the new Microtech closure system that is linked to the "X" frame that surrounds the shoe and ensures an even closure around the entire foot.
The suggested retail price is $349.
To check out the full range of road, mountain and freeride shoes, plus the clothing program, log on to: www.northwave.com
To find your nearest dealer, call 1-800-461-6420 or e-mail at: roces@rocescanada.com