Last week, Svein Tuft ended his professional career with the WorldTour races in Quebec and Montreal. Tuft has been one of Canada's decorated and well respected men's road professionals over the past two decades, with 13 national titles on the road (11 time trial), an individual silver medal at the world championships (and multiple team ones), seventh at the Olympics, plus TTT (team time trial) stage wins at both the Tour and the Giro, and a day in Pink at the Giro.

Canadian Cyclist: What was it like doing your last race?

Svein Tuft: It was such a strange feeling, you know. It really only started sinking in the week before Quebec and Montreal that this was going to be it, for real. Up to that point, I was just doing my thing, as normal, and then I just realized that 'this is going to be the last time'. The last time you are training for that kind of thing and the last time you are actually racing; lining up on the start line. It was just all kinds of emotions, but probably the hardest was that I got sick travelling that week, so I was feeling pretty buggered, and I was just trying to hang on to some kind of decent feeling for the races.

I was just trying to stay positive and have some kind of good race. But those races aren't easy ... so it was what it was, but it couldn't have been better places to stop racing. It was very cool to finish in Montreal on a pretty nice day and a super brutal course; it was a good reminder of what professional racing is all about. So, it was a good decision for me.

CC: A year ago in the Spring, you and I did an interview in Israel before the start of the Giro http://canadiancyclist.com/dailynews.php?id=33742 , which was supposed to be your last year. But then at the end of last year you announced you would do another year with Rally UHC, and work with the younger riders. How did this year go?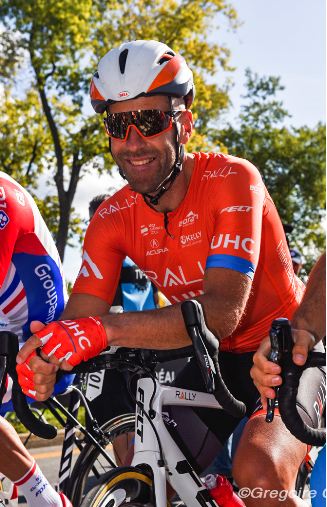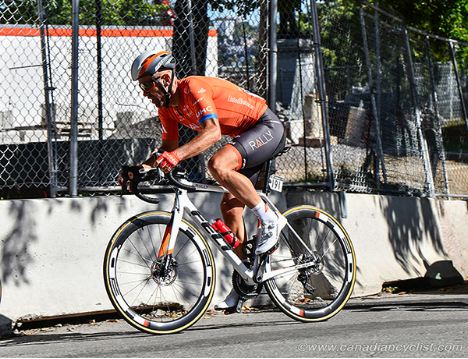 ST: It was a good experience for me. I had a preconceived idea of what it would look like and, as you know in life, it's always different than what you think. It was a really great experience, and I hope that I made a good impression on the guys and was able to help them out.

When you show up at camp, you are just another one of the guys and they are looking at you like, 'what's this guy's deal'? So I really tried to emphasize that I was there to help them as much as possible. That means that you can come and talk to me any time - within the races you can ask me what to do and I'm there for them. I wasn't necessarily there for results, like maybe in the old days. This year I knew I had to be at my best to go as deep as I could in the races with our guys who were on good form and support them. I was mostly there to have an effect in Europe and be that extra help that I can.

I've been there a few years and had a lot of experiences in big races, so I was just there to share some of that with the riders, and also with the directors and the whole organization for those races. Just how to conduct yourself.

It was a great experience, but you don't really know the effect until you step back and talk to some of the guys. Then you realize that it actually mattered. So, it was a really important final year for me to solidify that I was really done with the sport at that level of pushing myself. I needed that one more year, because with Greenedge [now Mitchelton Scott] it wasn't for certain; when I was talking to you last year, I think I was still a little unsure. Physically, I still had a lot more to give at that point, and this year showed me mentally and physically - I'd say more mentally - that the motivation to push myself through hard training and all that stuff, that is required to compete at a Pro Continental/WorldTour is just not the same as it used to be. But, that's just part of life.

CC: So are you at some point in the future going to do something like Steve Bauer or Zach Bell, and move into a coach/manager/director type role?

ST: For me, that whole kind of label is really wide open, because I think there are a lot of holes in professional cycling. I think we need to step back and take a different approach, aside from the performance aspect all the time. Obviously, performance is a big part of what needs to happen on a professional team, but I look at our younger kids, and I'd love to work with Kev Field [Head of Performance Strategy at Cycling Canada] at some of the Junior camps provincially and make sure the kids have a clear idea of what they are getting into and mitigate the damage that they can do at a young age by not following some simple rules for mental health and physical health.

The current template right now is all about just pinning yourself to the absolute maximum, and then you either make it or you don't. I think that is a poor template, because a lot of kids fall through the cracks, and we don't have the numbers to play that game here in Canada, so we need to do what we can with what we have. The odd times, you have the Mike Woods and the Leah Kirchmanns come through, but a lot of times you have guys like ... I think of Christian Meier, who had a strong career and was such a great domestique. Christian found his niche in professional cycling and he made the most of it, and, you know what - that's a great career.

A lot of people don't understand ... you are not going to be a Peter Sagan, but you can still be a great cyclist. So, you need to find the right path for you. So many kids now, I think they just want to jump to that next level; they want to be the next thing, they want to climb at so many watts, sprint to so many watts ... it's way too much information out there. I think they [young riders] just need a little more guidance - especially in Canada, because they aren't exposed to the things that go on in Europe.

So, I think there is a big hole there, and I'd love to get involved. Cycling is the sport I know and love the best, so to turn my back on it now would be hard and kind of weird. It's a trade; you've been doing something for 20 years and that's what you do. The aspect that I love is finding a way to get performance without damaging your body. I think when you are living a good life mentally, [then] physically everything tends to follow, in my experience. I think if we can emphasize that with the younger guys and stop them putting this crazy pressure on themselves ... nothing good ever comes of that unless you are a genetic anomaly, and how many of those do we know of?

CC: It sounds like you have thought this through quite a bit - is this something you are already starting to work on with Kevin?

ST: Yes, we've been in discussions, and I think we will start next year. We don't have the full plan set up and I don't want to talk out of turn, but our plan is to have something like five or six mini camps provincially and get the kids out doing time trial stuff. You know, with some of our young guys, maybe they'll go to Tour de l'Avenir and it will be the first time they have done a European style team trial or a team time trial. For me, that's not good - it's already hard enough and if we can start working on these skill camps, and also preparing kids on what they are getting themselves into when they are riding in Europe, with a French team or in a Belgian race on a national team project, then we can prepare them so they are ready for this stuff. Because, I'll tell you - when I first went over I was absolutely clueless, I knew nothing. I was just lucky I made it through l'Avenir my first time, but I reckon I crashed maybe two or three times a day, and I was a mess.

So if you can give kids these little skills that sink in at that younger age, it's going to help them a lot when they get exposed to that stuff. That adaptation will occur much quicker. But also, we can help them learn about how to get onto a professional team, how to speak with people and function in a group, all those things. We know there are some great talents out there, but they never get a job. Maybe it's their character and they just don't function well in a group, thinking too much as an individual. For a lot of good teams now it's about how much can you contribute to the group; that's all that matters. To really get that into kids' heads; that that is just as big a piece of the puzzle as being able to do a good physiological test in a lab.

CC: It's interesting that you talk about this - Astana just announced that they have signed Hugo Houle to a longer term contract, and the director was quoted talking about how good Hugo was in the team, how much he contributed.

ST: That's something I'd like to really harp on - Hugo is a great example of a guy who has found a niche; I've seen it in him all along. He's gotten better and better every year. People might look at the results of Hugo - maybe not this year because he has been riding super well - but in previous years and just not see anything, but I've been there, racing day in and day out with Hugo, and he is the ultimate domestique. He is always doing the right thing, he is always looking after the leader.

What he's done, progressing as an athlete, I don't think people understand how deep he makes it on the mountain days, it's incredible. Again, people might look at the results and see he's in the gruppetto or whatever, but you have to understand that that doesn't mean anything in professional cycling. The only thing that matters is - what did you do for the team? And the team knows, and that is why he is being re-signed for three years. In my opinion, he's made it as a top notch domestique; he's as good as they get. That's an example of being aware of how you use your skills best and how does the team win. It's by everyone being on the same page and buying into it, and committing 100% to each other.

If you look at the early days of Greenedge, we didn't have a lot of the best names on paper, but when it came to a team time trial or some of the bigger races we won early on, it was just because everyone bought into that idea. Hugo's a great example of a Canadian who's really made that progression, and now look at where he is.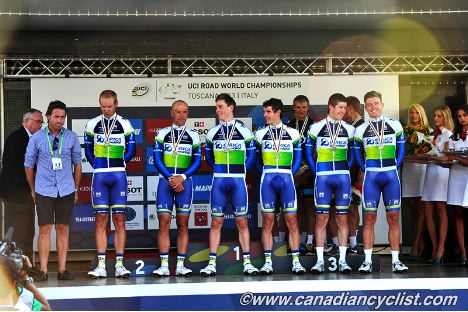 CC: So with this work on the camps, does it mean you are moving back to Canada, or will you split your time between Andorra and Canada?

ST: Our plan is to move from Andorra, but we are in no rush. Our house is there; we've been living there for years and, as you know, you acquire things! The garage is full of a bunch of crap you didn't realize you had ... so, we have to deal with that, but we are not in a rush. But our plan is to come back to Quebec and British Columbia eventually, over the next year or two.

However, I'm not closing doors to working in Europe as well. Along with doing camps, I'd also like to stay in Europe, and I'd love to continue working with the Rally guys as maybe a performance kind of director. Still be current with the guys, so I'm aware of what's going on. If I can help them in any way, I want to do that.

I'd also like to do some epic gravel camps; not really camps, more trips and tours. I've being doing so much of that myself in the Pyrenees; there's just so much awesome stuff you can do back there.

I have a lot of ides, but right now it's just nice to take a few months where there's nothing on the horizon yet. I don't have to go anywhere, I don't have to prepare for anything ... that's probably the biggest thing I'm going to enjoy at the moment.

CC: When you look back at your career, you've had some notable results. You've worn the Pink Jersey [Giro leader], won a silver medal at Worlds, won a record number of national titles, seventh at the Olympics ... are there any that, in your mind - and maybe it's something else - that stands out for you as something that is special or that you are particularly pleased about?

ST: I think about that a lot, and I never planned for any of those things to happen in my life; I never really had big objectives. So for the majority of things you just mentioned, it's pretty shocking to me that I got to experience them in my lifetime. But, I guess when I think about this, the ones that mean the most to me were - it's no secret that I love team time trials - and everything I was saying before, about a team of guys who commit 100% to each other ... that's what the team time trial is. That's where you truly saw everyone's character; as a rider you can almost feel what each guy is going through - good day/bad day, afraid/fearless ... you can see it all. It's just like one big moving emotion and physical feat. For me, that was the Tour [de France] in Nice, when we won [2013] and took the Yellow Jersey. I think we did one of the fastest ever. That was just a day when the team was incredible, it was almost effortless, in the sense that the best TTTs are so bloody smooth and you are just flying, and that was just one of those magical days.

And, of course, the Giro [2014], when we had a similar day, when we really smashed the TTT, but it was also my birthday, and I got to wear the Pink Jersey. That's something that never happens for a guy like me in a normal life.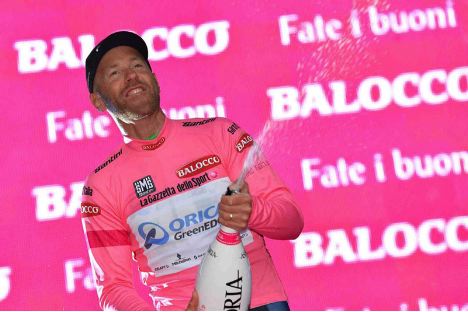 So I would say those two both stand out for me, and they were both team things. I just love that event so much and I will miss that; for sure, that is one of the things in cycling that I will miss the most.

CC: So does that mean that one of the things you will regret the most is not winning the TTT world title, but coming so close?

ST: Oh man! All of us who have been part of that crew - and it was the same cast of brothers for all those years since 2012 - we were so close, so many times. I think it was Florence [2013] ... tenths of a second [0.81 seconds] ... that's like the difference of just a few pedal strokes, going through a corner, maybe some different booties, maybe one guy not wearing a visor. You start thinking of all these crazy things. That one was, for sure, the closest. We were always in the hunt, but man, it would have nice to take one after all those years of always being on the podium. It's not a regret, but it's something we feel like 'it would have been nice to take one'.

CC: What would you say to a young athlete who is looking at you and what you've accomplished, and dreaming about a career for themselves?

ST: First of all, I try and emphasize that it's not the big rush you seem to think it is. You have to let go of any idea of achieving this or that by a certain date. It's about ... you really have to love this sport and you don't care what amount of time it's going to take to get where you want to be.

Look at Hugo [Houle] - it's the steady increments; year in, year out. It's work, there's no quick rise to the top and ten years of success. It's work, and it gets harder ... the sport changes, you get older, you get thrown into different environments, different teams. You have to love it first; that's the only way it's going to work. There's no clearcut path.

I can give tips, but my biggest one is patience, a hard work ethic and a positive attitude. That's going to take you the farthest in the sport, because otherwise ... it's just going to break you.

If you start to focus on the negative aspects of the sport, it's going to absolutely crush you. For me, it's so important that you are able to reset when you go home and totally recalibrate how you are going to approach things next time, and constantly adapt. You have to take a longterm approach, and realize that your body isn't a robot that you can keep smashing day after day.

Coaches and all that stuff is great, but if you don't have a connection to your body, and listen to those cues your body is giving you, forget about it. If you are listening to some else and think they have the magic recipe for you ... YOU are the only one who knows. It's far more healthy to understand yourself first; work with someone who respects that.

It's work and small increments, and like I said, Hugo's the best guy we could be talking about right now, because that's what he's been doing. We go back to the Spidertech days, and he was just working away. He wasn't talking big, he just kept plugging away. And now he's doing the Tour on a team on a team that's winning stages and is capable of a Grand Tour leader and possible winner. For me, that's a great career.

If you love it, it's an awesome career.

CC: So, my last question - you were a member of two of the most successful teams to have come out of Canada. First Symmetrics, and then Spidertech. It wasn't just you - there was Zach Bell, Jake Erker, Will Routely, Eric Wohlberg, Christian Meier, Hugo ... a bunch of you all at the same time. Was that just luck, that the same group of guys all came together at the same time? Or, was there more to it than that?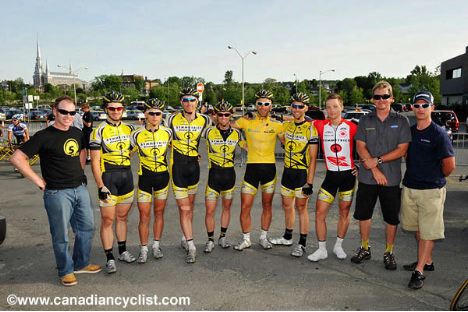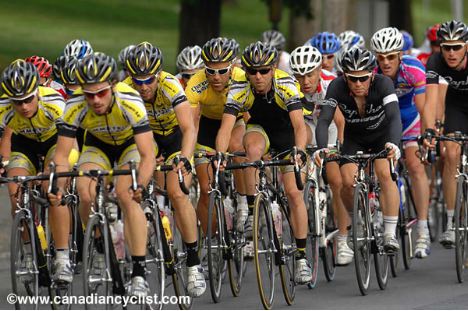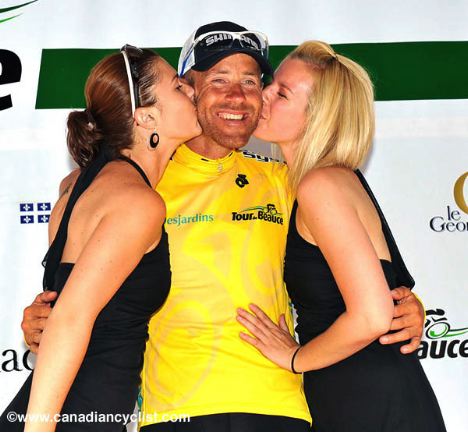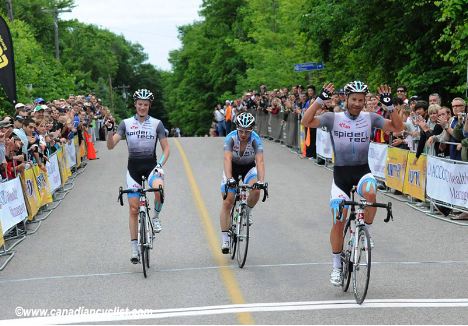 ST: I think it has a lot to do with what I was talking about earlier. There was a bit of luck with the timing, but more, what we had there was a real brotherhood. You have a bunch of guys buying into the idea of being a team rider and working in a support role, and understanding the fact that if everyone commits to this goal, that we can be super successful. But also, in Symmetrics case, it's the timing that when the team came along, certain riders were available. We became a real brotherhood, and that's what our success relied on; a lot of times at the Continental level you have everyone riding as independents, and it becomes a very discombobulated way to race, because you are only as strong as one person instead of eight guys.

Symmetrics set the bar for that way of thinking in Canada, and on Spidertech it became par for the course, because those guys - Ryan Anderson, Will, Zach, Christian ... you can go down the list - they came out of the system at Symmetrics and that way of thinking, and they knew it was a way to be successful.

We did a lot of the great stuff that we did because everyone was willing to set up for each other. Those were some of my favourite times of bike racing; it was very free and we had such great experiences, traveling around and seeing the world, but also racing really hard. It was just a beautiful time. That's all I ever really wanted to do, to be honest.