April 21/14 18:21 pm - Good Friday Road Race Elite 1/2 Race report (Ontario)

Posted by Editoress on 04/21/14

Courtesy Gaelen Merritt, Wheels of Bloor.

Under overcast skies, low winds, and mild temps, I lined up at the back of the field for the Good Friday Road Race. The course itself is very flat and, with no wind, we weren't anticipating a very selective race.

After we negotiated the gravel section and turned right onto the asphalt the pace remained sedate for a kilometre or two before opening salvos were launched. Bruce [Bird], Anthony [Sreblowski] and myself started at the back of the field while Derrek [Ivey] had positioned himself closer to the front. When the pace picked up our field strung out and I was able to see 5 or 6 riders pushing off for an early break. I was pretty far back but could still see Derek in the peloton (thanks to his height), and with Bruce, Woody [Marrouch], and Anthony behind me it meant we were not represented in that group.
The break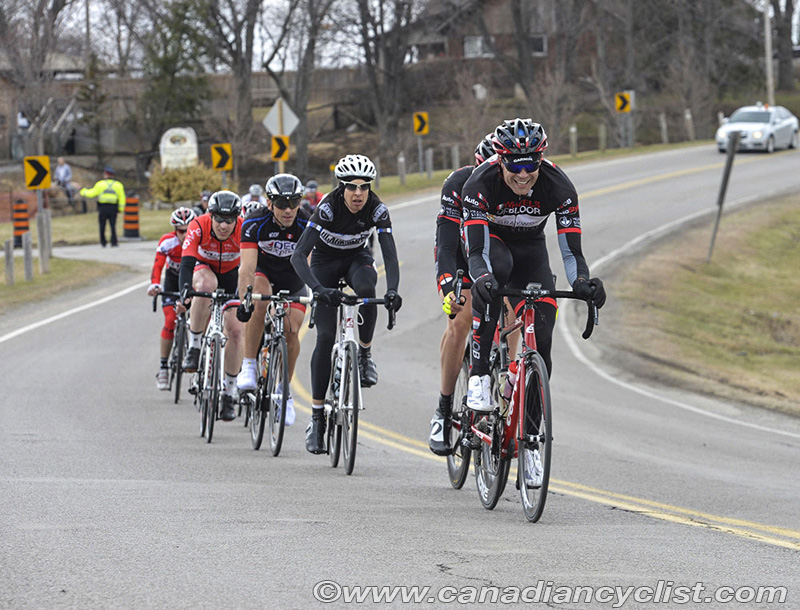 The chase
I saw Derek move to the front and then I saw basically the entire peloton line up behind his wheel waiting for him to move - he was certainly being marked by a lot of riders! Thankfully with this sense of "Derek's gonna attack" apprehension in the peloton I was able to sneakily move towards the front of the pack relatively incognito, at least compared to my 6 foot-something Calabogie-winning solo teammate.

When I got to about the top ten riders at the front I could see the group of six riders off in the distance, with a 20-30 second gap. I pinned it and blasted away from the peloton. I put my head down and put in a full gas 1 minute effort. When I finally looked back I found I was free of the peloton, with only Ryan Joyce (Queens City Cycle) on my wheel. He pulled through and kept the pace high while allowing me a bit of respite before I resumed the effort to bridge to the break. After about 6 km at 47 km/h we finally made the bridge successful. After sitting on for one or two rotations to recover we jumped into the working group of 6 and we began rolling as a group of 8, with the gap back to the peloton growing quickly.

The break turned out to have representation from most teams in the race, with Joe Giuliano (Jet Fuel), Pete Morse (Octto-Cervelo), Luke Van Lauwe and Adam Jamieson (two U23s riding for NCCH), Marco Li (ToWheels/Epic Sports), Ryan Joyce (Queens City Cycling), Andrew Bradbury (Blacksmith Cycle), and myself. We worked together nicely, riding at a steady pace for the next 5 laps until we informed by the lead car that we had 4 minutes (!) on the peloton. Things got interesting from then on, with riders missing turns, cohesion vanishing completely, and non-stop games of cat and mouse. Only Ryan Joyce remained relatively cooperative, trying to get our group rotating regularly again.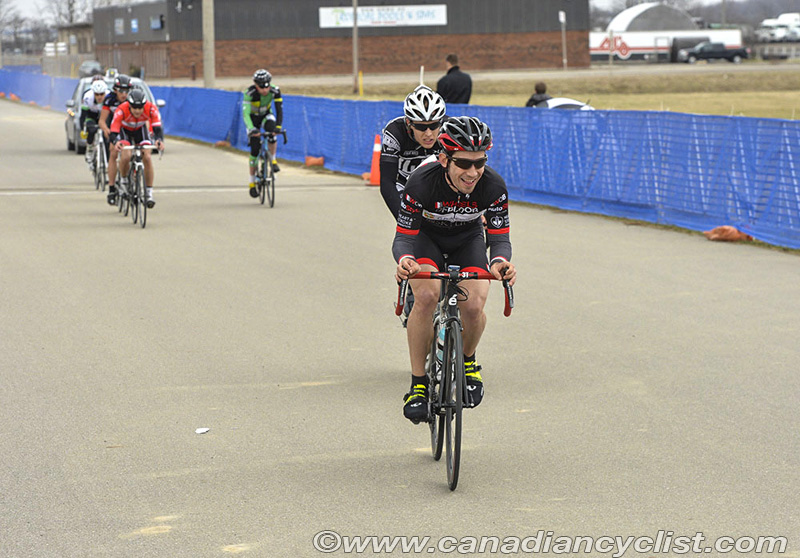 Gaelen Merritt leading the break in the final laps

The pace of our group slowed considerably and the gap dropped lap after lap. A few probing attacks were made, with Pete Morse and Marco Li forming the first threatening move off the front of our group with about 35 km remaining. The remaining 5 riders refused to work together to bring them back. Reluctant to tow the group, I instead made a huge counterattack to try and make the bridge to them. I succeeded in getting to within 10 seconds of them but I was not able to shake Joe Giuliano, who glued himself to my wheel for the rest of the race. I tried to get him to pull through but no dice. We slowed and the other 4 riders caught back on, as Pete and Marco stretched their gap back out. This scenario played out at least two more times until we caught them with only one lap to go, thanks to (finally) someone else other than me, namely Adam Jamieson, making an effort to bring them back.

After negotiating the gravel section for the last time, we realized that the peloton was closing in on us, which helped to lift the pace a bit. We lost Jamieson. With 14 km to go Luke Van Lauwe attacked solo, and dangled off in the distance. A few counter attacks by Ryan Joyce, Andrew Bradbury and myself, followed by a few hesitant, uneasy rotations brought him back. I made sure to pin it as soon as we caught him in order to dispatch Luke for good. We were now down to six, and we continued to play cat and mouse. I made several hard attacks but Joe, Andrew and Pete hung on and refused to work, and we'd always come back together.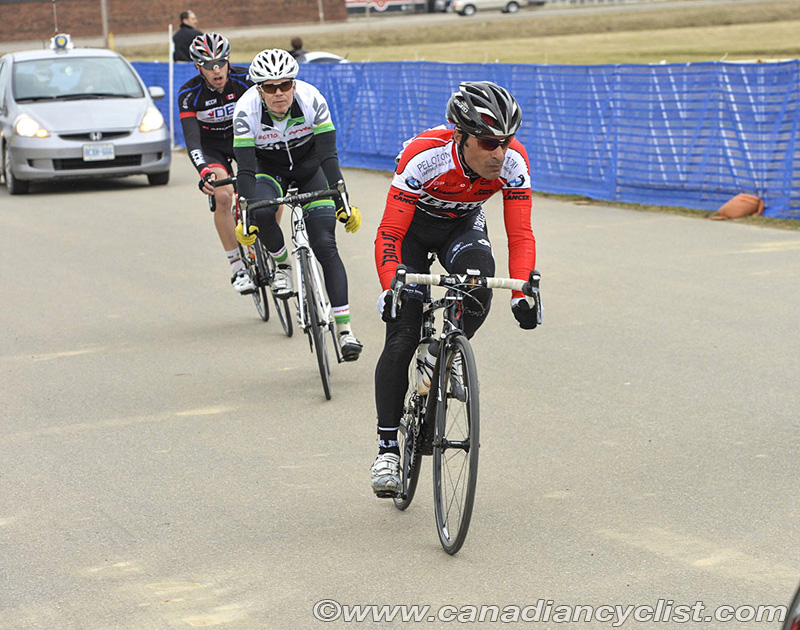 Race winner Joe Giuliano leading second place Peter Morse
Finally it came down to the final sprint with the peloton just 12 seconds back. I thought I had positioned myself well going into the final corner sitting second wheel behind Bradbury, but the ever crafty Giuliano and Morse swooped in and forced me to the outside on the final bend. I sprinted as hard as I could but just couldn't get my wheel in front of either of them by the finish line. Giuliano's wheel crossed the line about 3 inches ahead of Morse's, with mine about 6 inches further back. A close finish, but 3rd place for me.

The peloton roared in just 12 seconds behind us, with Schiller (ToWheels) taking the field sprint and teammate Derek just inches behind. After riding tempo on the front of the peloton all day Bruce finished further back. Anthony's race ended early with a flat, and Woody lost contact with the peloton in the final lap but hung to finish within a minute of them.

I'm happy about my first podium in E1, but I had the strength to do better. I was beaten by two more experienced hands - two very smart bike racers in Joe and Pete. Looking forward to the next match, hopefully I'll have the right combination of brains and brawn to be on the top step!