December 5/18 9:28 am - Cycling Canada Presidential Nominee - Robin Porter

Posted by Editor on 12/5/18

Cycling Canada President John Tolkamp will step down at the end of the year, with 21 months still left in his current four year term, so a special election will be held on December 12th to elect a new president for the remainder of the term until October 2021.

Three candidates have been nominated - Pierre Laflamme, Robin Porter and Steve Rover.[See Cycling Canada Announces Nominees for President] Voting is done by the provincial sports bodies.

All three candidates have graciously agreed to be interviewed by us, and we will post one profile per day.

Robin Porter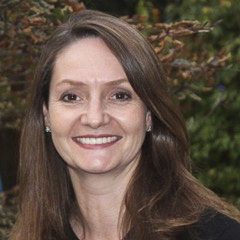 Robin Porter resides in Toronto, where she is a Change Management & Communications Subject Matter Expert, with over 20 years of consulting experience in organizational transformations and system implementations. She is a recreational cyclist, and has been a member of the Cycling Canada Board of Directors since 2015. Robin is bilingual.

"My focus professionally is helping organizations implement strategic decisions, and specifically the people side of change and the adoption of new ways of working within organizations. I've been doing that for over 20 years. I got into that after I did my MBA [at Western], and I have an undergrad degree in mathematics. I used to work for big firms, including Ernst & Young, and now I do it on my own; primarily with law firms as they go through a lot of change both culturally and in the industry."

"My involvement in cycling is as a recreational cyclist; I like my road bike and my whole family rides recreationally. We love the sport; we love watching the sport and we love riding our bikes. I got involved through a few questions I asked a former CEO when I met him at a bike race in Montreal about the business model at Cycling Canada. I was amazed at how little support our national sport organization had at that time. I got involved from a business perspective because I felt there was a lot of opportunity for cycling to have a higher profile, as well as better support within our country. I just wanted to help the organization capitalize on those opportunities. I've been on the Board for a little over three years, and prior to that I volunteered and consulted with Cycling Canada for five years; in a professional capacity for free."

Robin believes there are a number of issues Cycling Canada needs to address, beginning with financial management.

"Primarily, we need to get a solid foundation under this organization. Starting with our financials; we have quite a bit of work to do to create efficiencies in our financial processes, as well as our financial management. We don't have an ease of financial reporting at this point because of the systems we are currently using. At this point, it is very difficult to get a financial snapshot of the organization at any given time. It's very difficult to manage a business without that kind of reporting. I believe some of the issues the organization has faced in the past can be traced to an immaturity in the financial processes. We've grown quite a bit over the last ten years, in terms of our budget, and we basically need to catch up in terms of how we are managing our funds."

"Number two, we need to create a more positive relationship with all of our members and stakeholders. I don't believe that we have had clear enough communication and transparency about our focus and day-to-day work and how that aligns itself with our key stakeholders and our member organizations, the provinces. Having clearer alignment and better communications, so that we all know we are moving forward together is also something that we really need to fix. There is so much strength and understanding of the sport from a grassroots perspective, from our provinces, that we need to have that clarity of direction at the national level."

"Another thing that we need to address is inclusivity, culture and diversity. It's partially diversity of views as well. I think that we aren't seeing our organization representing our cyclists as it really should, and we need to create an organization that really looks and feels like our constituency of cyclists in Canada. That is something in our leadership and our Board that we should be focussed on as well. I think there has been an effort made, but I think we could have more focus on finding strong women to come into leadership positions within the organization. The current leadership team has already started to focus on ways that they can provide professional development for some of the key women that are working within the organization, to provide a better path for growth and leadership within the sport. Considering the strength of our female cycling teams, we should be seeing a little bit better representation in our leadership, our coaching, our structure."

Robin also points to Canada's international role as something that needs to be addressed.

"We need a strategy for how we represent ourselves internationally. Where do we think we would get the biggest opportunities? Whether it's sitting on certain UCI committees, or how we organize ourselves with COPACI [Pan American Cycling Confederation], the relationship we have with U.S. Cycling ... for all of those things I think we need a definitive strategy around who we send for representation and what our goals are with respect to international representation."

"There's a benefit to having World Cups and UCI-level events in Canada. We've tended to do them very, very well; we create a stable and safe environment for these events to happen. But we need to understand what are we really looking to achieve from international hosting, or what kind of participation do we want to have at the COPACI or UCI levels, so that we can get better influence in a meaningful way. We need to strategically think about where we would benefit the most from our international opportunities. I don't think we've outlined that, so it's going to take a bit of work, and it's not something the Board can do in isolation. But I think we really should have set goals for our international involvement."

"I'm really passionate about seeing this organization succeed. There's so much opportunity and we have so many things we could be moving forward on. I think that in the past we have been a bit misaligned with our structure, in terms of the size and maturity of the organization, but I think we have a good foundation to build from right now."

"There is just so much opportunity that we have within this country, with this sport. It is a beloved sport, and is becoming more and more evident that our population of cyclists is growing and there is a huge opportunity to bring all of those constituents together, and work that much more effectively."

"The last time we did strategic planning, the vision we came out with was 'All Ride, Many Race, We Win'. That still, for me, rings true. The more people we see on bikes - not necessarily in a competitive capacity - [means] we are impacting our environment, our health, providing recreational activities to people who, through physical ailment or disability, don't have access to other recreational activities. As we age as a population [cycling] is still a sport you can do; there are just so many ways we can get people on bikes to positive benefit. And the success we are seeing from our cyclists these days on the international stage is just so exciting, both able bodied and para. I'm very passionate about this."