March 3/18 7:35 am - Track Worlds Day 3 Report

Posted by Editoress on 03/3/18

Team Canada had a tough day on Friday at the UCI Track Cycling World Championships in Apeldoorn, Netherlands. Derek Gee of Ottawa was the top Canadian finisher, in 14th place in the men's Individual Pursuit.

The men's Sprint had a promising start for Canada, with Stefan Ritter qualifying 12th at 9.828 for the 200 metre time trial, and Hugo Barrette 18th at 9.934 . However, both riders lost their 1/16th rides and were knocked out of the competition.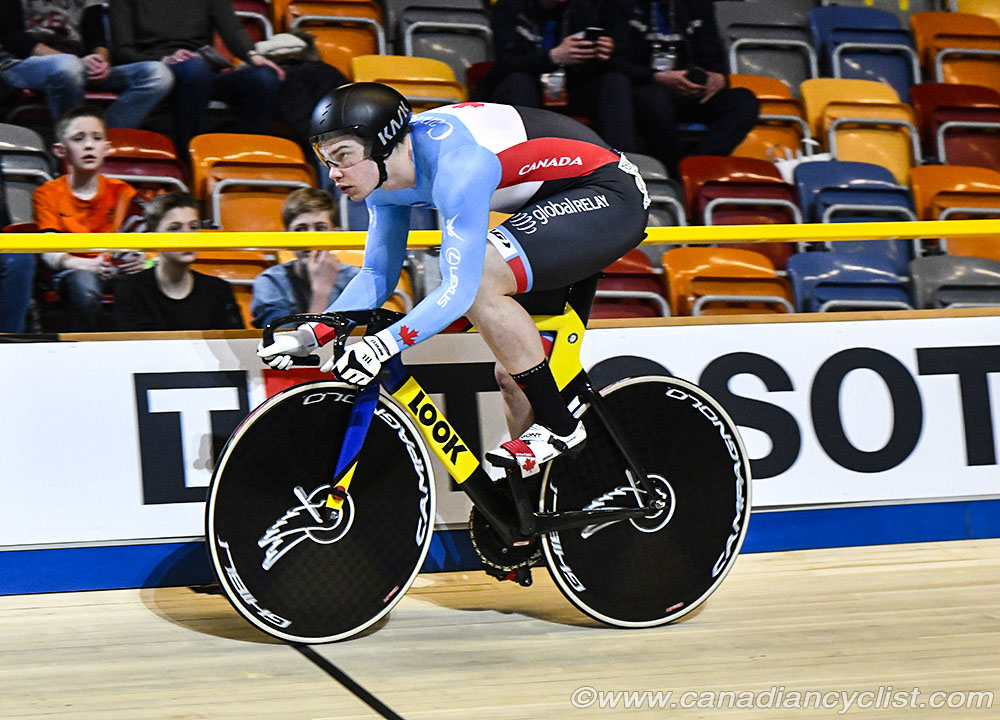 Stefan Ritter qualifying 12th
"It just wasn't my day," said Barrette. "Unfortunately, as per usual, if I have a great day in the Keirin, it bleeds into the Sprint. It's something I have to work on, we know it's a problem and we'll try to solve it. It's definitely a disappointment; two days ago I was going for the times of my life, but today I just didn't have any juice. But overall, I'm proud of my Worlds; I showed I can be good in the Keirin, so onward and upward."

In the Individual Pursuit, Gee recorded a time of four minutes and 26.119 seconds for 14th place among 21 starters. Only the top four moved on to the medal round, with Italy's Filippo Ganna winning the title in a time of four minutes and 13.607 seconds after a back-and-forth battle with Ivo Oliveira of Portugal. Alexander Evtushenko of Russia beat Charlie Tanfield of Great Britain for the bronze medal.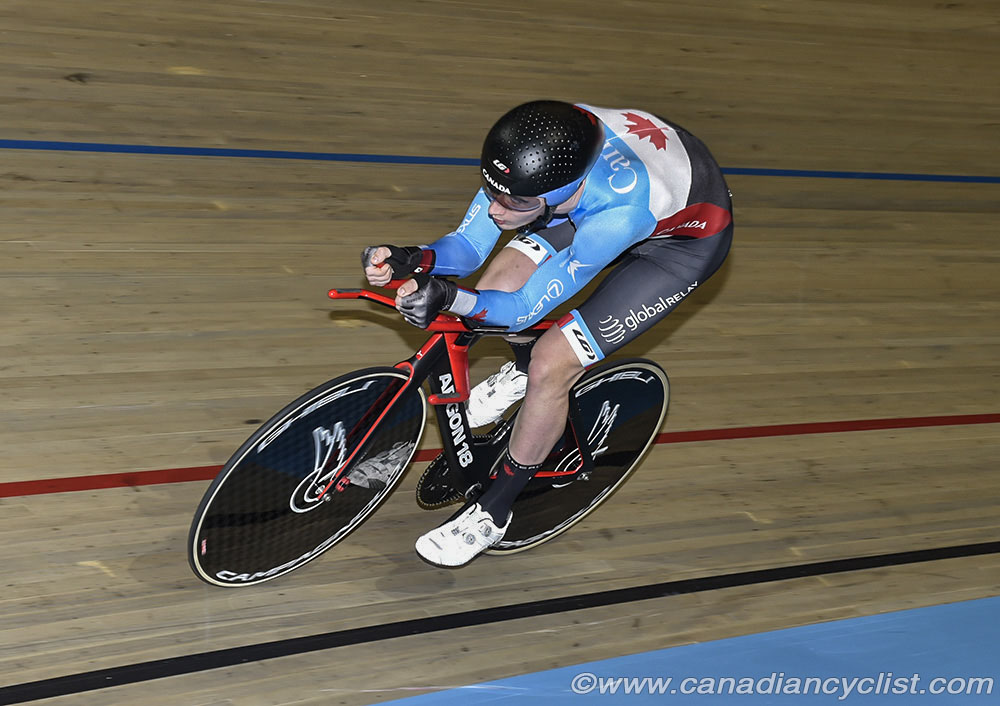 "It was good experience," said Gee, "but about a tenth [of a second] slower than my personal best. But it was a slow track and not a lot of preparation going into it, with the focus being on the Team Pursuit. I went out a little bit hot and then hits you in the last kilometre when you do that, and you really pay for it.

Canada had strong hopes for the four event women's Omnium, with Allison Beveridge representing Canada. Beveridge finished tenth in the Scratch Race and ninth in the Tempo Race, putting her within reach of the medals going into the final two events. However, a massive crash in the Elimination Race took her out of the competition. Beveridge suffered scrapes and contusions, plus a possible mild concussion, so the team decided it was best to pull her from the race and monitor her condition. Steph Roorda will now replace Beveridge in the Madison.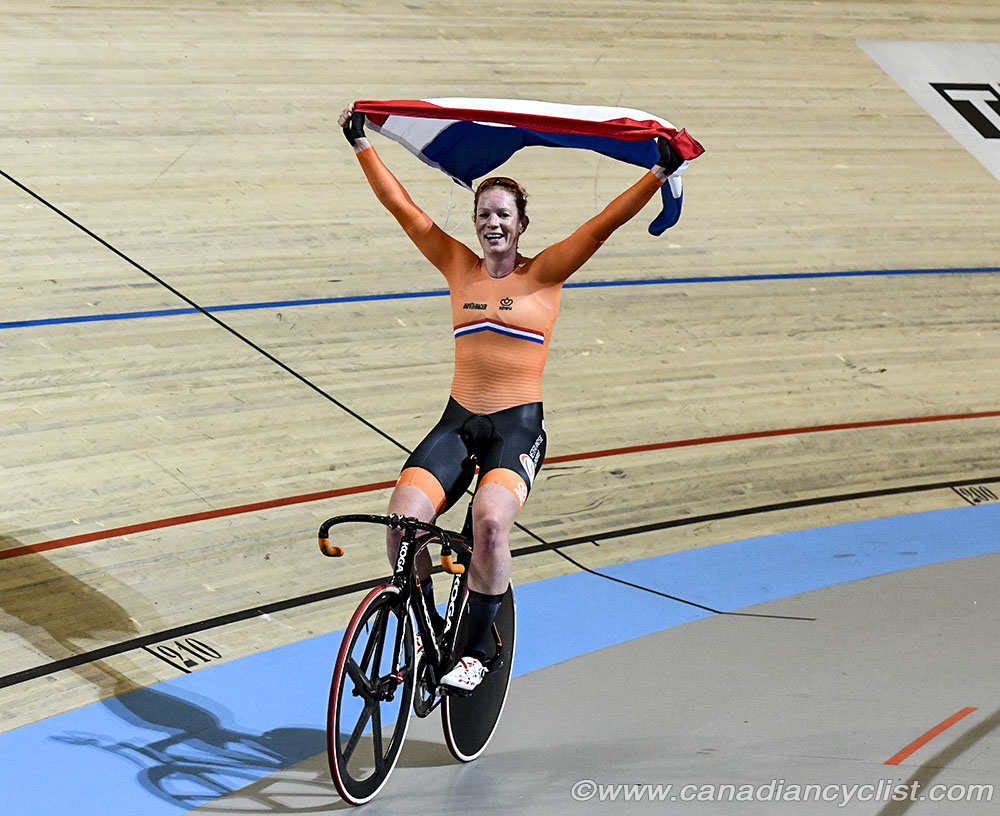 Kirsten Wild celebrating her win in front of a home crowd
Kirsten Wild of the Netherlands was the dominant rider for the Omnium, winning the first, third and fourth events, for a total of 121 points. Amalie Dideriksen of Denmark, after a late race surge in the final Points Race moved up to second with 112 points, followed by Rushlee Buchanan of New Zealand in the bronze medal position with 106 points.

"I'm super, super happy," said Wild, who had earlier won the Scratch race title. "Yes, they [crowd] give me so much energy. It's amazing. Thank you everybody. I've trained so hard for this. All the people who helped me. It's really amazing that it worked out today. The way to win an Omnium is to stay at the front. If you're in the back you won't win. I think that's the only tactic that works."

The women's Sprint gold medal final saw Kristina Vogel of Germany go up against Stephanie Morton of Australia, the fastest qualifier in the competition. Vogel won the first heat, but Morton came back with a win in the second race, putting Vogel in the unusual situation of having to race a tie-breaker. The German rider controlled the final race from start to finish to win the title. Vogel's team mate Pauline Sophie Grabosch won the bronze medal in two straight rides over Lee Wai Sze of Hong Kong, China.

Asked about equaling the record 11 world titles won by Australia's Anna Meares, Vogel said, "At the moment and on this day I'm not counting. It was very hard at the end and it took me three final heats to get the gold medal. Today it took everything to make it to the finish line. I'm just proud to make this World title."

"She [Morton] is hard. She's in really good shape. I made a mistake in the second heat and sometimes there's a point of no return, when doing something and you have to try and do it to the end. I lost, but like I'm always saying, it takes two to win, so after the second race I kept saying 'I have to go, I have to go, just concentrate, just remember what you can', and here we are again."

Cameron Meyer of Australia successfully defended his title in the men's Points Race, a remarkable fifth time he has won this title. Meyer was clearly the strongest rider in the race, winning five intermediate sprints and taking two laps on the field, for a total of 70 points. Local Dutch fans saw their countryman Jan Willem van Schip win the silver medal with 52 points after taking the final sprint, while Mark Stewart of Great Britain won bronze with 49 points.

"It's special," Meyer said about his fifth title. "Every one of them is special when you win a gold medal in the World Championships. To win today was not easy. To be one of the favourites every time is a lot of pressure, but I enjoy it. I love the World Championships and to wear the Rainbow jersey again for another year, it's a special moment."

"There was a lot of laps taken. A lot of riders [were] doing very well out there. The Dutch, the Belgian, the British, lots of riders taking laps. I had to take multiple laps to win the race , but in the end I am very happy. It takes a lot. You need to be strong, the long distance, the sprints, tactical and that's what I love about it. It requires all the skills . Tonight I had pretty good legs and I was able to pull off the win."
---
Related Photo Galleries
---