February 28/18 18:53 pm - Day 1 Track Worlds Report

Posted by Editoress on 02/28/18

Team Canada had a good start to the 2018 UCI Track Cycling World Championships in Apeldoorn, Netherlands, on Wednesday, with both the Women's and Men's Team Pursuit squads qualifying in the top eight countries for the next round of competition. Jasmin Duehring also competed in the women's Scratch Race, finishing seventh. Host Netherlands had a very strong start to the Championships, winning two world titles plus a silver medal.

The women's Team Pursuit squad of Allison Beveridge, Ariane Bonhomme, Annie Foreman-Mackey and Steph Roorda qualified fifth with a time of four minutes and 24.071 seconds. While the time was fast enough to put them through to the next round of competition, finishing outside of the top four means that the best they can hope for is bronze. The United States qualified first with a time of four minutes and 18.836 seconds.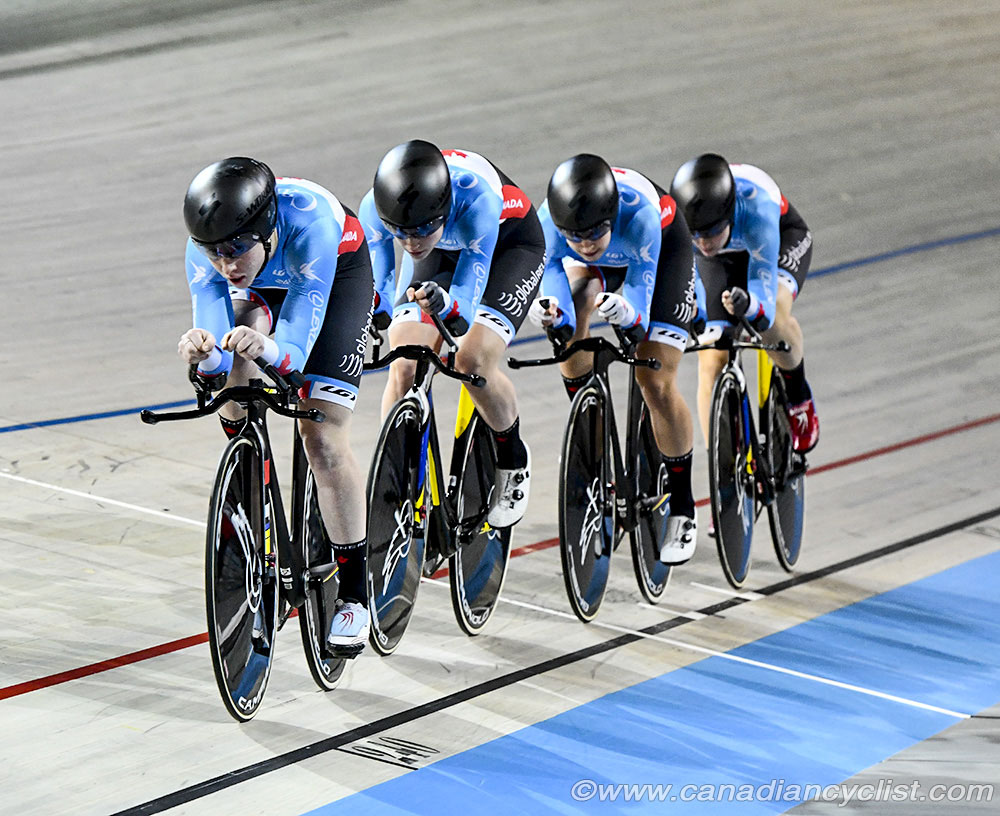 "It wasn't a great ride, but not a bad ride," admitted Craig Griffin, Women's Track Endurance Coach. "They put in a good 2500 metres, which went to plan. We just lost Ariane a bit earlier than we thought, and then we had to go into conservation mode to get the group home. I know we'll do better tomorrow; the girls are fired up and ready to give it a go. So, fingers crossed that we can get into the top four and have a run at a medal."

Defending champions United States barely held off the Olympic champion Great Britain in qualifying, with Italy and New Zealand rounding out the top four. Two of these teams will ride for gold on Thursday, while Canada will have to rank in the top-2 of the remaining six teams to make the bronze medal final.

In the men's Team Pursuit, Canada was the second team to ride, setting a strong time that was only 0.584 seconds over four minutes. The time held up until the ninth team - former world champions Denmark - became the first to go under four minutes, and Canada just squeaked into the top-8 teams that moved onto the next round of competition. In the Round 1 competition later in the evening Canada went up against multi-time Olympic and world championship medalists New Zealand and, despite starting strongly, failed to advance to the medal round, finishing eighth overall.
"I think they did pretty well," said Jono Hailstone, Men's Endurance Coach. "It was definitely a PB [personal best] for them as a one team on the track situation. I think it's a really good sign that going into Olympic qualifying we are ranked in the top-8 in the world; it's a pretty good starting point. We have a unique opportunity that comes once a year to see how you stack up against the rest of the world. For the second race, we just decided to go out there and attack it, and see where that put us."
The men's Team Pursuit final will see world record holder and Olympic champion Great Britain face Denmark in the gold medal race, while Germany and Italy will race for bronze.

In the women's Scratch Race, Duehring rode conservatively until the final eight laps, when she began to move up aggressively through the field. Unfortunately, she ran out of laps before she could make it to the leaders.

"It was a pretty hard Scratch Race, and folded pretty as I expected it would," said Duehring. "I just missed the counter [attack] and waited that second too long and got caught behind some gaps. I really frustrated with my performance and it feels like a missed opportunity tonight."





The decisive move happened with 14 laps to go when Ireland's Lydia Gurley attacked and opened a substantial lead before Kirsten Wild of the Netherlands countered, going away on her own to take the title. Jolien D'hoore of Belgium won the silver medal, outkicking Amalie Dideriksen of Denmark at the finish line.

"It's really, really nice to win, for my own people, it's amazing," said Wild. "It's the best riders of the world to compete and I can't believe that I won solo. My tactic was to stay really calm in the peloton and wait for the sprint, but it didn't go quite to my plan. This worked really well. Yes, this win is amazing. In Apeldoorn to win, I have no words."

In the Team Sprint competitions, the Dutch men's squad went up against Olympic champions Great Britain, decisively winning by half a second. France beat the Russian Federation for bronze.

"Oh, this is not normal," said Jeffrey Hoogland. "To do this in our own country after being second twice in a row. Now getting the Rainbow jersey is incredible, and we couldn't be happier. That we could win in our own country in front of our own crowd is special."

In the women's final, it was the favoured German team who took gold, also winning by half a second ahead of the Dutch squad. The Russian Federation beat China for bronze.

"It's incredible," said Kristina Vogel. "The whole crowd was shouting, winning here and beating the Dutch, when they have a home crowd, those spectators push and encourage. But maybe it was also a lot of pressure [on them]. We did a very good job, and it is just incredible to win the gold medal and be World Champion. It has been since four years we won the gold medal (in the team sprint) so it is very special."

Results