May 25/18 16:48 pm - Nove Mesto XCC Results in World Cup Lead Change for Men

Posted by Editoress on 05/25/18

The second edition of the Short Track (XCC) at the Mountain Bike World Cup in Nove Mesto, Czech Republic, saw a change in the overall lead in the men's standings, with Mathieu van der Poel (Corendon-Circus) bumping world champion Nino Schurter (Scott-SRAM) out of the lead by five points after finishing second behind Sam Gaze (Specialized). In the women's race, Annika Langvad (Specialized) took her second straight win in the event, ahead of Pauline Ferrand Prevot (Canyon Factory), but remains second behind overall leader Jolanda Neff (Kross Racing), who finished third.

Canada only had women qualified, with four riders in the race - Emily Batty (Trek Factory), Catharine Pendrel (Clif Pro Team), Haley Smith (Norco Factory) and Sandra Walter (Canadian National), who qualified after finishing 15th in the XCO last weekend.

The 25 minute XCC was dry and fast; a complete reversal of the conditions the riders saw in Albstadt, Germany, last week. Riders were battling for a top-16 start position in Sunday's cross-country (XCO), as well as World Cup points.

The women's race was one of attrition, with the front group gradually whittled down to 18 riders. Langvad then attacked on the last lap, outsprinting Ferrand Prevot, with Neff rolling in third.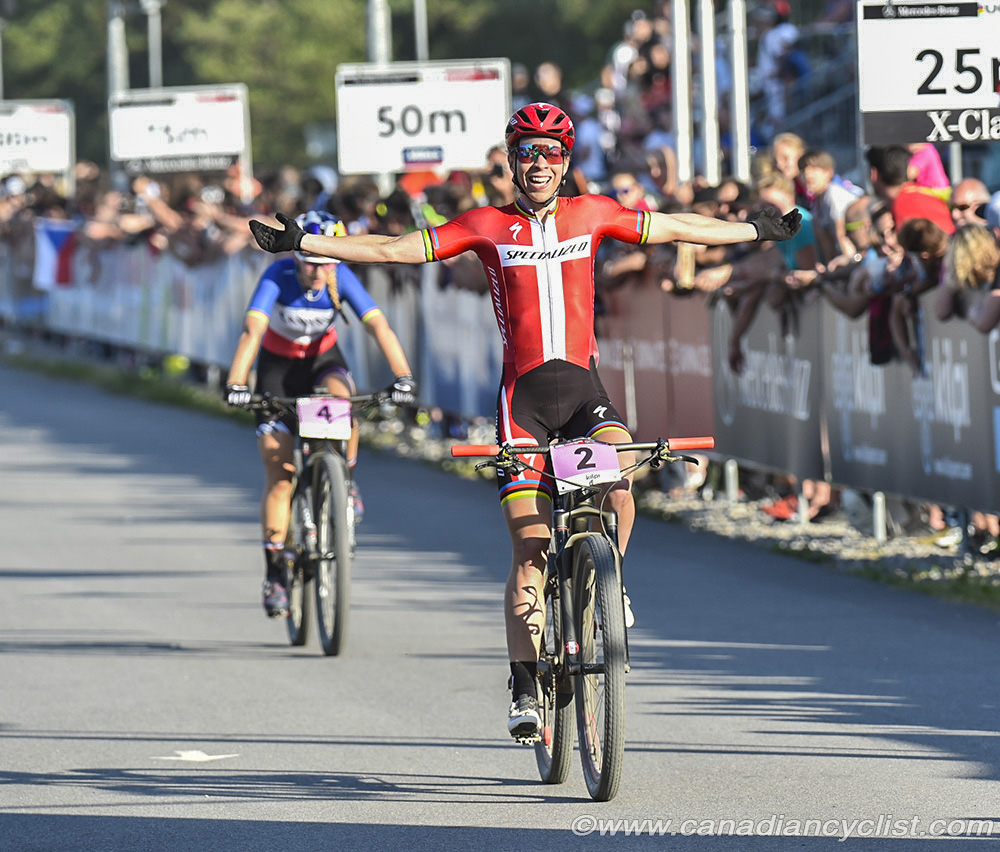 Annika Langvad wins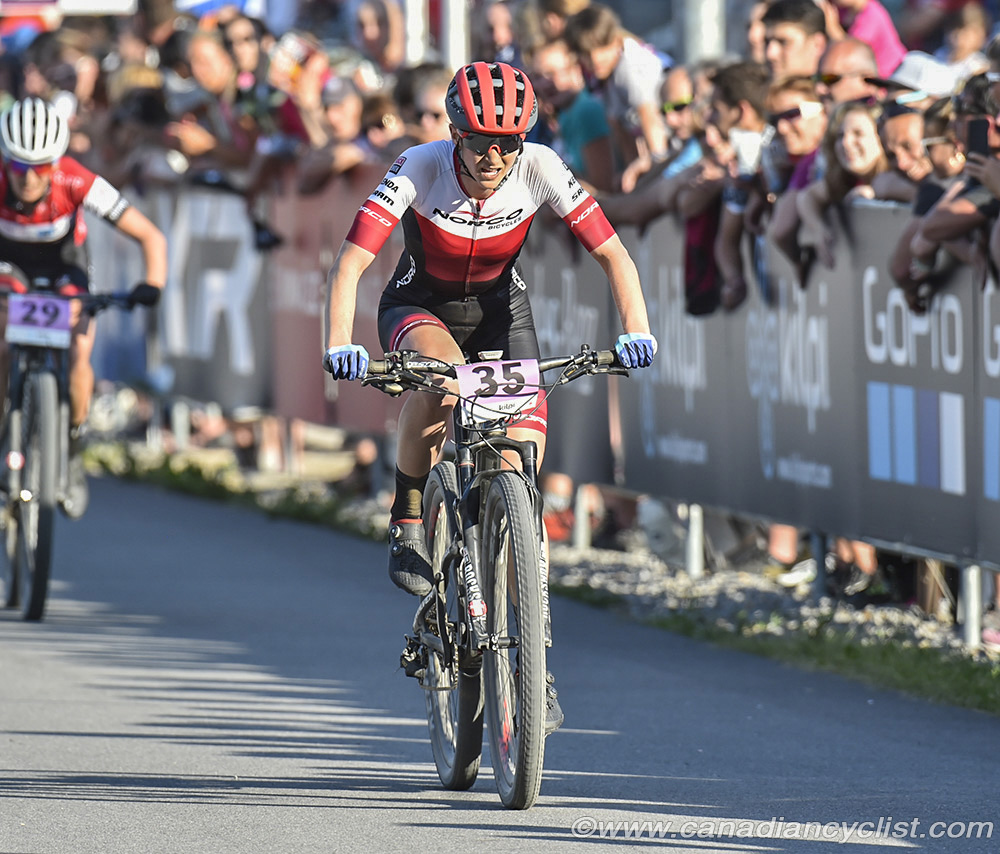 An exhausted Haley Smith finishing
Langvad, who is now two-for-two in XCC, said "I just kind of felt the race. I watched. Tried to be careful. Tried not to be caught in traffic or other problems. I kept cool, all the way through. When I attacked I absolutely gave everything I had."

Smith was the only Canadian to stay with the front group, finishing 13th and thus making the second row on the start line for the XCO on Sunday. Batty was 21st, Pendrel 27th and Walter 29th.

"I will never have started so close to the front for a World Cup," said Smith, "so we'll see what it does on Sunday; I really wanted that shot. The course this weekend was more conducive to bunch racing [than last week], which made it better."



In the overall standings, Neff leads with 560 points, ahead of Langvad at 548. Ferrand Prevot moves up to third with 426 points, displacing Anne Tauber (CST Sandd American Eagle) by one point. Pendrel drops to 13th from 12th, Batty to 15th from 13th, Smith moves up to 29th from 34th and Walter to 36th from 37th.

Derailleur problems knocked Schurter out of last week's XCC, won by van der Poel. This time there were no technical issues, and the battle was between Gaze, the winner of Round 1 of the World Cup, van der Poel and Schurter. Schurter, the winner of the XCO last week came into the race with a 15 point lead on van der Poel, so the rider who finished ahead would take the World Cup leader's jersey.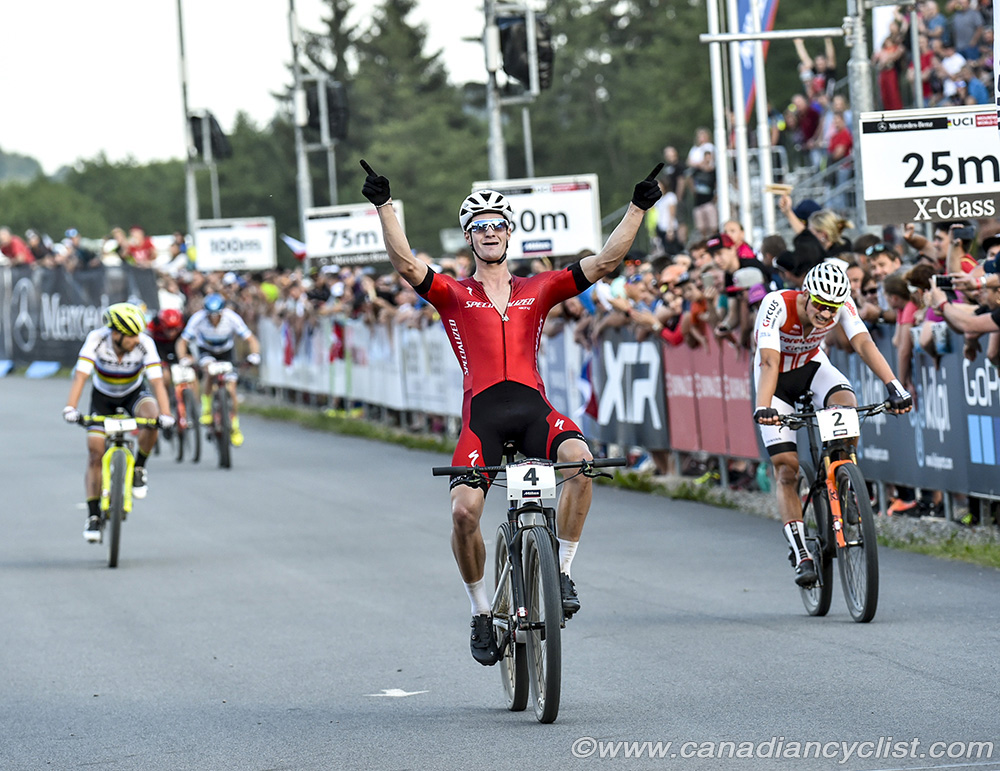 Gaze wins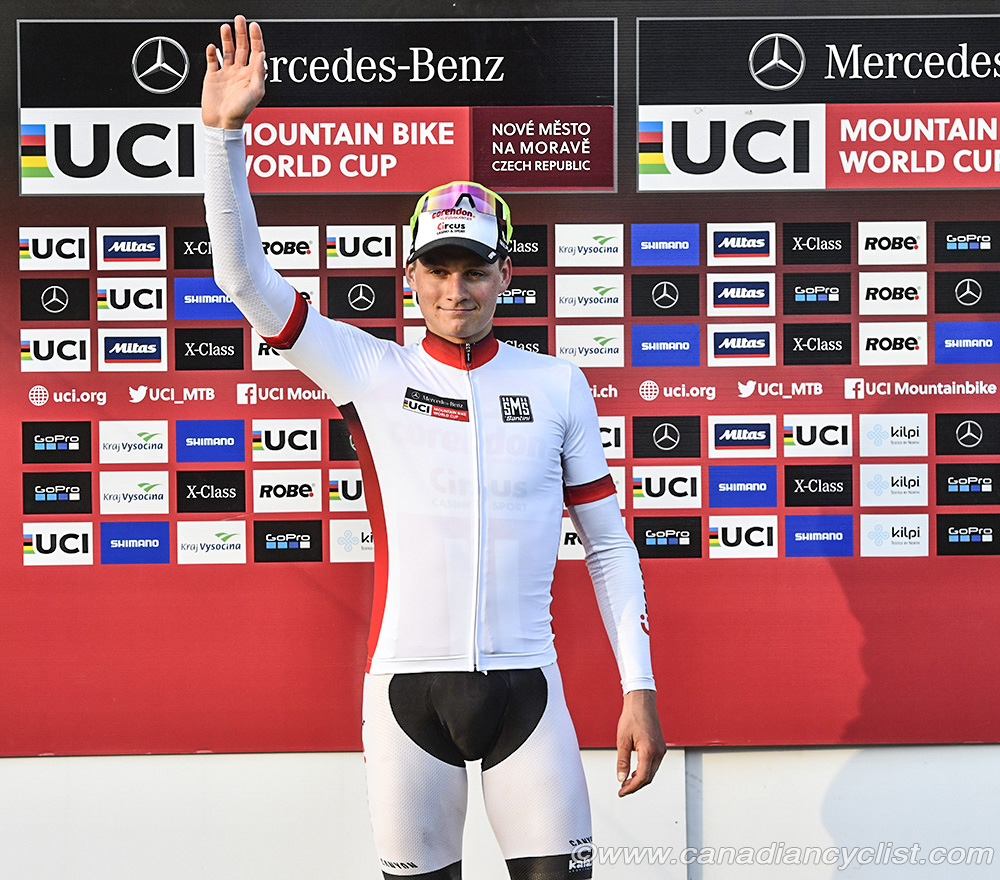 World Cup leader, Mathieu van der Poel
The field was whittled down, like the women's, however, a number of crashes in the tight 180-degree turn after the finish line also took its toll. Coming into the last straight, it began as a three-way sprint, but Schurter sat up, content for third, as Gaze and van der Poel battled for the win. At 20 metres to go, Gaze had the battle won, and cruised across the line with his arms in the air.

"The course here is quite wide open," said Gaze. "A lot of drafting, hiding, so I just tried to stay right at the front, avoiding any crashes. That corner just after the start /finish is quite dangerous. Just kept outta trouble and here we are."

The Dutch rider now leads the standings with 535 points, five more than Schurter, while Gaze jumps to third from fourth, with 475 points.
---
Related Photo Galleries
---