January 30/21 15:08 pm - Rochette 16th as Dutch Dominate Elite Women at 'Cross Worlds

Posted by Editoress on 01/30/21

The Dutch dominated the Elite women's race on Saturday at the Cyclo-cross World Championships in Ostend, Belgium, finishing 1-2-3-5-6, with Lucinda Brand capping off a season that also saw her win the World Cup title. Canada's lone entry was national and Pan Am champion Maghalie Rochette, who finished 16th, only seven seconds out of the top-15 after a last lap surge. The Dutch also finished 1-2 in the Under-23 men's race.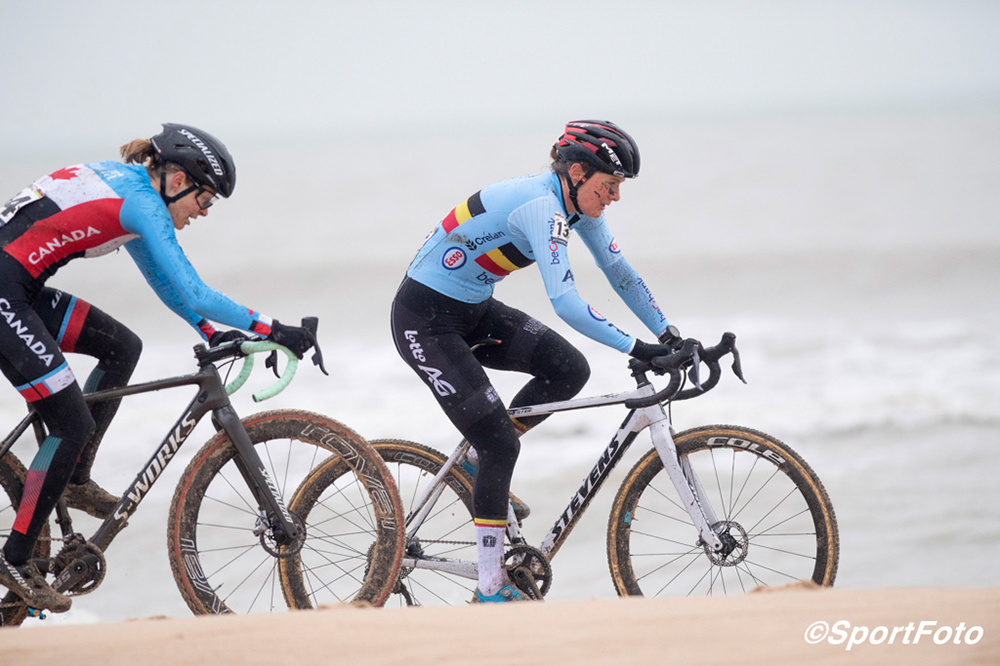 Held along the North Sea shore, riders faced 3 degree temperatures, 30 kilometre an hour winds, rain, sleet and sand ... lots and lots of sand. Most of the sand was unrideable, making this a hard running slog that wore riders down. Slippery mud on the rest of the course led to multiple crashes, becoming a factor in the final results.

Defending champion Ceylin del Carmen Alvarado led down the first straight, with Rochette - a front row starter - right beside her. Alvarado became the first to crash, on the first left hand turn, slowing those behind her and putting her back in tenth. Rochette slipped by on Alvarado's right to briefly take the lead, but started to fall back under the intense pace. The Canadian would drop back to the mid-20s before starting to recover in the second half of the race, steadily picking off tiring opponents and almost catching 15th placed Anne Tauber (Netherlands) in the final lap, making up close to 30 seconds but running out of track.

"I'm pretty happy, honestly," said Rochette. "It's been my worst season ... maybe ever? I finished 16th today, and that is definitely not a result that I was dreaming of. I know I'm able to do better. It was a sand race with a lot of running and I haven't been running much since I sprained my ankle a few weeks ago. But all that considered, I'm really happy because I feel like I fought the whole race. At one point I was really far [back], and I knew in my head that I wouldn't be happy if I stopped fighting. So I kept fighting and picked off place after place, and when I crossed the finish line, I knew that was the best I could do. Although it's not a stellar result, I'm really happy with it." [Note: We have a separate, longer interview with Maghalie about her season]

At the front, Denise Betsema (Netherlands) took the lead as the riders hit the sand and looked to be riding away from a chase group of four compatriots - Brand, Annemarie Worst, Yara Kastelijn and Alvarado. Brand and Worst dropped the other two as they struggled to keep close to Betsema for the first two laps of the five lap race, but Betsema began to slow in the third lap and was caught by the other two. The three rode together, with one or the other getting dropped on occasion due to crashes, but it wasn't until the final lap that Betsema was dropped for good by the other two.

Brand looked to get a gap, only for Worst to catch her back as they went into the final two minutes of the race. The pair went shoulder-to-shoulder through the final series of muddy turns, and bumped shoulders, with Worst going down, opening the way for Brand to win her first world title after a silver and two bronze medals in the preceding three years. Worst rolled across the line eight seconds back for silver with Betsema taking third at 19 seconds. American Clara Honsinger worked her way up through the field to take fourth ahead of Kastelijn, just ahead of Alvarado.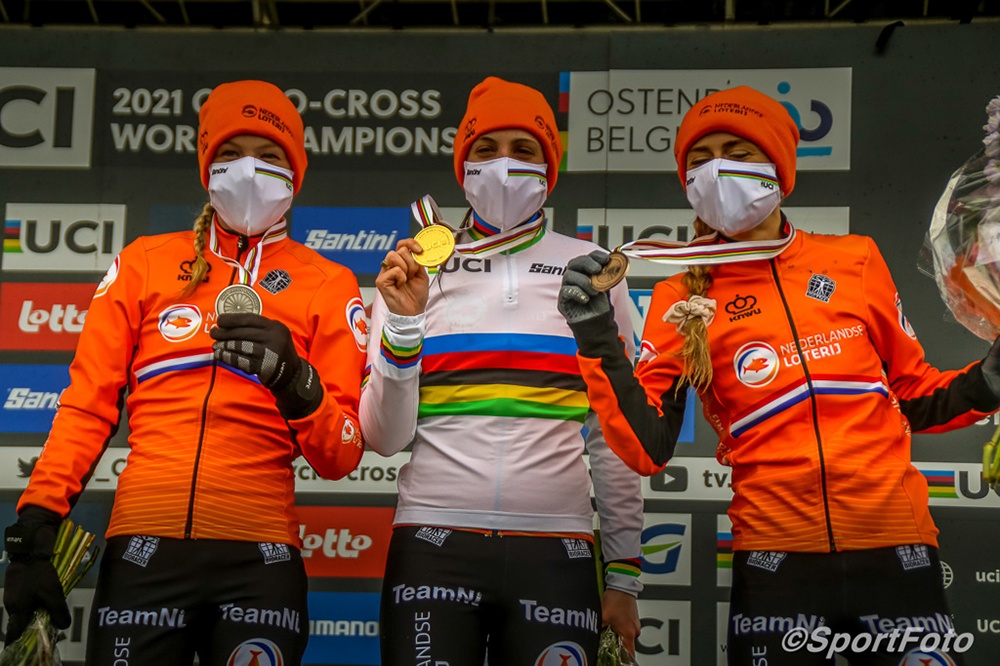 "It's been so many years that I have been so close," said Brand, "and finally, after such a great season, to finish like this is really cool. We [she and Worst] crashed each other; I just touched her elbow or something. Of course, it was the weakest point to touch her, which is why she crashed. It was not really nice, but it was also not easy to avoid a situation like this."

Results
---
Related Photo Galleries
---