October 3/20 16:03 pm - Ride4Real Challenge - 6300 Kilometres in Three Weeks

Posted by Editoress on 10/3/20

On September 11th, national team member Ed Veal began an ultra endurance fundraising effort to support the Forest City Velodrome. For 21 days he has ridden 300 kilometres per day - a mix of road and indoor riding - totalling over 6300 kilometres and raising, to date, more than $12,000 towards the operating costs of the FCV (Ed sits on the board).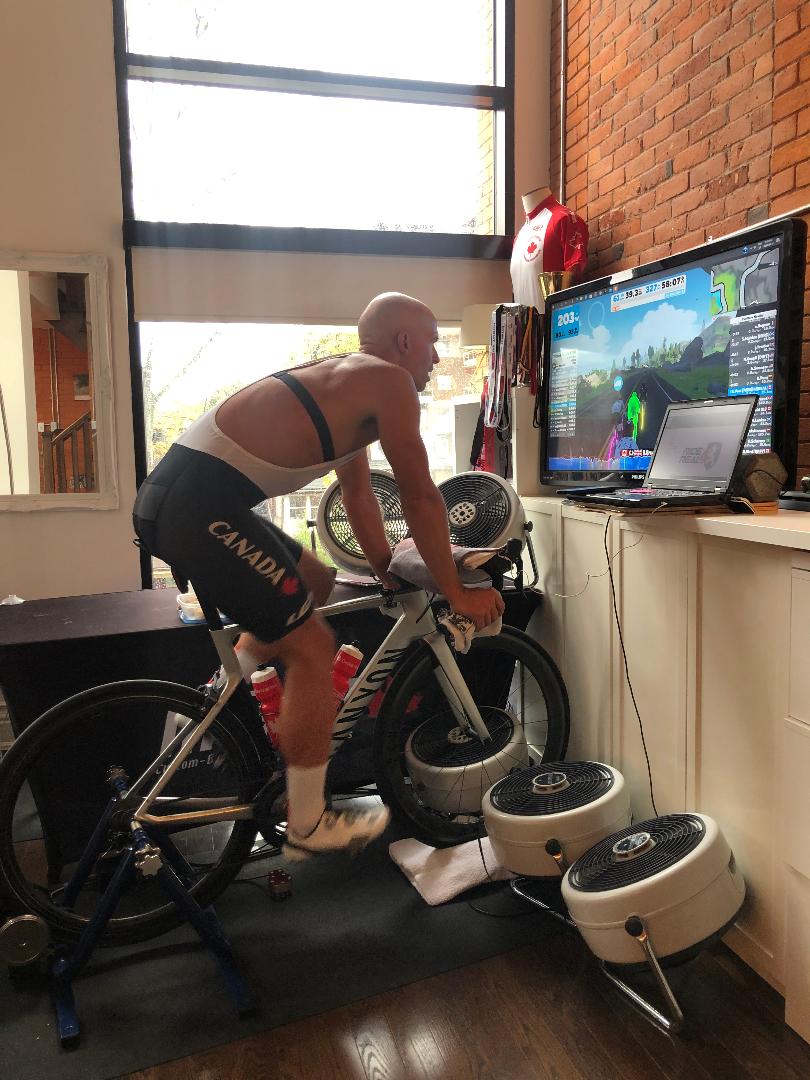 We spoke to Ed on what was to be his final consecutive 300 kilometre day - Thursday, October 1st - while he was still putting in the miles. However, he says for the right contribution he will get back on the bike.

It should be noted that 89 other people have signed up for the event (and 185 donors), and Challenge will continue until the end of October. The website to participate or donate is , and the leaderboard (which is shown by distance covered across Canada) can be found Here.

Canadian Cyclist: So tell me about this mega-mileage project that you have embarked upon?

Ed Veal: I like your name; that's what we should have called it - the Mega-Mileage Challenge! What happened is that I'm a Board member of the Forest City Velodrome and I was sitting in meeting and hearing how COVID had affected things - membership was down and they couldn't pay the bills ... what came out of my mouth was 'Let's do another Track Attack' [a fundraiser Ed did previously]; I'll just ride my bike every day until we get enough money to pay the bills. That's how this all came about.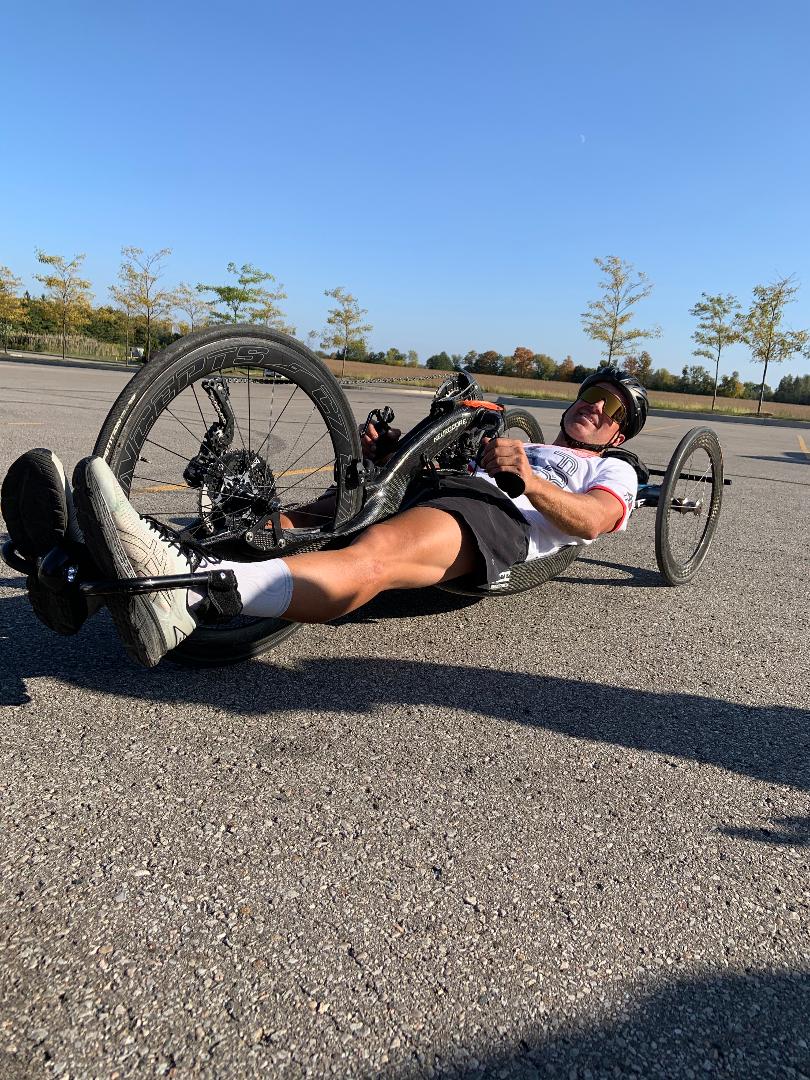 It started on September 11th, and the general outline was that I was going to ride 250 to 300 kilometres a day until the end of the month or whenever I couldn't anymore, because I wasn't sure I was going to make it. Just a stunt to get people involved and chatting ... 'Has Ed lost his mind' ... and when they find out the why, to donate.

CC: How do people donate?

EV: We have a website [see above] and it's set up like an event, but that hasn't been completely clear - people think they have to ride 300k and they don't. You register - it's $10 - and then if you are able you can donate more to the cause. It's pretty simple and straightforward.

Now if you do want to ride, there's a feature where you can track your distance across Canada. You can see everybody who is taking part and how far they have gone. It's one thing to say 5900 kilometres, but when you can see that I started virtually in St John's [Newfoundland] and now I'm in Lethbridge [Alberta], then with that visual, people go 'wow'.

CC: What's the goal?

EV: The operating costs of the velodrome are about $130,000 a year, so our lofty goal was $100K. We thought that if we could get out to the cycling community and they could all chip in $10, we might be able to pull it off. On the site it's about $12,000 and we have some donations to the velodrome outside of that, but we are still quite a bit behind of where we would like to be. I'd like to give them the biggest cheque we possibly can.

CC: So how are you feeling?

EV: It's been a rollercoaster. I've had lots of tough days ... now that I'm at Day 21, I'm just numb. I hurt all over. Every day this week I have thought it is my last day, I just can't do it anymore ... but then I get rolling, I get warmed up, I get fluid, and here I am again. It's kind of repeatable for the right cause; I'm at the end but I could do another day for the right donation, or I could do two more days, but ... I'm done. I think I did what I set out to do, which was get people talking and interested in the cause.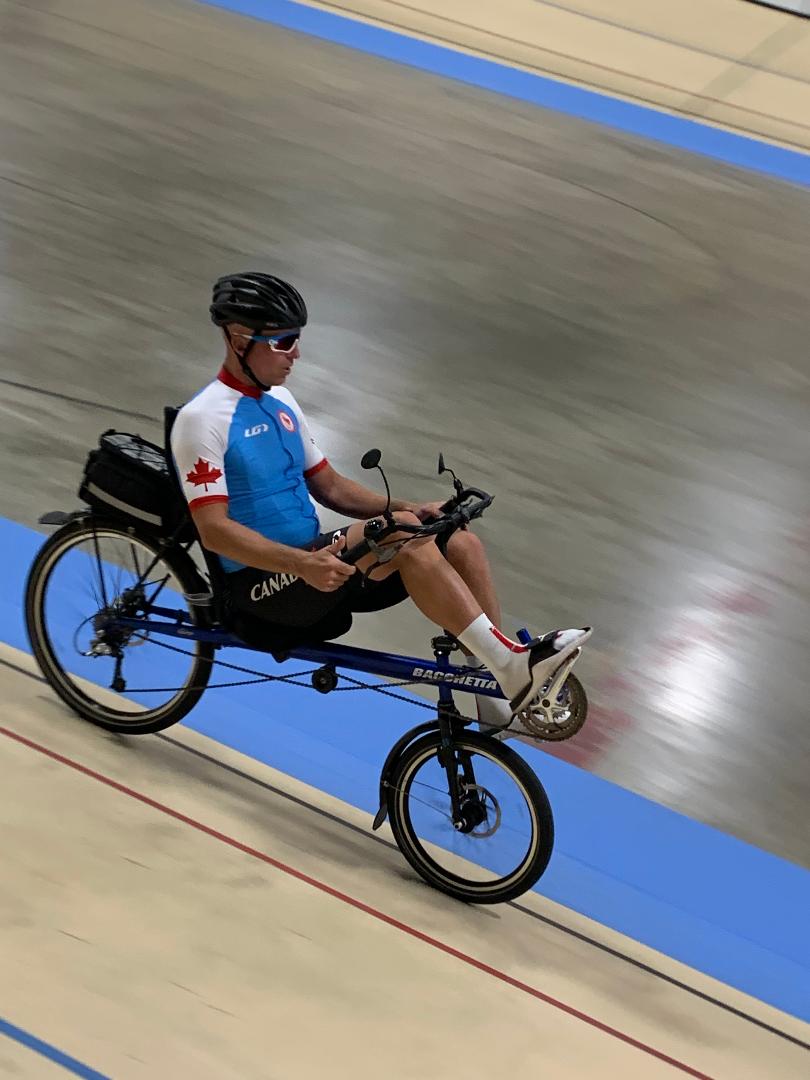 So what we are doing now is extending the Challenge to the end of the month [October 31st] for anybody else who wants to give it a shot, anybody else who wants to take part. So until the end of October the site is going to stay open. People can register and upload their files and take on the Challenge to cross Canada - or as far as they can - with their team or club, family or friends.

If there is someone out there who wants to throw a couple of thousand dollars in the pot, I'll keep going, but other than that, I'm done.

CC: A lot of riders have done a big day or two, but what's it been like as you've gone through this for three weeks? How have things changed?

EV: Early on, Day 2 or 3, my ankles swelled right up and I don't have any ankle issues, so I was a little nervous. My ankles got really painful and big and bruised, but it healed. I'm just dealing with pain ... everything is aching. I'm used to hurting, but just think of sitting on a saddle for that length of time - last week was 62 hours and the week before was 58 hours ... I have never sat on a saddle for that length of time, day after day after day. So everything is agitated and inflamed ... just picture the worst case scenario and I have it!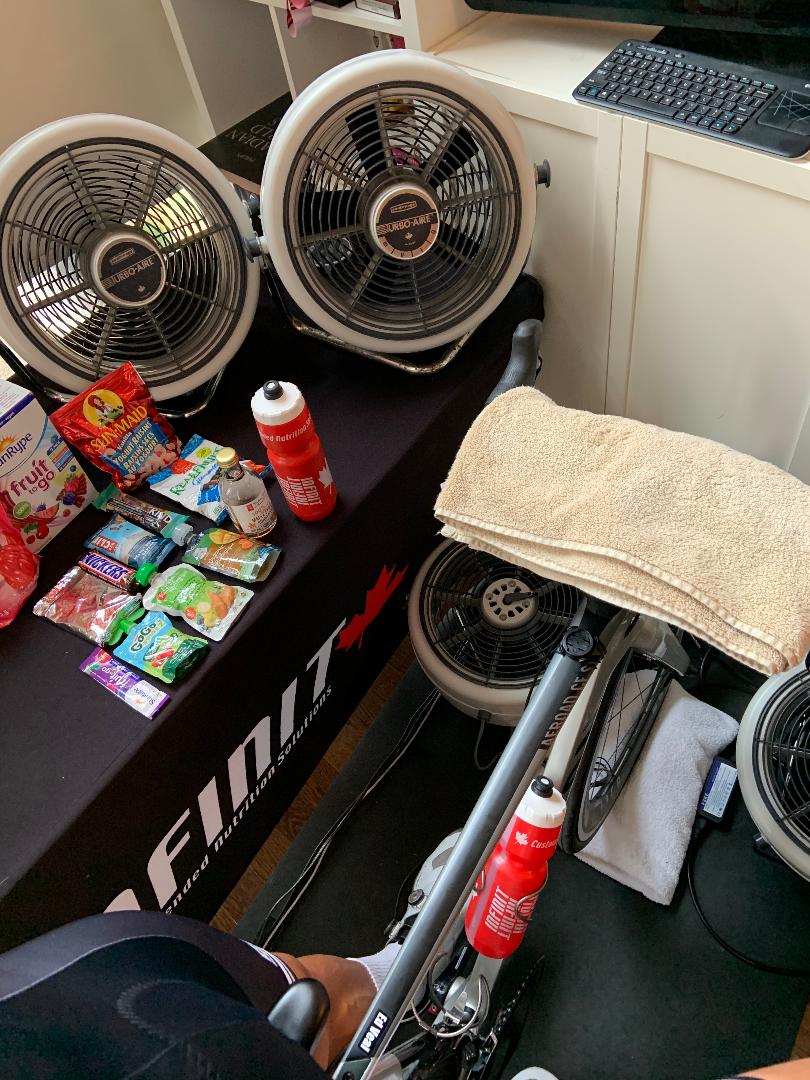 But outside of that ... I come to the bike to think, so that part has been awesome. A lot of people have been checking in, a lot of great conversations ... what I was looking for was an event to bring people together; I've been missing that like all of us, and that's what I've been pleasantly surprised about. We haven't had events and usually see each other, so I've been craving it and missing it, and really enjoying this again.

CC: I assume that more of it has moved indoors as it has gotten colder?

EV: Yes. I did a big ride to Windsor, I rode to London a few times ... I had these plans to ride with people but I couldn't hold their pace, once I got super tired. So I had to tell people that the ride plans had to be cancelled.

Indoors, I've got a table with all my food, if I need to lay down I've got a bed right here, rather than the grass or a ditch ... so I can ride for a bit, go and have a shower and put on new kit; that's magical!

The other thing is, that I still have to work. In my setup I have my laptop beside me and I can do my [RealDeal] coaching; I have to set up training plans and send out emails. I'm doing that while on the bike. And that's exhausting too.

CC: So the fact that you have made it to Lethbridge doesn't push you to keep going to Victoria?

EV: No, I don't need to get to Victoria [7,000 kilometres]. One day I will do that in real life - ride across Canada - but whether I end at 6300 kilometres or make 7000 ... this always has been about fundraising.

It is a physical effort and has been phenomenal - people are asking about my calories burned and my weight loss - but it wasn't a goal of mine to ride three weeks straight, 300 kilometres per day. The goal was to help FCV and donate some money to the MS Society of Canada.