February 5/13 9:36 am - Cyclo-cross Worlds - All Photos, Notes & Updates

Posted by Editoress on 02/5/13

We are still busy working our way through thousands of images (literally) from the Cyclo-cross Worlds this past weekend in Louisville, Kentucky. Check the link in the Photos section for the latest uploads. Once we have them all posted later today we will post a news item with links to all the galleries.

Our writer Emil van Dijk also has a couple of brief items on some of the more interesting things he saw at the start line.
Emil also bumped into a LOT of Canadians and took some of their photos
Call To The Post

When company from far away comes to visit, it makes sense to give them a taste of the local flavour. Since Louisville is home to Churchill Downs and the famous Kentucky Derby, it was almost a given that the 2013 world cyclo-cross championships would have an equestrian connection.

A few minutes prior to the start of each of the four world championship races, Steve Buttleman, the official bugler of Churchill Downs and the Kentucky Derby, trumpeted the 33 notes of Call to the Post, the famous bugle call that indicates a horse race is about to begin.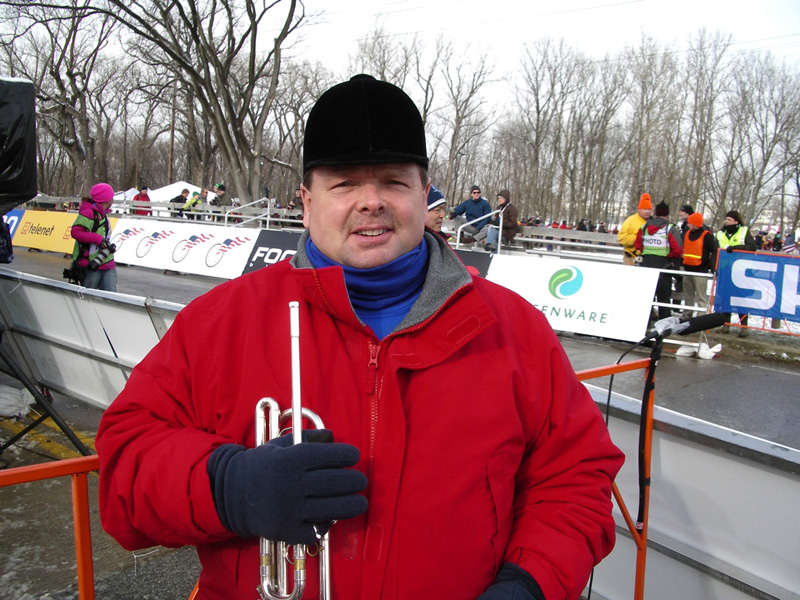 Steve Buttleman is the official bugler of Churchill Downs and the Kentucky Derby
An hour separated the completion of the U23 men's event, and the commencement of the fourth and final race, that of the elite men. When Buttleman played the opening notes calling the racers to the line, a huge roar erupted from the crowd, setting the stage for the excitement that was to follow.


UCI Borrows Formula 1 Start Procedure

The UCI is frequently criticized for not being up to date with the latest innovations, but the start sequence at the 2013 world cyclo-cross championships was very contemporary. No longer is blowing a whistle or firing a starter's pistol the preferred method of getting a race underway.

Much like Formula 1 automobile racing, a system of lights was installed on a gantry mounted across the finish line. A countdown clock stopped with 30 seconds remaining until the start, at which time a sequence of five red lights came on, one after the other.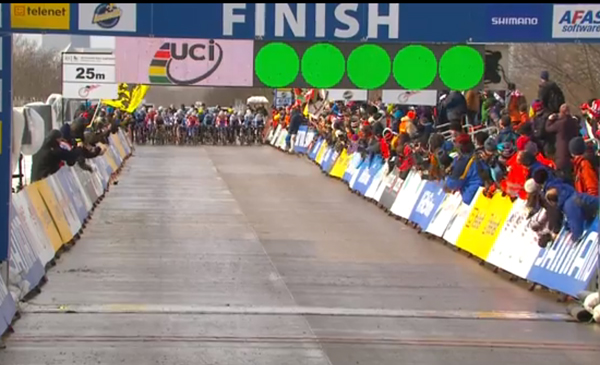 In Formula 1, when the red lights are extinguished, the drivers launch from the start line. At the world 'Cross championships, however, the riders had to wait a split second for all five lights to turn green before unleashing their pent-up energy.

For those old enough to remember, the gradual increase in tension led to a pressure-packed atmosphere not unlike the Apollo rocket launches of yesteryear. Adding to the experience was the thunderous booming created by spectators pounding on the advertising signs mounted along the start/finish straight.
---
Related Photo Galleries

Cyclo-cross World Championships February 1/13 - February 2/13, Louisville, Kentucky USA


Preview
Preview 2
Elite Men
Women
Junior Men
Fandom
U23 Men
Women PT2
U23 Men PT2
Junior Men PT2
Fandom 2
Elite Men PT2
---