February 2/13 20:29 pm - Cross Worlds: Women report

Posted by Editoress on 02/2/13

After suffering through snow, freezing conditions, a tornado warning and flooding, the 2013 UCI Cyclo-cross World Championships came together to produce a stunning day of racing for its American debut in Louisville, Kentucky. The Netherlands were the big winners, taking three out of four titles, including Marianne Vos winning her fifth consecutive Elite Women's Rainbow Jersey, but Belgium salvaged its pride by winning the premier Men's Elite race, as veteran Sven Nys took the second world title of his illustrious career. The top Canadian result of the day was Emily Batty - 15th in the Elite Women's race. Geoff Kabush was the top Canadian Elite Men's finisher in 24th.
Marianne Vos winning her fifth consecutive Elite Women's Rainbow Jersey
A crowd in excess of 9,000 (official estimate, but it does not include the large VIP contingent, so we would put it at over 10,000) roared their support for the stars of cyclo-cross, many making their first appearance in the United States. Flood warnings had forced a hasty rescheduling of the Sunday Elite races to Saturday, giving spectators a rare opportunity to see all four championship events in one day of racing. Race day began with snow, leaving nearly five centimetres on the ground for the start of the first race, however, it steadily warmed up through the day.

The Elite Women's race was expected to be between Vos, going for her fifth title in a row (and the sixth of her career), and American Katie Compton, the reigning World Cup champion. However, Compton got off to a poor start, falling back as far as tenth on the first lap. Vos, her team mate Sanne van Passen, Eva Lechner (Italy) and Lucie Chainel-Lefevre (France) took an early lead, as Compton steadily moved forward through the field, catching everyone but Vos by the third lap.

Vos proved to be in a class of her own, recording the only sub-7:10 laps of the race and pulling away to win by one minute and 34 seconds over Compton. Chainel-Lefevre took the bronze medal in an upset, after Katerina Nash (Czech Republic) suffered a mechanical while in third place, less than 100 metres from the finish line. Nash ran for the line, but Chainel-Lefevre sprinted by her with only a few metres remaining to claim the final podium spot.

"A world championship [win] is always special," said Vos. "The pressure is going up every year because everyone expects you to win. Of course, if you already won it five times, they think you can win it for the sixth time. They think it will be easy, but I was kind of nervous. The difficult moments were in the past two weeks."

"The plan was to do a good race, and of course I didn't expect to get such a big gap from the first lap on. Katie had some struggles in the beginning and it made the gap possible for me in the first lap. I had to get the feel of the course on the first lap and I didn't feel controlled, but after that I took the lead and tried to make my own pace and keep concentrating until the end. Of course I saw my advantage grow and that keeps you motivated."

"I have to say the Americans are really cool and were cheering for me too. Getting the world championship is really an amazing feeling, and it is different because it is in America and it is the first time it is overseas, so that makes it special. In the end, it is the same race with the same racers, and for me the pressure gets higher every year because people expect me to win."

Vos was asked by our correspondent Emil van Dijk, 'What will someone have to do to beat you? Her succinct answer: "Ride faster than me."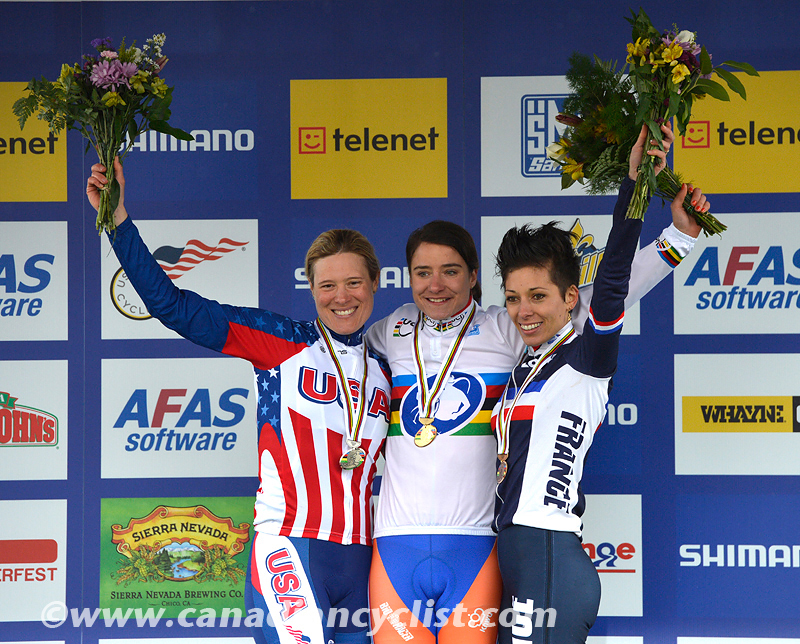 The Canadians

Batty, a mountain bike pro with the Trek team, came to Louisville straight from her training camp in Tucson, Arizona. She hasn't raced any cyclo-cross since the Canadian nationals, so had a poor start position, from which she gradually moved up.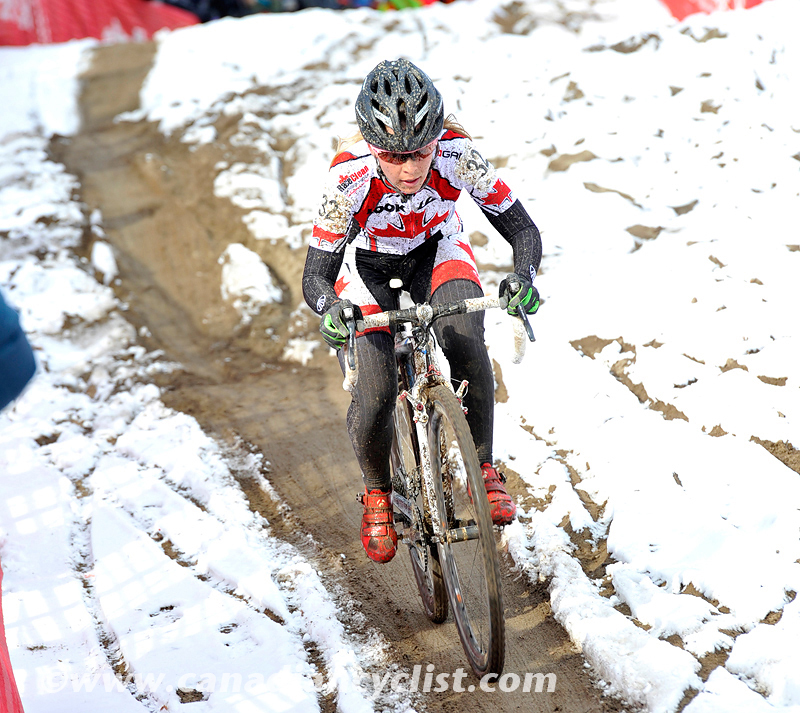 Emily Batty
"I wasn't chasing 'Cross races this year, I was focusing on the mountain bike season so this is just a month and a half, two months into my full-on training season for mountain biking and our focus is on a few months from now when the World Cups start in May. So, for end of January I'm pretty good. I showed good form. Things have been going pretty well. So for here it was just something to look forward too in the middle of the winter. Good tactic training. A lot of skill you just can't get on your mountain bike." [Note: We have a video interview with Emily that has been posted separately]

Canadian national champion Mical Dyck had a strong start, in ninth place after the first lap, but then struggled through the rest of the race, finishing 19th.

"There was a crash right off the start but I managed to miss it. My fitness just wasn't there. First lap I was top-ten and I blew a little bit. First lap the line was open so I took it. It worked pretty good because I passed a big bottleneck. I tried it again the second lap and I crashed. The frozen ruts were pretty gnarly. It was pretty good. It was hard. It was fun. It's the same course as the USGP course was this past year, and that was a very physically demanding. Now with the mud and the roots you couldn't quite torque as much, but it took more out of you just staying on the bomb the whole time. It was harder this time."

Pepper Harlton (24th) commented "A small mistake is a big mistake at an event like this. You get caught behind a few crashes and play catch-up, and then have a few crashes yourself. You need to do some big events to get used to recovering from big things like that."

Wendy Simms (22nd) is Canada's most experienced world championship rider. "It always helps if you've done a few world championships before and you know some of your competitors. I wasn't going into this with my best fitness so I just wanted to have a good ride and not put too many expectations on myself, so it was good. I got caught up in the crash on the first lap. I started on the fourth row and it happened right in front of me and there was nothing I could do. My bike got tangled up in some other bikes and my rear wheel got ripped off, so I had to stop and put it back in, so that's how it started. There was at least seven girls down that I could see."

"It's great seeing such a huge Canadian team. I really love it. There've been times when there were only one or two people on the team at the world championships, so seeing a full contingent and people crossing over from mountain biking and road is really great, because I think that cyclo-cross is one of the best sports to introduce you to cycling. It's really friendly to a beginning rider and it's a good experience for world championships at other events, so I'm really happy to see that there's a full Canadian contingent with a full support team. The managers did a great job; they were really organized. I hope the momentum builds up and it continues to be as big."

Emil van Dijk contributed to this report.
Fatal error
: Uncaught Error: Object of class PDO could not be converted to string in /home/canadiancyclistcom/canadiancyclist.com/public/modules/news.php:528 Stack trace: #0 /home/canadiancyclistcom/canadiancyclist.com/public/modules/news.php(517): getrelatedgallery() #1 /home/canadiancyclistcom/canadiancyclist.com/public/dailynews.php(58): getDailyNewsArticle() #2 {main} thrown in
/home/canadiancyclistcom/canadiancyclist.com/public/modules/news.php
on line
528