February 2/13 20:32 pm - Cross Worlds: Elite Men report

Posted by Editoress on 02/2/13

After suffering through snow, freezing conditions, a tornado warning and flooding, the 2013 UCI Cyclo-cross World Championships came together to produce a stunning day of racing for its American debut in Louisville, Kentucky. The Netherlands were the big winners, taking three out of four titles, including Marianne Vos winning her fifth consecutive Elite Women's Rainbow Jersey, but Belgium salvaged its pride by winning the premier Men's Elite race, as veteran Sven Nys took the second world title of his illustrious career. The top Canadian result of the day was Emily Batty - 15th in the Elite Women's race. Geoff Kabush was the top Canadian Elite Men's finisher in 24th.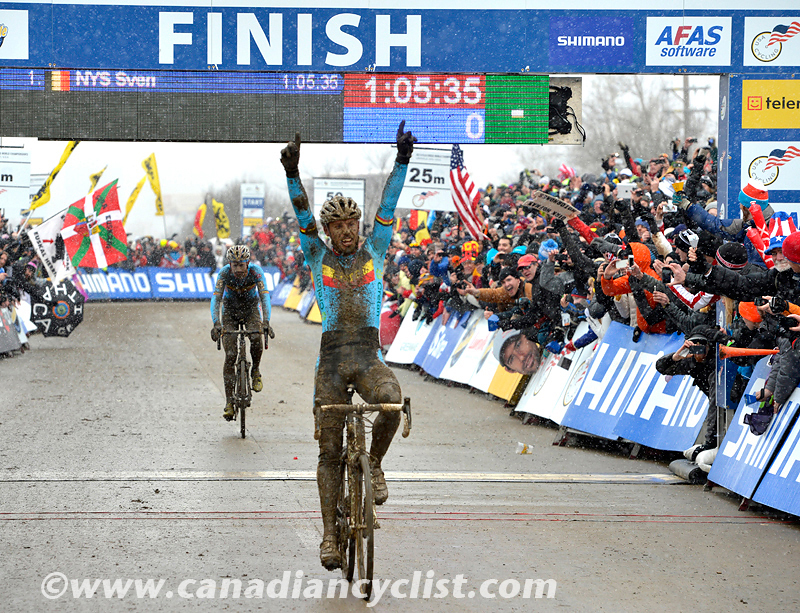 Sven Nys takes the second world title of his career
A crowd in excess of 9,000 (official estimate, but it does not include the large VIP contingent, so we would put it at over 10,000) roared their support for the stars of cyclo-cross, many making their first appearance in the United States. Flood warnings had forced a hasty rescheduling of the Sunday Elite races to Saturday, giving spectators a rare opportunity to see all four championship events in one day of racing. Race day began with snow, leaving nearly five centimetres on the ground for the start of the first race, however, it steadily warmed up through the day.

The Elite Men's race was Belgium's to lose, fielding a squad stacked with stars of the World Cup circuit. However, the Belgians seemed to be caught a little by surprise in the opening laps, when the French pro Francis Mourey attacked, gaining a 15 second advantage. Mourey managed to hold off the Belgian train until the fifth lap, when he was swarmed by three Belgian riders - Nys, Klaas Vantornout and Kevin Pauwels.

Mourey and Pauwels stayed with the leaders for one lap before Nys and Vantornout turned up the pressure and rode clear. As the two chasers faded, Lars van der Haar (Netherlands) was picking up places, moving into third with a lap and a half to go, and only 17 seconds behind the leaders as the race entered the last lap. Nys and Vantornout were looking over their shoulders as they started the final lap - was there a chance that van der Haar coud catch them and give the Netherlands a clean sweep of the titles?

The answer was a definite No, as Nys took control of the situation. The Belgian legend rode five seconds clear of his team mate, foregoing a bike swap as he attacked the final half lap. Nys had actually announced in frustration at last year's world championships that he would no longer race it, after once again failing to claim his first world title since 2005.

Vantornout tried valiantly to reel in Nys, even sprinting after him on the final pavement as Nys celebrated, but finished two seconds behind to claim silver. van der Haar could not match the Belgian attack, but hung on for the bronze medal, denying Belgium a clean sweep of the podium.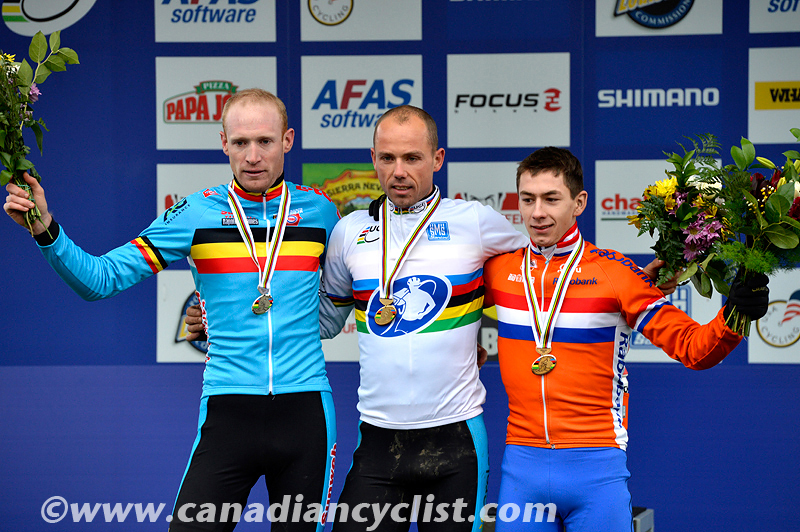 Klaas Vantornout, Sven Nys, Lars van der Haar
"It's amazing," agreed Nys. "Last year I said I won't do it anymore, and now I win the World Championship in the States. I would say thanks to all the US fans, they helped me a lot. It was a lot of motivation for me, and it created something special here. My family and my fans in Belgium, my national federation, they did one hell of a job. I am really happy with my second world title and now my career is complete."

The Canadians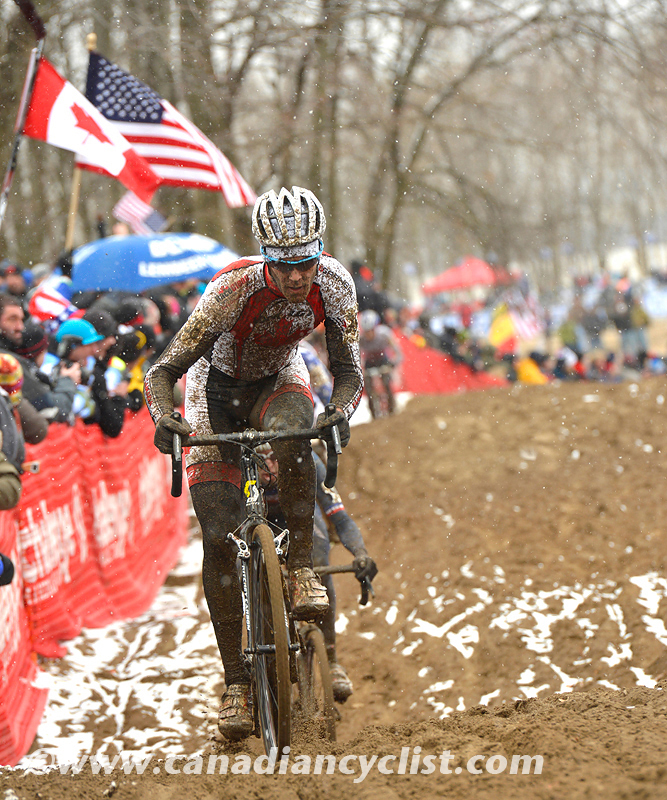 Mountain bike pro Geoff Kabush has won the national cyclo-cross title multiple times (and is the current national champion), but this was his first ever Cyclo-cross World Championships. Kabush rode consistently in the mid-20s to finish 24th.

"I had not a bad start, I got in the mix, close to the top-20, and then I made a couple of bad mistakes, had a couple of crashes and dropped back. But I was able to fight back there at the end. It was a great atmosphere, a great event. I had a lot of fun, and it was a big opportunity to come here and race. I'm just happy to represent Canada. [Note: We have a video interview with Geoff that will be posted separately]


Both Craig Richey (34th) and Mike Garrigan (37th) were pulled.

Craig Richey

Q: I know you didn't want to get pulled, but what feeling did you get from being in the world championships?
A: Going into (the race) I knew there was a high probability of being pulled, with the laps being pretty short. I knew that was a risk so I paced for a shorter race. I was pulled, but that was fine. The atmosphere was great. It was good.

Q: What was the greater challenge, the course or the conditions?
A: Riding in mud like this wasn't an issue. Living on the west coast I'm used to this. The course itself was pretty difficult.

Q: Did anything about the race surpise you?
A: It was pretty much what I expected. The course was changing from when I watched the U23 race, I watched it online from the hotel room. The lines people were taking in that race were different from the lines people were taking in our race. The course was definitely changing.

Q. What positives are you taking away from today?
A: That I may be not that far off. If you look at the lap times, one of my laps I didn't lose much time, maybe 15 seconds. Compared to the best in the world that's not bad. I beat Danny Summerhill who's on a Pro Continental team and he's one of the top Americans, so that's encouraging. 'Cross is my priority and it will continue to be.


Mike Garrigan

Q: What's going through your mind right now? (Right after being pulled)
A: I want to see who wins the race.

Q: So you're a fan?
A: Oh yeah. I wouldn't be here if I wasn't a fan. We pay our way so we're not doing it for money.

Q: What did you enjoy about today?
A: Obviously the atmosphere. The fans, people were cheering their hearts out. It was amazing.
Emil van Dijk contributed to this report.
Fatal error
: Uncaught Error: Object of class PDO could not be converted to string in /home/canadiancyclistcom/canadiancyclist.com/public/modules/news.php:528 Stack trace: #0 /home/canadiancyclistcom/canadiancyclist.com/public/modules/news.php(517): getrelatedgallery() #1 /home/canadiancyclistcom/canadiancyclist.com/public/dailynews.php(58): getDailyNewsArticle() #2 {main} thrown in
/home/canadiancyclistcom/canadiancyclist.com/public/modules/news.php
on line
528