March 5/16 18:48 pm - Canada Adds Fourth Medal at Track Worlds on Saturday

Posted by Editoress on 03/5/16

Canada continues to add to its medal count at the Track Cycling World Championships in London, Great Britain, adding a fourth medal on Saturday, a silver medal for Jasmin Glaesser in the Women's Points Race. Canada now sits fourth in the nation rankings, with two silver and two bronze medals.

Three titles were awarded, with the host nation adding a third gold medal to their total to lead the standings. Poland and Colombia each took their first titles of the championships. Britain continues to lead the overall medal count with seven medals.

Glaesser, who had previously won a silver medal in this same event, came within half a wheel of winning the title, finishing third in the final sprint for a total of 14 points, one less then Katarzyna Pawlowska of Poland. One position higher, and Glaesser would have donned the Rainbow Jersey. Arlenis Sierra Canadilla of Cuba took the bronze.




This coverage brought to you by Giordana: Ride Through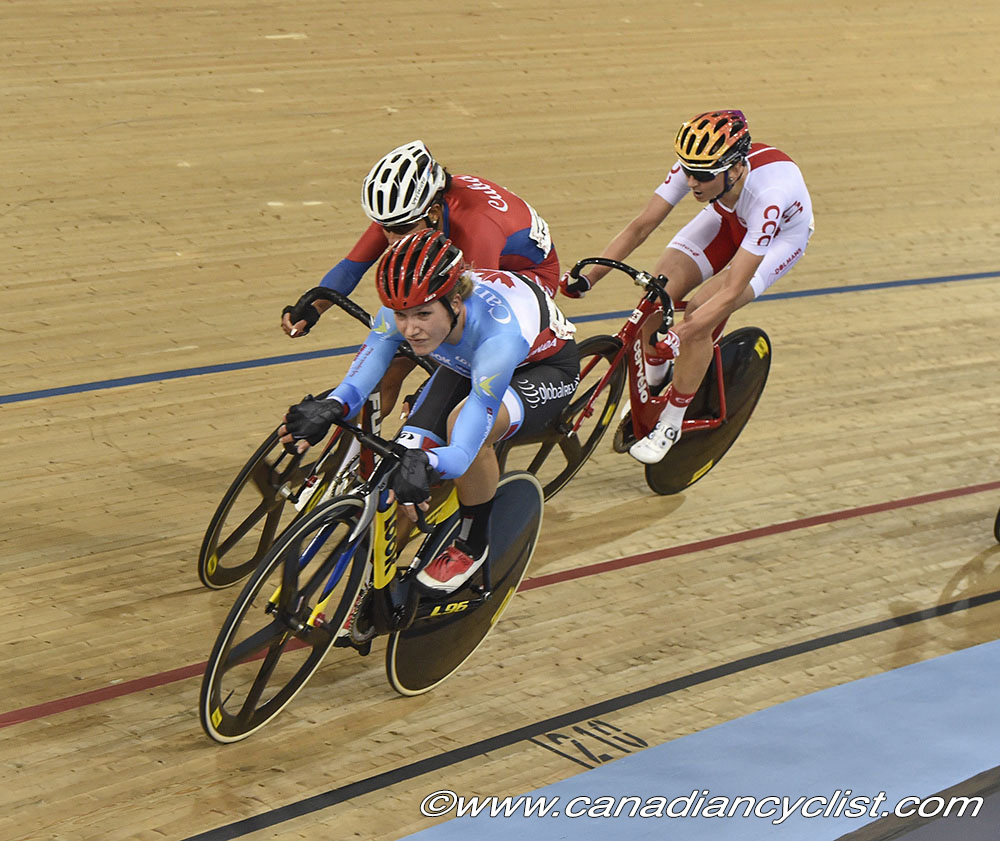 Jasmin Glaesser, Arlenis Sierra Canadilla, and Katarzyna Pawlowska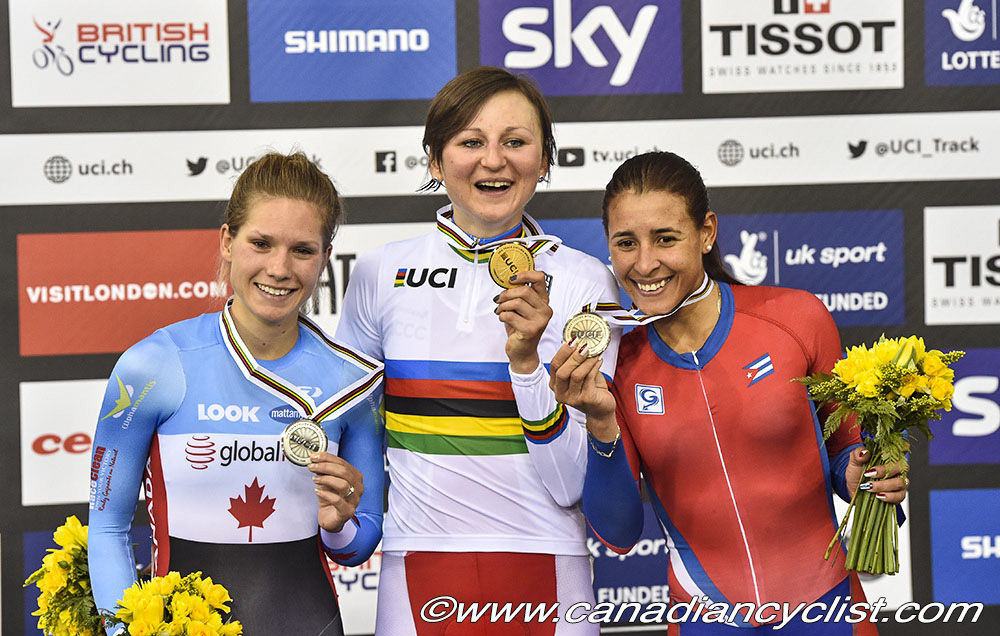 "The Points Race has always been my best event," said Glaesser, "but I've never made it to the top step, and I really wanted it out there today. It came down to half a bike length in that final sprint for one point...so it's a tough one to swallow when you get that close. It's within your reach, but it wasn't quite enough."

"I was hoping for a bit of a harder race. I prefer it more when it's a race of attrition, but it was a lot more tactical with positioning going into the early sprints. So I was too hesitant and holding back too much at the beginning, and having to scramble to make up those points at the end. There was definitely a moment when I was worried I wasn't even going to claw myself back onto the podium. I didn't race my best race out there and I'm a little frustrated with myself for that. But at the same time, you can't predict how these races are going to turn out, and I was able to adapt mid-race to a more tactical race."

"I knew I needed to finish ahead of the British rider and the Australian rider, because we were all close on points. I didn't realize until after that it was just that one point that would have made the difference between gold and silver. So it's a tough one to swallow."

"It's definitely great to see the success we are having; four days, four medals. It's not a bad haul so far, and more to come. It has been a good season for Canada. We've had our ups and downs, but through it all we've been super consistent. So to be World Cup champions and now a silver medal here [in the Team Pursuit]. I think the best part of that is knowing that although we've had some challenges during the last month [illness on the team] we were still able to pull it all together and come away with a silver medal in the Team Pursuit, which was our priority."

"I'm more motivated then ever for the Team Pursuit and what we have coming up, but at the same time, I'm going to take a little bit of a break from the track and join Rally Cycling on the road, along with my team mate Kirsti Lay. I know we're going to have a lot of fun, and hopefully get some great results on the road. But our focus is on this summer, and on the track."

Canada had riders in two other events, both of which conclude on Sunday. Kate O'Brien had the best showing of her career in the opening rounds of the Women's Sprint, winning her first round race against Kaarle McCulloch of Australia, and then moving on to the quarter finals on Sunday after winning her Repechage race.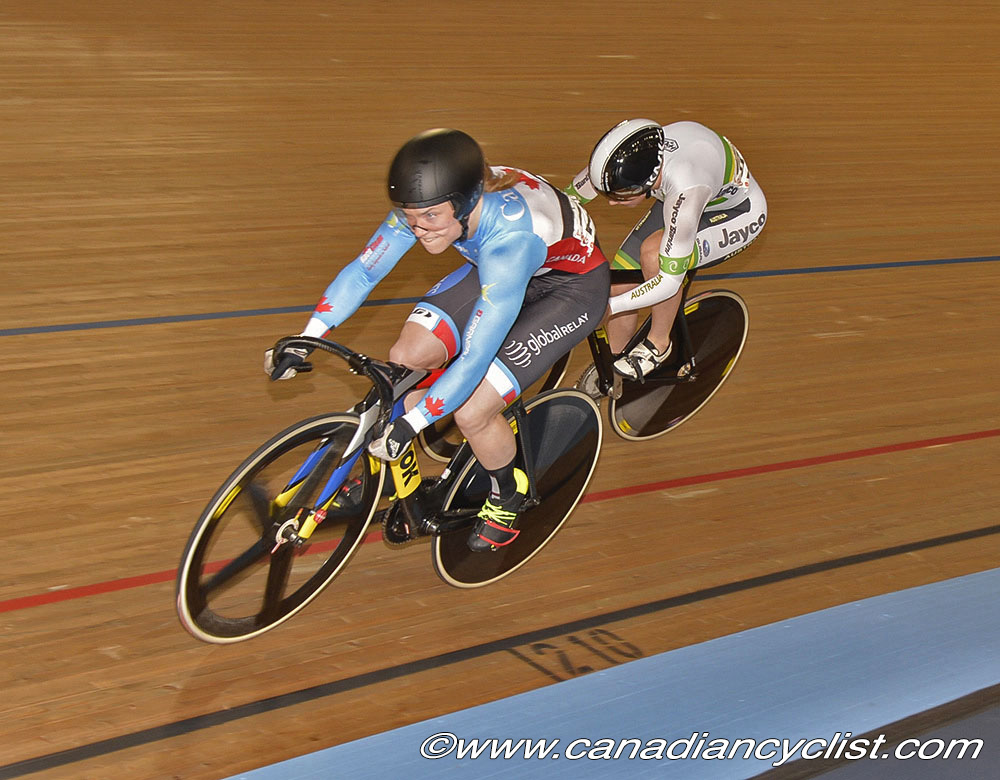 O'Brien winning against Kaarle McCulloch of Australia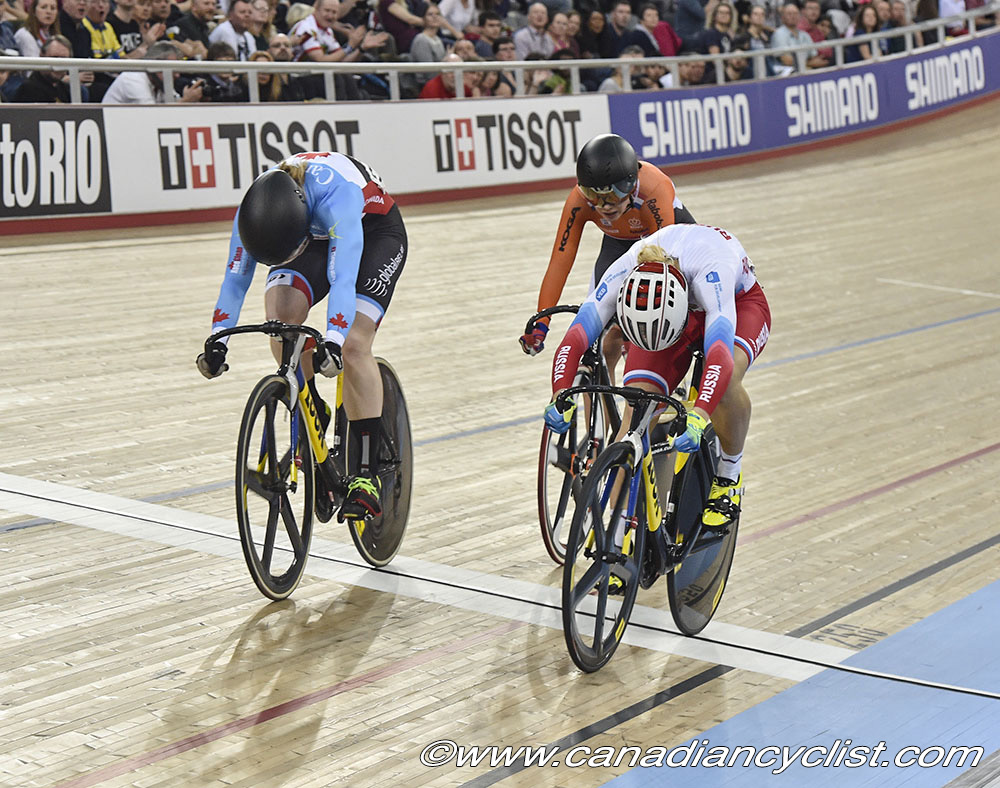 Winning the Repechage to advance to Quarter Final
"It's kind of funny," commented O'Brien, "I'm pretty new to the whole sprint thing, and this was the first time I was able to go in a sprint tournament as part of it, rather then thinking I didn't belong, or that everyone else was better. I went in not really expecting anything good or bad, and tried to ride my own race. And it worked out, which was nice."

"We have a tendency to train a lot from the front, so that's our go-to position. Erin [Hartwell, National Sprint Coach] talked to me about all the different scenarios, but definitely the front is the preferred one."

Against McCulloch: "that was a fun race, because it was one of the first times that I had an idea of what I wanted to do and I managed to execute it and it worked."

In the repechage: "I tried to get things going from the front - I made some tactical errors that I still have to work on - and the Russian [Voinova] managed to overtake me, but on the back straight I managed to rope her back in. I knew that it was a long finishing straight and that I could maybe get her there, and it worked out."

"All this is just gravy to me. We are always aiming for better and better results, but I'm going to try to go into tomorrow thinking the same things I was thinking today. You never know what can happen, and I'm just going to try to execute the best race that I can. Whatever happens, happens."

Allison Beveridge is competing in the Women's Omnium, and after the first three events is tied for ninth with 58 points. The Omnium concludes on Sunday with the final three events.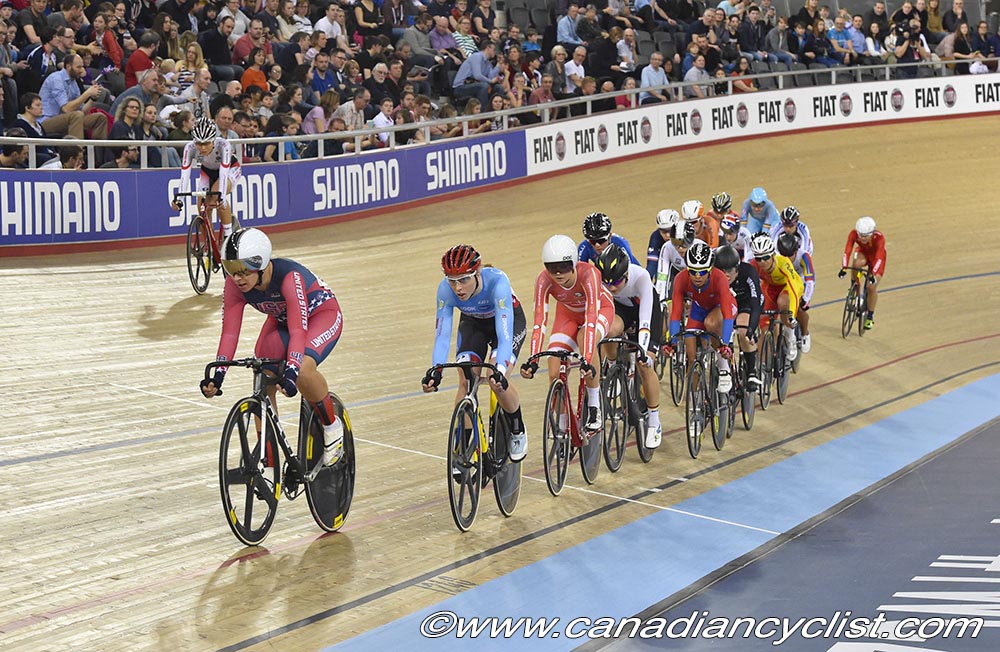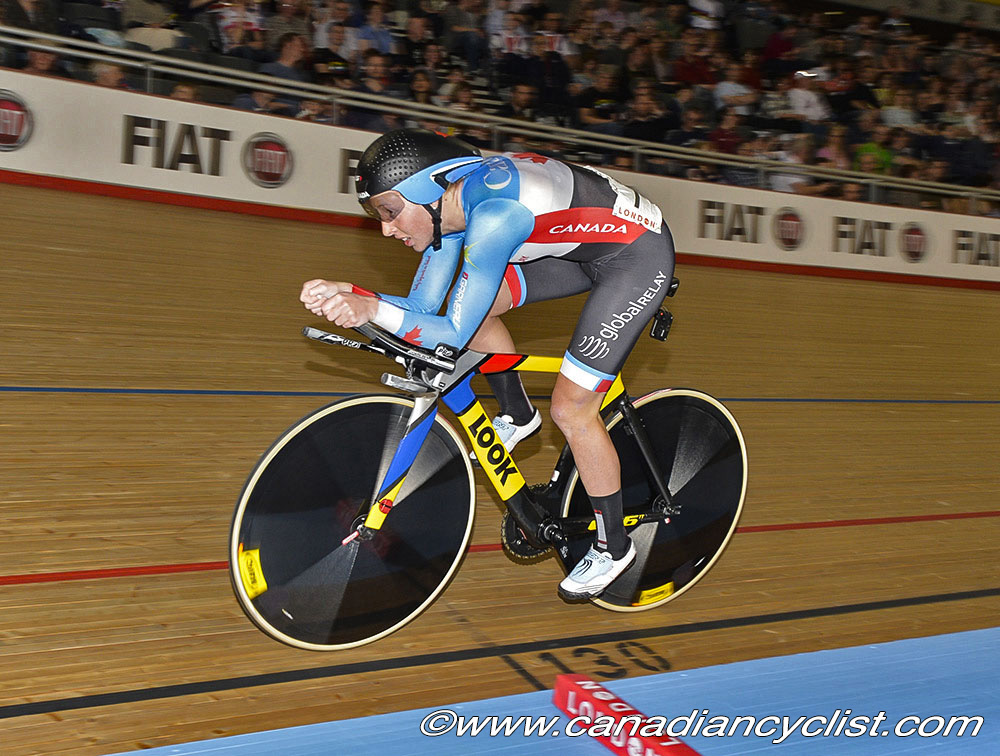 Allison Beveridge
Hugo Barrette will also compete on Sunday, in the Men's Keirin.

Events without Canadian participation:

The Men's Omnium proved to be as close as possible, with all three medal winners tied at 191 points, after six events and two days of racing. Elia Viviani of Italy entered the final Points Race in the lead, but defending champion Fernando Gaviria of Colombia scored points in six intermediate sprints, while both Roger Kluge (Germany) and Glenn O'Shea (Australia) each lapped the field twice. With all three riders at 191 points, it came down to who crossed the line first at the end of the Points Race, and that was Gaviria.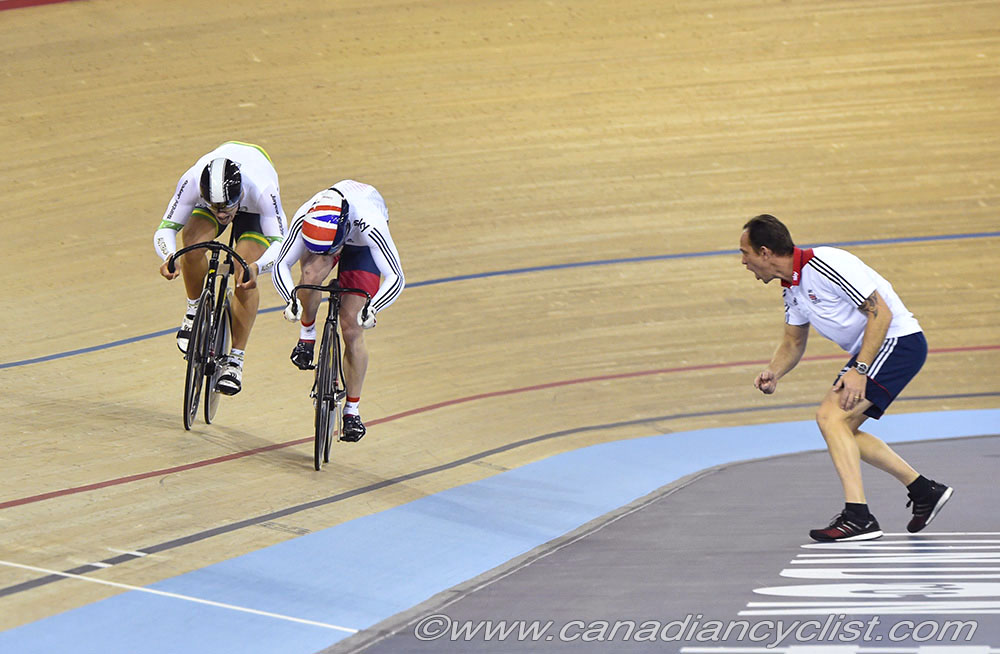 Jason Kenny vs Matthew Glaetzer in the Gold medal final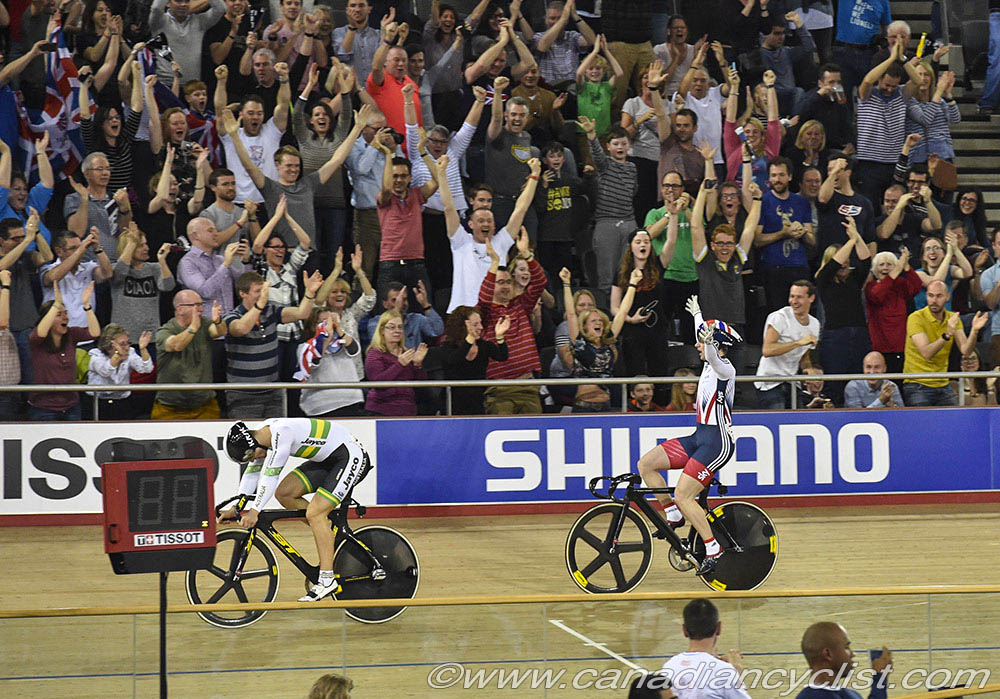 The final title of the night was for the marquee Men's Sprint competition. After two days of heats, the championship came down to defending Olympic champion Jason Kenny of Great Britain and Matthew Glaetzer of Australia, the two fastest qualifiers at the beginning of the Sprint competition. Glaetzer took the first of three rides, but Kenny came back to take the second in a photo finish, and then capped off the evening for the local crowd with a second win for the gold medal.
Previous Days
---
Related Photo Galleries

Track World Championships March 2/16 - March 6/16, London UK


Training
Men Team Pursuit Qualifying
WOmen Individual Pursuit Qualifying
Women Team Sprint Qualifying
Women Individual Pursuit Final
Men Team Sprint Qualifying
Men Team Sprint Final
Women Team Sprint Final
Men Scratch Race
Men Scratch Race
Women Team Pursuit Qualifying
Women Scratch Race
Women Keirin PT1
Men Team Pursuit Final
Women Keirin Final
Women Team Pursuit Round One
Women Team Pursuit Final
Men Sprint Qualifying
Men Sprint 1/16
Women Omnium: Scratch Race
Women Sprint Qualifying
Women Sprint: 1/16, 1/8, Repechage
Women Points Race
Women Omnium: Individual Pursuit
Men Omnium Scratch
Men Omnium: Individual Pursuit
Men Points Race
Women 500 TT
Men Kilo TT
Men Sprint 1/4 Final
Men Sprint: Semis and Finals
Men Omnium Kilo
Men Omnium: Points Race
Women Omnium: 500TT
Women Omnium: Flying Lap
Women Omnium: Points Race
Women Sprint: 1/4 and 5-8 Final
Women Sprint: Semis and Finals
Men Keirin: Round 1 and Repechages
Men Keirin: Finals
Men Madison
---