March 4/16 18:54 pm - Canada Makes It a Hat Trick with Silver in Team Pursuit at Worlds

Posted by Editoress on 03/4/16

Canada kept its medal streak alive at the Track World Championships on Friday, in London, Great Britain, by taking the silver medal in the Women's Team Pursuit. This is the third consecutive day that Canada has medaled at the championships, with bronze medal performances on each of the first two days.

Host nation Great Britain surged into the medal lead on Day 3. Great Britain won three medals, to take their total to six, including a second gold medal. Other world titles were awarded to the United States, Russia and Italy.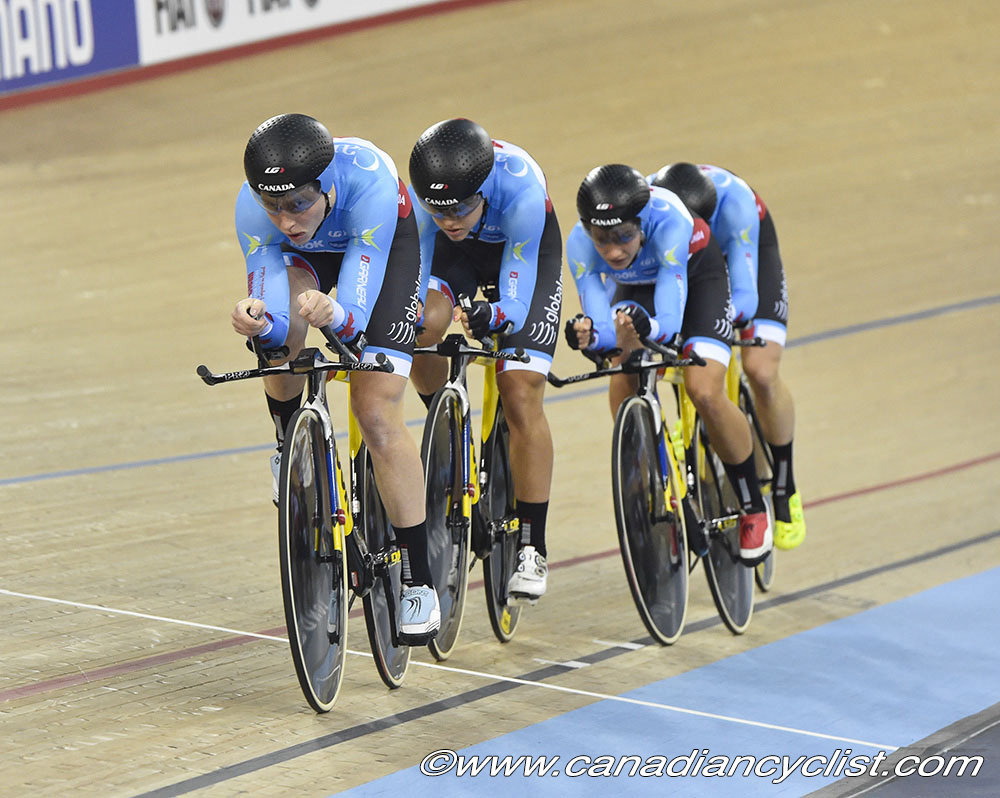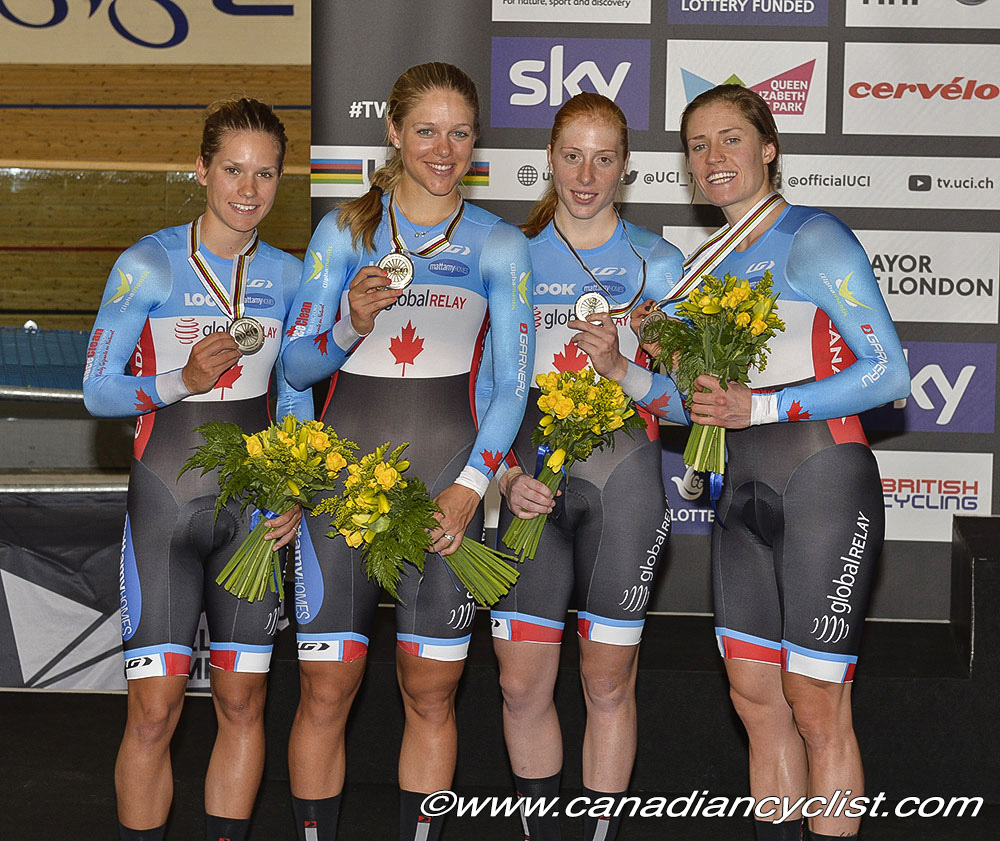 The Canadian team of Allison Beveridge, Jasmin Glaesser, Kirsti Lay and Georgia Simmerling qualified second behind the United States on Thursday, and raced New Zealand in an early session on Friday, with the winner moving on to the gold medal race in the evening. After leading comfortably for much of the race, a poor exchange late in the race meant the Canadians had to struggle to beat New Zealand by a mere three-thousandths of a second to get into the gold medal race.

Against the Americans - who had set the fastest time of the competition in their qualifying race - Canada held their ground for the first 1000 metres, but gradually began to lose time through the remainder of the race, eventually finishing 2.723 seconds behind.

"We came here with the expectation that we could win Worlds," admitted Lay, "so it's bittersweet to come in second. But at the same time, I think we put everything that we could into this race. We have our eyes on Rio [Olympic Games] and that's the most important thing. So we will regroup and move forward. We know we are capable of so much more, so a silver is still pretty good."

"We have been changing positions up, trying to see what is the best strategy. I've been more on the front end this week, so it takes more out of me at the end. We'll keep switching up and see what is the best combination."

"It just shows the depth of women's cycling, and everyone's bringing their A game. Nothing's for sure now, and you have to work for absolutely everything out there. We are definitely fired up and we want this so bad. We couldn't be more motivated after this weekend."

"It's been an amazing track season. I think it's a testament to our staff and Cycling Canada, and everything that they've done for us. we have such a team behind us that we have no reason not to succeed. We have evidence that we can put great rides together, so we've just got to keep that in our minds and keep moving forward."

National women's coach Craig Griffin commented "I'm very happy with a silver medal. It's always good to finish the season on a high note. We came here thinking gold ... a couple of weeks ago it was probably a bit closer than when we got here. We had some bad luck along the way and athletes trying to get healthy after Hong Kong. But to be on the podium in second makes me pretty happy. There's such a long way to go to Rio, and we've got a lot of work to do. I like our chances, knowing that we're close."

Griffin also commented on the rise of both the United States and New Zealand to join traditional strong countries of Canada, Australia and Great Britain. "For sure we have seen them coming. every year, I say 'they're coming, they're coming'. So it's just been a matter of time, and now we have five or six teams in the mix. It's only going to get tighter."

In other Canadian performances, Hugo Barrette qualified 17th for the Men's Sprint with a time of 9.992 seconds, in a field where 18 of 24 qualifiers went under 10 seconds. For his first round of racing, Barrette was paired up with the defending and four-time world champion Gregory Bauge of France. Barrette went to the front and controlled the race, and was still leading with 50 metres to go, before Bauge caught him on the line in a photo finish.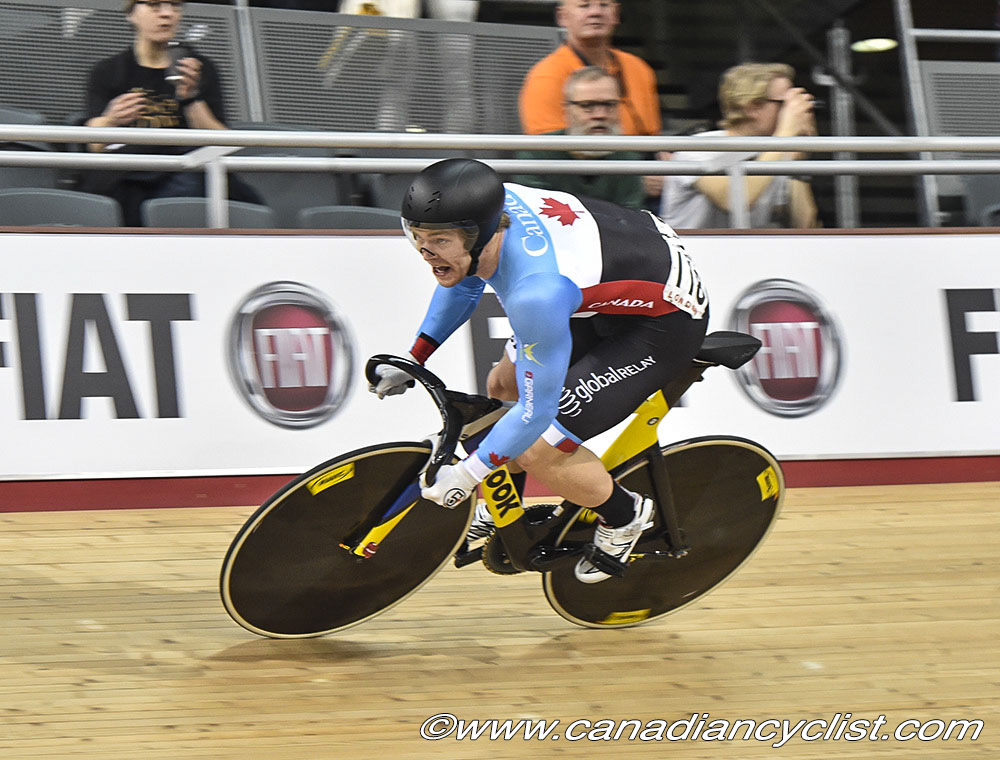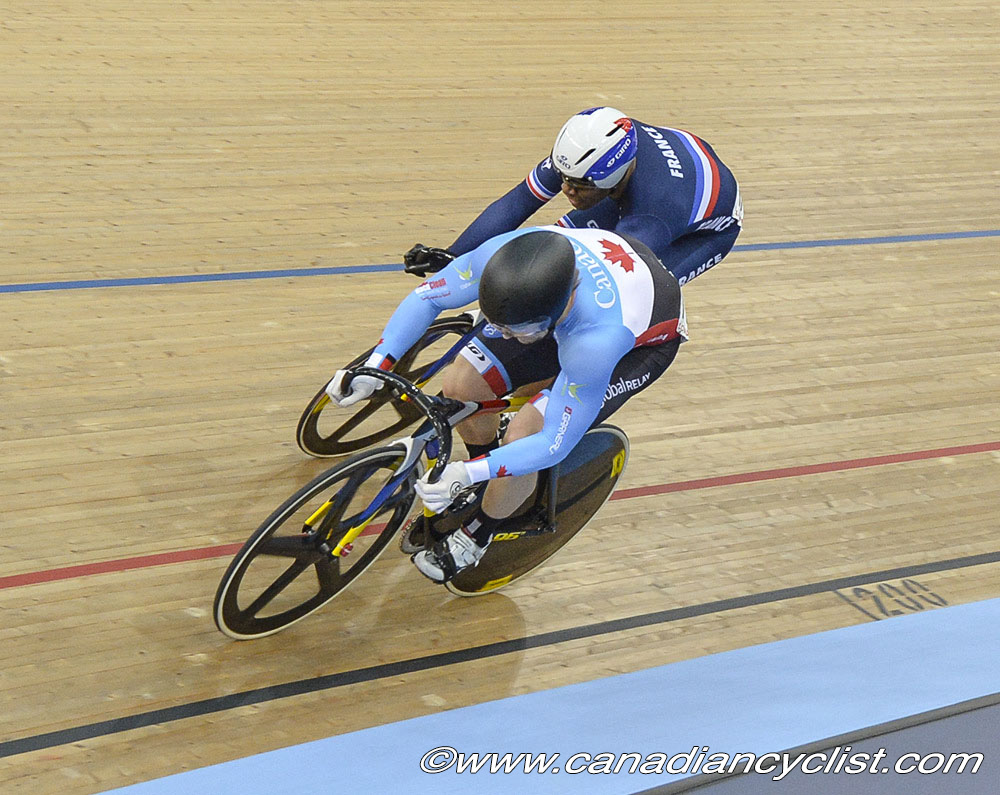 "It is the fastest competition of all time, by far," commented Barrette. "It's pretty amazing; in 2012 at the Olympics [on this track], only three guys were under 10 seconds."

"It was interesting [to go against Bauge], but no matter who is in front of me, I'm going to try to win. I didn't look at it as 'I'm going against the world champion', I just gave it my best shot, and at the end of the day, he beat me by one tire [width] in a photo finish. I raced really well and no mistakes were made, it was just that he was stronger today. I'm not disappointed, I think I did a good ride."

"I'm stronger at the front ... or I should say, I'm more comfortable at the front. I knew it would come to the line if I was in front. I did it at Pan Ams and won, so I was going to do it again. And I almost won. I'm happy with my day overall; I was able to do a good performance, so I know I have good legs for the Keirin coming up."

"I feeling really good; I'm faster then in Hong Kong [where he won the silver medal]. For the Keirin it's going to be interesting to see what happens, because again it's going to be an extremely hard field. But I'm going there to win, like I do in every race, so let's see what happens."

Remi Pelletier-Roy also competed, in the Men's 4000m Individual Pursuit. Pelletier-Roy qualified 14th, and did not move on to the next round.

"This was the first time [at the world championships] for our men's Team Pursuit program," said Pelletier-Roy, "and also the first Worlds for myself and everybody on the team. It was pretty exciting to qualify after we didn't qualify last year, and qualifying through the World Cups was a big achievement for us. To put up a 4:05 time [for the Team pursuit]; I think we can be pretty proud of that."

"Usually in the IP [Individual Pursuit] I'm conservative, because when I do it in the Omnium it is only one of six events. Since this was a standalone IP, we thought it would be good to have a go. Last week at Milton [velodrome] I did a 4:23, which is a pretty good time, so we went with a bigger gear and faster schedule, because it's Worlds and I didn't want to have any regrets. I blew up a bit, but I'm still happy I went for it. It's been a pretty good year, I'm pretty happy with it."

"Now I have maybe a week off before going to Florida for a training camp [on the road], and then I'll be racing for Garneau this summer."

Canada has a full day of competition on Saturday, with Allison Beveridge starting the Women's Omnium, Jasmin Glaesser the Points Race and both Monique Sullivan and Kate O'Brien entered in the Sprint.

Events without Canadian participants:

The first title of the day went to Russia's Anastaslia Voinova, in the women's 500m Time Trial. Voinova became the first two-time winner at these championships, adding the 500m title to her Team Sprint gold. Lee Wai Sze of Hong Kong China took the silver medal, and Elis Ligtlee of the Netherlands the bronze.

The Men's Individual Pursuit title went to 19 year old Filippo Ganna of Italy, with a time of 4:16.141, finishing over two seconds ahead of Domenic Weinstein of Germany. The battle for the bronze was between two British riders, with Andrew Tennant beating compatriot Owain Doull.

The final title of the evening went to Great Britain's Jonathan Dibben in the Men's Points Race, after a battle to the final sprint. Dibben won the final sprint to score maximum points, putting him in a tie at 48 points with Austria's Andreas Graf. Dibben took the title by virtue of winning the final sprint. Kenny De Ketele of Belgium took the bronze medal.

The Men's Omnium concluded its first three of six events, with two riders tied on points. Defending champion Fernando Gaviria of Colombia and Italy's Elia Viviani go into the second day with 102 points each, followed by Thomas Boudat (France) and Roger Kluge (Germany) at 96 points each.

The action continues on Day 4, with the conclusion of the Men's Omnium and the Men's Sprint, plus the title in the Women's Points Race. The Women's Omnium and Sprint competitions will also begin.
Previous Days
Fatal error
: Uncaught Error: Object of class PDO could not be converted to string in /home/canadiancyclistcom/canadiancyclist.com/public/modules/news.php:528 Stack trace: #0 /home/canadiancyclistcom/canadiancyclist.com/public/modules/news.php(517): getrelatedgallery() #1 /home/canadiancyclistcom/canadiancyclist.com/public/dailynews.php(58): getDailyNewsArticle() #2 {main} thrown in
/home/canadiancyclistcom/canadiancyclist.com/public/modules/news.php
on line
528