March 2/16 19:46 pm - Canada Starts Track Worlds with Bronze Medal

Posted by Editoress on 03/2/16

Canada scored its first medal of the 2016 Track World Championships in London, GB, on Wednesday, the opening day of competition, when Annie Foreman-Mackey of Kingston, Ontario, won the bronze medal in the Women's Individual Pursuit. It is Foreman-Mackey's first world championships, and her first time competing in the Individual Pursuit at the international level.



This coverage brought to you by Giordana: Ride Through


Track Worlds saw four world titles awarded at the Lee Valley VeloPark on Day 1. No nation dominated, with four different national anthems played through the evening, and a total of 11 countries winning medals.

The 24 year old Foreman-Mackey joined the national Team Pursuit program last year, and was brought to the world championships as a potential member of the Team Pursuit squad. However, she was not selected to the TP squad, and entered in the 3000m Individual Pursuit instead. Foreman-Mackey qualified third, and raced against Ruth Winder of the United States in the bronze medal final, beating Winder by 3.847 seconds to win the bronze medal. Defending champion Rebecca Wiasak successfully held onto her rainbow jersey, ahead of Malgorzata Wojtyra of Poland.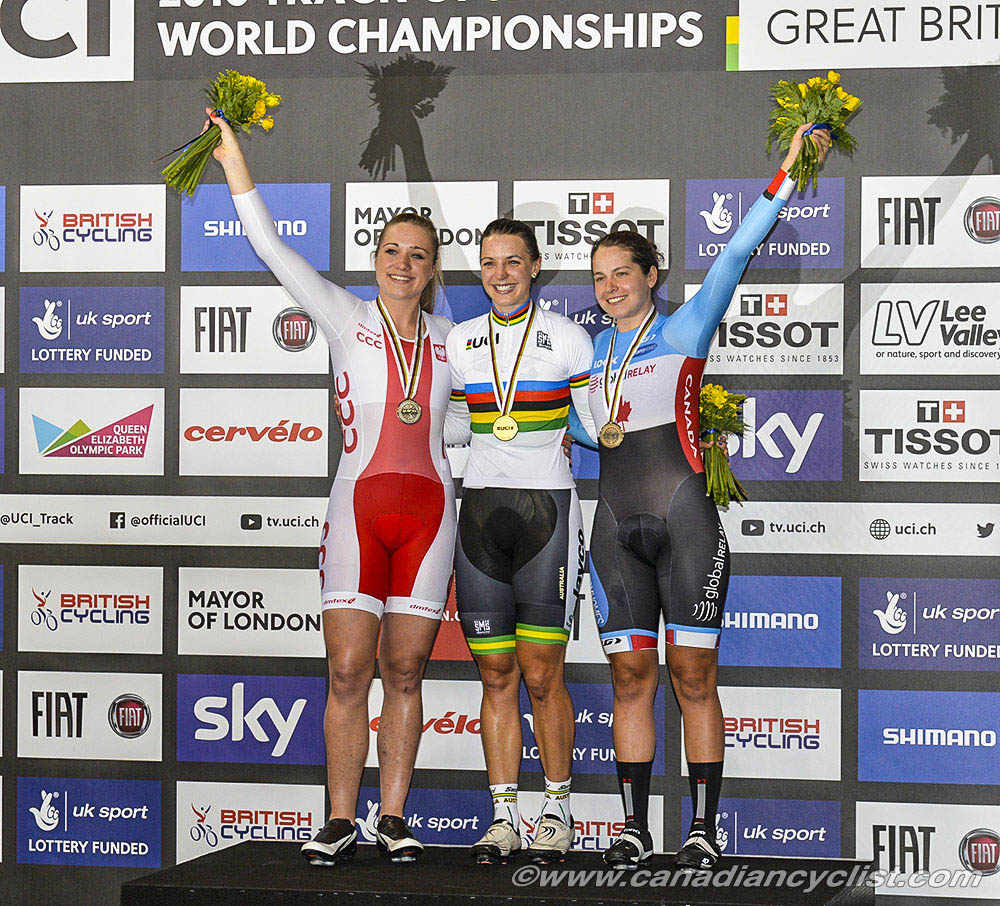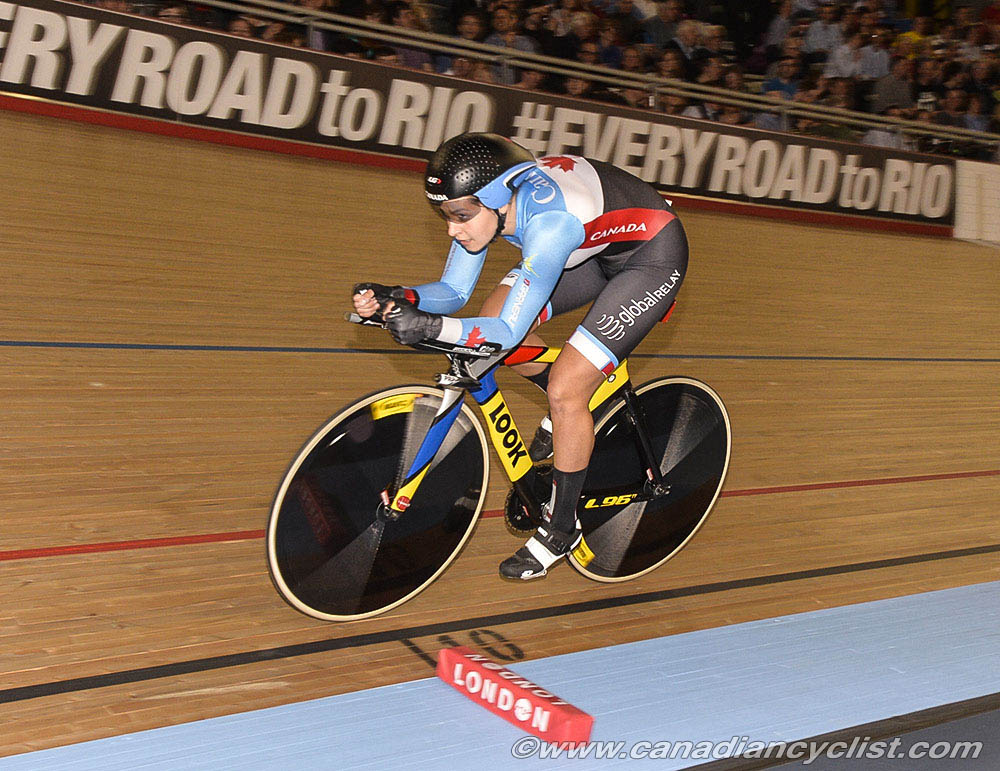 Annie Foreman-Mackey
"It's pretty exciting," agreed Foreman-Mackey. "We came into the world championships with a lot of focus on the Team Pursuit. We've done a lot of training and so it was awesome to be able to let that training shine today. I'm really excited. It was a surprise, and I'm really happy. I've done one [Individual] Pursuit at Pan Am Championships before but, other then that, this is the biggest ride I've done."

"I started out a little too hot [in the qualifier]; I think I just got a little excited. But tonight I just tried to ease up on the first couple of laps and it was a smoother ride this evening."

"I came in [to the national program] last year around November/December, and I've gradually been joining into the lineup. The team is getting bigger and stronger, and I think we have a lot of momentum. I'm so excited to be able to cheer on my team mates over the next couple of days."

In other competition, the Canadian women's Team Sprint duo of Kate O'Brien and Monique Sullivan qualified ninth after a false start. The result was meant that they did not qualify for the medal round, however, they did beat Americas rivals Colombia (11th) and Mexico (12th), ensuring a spot for Canada at the Rio Olympics in August.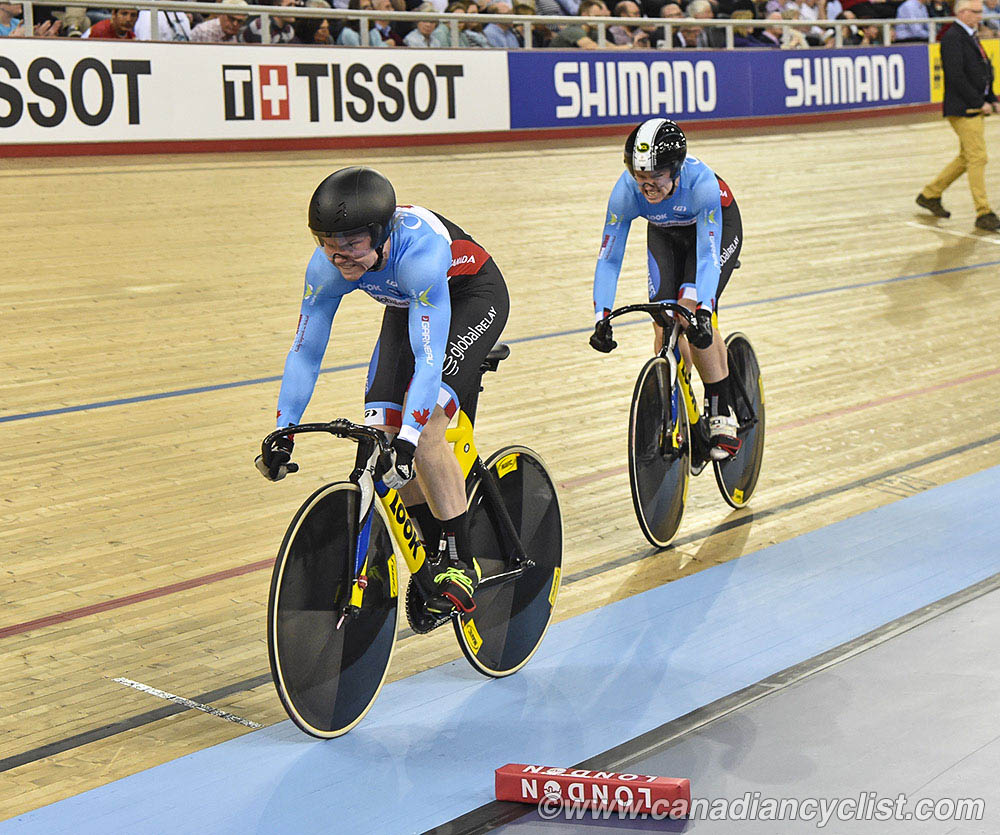 Kate O'Brien leads Monique Sullivan
The Russian duo of Daria Shmeleva and Anastasiia Voinova won the women's title after the defending champion squad from China was relegated for an improper change in the final. Germany took the bronze medal over Australia. In the men's Team Sprint, the New Zealand squad won the title by a bare two-tenths of a second over the Netherlands. Germany won the bronze medal ahead of France by an infinitesimal 41-thousandths of a second.

"Coming into this, the goal was always aiming towards that August race in Rio...the little thing called the Olympics!" explained O'Brien. "But, we came into the race after chasing points against the Colombians and the Mexicans for the entire qualification, and it was only after the last [Hong Kong] World Cup that we managed to sneak ahead. We had a bit of luxury in that respect, but we knew we still had to come out and give it our best. It was nice to know that we needed a solid race, but not our best race and we would still qualify."

"It was sort of funny; we had talked about all the various scenarios, and one of the things that could have been worst was getting relegated. So after a false start, it's a testament to Monique that she was able to, after a false start, manage to pull it together and do a good lap."

"It's a bit surreal actually [qualifying for Rio]. I don't think it's really hit yet. It's been such a long process to get there; clawing for those points race after race ... and now it has culminated in the end goal."

National Sprint Coach, Erin Hartwell, said "Top-8 was our objective, but at the world championships everyone brings their A-Game. We still have a ways to go. The girls have been on fumes for the last couple of World Cups, sustaining the unsustainable and chasing Olympic points. Going into Hong Kong [World Cup], we were still 17 points down to Colombia for the last Olympic spot. So the objective here was 'Finish the Job', and that's what we did. After the false start, I could tell that Monique was being a bit more conservative, waiting for the beep. That put us a couple of tenths down, but the reality is that there was still a four or five tenths differential between us and eighth place, so overall I'm very happy with it because we did solidify the Olympic position."

The Canadian men's Team Pursuit squad suffered technical mishaps in their qualifying ride, finishing 12th and not advancing to the next round. Halfway into the 4000m race, a bobble in one of the corners resulted in the fourth rider, Ed Veal, having to swing wide up the track to avoid crashing, and subsequently unclipping. Canada continued to finish with three riders.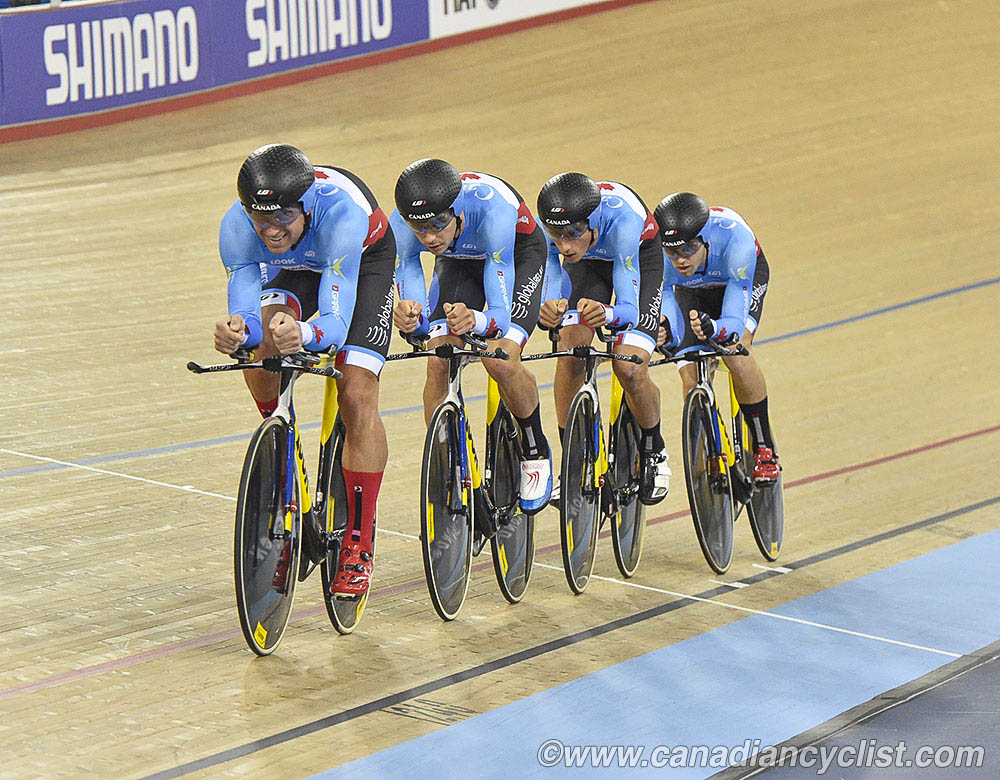 Ed Veal leads Men's Team Pursuit squad
National men's endurance coach Ian Melvin, commented "It was a challenging ride for the boys out there today, but I think sometimes we forget how inexperienced this program is. We've only actually had a handful of races together, so every time we step out there we are learning. Physically, the boys were in great condition, but unfortunately we got caught out with some technical issues. We took a bit too much speed into the first kilometre and a half, and that caught up with us around the two and a half K mark."

"Then we had a wobble coming out of Turn 2 and it cost us one of our riders. There's always growth and we are going to learn from this. So I'm proud of the boys, and we'll come back for the next World Cup season in a much better place."

"Last year we didn't qualify for the world championships and we finished the World Cup season in 17th place. This season we made up five places and we beat all the other teams in the Americas. We're starting to become competitive with a number of teams, so overall there are huge positives to take away."

Team member Sean Mackinnon, riding in his first world championships, commented "It was definitely an experience. We knew that we would hopefully make it here, despite the last minute organizing the funding stuff. It's a really awesome experience and one we can take forward for next season on the track."

"Watching the video after the race, it looks like we had a bit of a wiggle coming out of the corner, and Ed [Veal] went totally up track and came unclipped. He came out of it unhurt, so that's good."

"We definitely can't be disappointed. I think everybody left it out on the track, and you can't ask for much more then that."

In the only mass start event of the night, Spain's Sebastian Mora Vedri made a bold attack in the closing laps to solo in for victory. Mora Vedri was one of six riders to take a lap on the field, and then attacked again for the win. Mexico's Ignacio Prado won the field sprint for the silver medal, while Claudio Imhof of Switzerland took bronze.

Race Notes

- The Chinese coach broke his hand after slamming it into a table following the relegation.

- Great Britain will not qualify for the Olympics in the Women's Team Sprint after only finishing fifth in qualifying. They needed to beat France by two nation spots and only finished with one between them.

- Remarkably, France, Great Britain and Australia were all shut out of the Team Sprint medals in both the men and women.
Fatal error
: Uncaught Error: Object of class PDO could not be converted to string in /home/canadiancyclistcom/canadiancyclist.com/public/modules/news.php:528 Stack trace: #0 /home/canadiancyclistcom/canadiancyclist.com/public/modules/news.php(517): getrelatedgallery() #1 /home/canadiancyclistcom/canadiancyclist.com/public/dailynews.php(58): getDailyNewsArticle() #2 {main} thrown in
/home/canadiancyclistcom/canadiancyclist.com/public/modules/news.php
on line
528