March 6/16 14:56 pm - Canada Finishes Track Worlds with Four Medals

Posted by Editoress on 03/6/16

Canada's Allison Beveridge came within one spot of adding a fifth medal to Canada's total at the Track World Championships in London, Great Britain, on Sunday, the final day of competition. Beveridge finished fourth overall in the two-day, six event Women's Omnium, surging back after struggling on Saturday. Kate O'Brien also had a strong day, finishing sixth overall in the Women's Sprint.

Four titles were awarded on Sunday at the Lee Valley VeloPark in London, Great Britain. The host nation took two gold medals, to boost their total to nine medals, including five gold, the most of any country. Germany added a third title to finish second in the standings with eight medals. China took their first gold medal of the championships, finishing 1-2 in the Women's Sprint competition.




This coverage brought to you by Giordana: Ride Through
Overall, Canada finished with two bronze medals (Women's Individual Pursuit and Scratch Race) and two silver medals (Women's Team Pursuit and Points Race). This puts Canada fourth in the medal standings among nations. This is almost certainly a modern era record for the Canadian track program.

Beveridge finished 16th, 8th and 10th in the first three competitions, making it difficult to mount a comeback. However, in the 500 metre Time Trial she was fifth, and then won the Flying Lap competition, setting a new track record of 13.924 seconds in the process.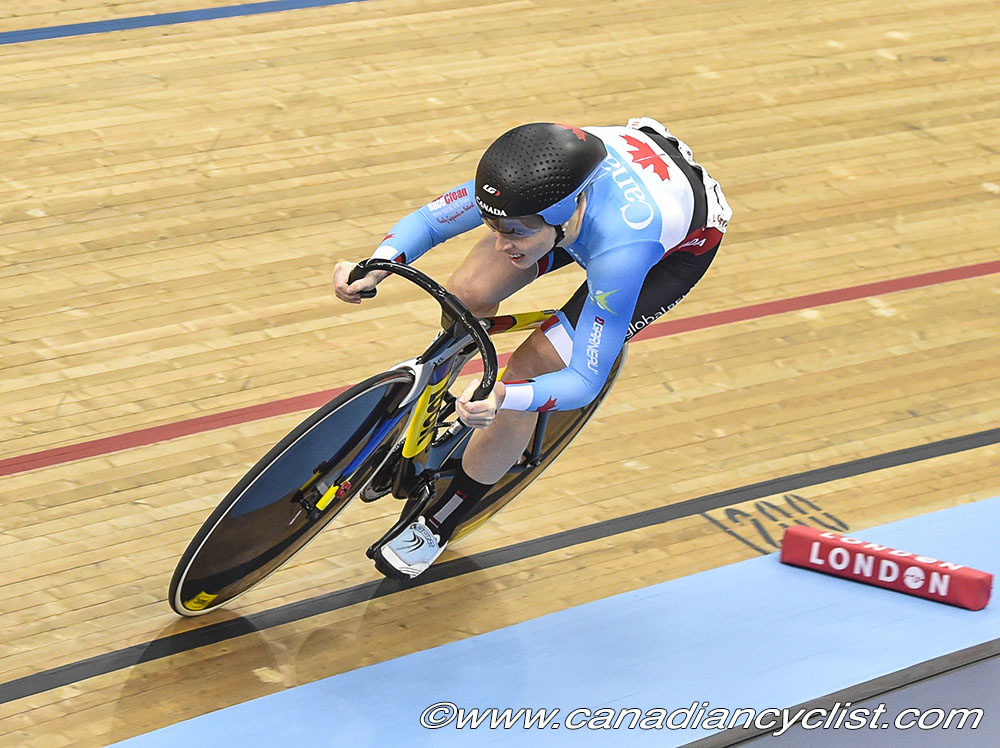 Beveridge won the Flying Lap, AND set a track record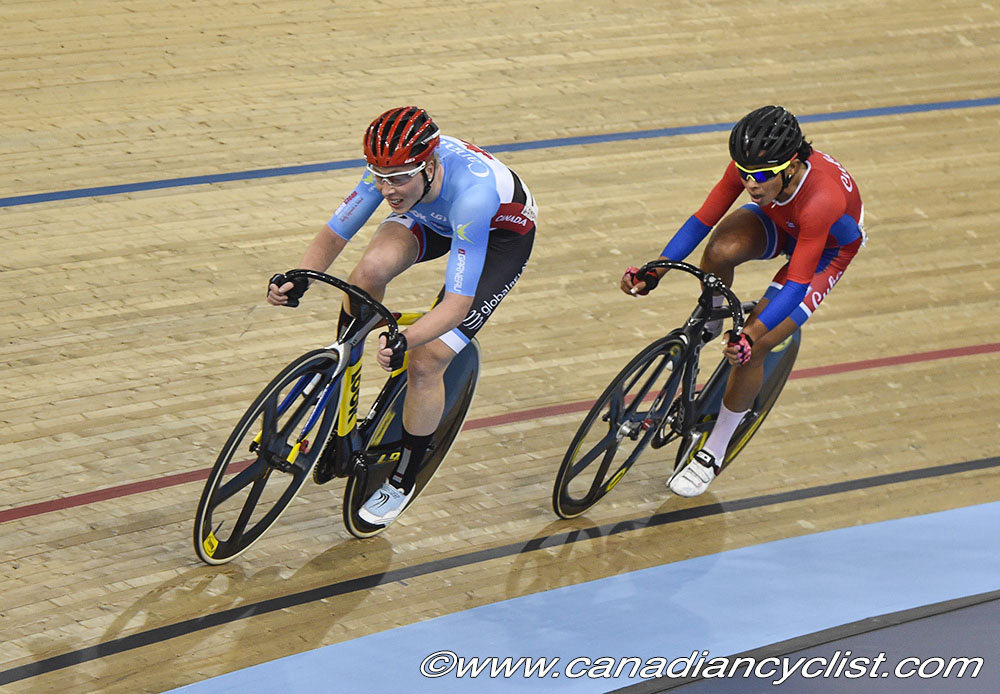 Beverage moved from 6th to 4th in the Omnium overall after Points race
"I had a pretty disastrous first day," admitted Beveridge. "I made some big tactical errors and that really cost me quite a few points. It was pretty disappointing. I was frustrated with myself because I felt I had decent legs and I just didn't execute well. So coming into the second day I tried to make it up in the timed events, and then just do what I could in the Points Race."

"I take some confidence away from that [setting a track record in the flying lap]. It's one of my better events and I know I can win it, and that's 40 points in the Omnium."

Going into the final event, the Points Race, a medal was unlikely, but a top-5 result was still possible. Beveridge was battling riders from Belgium, Australia and the Netherlands for the highest placing possible, and took points in three intermediate sprints, as well as lapping the field. It was enough to boost her into fourth place, just off the podium.

"I'm disappointed that I couldn't add to the medal tally; a medal in every event [endurance women] would have been pretty fantastic. I think it shows as a program that we are pretty successful and the girls are amazing. It's just a testament to the seven girls that we have here, and that anyone can perform when they go to the line."

"I'll take a little bit of a break and then get back into training [for Rio]. We'll do a road block and then some track camps. We'll just be together as a team working to get fitter, stronger, technically better and put everything towards Rio."

Great Britain's Laura Trott, the reigning Olympic champion in the Women's Omnium, confirmed her status as the best in the world with her second gold medal of the championships. After finishing in the top-three in all of the first five events, Trott came into the final Points Race with an almost insurmountable lead, and was never seriously challenged. However, behind Trott there was a battle for silver and bronze between Laurie Berthon of France and Sarah Hammer of the United States. The pair battled all race for points, with Berthon taking silver by one point.

In other Canadian performances, Kate O'Brien had a career-high sixth place overall in the Women's Sprint, making it to the quarter final round before losing to the eventual world champion, Zhong Tianshi of China.

"It was unexpected," said O'Brien. "It's funny...you get sixth in the world and it doesn't really occur to you that it's 'sixth in the world', it's more like 'oh well, I didn't win, I should have done better, I should have done this or that'. But in the end I have the utmost respect for the other riders. It was so amazing to be able to compete at that level and I'm just grateful I was able to get in as far as I did."

"One of the things I tried to focus on for Worlds was to really ride my own race. I tend to get caught up in feeling sort of like a fish out of water. I'm pretty new, coming from bobsled, and I don't have the experience of everyone else. It's easy for me to psych myself out thinking that way. I just tried to approach it like any other day, and that they are people too and that everyone makes mistakes. I'll try to just ride as well as I can, and how it plays out is how it plays out."

"I didn't think I would be anywhere near contending for anything, but more then anything I just had fun. It is the first time I really had fun doing sprints. I feel like I was able to learn as I went along. I'm looking forward to capitalizing on some of the things that I have taken away from these Worlds and bring that to the table in August [at Rio]."

The Women's Sprint started the day with eight riders remaining (including O'Brien), which was whittled down to the final four - Zhong Tianshi and Junhong Lin (both China), defending champion Kristina Vogel (Germany) and Anna Meares (Australia). Zhong beat Vogel and Junhong beat Meares in the semi-finals to set up an all Chinese gold medal final. Zhong, the more experienced rider, defeated her team mate in two straight rides to take the title, while Vogel beat Meares for bronze.

Hugo Barrette competed in the Men's Keirin, but did not make it past the first round repechage; a disappointing result for a rider that won a silver medal at the World Cup a month ago.

"A big disappointment," he admitted. "I knew I had the legs to run and I just made some bad choices, and my head was not in it. All in all, I'm proud of what I accomplished in coming back for Worlds [from a major crash]. But a big disappointment because I knew I could do a lot more today. I got caught in some bad situations, but that was all on me."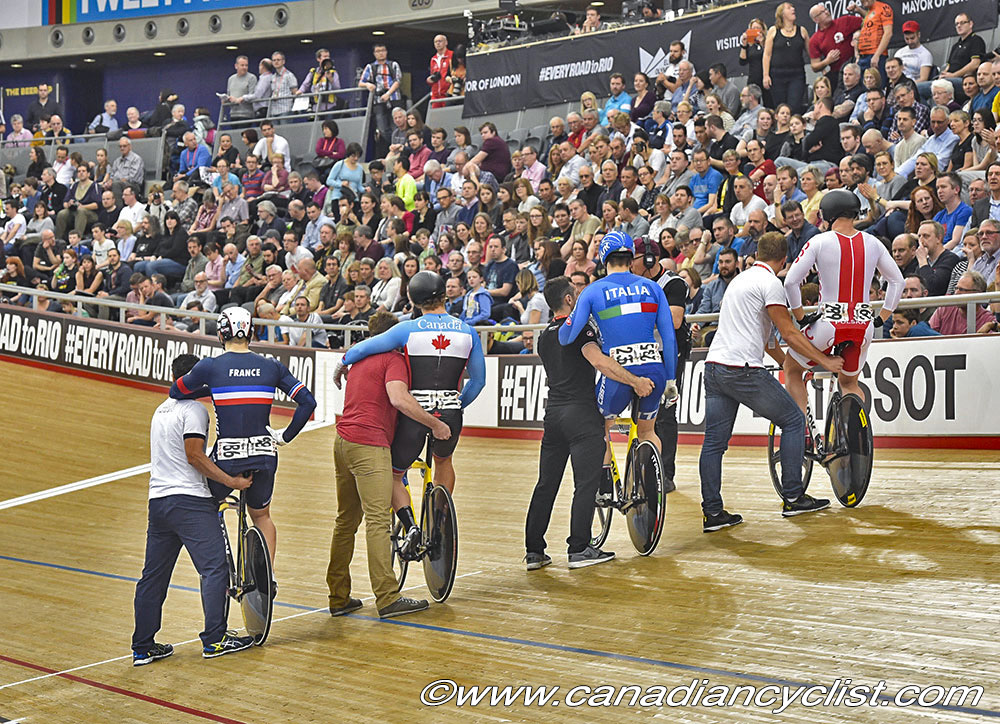 Ready to start Repechage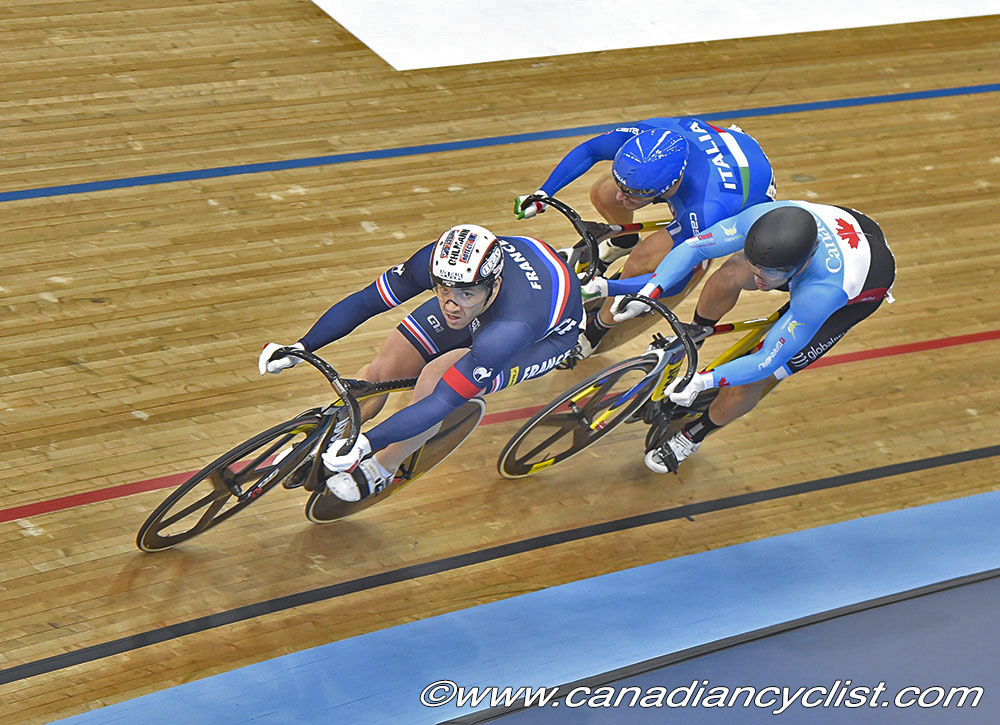 One lap to go in Repechage & Hugo is boxed in by Pervis and Ceci
"I let [Francois] Pervis go around me [in the Repechage] so I could rush him at the end, but the Italian [Ceci] came in on me. It was an illegal move, but I should have moved earlier if I didn't want something like this to happen. I just need to be more assertive, it's part of the game. There are some bad days, and this was a really bad one."

"I'm proud of what I did to come back to the top in a short amount of time. I did not have the focus here that I had in Hong Kong [World Cup, where he won silver], because I put so much pressure on myself to come back for Hong Kong, and then it came crashing down on me a little bit. That's no excuse; I should have done better today in the Keirin. I made some major mistakes and it won't happen again."

Joachim Eilers of Germany then took his second world title of the championships in the Men's Keirin, outkicking Edward Dawkins (New Zealand) and Azizulhasni Awang (Malaysia).
Joachim Eilers (Germany) leads Dawkins and Awang
The final event of the championships was the traditional and crowd-pleasing 200 lap Men's Madison. Three teams took a lap on the rest of the field fairly early - Switzerland, France and Colombia. They were joined by Australia, making four teams that led the standings with less then 50 laps remaining.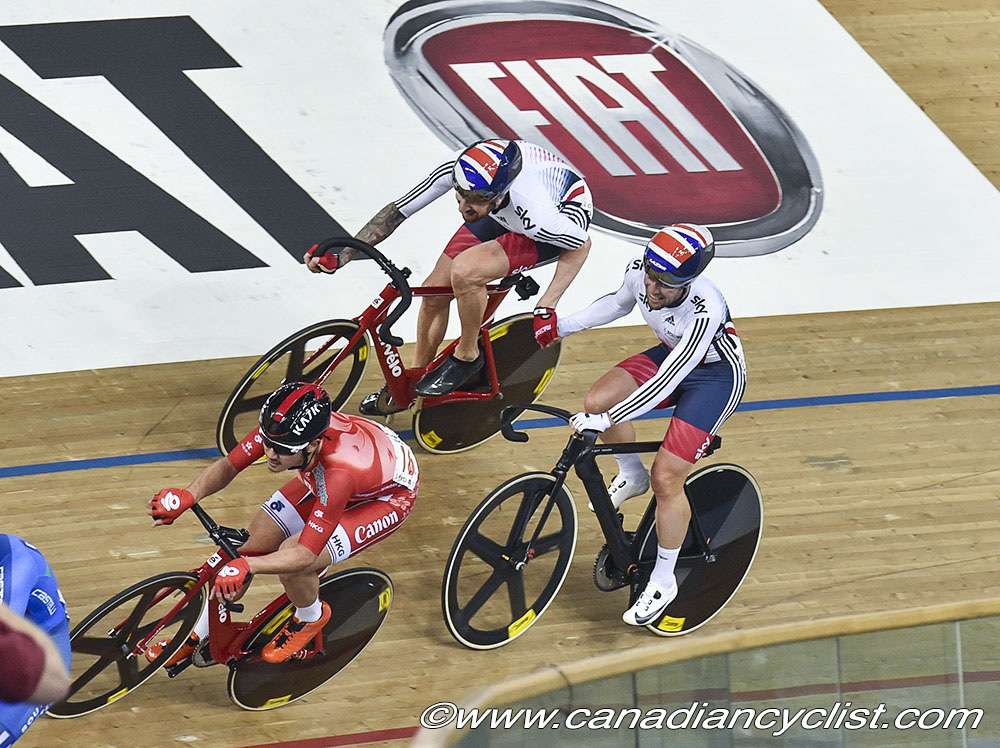 Handoff between Bradley Wiggins and Mark Cavendish
Wiggins celebrates in front of hometown crowd
The British team of Sir Bradley Wiggins and Mark Cavendish had been building up points in intermediate sprints, but were a lap down, until with 30 laps to go they made a tremendous effort to join the other teams on the lead lap, with the Spanish team coming across at the same time. This put the host nation firmly in control of the race for the final ten laps, despite a late crash by Cavendish. France took the silver medal and Spain the bronze.

At the conclusion of the championships, UCI President Brian Cookson handed over the UCI flag to next year's host, Hong Kong China.
Previous Days
---
Related Photo Galleries

Track World Championships March 2/16 - March 6/16, London UK


Training
Men Team Pursuit Qualifying
WOmen Individual Pursuit Qualifying
Women Team Sprint Qualifying
Women Individual Pursuit Final
Men Team Sprint Qualifying
Men Team Sprint Final
Women Team Sprint Final
Men Scratch Race
Men Scratch Race
Women Team Pursuit Qualifying
Women Scratch Race
Women Keirin PT1
Men Team Pursuit Final
Women Keirin Final
Women Team Pursuit Round One
Women Team Pursuit Final
Men Sprint Qualifying
Men Sprint 1/16
Women Omnium: Scratch Race
Women Sprint Qualifying
Women Sprint: 1/16, 1/8, Repechage
Women Points Race
Women Omnium: Individual Pursuit
Men Omnium Scratch
Men Omnium: Individual Pursuit
Men Points Race
Women 500 TT
Men Kilo TT
Men Sprint 1/4 Final
Men Sprint: Semis and Finals
Men Omnium Kilo
Men Omnium: Points Race
Women Omnium: 500TT
Women Omnium: Flying Lap
Women Omnium: Points Race
Women Sprint: 1/4 and 5-8 Final
Women Sprint: Semis and Finals
Men Keirin: Round 1 and Repechages
Men Keirin: Finals
Men Madison
---