March 6/09 18:15 pm - Bell Second, Anderson Fourth in Texas

Posted by Editor on 03/6/09

The new additions to the 2009 Kelly Benefit Strategies pro team aren't wasting any time getting down to business. At the team's first race of the season, the Lago Vista Road Race outside of Austin, TX, newcomers Scott Zwizanski, Zach Bell and Ryan Anderson took first, second and fourth places. Teammates Jonny Sundt (sixth), Jake Keough (eighth) and David Veilluex (19th) made it a greenwash, with the KBS program dominating the 80-mile, 18-lap road race.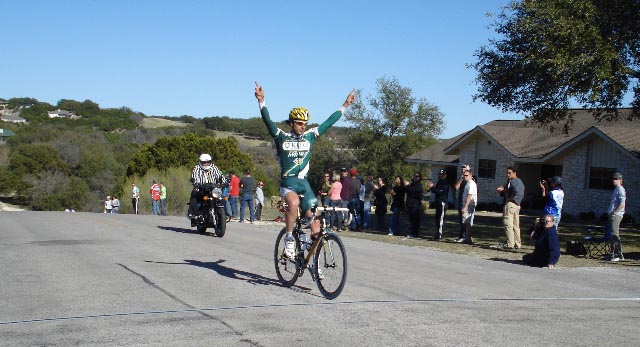 "This was a great way to cap off our two week training camp in San Antonio," says performance manager, Ken Mills. "Lago Vista is a well-known local Texas road race with a strong field of one hundred riders. It was a perfect choice and a great opportunity for us to stretch out the legs and get the guys mentally back in gear for racing after the six month down season."

Twelve KBS riders lined up for the race that saw the first real action, in lap two, when Alex Candelario, Jake Keough, David Veilleux and Zach Bell went up the road in a small breakaway of eight riders. The group was caught, but the 80-mile race saw dynamic breakaways throughout the day, covered by Jonny Sundt and every member of the KBS squad. With just four laps to go, Zach Bell finished a long solo bridge to the lead group that contained four KBS riders, Andrew Bajadali, Sundt, Scott Zwizanski and Ryan Anderson as well as Heath Blackgrove of Team Hotel San Jose. In the last lap, two riders attacked, first Zwizanski, who rode away with the win who and then Bell, who sprinted for second place.

"It's great to see our guys working it out on the road so early in the season," adds Mills. "First race, first win and right after a successful training camp and team launch. That's pretty great."

The Lago Vista road race capped the end of two weeks of team training camp on the back roads of San Antonio, TX that also saw the KBS program conduct an official team launch event at San Antonio's 4,000 square feet Bikeworld, one of the nation's largest Trek concept stores. Open to the public, the event introduced members of the local and national cycling community to the 2009 team lineup and seven new athletes including Ryan Anderson, Zach Bell, Jake Erker, Cheyne Hoag, Shane Kline, Neil Shirley and Scott Zwizanski.

Next up for Kelly Benefit Strategies is the Redlands Classic in Redlands, California, March 23-26.