March 27/09 18:11 pm - Garneau Evolution Spring Camp

Posted by Editoress on 03/27/09

50km/hr winds, snow, and icy hills!

Garneau Evolution commenced the 2009 season with their annual training camp in Chilliwack, BC, March 5-8, 2009. Conditions were extreme as the Team battled strong winds, snow and sub-zero temperatures, but the sun peaked through at times and moods were bright. "We had a fantastic weekend," said team captain Tim Abercrombie, "Hard riding, team camaraderie, and maybe a little frostbite! It is a great opportunity to focus before the season starts."

Several GE riders fought winds riding out to Chiliwack from Vancouver on Thursday and about half the GE squad arrived in Chilliwack on Friday for 180km ride in cool sunshine. On Saturday, the rest of the team arrived and they rode 120km around the Chilliwack Valley and up around Cultus Lake battling strong winds and sharp hills throughout the day.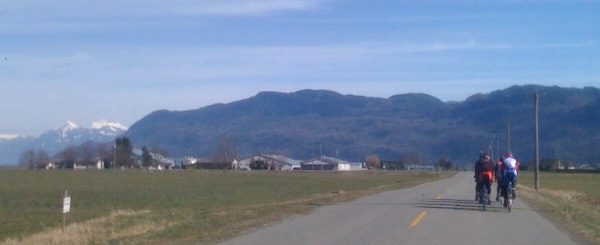 The group included 12 riders with the GE team and three strong young dEVo riders including Jesse Reams, Ben Cowburn, and Curt "The Hurt" Jung. The young racers were invited for the training camp on the recommendation of devo coach Jeff Ain. They did more than hold their own with the GE squad: they often pushed the pace. New Devo rider and Yukon strong man, Jesse Reams, rode strongly kilometer after kilometer, putting in many hours on hilly terrain and staying with GE's strongest climbers.

On Sunday, the camp concluded with a ride went through the valley again with fun sprints at river crossing signs. Guy Biggar is riding very strong and claimed, "Man, if I hadn't flatted, I would've taken that sprint!" The mountains came calling and the group headed up to Chilliwack Lake. The scenery was stunning, but they were eventually stopped by snow and the group headed back just before reaching the lake.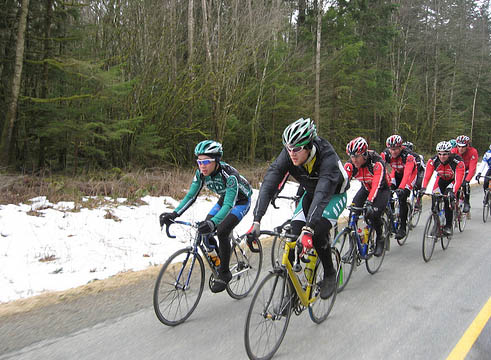 "We have solid depth in our squad this year and many complimentary abilities," continues Abercrombie, "I'm motivated for the racing to start!" The GE team will debut at the Escape Velocity Spring Series starting March 15.

Courtesy Colin Campbell, Team Escape Velocity