March 29/09 19:14 pm - Silver for Zach Bell in Track Worlds Omnium

Posted by Editoress on 03/29/09

Zach Bell of Whitehorse won at second silver medal for Canada at the Track Cycling World Championships on Sunday.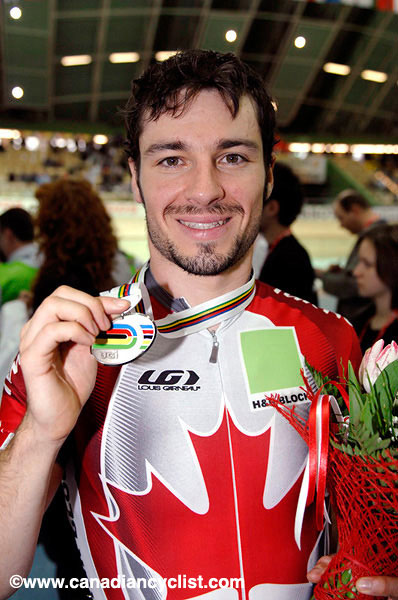 Bell won the silver medal behind Leigh Howard of Australia in the Omnium, while Tim Veldt of the Netherlands took the bronze medal. The Omnium is a five event competition consisting of a 200 metre time trial, Scratch Race, Individual Pursuit, Points Race and 1000 metre time trial, with riders receiving points for their results in each event. Bell won the silver medal one day after after Edmonton's Tara Whitten won the silver in the women's Omnium. The two silver medals represents Canada's best showing at a Track Cycling World Championships since 2004, when two medals were won.

Bell finished third in the first event, fourth in the second and took sixth in the third race, to finish the morning session in second place, one point behind Robert Bartko of Germany and one point ahead of Howard. In the afternoon events he finished second and fourth to Howard's first and third, ending up two points behind the Australian. The result follows Bell's career high ninth place on Wednesday in the Points Race.

"It's good, it represents progress," stated Bell. "In the other races I did, I raced well, but everything didn't go just right. Today it all went right. This is an event that, hopefully, I can win in the future, but for today - this is a world medal, it's a big deal."

"It was probably a little more difficult for me to do well [in the Omnium] than the Points Race; there I get a little latitude to try stuff because I'm not known, but here I wasn't an underdog. So I had to make better decisions, and change my strategy from event to event as we went along, but it paid off."