April 17/09 10:01 am - Blizzard Bike Club News

Posted by on 04/17/09

Fort St. John, BC, April 16th

Colter Young's perfect winning record continued Thursday, with a win at the Baldonnel time trial. Colter won Stage 7 of the Spring Stage Race in a time of 25:00 minutes. Pat Ferris was second at 26:29 and Peter King third at 27:39. Bob Andrews did 27:42 for 4th and Sandy McDonald 5th at 28:55.

Colter Young leads the under 19 category with 35 points. Barb Polehoykie leads the Womens at 32.

Pat Ferris has 21 points which is a very narrow lead of only 2 points over second place Peter King, who has 19.

It all comes down to the final Stage 8 Cecil lake road race, Sunday, at 2 pm.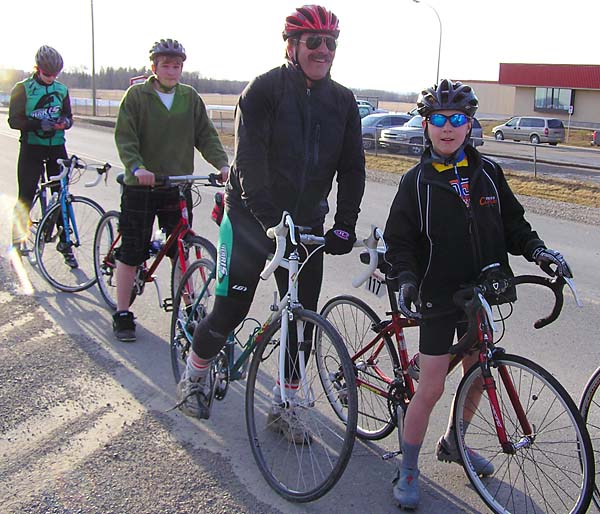 L to r: New club cyclists: Cassie Baker, Hunter Aiken, Rob Young and Kelsey Young
Other Baldonnel time trial times: Roger St. jean 6th at 28:57, Darren Guliov 29:10, Les Elliott 29:23, Gord Harris 29:35, Rod Lewis 30:28, Richard Wood 31:03, Barb Polehoykie 31:38, Floyd Polehoykie 32:20, Kathryn Fairweather 33:18, Kendra Young 33:32, Ken Nix 33:34 and Russ Wilson 33:40.

Cassie Baker won the 8 km with 14:59. Kelsey Young was second at 18:15 and Hunter Aiken was third at 19:36.

www.ferrisfastcycles.com