May 9/09 10:58 am - La Bress World Cup Preview

Posted by Editoress on 05/9/09

France has a long and impressive history in hosting the highest level of mountain bike competition, however, surprisingly, the last time world-level competition was held in France was the 2004 World Championships in Les Gets. That all changes this weekend with the return of the Nissan UCI Mountain Bike World Cup to La Bresse, France.

La Bresse will play host to the second round of the Downhill World Cup. Located in the northeast corner of France, La Bresse is on the Lorraine side of the Lorraine-Alsace border, and also within two hours of Germany, Switzerland and Luxembourg - truly at the crossroads of Europe.

The 1.2 kilometre course drops 300 metres, for an average gradient of 25%. After a start in grassy, open country, with a number of ramps, stepdowns and a 'North Shore' style boardwalk. The course is similar in some ways to older World Cup courses like Kaprun (Austria) and Les Gets, with wide open grass sections which could rut up pretty quickly.

Further down it steepens considerably, but despite being a very wide track by modern standards, the line choice is surpisingly limited, with a lot of sections requiring all riders to follow a single tire width line. Riders are also commenting on the amount of offcamber trail, which will be more significant if the expect wet weather moves in for the weekend.

Andrew Neethling (Trek World Racing ) commented "It's a way more interesting course than anyone thought, especially if it rains."

What is also hampering putting together good runs is the constant changes the track is undergoing. With 211 men and 35 women practicing the natural track is taking a beating, plus add the late afternoon showers, coupled with last night's thunderstorm and you have an everchanging course to negotiate. Many of the steep sections are also revealing many hidden rocks and roots - and as practice goes on, more and more will show themselves, making line choice harder and harder. Riders are limiting their tire choice to cut spikes in training, with full spikes held in reserve in case of a torrential downpour come race day.

The women's field is led by Great Britain's Tracy Moseley (Trek World Racing), winner of round one in Pietermaritzburg, South Africa, and first in qualifying here, today. However, repeating her victory will not be easy - all of the top-10 ranked riders are in attendance, however, Canada's Claire Buchar (Chain Reaction Cycles/Intense) did not start in qualifying. The number five rider in the rankings after Pietermaritzburg has been sick with the flu - a local hospital actually put her in quarantine for five hours while they tested for swine flu (it wasn't).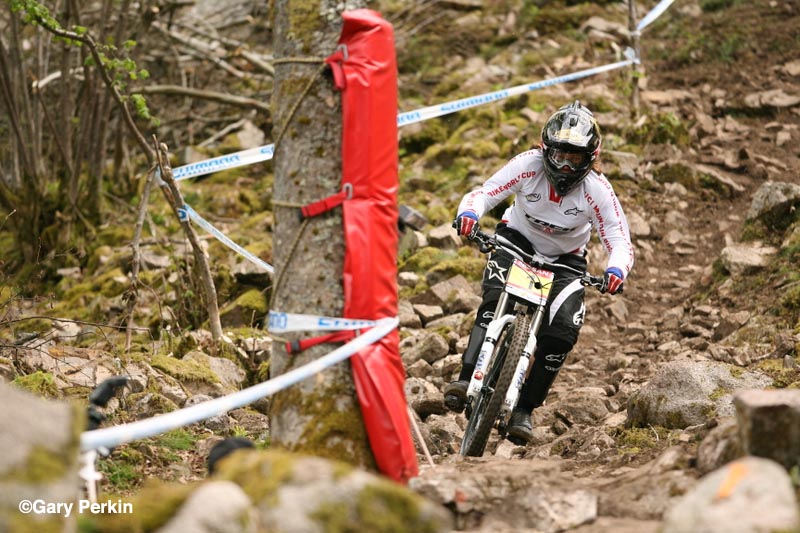 Tracy Moseley (Trek World Racing) qualified fastest of the women
The French riders, led by second ranked Sabrina Jonnier (Maxxis-Rocky Mountain), will certainly be hoping to win on home soil. Jonnier was second in qualifying, two seconds behind Moseley. French riders took five of the top seven spots in qualifying, with only Moseley and number three Mio Suemasa breaking the French domination.

With the absence of Buchar, Canada has three women in the field - Danice Uyesugi (11th in qualifying), Micayla Gatto (12th) and Miranda Miller (21st).

On the men's side, all of the top-30 riders are on the start list, so the depth of talent is impressive. Greg Minnaar (Santa Cruz Syndicate) pulled off a very impressive win in his home town for round one, but will he be able to hang onto the leader's jersey in fthe face of competition from past champions such as Sam Hill (Monster Energy/Specialized) and his own team mate Steve Peat (Santa Cruz Syndicate)? Another rider to watch for will be number two ranked Mick Hannah (GT Bicycles), who came back to the pro ranks after a year off to nearly upset Minnaar in the opening round.

In qualifying, it was the Brits in the top spots, with Peat beating world champion and countryman Gee Atherton (Animal-Commencal) by less four-tenths of a second with a time of 2:10.37. Hannah finished third, one second back, while Minnaar was a distant seventh, nearly five seconds in arrears. Canada's Steve Smith (Evil Bikes) was a strong 13th, 6.22 seconds behind Peat. Canada had one other rider in the men's category - Alex Prochazka at 19.31 seconds in 126th place.
Steve Peat (Santa Cruz Syndicate) qualified fastest of the men