September 5/09 2:15 am - MTB World Championships: Men's XC Report (updated), MORE photos and full results

Posted by Editoress on 09/5/09

Canada's Geoff Kabush finished fifth on Saturday in the Elite Men's cross-country race at the Mountain Bike World Championships; Canada's best men's result since Ryder Hesjedal won silver in 2003. Nino Schurter of Switzerland, the Olympic bronze medalist won the world title with a time of two hours, four minutes and 39 seconds for the 45.29 kilometre, seven lap race, three seconds ahead of Olympic champion Julien Absalon of France. Florian Vogel of Switzerland outsprinted Jose Antonio Hermida Ramos of Spain for the bronze medal, 58 seconds behind Schurter. Other Canadian results include Max Plaxton in 22nd, Derek Zandstra in 26th and Seamus McGrath in 42nd.
Photo galleries

Part one

Part two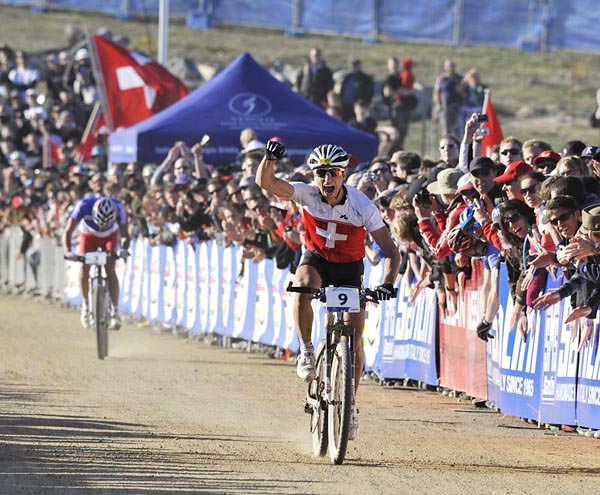 Nino Schurter (Switzerland) defeats Julien Absalon (France) to take the Gold medal
The headwind in the opening section of the lap meant that it was much better to be in a group than on your own, as Kabush discovered.

"I had a slow leak in my tire," revealed Kabush, "so I had to stop in the pits for a quick wheel change [on lap three], which lost me a few seconds. On this course, with the long climb into the head wind, it meant that I just couldn't catch back onto the front group; I could see them there for a long time, but it was just so much harder to ride on your own out there. I guess you could say they were in a road race and I was in a time trial. Without that, maybe I could have been in medal contention. But I'm still very pleased, this is by far my best results at the world championships."

At the start of lap two a sizable group had formed at the lead - Absalon, Schurter, Vogel, Hermida, Kabush, Jean-Christophe Peraud (France), Cedric Ravanel (France), Marco Fontana (Italy), Stephane Tempier (France), Sven Nys (Belgium), Emil Lindgren (Sweden), Daniel McConnell (Australia), Lukas Fluckiger (Switzerland) and Roel Paulissen (Belgium).

By the start of lap three the group had thinned considerably, down to Absalon, Schurter, Vogel, Kabush, Hermida, Fontana and Lindgren. It came apart completely on lap three, when Kabush had his mechanical troubles, and the lead group dropped to four - Schurter, Absalon, Vogel and Hermida. Hermida had his own issues on the same lap, when his chain jammed, but was able to chase back up.

The front five were set for the rest of the race, but there was still almost half the race to go, and the Swiss began to use their numerical superiority to break things up. Schurter and Absalon began attacking, and shed Hermida and Vogel on lap five. With the wind, both pairs of riders stayed together for the rest of the race. At the front, Schurter and Absalon both launched attacks in the final lap, but neither could shake the other until a tremendous effort by Schurter in the final feed zone gained him a couple of seconds. The brilliant move came just before the last singletrack run in to the finish, with nowhere to pass, and Schurter was able to hold his gap to the line. Vogel and Hermida were even tighter, coming down to a sprint that Vogel led out from the final turn.

"It's an amazing feeling.," stated Schurter. "It was the perfect race for me, the perfect course - really technical which is what I like - and I had a great day today. It's an amazing feeling after being the U23 World Champion and then straight to the Elite World Champion. It is an amazing feeling that this dream has come true for me."

"The whole race I was thinking that I would just try to stay on the back wheel [of Absalon] and race for silver, because Julien is the strongest mountain biker. I was never thinking that I could take the win until the last feed zone when I attacked there and saw that I had a small gap of ten metres. From there I was flying down into the finish."

"I like courses like this: not very long uphills and very technical. It was maybe the perfect course for me. But maybe without Florian I was not able to do that, because we were helping each other a lot. He was breaking Hermida behind and I was able to do no work with Julien. That was a big advantage for us, and when you are a strong team on such a course you have an advantage.
It is hard to say, but sure [Vogel] was a big help for me because Julien was leading a lot and it was good for me as I was keeping a lot of energy so I was able to attack in the last lap and stay with him until the end. I think without Florian I think it was not able for me to win this race."

"I was not in a good position," agreed Absalon. "If it was just me, but Florian Vogel was in third position which was a good tactic for the Swiss guys. I was in front and I did most of the race in front. But it is not often like this in a mountain bike race. This track was really fast and it was not possible to go alone because of the wind, and it was technical."

"In the last lap I was in front and in the last feed zone, and it was the last time to do the sprint because after that it was downhill to the finish line. Nino did a really good attack and it was a little bit bumpy, and I did a mistake with my chain, and I took five metres and then it was finished for me. Yes I was expecting it, but not as strong! After this it was really really fast, and we did the last part full gas, and it was not possible for me to pass him, because he is a really fast rider downhill, so it was not possible for me."

"It is difficult to say [who was the strongest rider today]. On this track and with the wind it was a little bit technical, and the Swiss guys were the strongest nation, and this is also the race. It is more difficult to get second like this, but that is the race. It is not often in mountain biking, but today it was like this."

Vogel made a tactical decision to let Absalon and Schurter go, and conserve his energy for third. "I was sitting in third all race, so for me there was no reason to make the pace, because I didn't want to lead Jose up to Nino. So I was actually in a pretty good position for both Nino and me, and in the end I realized that Jose had done a lot of work and he really tried to catch up to Nino and Julien and he wasted a lot of energy."

"I realized if I am able to get into the last downhill after the feed zone in first position then it would be really hard for him to overtake me. I knew how to do it, and I also had some luck as it was a really fast finish and I nearly crashed on one of the last corners. At first I wasn't so sure if I should sprint against him because he was leading up the whole last three laps so I felt a bit sorry but I was selfish enough to sprint against him!"

Max Plaxton, who almost quit cycling at the end of last season, was also pleased with his race, which saw him ride as high as 17th before fading slightly in the final two laps.

"I was at my lowest point last winter, about to quit, so this is a great result for me. After I found a new team to race for in the spring and spent time racing in North America this year rather than going to Europe, I feel like things are back on track. Today was a hard, hard race. I had a pretty good start and then was able to move up pretty steadily through the race."
Race Notes
- Nino Schurter becomes the first man to win a U23 title and then Elite title back-to-back, and Willow Koerber's medal is the first for a 29er.

- Julien Absalon, Geoff Kabush and Jeremy Horgan-Kobelski (USA) were all riding single front chainrings with chain guides, mated to a SRAM XX rear. "I think it's the way of the future," commented Kabush. "One less thing to go wrong, lighter, ... what's not to like?"
There was some dispute about Absalon's use of a single CR. The Freecaster.tv commentator said flat out "NO! Absalon is not using a single CR." Here is a photo of Absalon during the race. What do you think - is this a single CR?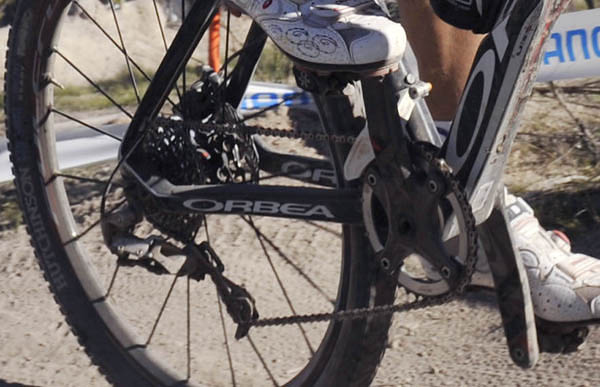 - Nino Schurter has now won everything he can at Worlds with gold in Jr, U23, senior and relay

- Canadian coach Dan Proulx admitted that in an attempt to combat the plague of mechanicals that have beset the Canadian team earlier in the week, he buried a toonie (CDN 2 dollar coin) under the start line. For those of you not versed in hockey lore (you are not Canadian), this was done at the centre line at the 2002 Salt Lake Olympics by Canadian icemaker Trent Evans. Canada won gold in both the men's and women's hockey in Salt Lake.
Men - 7 Laps -45.29 km - Average Speed: 21.80 km/h

1 Nino Schurter (Switzerland)
2:04:39
2 Julien Absalon (France)
at 0:03
3 Florian Vogel (Switzerland)
0:58
4 José Antonio Hermida Ramos (Spain)
0:58
5 Geoff Kabush (Canada)
2:04
6 Cédric Ravanel (France)
2:35
7 Jean-Christophe Peraud (France)
2:59
8 Todd Wells (United States Of America)
3:06
9 Jaroslav Kulhavy (Czech Republic)
3:22
10 Christoph Sauser (Switzerland)
3:45
11 Marco Aurelio Fontana (Italy)
3:56
12 Stéphane Tempier (France)
4:09
13 Martin Gujan (Switzerland)
4:24
14 Sven Nys (Belgium)
4:30
15 Chris Jongewaard (Australia)
4:35
16 Roel Paulissen (Belgium)
4:44
17 Emil Lindgren (Sweden)
4:51
18 Adam Craig (United States Of America)
5:03
19 Filip Meirhaeghe (Belgium)
5:16
20 Inaki Lejarreta Errasti (Spain)
5:22
21 Ruben Ruzafa Cueto (Spain)
5:23
22 Max Plaxton (Canada)
6:07
23 Moritz Milatz (Germany)
6:36
24 Carlos Coloma Nicolas (Spain)
6:45
25 Milan Spesny (Czech Republic)
6:53
26 Jelmer Pietersma (Netherlands)
6:58
27 Tony Longo (Italy)
7:08
28 Sergio Mantecon Gutierrez (Spain)
7:28
29 Samuel Schultz (United States Of America)
7:31
30 Rudi Van Houts (Netherlands)
7:32
31 Rubens Valeriano (Brazil)
7:48
32 Daniel Mcconnell (Australia)
8:19
33 Karl Markt (Austria)
8:30
34 Jeremy Horgan-Kobelski (United States Of America)
9:01
35 Ben Henderson (Australia)
9:16
36 Jan Skarnitzl (Czech Republic)
10:31
37 Derek Zandstra (Canada)
10:46
38 Manuel Fumic (Germany)
11:00
39 Sid Taberlay (Australia)
11:01
40 Michal Lami (Slovakia)
11:07
41 Liam Killeen (Great Britain)
11:16
42 Seamus Mcgrath (Canada)
11:37
43 Lukas Flückiger (Switzerland)
11:48
44 Maxim Gogolev (Russian Federation)
11:52
45 Anton Gogolev (Russian Federation)
12:07
46 Kohei Yamamoto (Japan)
12:14
47 Jianhua Ji (People's Republic Of China)
12:36
48 Bjorn Brems (Belgium)
12:41
49 Hannes Metzler (Austria)
13:09
50 Pavel Boudny (Czech Republic)
13:18
51 Marc Bassingthwaighte (Namibia)
13:29
52 Fabio Hernando Castaneda Monsalve (Colombia)
13:50
53 Edivando De Souza Cruz (Brazil)
13:52
54 Carl Decker (United States Of America)
14:27
55 Dylan Cooper (Australia)
14:53
56 Periklis Ilias (Greece)
16:46
57 Stuart Houltham (New-Zealand)
16:51
58 Ivan Seledkov (Russian Federation)
17:09
59 Cristobal Silva Ibaceta (Chile)
-1LAP
60 Ricardo Pscheidt (Brazil)
-1LAP
61 Andrew Blair (Australia)
-2LAP
62 Keiichi Tsujiura (Japan)
-2LAP
63 Shufeng Zhang (People's Republic Of China)
-2LAP
64 Kirill Kazantsev (Kazakhstan)
-3LAP
65 Michael Broderick (United States Of America)
-3LAP
66 Alban Lakata (Austria)
-5LAP
67 Ken Onodera (Japan)
-5LAP
68 Marios Athanasiadis (Cyprus)
-6LAP
DNF Bas Peters (Netherlands)
DNF Evgeniy Pechenin (Russian Federation)
DNF Johnny Cattaneo (Italy)
DNF Brendon Sharratt (New-Zealand)
DNF Klaus Nielsen (Denmark)
DNF Michael Northcott (New-Zealand)
DNF Marcin Karczynski (Poland)