September 6/09 8:11 am - MTB World Championship: DH report

Posted by Editoress on 09/6/09

The 2009 Mountain Bike World Championships concluded on Sunday in Canberra, Australia with the immensely popular Downhill, where four titles were awarded. Steve Peat (Great Britain) finally won the world title he has been chasing his entire lengthy career in the Elite men's category, while Emmeline Ragot (France) was an upset winner in the Elite women, after favourite Sabrina Jonnier (France) crashed and flatted during her run. In the Junior categories, Anais Pajot (France) took the women's title, while Brook MacDonald (New Zealand) took the men's. Canadian elite riders had strong performances, with Claire Buchar finishing sixth and Micayla Gatto seventh in the women, and Steve Smith tenth in the men. Tyler Allison was the top Canadian junior, in 24th place.

An estimated 15,000 fans poured into the Mt Stromlo venue, to hang out on the side of the hill in brilliant sunshine and cheer on every rider. Australians received the loudest cheers, but every rider received encouragement from the boisterous crowd, who were decked out in flags and national colours from every continent. Course conditions were near perfect - dry, fast and hard - with only a gusty breeze to keep a bit a chill in the air and raise some dust.

The 2.1 kilometre course itself had received some criticism for having too much pedaling and not enough technical sections, but on the day, the riders made for exciting racing.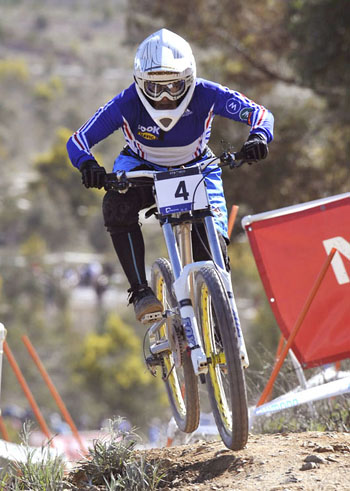 Women
In the women's race, Canada's Miranada Miller set the first fast time of 3:04.25. Her time would hold up through five riders before Kathy Pruitt (USA) knocked nearly ten seconds off, to take the lead with a time of 2:54.89. Pruitt's time in the Hot Seat lasted almost the entire race, as rider after rider came down and fell short.

It wasn't until Ragot came down third from last that Pruitt was finally displaced, as the French rider knocked nearly three seconds off her time. Tracy Moseley (Great Britain), second from last, bumped Pruitt to third, but everyone was waiting for Jonnier, the winner of six out of seven World Cups this season. Jonnier crashed high on the course, in the rocky section, puncturing her front tire and dashing hopes of a World title/World Cup title double, giving Ragot her first Elite world title. Jonnier disappeared immediately after her run, crying in the arms of the French coach.

Ragot had not realized that Jonnier had crashed, so she was waiting anxiously for her to finish. "I couldn't see the [big] screen it was behind something, and I was wondering if Sabrina crashed or not. Then my teammate said, 'oh wait, she comes'. So I waited and I was thinking 'what if she didn't crash?'. But then I saw the result, and then it was good. The win is only sinking in now that I have the rainbow [on her sleeves], and I am just realizing that it has happened."

Moseley was blunt with her dissatisfaction at not taking the title. "If I am honest, no, I'm not happy [with second]. I definitely came here to win. Like Steve [Peat] I have been trying for quite a few years now to get that jersey. I certainly came here feeling like I could win on this track and I was riding good in practice. Looks like I have to wait until I am 35 before I am allowed to win, so a few more years to come!"

"I actually had a pretty good run. I made a few little mistakes at the top but nothing that really cost me masses of time. I was happy with my ride across the line, but Emmeline rode a better race today, so she won the race."

For the top Canadian, Claire Buchar, it was a step up to a new level. "I was a little bit disappointed. Mostly it was a hard race, pedaling all that last bit. I made some really silly mistakes. I messed up a few lines, almost went out of the tape a couple of times. I think I was just too excited and was panicking a little bit and wasn't really focusing. I wasn't as calm as I should be. This is my third year as a senior. I always get really nervous at World Champs and I always seem to choke. I can usually suppress the nerves but not this time. As soon as I hit the track I was a little bit skittish."

Miranda Miller was the only Canadian to spend time in the Hot Seat. "I knew I wasn't going to be in the hot seat long! My run wasn't as good as I would have liked, but I definitely felt super tired [at the end] and burnt out a little bit. I think maybe it was a long week, but I just didn't have the legs at the end. I didn't crash, but I blew lots of lines and it wasn't really what I'd hoped to have done but, oh well, ce la vie. I really wanted a top ten and to break the three minute mark, but I made some mistakes which didn't let me do that."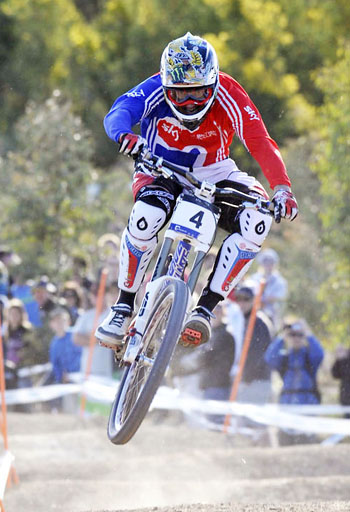 Men
Americans were the early leaders in the men's race, with former 4-Cross world champion Brian Lopes taking the lead as the third rider down. He would on until his team mate Cody Warren knocked a second and a half off the best time, to drop it to 2:35.95 . Warren lasted 16 riders until Australian Bryn Atkinson bumped him out of the lead, and then the time started to drop steadily until Nathan Rennie (Australia) set a new benchmark of 2:34.31 . Rennie lasted through 11 finishers before one of the favourites, two time world champion Fabien Barel (France), knocked a staggering three seconds off the leading time.

Barel's time would end up being good enough for fourth, and less than second behind Peat's winning run. Mick Hannah (Australia), the pre-race favourite on this course came down sixth from the end and managed to squeeze 15-hundredths ahead of Barel, but two riders later it was the turn of Peaty, and he turned in the first sub-2:31 time of the day, stopping the clock at 2:30.33 . For the popular Brit it was a nerve wracking wait through the final three riders, to see if he had finally won the world title he had been chasing since 1993.

Sam Hill (Australia) was next, but he was two and a half seconds down, then Peat's Santa Cruz team mate Greg Minnaar (South Africa) - who Peat had said was his most dangerous rival. Minnaar came within the blink of an eye of snatching the victory away - only five hundredths of a second behind. Finally, it was the defending world champion Gee Atherton (Great Britain) who, it became clear by the first time split, wasn't a threat, finishing sixth.

Steve Peat, after so many years, was finally the world champion.

"I don't think [winning the World Championships] has sunk in yet. I'm pretty overwhelmed with it all. Pretty emotional putting that jersey on at the podium, just realizing I get to wear this jersey for a year and I am actually World Champion. I have been trying for a long time, and it's just an unreal feeling."

"I think all the pressure I feel comes from myself, really. I know everyone wants me to win, and everybody is backing me, but I put a lot of pressure on myself. I am one of the oldest guys out there and I've been trying for a long time and got a lot of second places. But I felt strong coming into this race, felt really good on the track all week, and my Santa Cruz V10 was just hooking up good all week. I think we have the best set up out there, and still to give it to Rob Rosco and everyone at the Syndicate."

"Greg [Minnaar] was my biggest worry; he won here last year, and he is really strong on the bottom part of the course. But I think I took a bit out of him at the top, and I'm a pretty physical rider myself, so I thought I had a good chance."

Minnaar admitted that he may have not pushed enough at the top. "For sure it was going to be a tough race with the course being a lot faster than it was last year, especially going into the pedaling . I knew Steve was going to be quick - he was quick all through timed training and the whole week - and I just think I rode the top a bit cautious. When I was up against Steve I knew I had to ride all out to try to beat him, and clearly it didn't work."

Steve Smith continues to improve, and 10th is his best result ever. "For me it was a great run, I was happy with how it went. It's hard to go overly fast on the track. There is only so much you can do on this downhill because what there is on it [to work with]. So I pedaled hard, and did what I could, so I am happy with that. Wind was a bit of a factor today, but overall I'm happy with today."

Dean Tennant (41st): "My run was good, really clean. I think I pulled a bit too much brake, but overall it was pretty good. I wanted to get under 2.40 at least. My qualifying run was a 2.41 and I just did a 2.42, so it was right what I did in qualifying, but I wanted to improve. There was a bit of wind, but I think it was just a lot of the pressure too. I maybe went a bit too cautious, which is why I was pulling a bit too much brake. It was awesome, the crowd was sick. The whole week was real fun. This is my first Worlds, and hopefully not my last. I have a lot of training to do [before 2010 Worlds] and a lot to look forward to."

Jamie Biluk (30th): "I had a good top until the rock garden. My front end kept falling and my bike felt weird. I was getting thrown forward lots, like I had a front flat. Then I had some okay sections; I wanted to beat my seeding time by ten seconds but I only beat it by three, so I am not happy. It was really really windy up at the top and through the flat pedal-ly sections where the three big jumps are. I gave as hard as I could, but it wasn't like the perfect run."

"The course doesn't really suit anyone except a pedaling four-cross machine. The bottom flats were so painful right where you can see the finish line jump. I was getting blown, and I wasn't even going fast! We needed skinsuits today. And aero bars!"


Tyler Allison was Canada's top Junior, finishing 24th.
"Well, I couldn't really go hard because I got a concussion yesterday. I was in the hospital for five hours. I just messed up one of my lines and flipped over the bars head first into a jump and broke my helmet. I am borrowing a helmet right now. I am not feeling so great."

"I really wanted to do the downhill at Worlds. I thought I could do better in the downhill [he finished 55th in the cross country on Thursday], but not this year since I crashed. I am really sore, I can hardly move my neck and I am all banged up everywhere. I just wanted to finish and get a time even if it wasn't good, and at least I did that."

"In the cross country I started really far back. I had a good start; I had a about a minute left of passing and I was up about 25th or 30th spot, and then this guy pulled out and crashed in front of me, and three or four other guys crashed around me. I was stuck in the middle and I couldn't go anywhere, and the pack just pulled away. So I was fifth last going into the trail and I wasted so much energy passing people, and I made it up to about 35th spot, but then I lost about 20 spots on my last lap because I was just so done, and passed out at the finish line."

"It totally [impacted on my preparation for the downhill]. I wasn't allowed to really train the downhill course until after the cross country because the coaches didn't want me to get hurt, so I didn't have much time to see where everybody was riding. I could have prevented the crash, but who knows."

"I still have another year [in Junior], but I think I might have to specialize if I can't be training both at the same time, as I need to do that. I am not too sure which event right now [to specialize in], but we'll see, I guess. Whatever one works out better."