A fourth day and a fourth time on the podium, but today Argentina's Juan Jose Haedo (Saxo Bank) stands on the top spot with the win at Stage 4, presented by Missouri Farm Bureau, at the Tour of Missouri. He finished the 109.2-mile (175.7 km) stage in 4.07'55". Yesterday's stage winner, Thor Hushovd (Cervelo Test Team), finished second today, and Italy's Dario Cataldo (Quick Step) repeated again in third. In the general classification (G.C.), J.J. Haedo will wear the Missouri Tourism Leader's Jersey going into tomorrow's Individual Time Trial in Sedalia.

"It was my first year ever (to wear yellow jersey). I'll be processing it all night. Today I reached the right energy level at the right moment ," said Haedo, who has won many individual races, but has never worn a leader's jersey in a stage race until today.

Today's Stage 4, presented by Missouri Farm Bureau, started in St. James to the sounds of the Grape & Fall Festival. The field of 115 pro riders traversed the scenic ridges and spring-fed river valleys for a total of 109.2 miles (175.7 km), finishing in central Missouri at the state capital. This stage, the only repeat stage from 2008, was capped by three climbs up the "Capitol Wall", a steep section in front of the capitol building adjacent to the Missouri River.

Just before the afternoon start in St. James, Team Columbia-HTC announced that consecutive stage winner Mark Cavendish had to withdraw from the race and would not continue. "Mark has been fighting an infection since traveling to the USA, which has spread to his lungs. He has had a long and successful season, and it is a team priority that his general health be protected. He is on antibiotics and will rest here in Missouri for a few days prior to returning to Europe," state Columbia-HTC team owner Bob Stapleton.

The first attack of the day was launched by American Brad White (OUCH presented by Maxxis) just 10 miles into the race. He was joined a few miles later by three more Americans, Michael Creed (Team Type I), Jeff Louder (BMC Racing), and Bernard Van Ulden (Jelly Belly Cycling). They stayed away for almost 90 miles, being caught by a serious peloton in Jefferson City. And on the final three-mile circuit, close to two dozen riders went down in crash with 1500 meters to go, but all were able to finish.

"I had to stop because of the crash," said Slovenian rider Jani Brajkovic (Astana), who won the 2007 Tour de Georgia and is riding his first Tour of Missouri. "Any time there are circuits it is a bit stressful."

With the Stage 4 win today, J.J. Haedo wears the yellow jersey, and was also awarded the Edward Jones Sprint jersey. Dario Cataldo (QuickStep) will wear the 180 Energy/Icelandic Glacial Water Best Young Rider jersey. And White was awarded the Drury Hotels Most Aggressive Rider jersey tomorrow. Moises Aldape (Team Type I) of Mexico continues to wear the Michelob Ultra KOM jersey.

New to the Top 10 in the G.C. today are Creed, who moved from 35th to 7th overall, and Louder, who moved from 55th to 8th overall. Three significant riders who will be watched closely in the time trial are all 26 seconds off the lead, 2007 Tour of Missouri champion George Hincapie (Columbia-HTC) in 21st place, 2009 Amgen Tour of California champion Levi Leipheimer (Team Astana) in 41st place, and four-time U.S. Professional Time Trial champion David Zabriskie (Garmin-Slipstream), who moved from 65th to 56th place today.

"I wasn't sure we could top anything in Jefferson City (from 2008), but unlike last year we did it today. As good as 2008 was, it boasted a wonderful field of competitors. This is an event that has bi-partisan support, and the top competitors are here at the Tour of Missouri," said Missouri Lt. Governor Peter Kinder.

Tour of Missouri prerss release


Interviews by Amy Smolens

Pre-race, Charly Vives - Planet Energy - Celebrating 23rd birthday today

Amy Smolens: I hear today's your birthday, what do you have planned for a celebration?

Charly Vives: I would like to be in the break today for sure. I've been feeling that a bit since the beginning of the week, since I saw that my birthday was going to happen during the race so I'd like to be in the break today and see how it goes from then.

AS: What did John (Adams, team soigneur) just tell you the plan for the day was?

CV: (Laughs) he said "win the race and I'll take care of you afterwards!" So I'll try to follow his thought and we'll see how it goes in the end. Either for me or for the team if it comes down to a sprint, Keven got third last year in this stage so he knows the finish. We're going to talk a lot in the race for sure.

AS: This is a good way to spend your birthday, isn't it?

CV: Yeah, for sure. Last year I was at Tour de l'Avenir for my birthday and it didn't go that well on my birthday so I want to do change that today and hopefully I'll make it into the break if the luck is on my side also because you never know.

AS: Bon anniversaire and bonne chance!

CV: Thank you very much!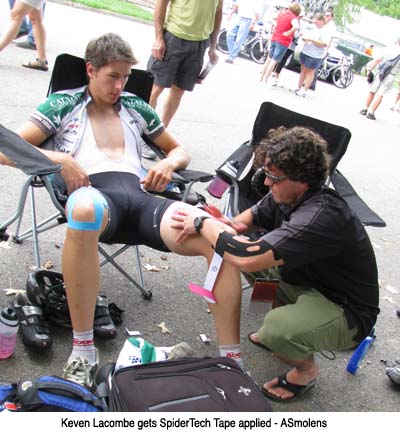 Post-race, Keven Lacombe - Planet Energy

Amy Smolens: Did you hear the news about Mark Cavendish pulling out?

Keven Lacombe: Yeah, we just got the news, I don't know what's happened. We just came here and we are trying to get organized before the race so I don't know if it's true or not...

AS: Yes, it's true. So how does that change the tactics for you and Martin Gilbert, and how does it change the possibility for you to win a stage?

KL: Sure, it changes the strategy of the race. Columbia doesn't have any more the rule to chase all the breaks back and come to a field sprint. So sure the race will change but it's hard to say right now what it's going to be.

AS: This is the exact same stage in which you finished third last year. Could this be an opportunity to finish on the podium today?

KL: Yeah, I think it's one of the good finishes, we can do well. Sure, we're going to try to organize at the end and be there but like I said it's hard to know at the beginning if it's going to come to a field sprint. We're going to try to do a breakaway and if it comes to a field sprint we'll have a good chance to do well.


Stage 4 (September 10th): St. James to Jefferson City, 175.8 km

1 Juan Jose Haedo (Agr) Team Saxo Bank
4:07:55
2 Thor Hushovd (Nor) Cervelo Test Team
3 Dario Cataldo (Ita) Quick Step
4 Daniel Oss (Ita) Liquigas
5 Kyle Wamsley (USA) Colavita/Sutter Home p/b Cooking Light
6 Bernhard Eisel (Aut) Team Columbia-HTC
7 Kevin Lacombe (Can) Planet Energy
8 Antonio Cruz (USA) BMC Racing Team
9 Brent Bookwalter (USA) BMC Racing Team
10 Moises Aldape Chavez (Mex) Team Type 1
11 Davide Frattini (Ita) Colavita/Sutter Home p/b Cooking Light
12 Jeremy Powers (USA) Jelly Belly Cycling Team
13 John Murphy (USA) Ouch Presented By Maxxis
14 Gustav Larsson (Swe) Team Saxo Bank
15 Alex Candelario (USA) Kelly Benefit Strategies
16 George Hincapie (USA) Team Columbia-HTC
17 Marcel Wyss (Sui) Cervelo Test Team
18 Dan Bowman (USA) Kelly Benefit Strategies
19 Guillaume Boivin (Can) Planet Energy
20 Danny Pate (USA) Garmin-Slipstream
21 Neil Shirley (USA) Kelly Benefit Strategies
22 Jens Voigt (Ger) Team Saxo Bank
23 Jason Donald (USA) Garmin-Slipstream
24 Fabio Calabria (Aus) Team Type 1
25 Marco Pinotti (Ita) Team Columbia-HTC
26 Janez Brajkovic (Slo) Astana
27 Thomas Frei (Sui) BMC Racing Team
28 Lars Ytting Bak (Den) Team Saxo Bank
29 Marcus Ljungqvist (Swe) Team Saxo Bank
30 Brian Vandborg (Den) Liquigas
31 Levi Leipheimer (USA) Astana
32 Anthony Colby (USA) Colavita/Sutter Home p/b Cooking Light
33 Michael Friedman (USA) Garmin-Slipstream
34 Matthew Crane (USA) Jelly Belly Cycling Team
35 Thomas Vedel Kvist (Den) Quick Step
36 Jurgen Van De Walle (Bel) Quick Step
37 Tomas Vaitkus (Ltu) Astana
38 David Veilleux (Can) Kelly Benefit Strategies
39 Andrew Bajadali (USA) Kelly Benefit Strategies
40 Andrew Guptill (USA) Colavita/Sutter Home p/b Cooking Light
41 Scott Zwizanski (USA) Kelly Benefit Strategies
42 Brett Lancaster (Aus) Cervelo Test Team
43 Andrey Zeits (Kaz) Astana
44 Steve Morabito (Sui) Astana
45 Valery Kobzarenko (Ukr) Team Type 1
46 Luis Romero Amaran (Cub) Colavita/Sutter Home p/b Cooking Light
47 Mathias Frank (Sui) BMC Racing Team
48 Kevin Seeldraeyers (Bel) Quick Step
49 Tyler Wren (USA) Colavita/Sutter Home p/b Cooking Light
50 Nicki Sorensen (Den) Team Saxo Bank
51 Michael Rogers (Aus) Team Columbia-HTC
52 David Zabriskie (USA) Garmin-Slipstream
53 Christopher Jones (USA) Team Type 1
54 Ryan Anderson (Can) Kelly Benefit Strategies
55 Steven Cozza (USA) Garmin-Slipstream
56 Peter Latham (NZl) Bissell Pro Cycling
57 Alexandr Dyachenko (Kaz) Astana
58 Craig Lewis (USA) Team Columbia-HTC
59 Darren Lill (RSA) Team Type 1
60 Floyd Landis (USA) Ouch Presented By Maxxis
61 Michael Barry (Can) Team Columbia-HTC
62 Chris Anker Sorensen (Den) Team Saxo Bank
63 Christopher Baldwin (USA) Ouch Presented By Maxxis
64 Rory Sutherland (Aus) Ouch Presented By Maxxis
65 Heinrich Haussler (Ger) Cervelo Test Team
66 Jeffry Louder (USA) BMC Racing Team
67 Florian Stalder (Sui) BMC Racing Team
68 Will Routley (Can) Jelly Belly Cycling Team
69 Reid Mumford (USA) Kelly Benefit Strategies
70 Tom Zirbel (USA) Bissell Pro Cycling
71 Karl Menzies (Aus) Ouch Presented By Maxxis
72 Dominique Cornu (Bel) Quick Step
73 Kanstantsin Siutsou (Blr) Team Columbia-HTC
74 Jeremy Vennell (NZl) Bissell Pro Cycling
75 Bradley White (USA) Ouch Presented By Maxxis
76 Michael Creed (USA) Team Type 1
77 Jason Mccartney (USA) Team Saxo Bank
78 Matthew Wilson (Aus) Team Type 1
79 Timothy Duggan (USA) Garmin-Slipstream
80 Ryan Roth (Can) Planet Energy
81 Danilo Wyss (Sui) BMC Racing Team
82 Kiel Reijnen (USA) Jelly Belly Cycling Team
83 Jeremy Hunt (GBr) Cervelo Test Team
84 Charles Bradley Huff (USA) Jelly Belly Cycling Team
85 Yaroslav Popovych (Ukr) Astana
86 Valerio Agnoli (Ita) Liquigas
87 Joaquin Novoa Menedez (Esp) Cervelo Test Team
88 Gregory Rast (Sui) Astana
89 Shawn Milne (USA) Team Type 1
90 Jackson Stewart (USA) BMC Racing Team
91 Phillip Gaimon (USA) Jelly Belly Cycling Team
92 Francesco Chicchi (Ita) Liquigas
93 Franco Pellizotti (Ita) Liquigas
94 Charly Vives (Can) Planet Energy
95 Ben Jacques-Maynes (USA) Bissell Pro Cycling
96 Andy Jacques-Maynes (USA) Bissell Pro Cycling
97 Francois Parisien (Can) Planet Energy
98 Edward King (USA) Cervelo Test Team
99 Timothy Johnson (USA) Ouch Presented By Maxxis
100 Omer Kem (USA) Bissell Pro Cycling
101 Frederique Robert (Bel) Quick Step
102 Frank Pipp (USA) Bissell Pro Cycling
103 Lucas Sebastian Haedo (Arg) Colavita/Sutter Home p/b Cooking Light
104 Anibal Borrajo (Arg) Colavita/Sutter Home p/b Cooking Light
105 Andrew Randell (Can) Planet Energy
106 Bruno Langlois (Can) Planet Energy
107 Martin Gilbert (Can) Planet Energy
108 Andreas Klier (Ger) Cervelo Test Team
109 Andrew Pinfold (Can) Ouch Presented By Maxxis
110 Bernard Van Ulden (USA) Jelly Belly Cycling Team
111 Davide Malacarne (Ita) Quick Step
112 Addy Engels (Ned) Quick Step
all s.t.
113 Alessandro Vanotti (Ita) Liquigas
6:43
114 William Frischkorn (USA) Garmin-Slipstream
7:06
115 Matthew Rice (Aus) Jelly Belly Cycling Team
s.t.
DNF Mark Cavendish (GBr) Team Columbia-HTC

GC

1 Juan Jose Haedo (Agr) Team Saxo Bank
15.35:08
2 Thor Hushovd (Nor) Cervelo Test Team
at s.t.
3 Dario Cataldo (Ita) Quick Step
0:18
4 Moises Aldape Chavez (Mex) Team Type 1
s.t.
5 Michael Friedman (USA) Garmin-Slipstream
0:20
6 Tomas Vaitkus (Ltu) Astana
s.t.
7 Michael Creed (USA) Team Type 1
0:21
8 Jeffry Louder (USA) BMC Racing Team
s.t.
9 Chris Anker Sorensen (Den) Team Saxo Bank
0:22
10 Michael Rogers (Aus) Team Columbia-HTC
0:23
11 Lars Ytting Bak (Den) Team Saxo Bank
0:24
12 Timothy Duggan (USA) Garmin-Slipstream
0:23
13 Matthew Wilson (Aus) Team Type 1
0:24
14 Kiel Reijnen (USA) Jelly Belly Cycling Team
0:25
15 Bradley White (USA) Ouch Presented By Maxxis
s.t.
16 Antonio Cruz (USA) BMC Racing Team
0:26
17 Daniel Oss (Ita) Liquigas
18 Alex Candelario (USA) Kelly Benefit Strategies
19 Davide Frattini (Ita) Colavita/Sutter Home p/b Cooking Light
20 Janez Brajkovic (Slo) Astana
21 George Hincapie (USA) Team Columbia-HTC
22 Kevin Seeldraeyers (Bel) Quick Step
23 David Veilleux (Can) Kelly Benefit Strategies
24 Davide Malacarne (Ita) Quick Step
25 Guillaume Boivin (Can) Planet Energy
26 Frederique Robert (Bel) Quick Step
27 Thomas Vedel Kvist (Den) Quick Step
28 Danny Pate (USA) Garmin-Slipstream
29 Dominique Cornu (Bel) Quick Step
30 Lucas Sebastian Haedo (Arg) Colavita/Sutter Home p/b Cooking Light
31 Brent Bookwalter (USA) BMC Racing Team
32 Luis Romero Amaran (Cub) Colavita/Sutter Home p/b Cooking Light
33 Frank Pipp (USA) Bissell Pro Cycling
34 Jason Donald (USA) Garmin-Slipstream
35 Marco Pinotti (Ita) Team Columbia-HTC
36 Gustav Larsson (Swe) Team Saxo Bank
37 Brian Vandborg (Den) Liquigas
38 Danilo Wyss (Sui) BMC Racing Team
39 Anthony Colby (USA) Colavita/Sutter Home p/b Cooking Light
40 Gregory Rast (Sui) Astana
41 Levi Leipheimer (USA) Astana
42 Nicki Sorensen (Den) Team Saxo Bank
43 Marcel Wyss (Sui) Cervelo Test Team
44 Darren Lill (RSA) Team Type 1
45 Thomas Frei (Sui) BMC Racing Team
46 Michael Barry (Can) Team Columbia-HTC
47 Steven Cozza (USA) Garmin-Slipstream
48 Jason Mccartney (USA) Team Saxo Bank
49 Alexandr Dyachenko (Kaz) Astana
50 Karl Menzies (Aus) Ouch Presented By Maxxis
51 Andrey Zeits (Kaz) Astana
52 Jeremy Powers (USA) Jelly Belly Cycling Team
53 Jackson Stewart (USA) BMC Racing Team
54 Rory Sutherland (Aus) Ouch Presented By Maxxis
55 Andrew Pinfold (Can) Ouch Presented By Maxxis
56 David Zabriskie (USA) Garmin-Slipstream
57 Marcus Ljungqvist (Swe) Team Saxo Bank
58 Yaroslav Popovych (Ukr) Astana
59 Addy Engels (Ned) Quick Step
60 Peter Latham (NZl) Bissell Pro Cycling
61 Ryan Roth (Can) Planet Energy
62 Andrew Guptill (USA) Colavita/Sutter Home p/b Cooking Light
63 Floyd Landis (USA) Ouch Presented By Maxxis
64 Reid Mumford (USA) Kelly Benefit Strategies
65 Christopher Jones (USA) Team Type 1
66 Will Routley (Can) Jelly Belly Cycling Team
67 Andrew Bajadali (USA) Kelly Benefit Strategies
68 Ben Jacques-Maynes (USA) Bissell Pro Cycling
69 Andrew Randell (Can) Planet Energy
70 Jeremy Vennell (NZl) Bissell Pro Cycling
71 Tom Zirbel (USA) Bissell Pro Cycling
72 Steve Morabito (Sui) Astana
73 Valery Kobzarenko (Ukr) Team Type 1
74 Heinrich Haussler (Ger) Cervelo Test Team
75 Christopher Baldwin (USA) Ouch Presented By Maxxis
76 Andy Jacques-Maynes (USA) Bissell Pro Cycling
77 Joaquin Novoa Menedez (Esp) Cervelo Test Team
all s.t.
78 Edward King (USA) Cervelo Test Team
0:43
79 Bruno Langlois (Can) Planet Energy
0:45
80 Neil Shirley (USA) Kelly Benefit Strategies
0:46
81 Scott Zwizanski (USA) Kelly Benefit Strategies
82 Ryan Anderson (Can) Kelly Benefit Strategies
83 Dan Bowman (USA) Kelly Benefit Strategies
all
84 Brett Lancaster (Aus) Cervelo Test Team
0:47
85 Andreas Klier (Ger) Cervelo Test Team
s.t.
86 Martin Gilbert (Can) Planet Energy
1:07
87 Mathias Frank (Sui) BMC Racing Team
1:07
88 John Murphy (USA) Ouch Presented By Maxxis
1:08
89 Florian Stalder (Sui) BMC Racing Team
1:14
90 Matthew Crane (USA) Jelly Belly Cycling Team
1:23
91 Kevin Lacombe (Can) Planet Energy
1:31
92 Fabio Calabria (Aus) Team Type 1
1:31
93 Timothy Johnson (USA) Ouch Presented By Maxxis
1:40
94 Bernhard Eisel (Aut) Team Columbia-HTC
1:57
95 Phillip Gaimon (USA) Jelly Belly Cycling Team
1:59
96 Kyle Wamsley (USA) Colavita/Sutter Home p/b Cooking Light
2:03
97 Craig Lewis (USA) Team Columbia-HTC
2:05
98 Shawn Milne (USA) Team Type 1
2:14
99 Jens Voigt (Ger) Team Saxo Bank
2:45
100 Kanstantsin Siutsou (Blr) Team Columbia-HTC
2:45
101 Valerio Agnoli (Ita) Liquigas
2:45
102 Anibal Borrajo (Arg) Colavita/Sutter Home p/b Cooking Light
2:45
103 Franco Pellizotti (Ita) Liquigas
2:45
104 Jeremy Hunt (GBr) Cervelo Test Team
2:45
105 Omer Kem (USA) Bissell Pro Cycling
4:15
106 Bernard Van Ulden (USA) Jelly Belly Cycling Team
4:58
107 Charles Bradley Huff (USA) Jelly Belly Cycling Team
5:09
108 Jurgen Van De Walle (Bel) Quick Step
5:09
109 Tyler Wren (USA) Colavita/Sutter Home p/b Cooking Light
5:52
110 Francois Parisien (Can) Planet Energy
6:13
111 Charly Vives (Can) Planet Energy
7:18
112 Matthew Rice (Aus) Jelly Belly Cycling Team
7:32
113 Francesco Chicchi (Ita) Liquigas
7:43
114 William Frischkorn (USA) Garmin-Slipstream
10:00
115 Alessandro Vanotti (Ita) Liquigas
10:58