October 9/09 11:39 am - CCA Victoria Track Camp Day 2

Posted by Editoress on 10/9/09

"The maximum aerobic power (MAP) test hurts a lot, it pushes you to your max, and then takes you farther. Suffering at its finest" according to Tim Sherstobitoff.

The testing started off with a 6 second power test, exploding at the start and getting up to a 200+ rpm spin, pushing as many Watts as you can. Then on to the MAP test, it starts off easy, then the wattage increases 30 Watts every 3 minutes, the once easy resistance turns into a struggle to turn over the pedals. The athlete's legs start to fill with lactic acid and the heart beat pounds in their heads. Head Coach Richard Wooles and the testers are there "yelling in your ear to keep going, to chase down the imaginary break that's just ahead of you. The wattage keeps increasing every 3 minutes. At the final point you don't hear anything, things start to go dark, and finally your legs can't turn over one more revolution."

After the test, a soak in the invigorating 50 F pool brings the athletes back to reality and numbs the aching legs. The multiple minute dunks in the hot and cold pools in the regeneration room might be considered part relaxation and part torture, not to mention trying to cram more then one rider in the tub at a time. The highlight for the riders, including Cody Campbell, were the massage jets in the shower.

While half the group underwent testing, the other half participated in a core strength and yoga session, many of whom realizing that this is an area they need to work on in the future as they struggled to do some basic poses.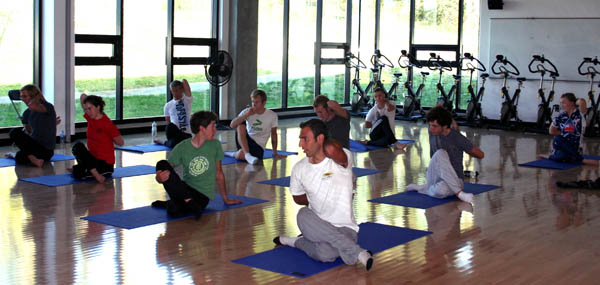 After lunch, Susan Massitti presented on the importance of proper rest and recovery and got the team thinking about how they can improve their rest days, indicators to watch for when they may need more rest, and ended with ways to help in muscle recovery through self-massage with foam rollers, balls, and sticks.

The last session of the day was with Dr. Saul Marks, a sport psychiatrist. He touched on the importance of overall health, depression, and the long term benefits of therapy. What Jacob Schwingboth learned from the session was that "a balanced and happy cyclist is normally a fast cyclist."

Report and photos courtesy CCA
Photo gallery by Richard Wooles