October 13/09 13:20 pm - CMU's 2009 Menno Cross Event A Great Success

Posted by on 10/13/09

Event draws large Manitoba crowd

Members of the cyclocross biking community along with Canadian Mennonite University Homecoming participants gathered on September 26, 2009 to watch and join in Manitoba Cyclocross Race #3, the inaugural "Menno Cross 2009" race event.

The Menno Cross event consisted of four races featuring a 70-minute A race for advanced cyclists, a B race for intermediate cyclists of approximately 50 minutes, a 15-minute C race that included several faculty members, and a short kids' race.

"The goal of Menno Cross was to have a hybrid event... to host a race that welcomed the wider cycling community and then to blend that in with our CMU Homecoming weekend, sharing the fun of cylcocross events with the university community ," said Chris Huebner, who is an associate professor of Theology and Philosophy at CMU and the coordinator of the event.

"The event was a huge success drawing in 99 racers, which is the best turnout yet for a Manitoba Cyclocross event," said Huebner. "There were approximately 150 people watching the event as well." The A race was won by Olli Hyytiainen, a member of St. Vital's Woodcock Cycleworks Team. Craig Penner of the Fort Garry Bike Club finished second, while Woodcock's Don Sawatzky placed third. Organizer Huebner came in fourth in the A race.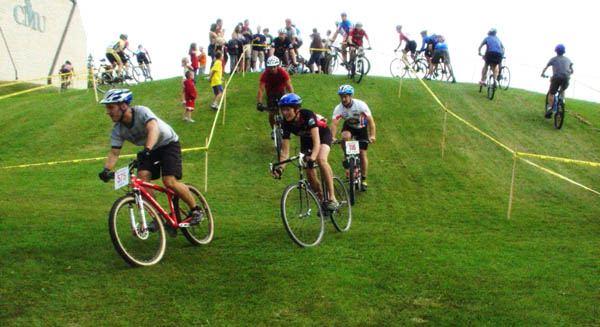 Some current CMU students also participated in the races, including Jotham Penner, who entered the B race for the fun of it. Penner is an avid mountain biker but has never participated in a cyclocross event. Menno Cross was a great opportunity for him to explore new realms and move into the competitive area of cycling. Woodcock's Bill Algeo won the B race.

Various CMU professors including Karl Koop, Titus Guenther, and Irma Fast-Dueck participated in the not-so-serious faculty race. Shouts of laughter could be heard across the course, as well as glimpses of Koop and Fast-Dueck jokingly trying to push each other off their respective bikes.

Eryn Guenter, who participated in the kid's race, noted that she "likes riding down the hills" and that she had "a really good time."

Pleased with this year's results, organizers anticipate that Menno Cross will likely happen again next year. "It was a great success," Huebner said. "We will definitely do it again."
Courtesy CMU (Canadian Mennonite University)