November 6/09 19:24 pm - Paracyling Track World Championships: Day 1

Posted by Editoress on 11/6/09

Day 1 results from the Paracyling World Championships in Manchester UK
The first day of the 2009 Para-cycling Track World Championships showcased the LC men's pursuit in the afternoon, with Canada being represented by Eric Bourgault (LC2) and Mathieu Parent (LC3). The evening was highlighted by CP3 Men and B&VI Men racing the kilo after Marie-Claude Molnar acting as the Team delegate for the opening ceremony.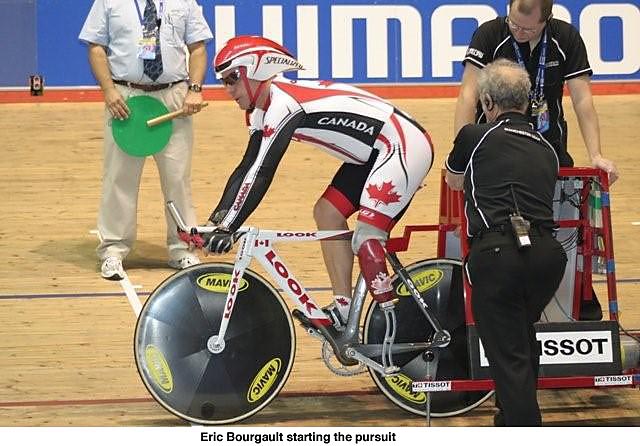 Eric Bourgault (LC2) had the difficult task to break the ice for the Canadian Team. The ambiance and the excitement got him carried away starting out a little bit too fast but finishing strong, posting his second best time. Mathieu Parent (LC3) posted a personal best time by 16 sec, finishing in 5th, missing the finals by 5 seconds. Mathieu is attending his first Track World Championships and is showing a promising future.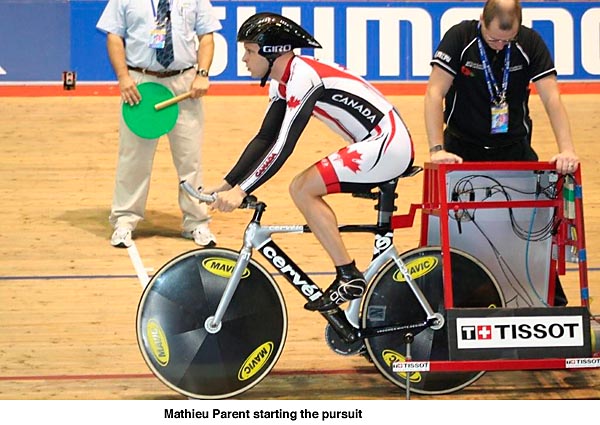 Brayden McDougall (CP3) also put up a good fight by achieving a second best time and improving his last track performance of May 2009, by 3 seconds. The 2 tandem teams prepared for the kilo, confident and aware of their disadvantage in that discipline. Daniel Chalifour has been showing great focus and ability to adapt as his long time pilot, Alexandre Cloutier could not attend the Championship because of an injury. Luc Dionne, already a pilot with another visually impaired athlete in Canada, is here as a replacement and lined up for his first kilo with Chalifour. They finished in a strong 5th position while teammates Tandem Cowie-Smibert finished in 9th, improving their last track performance achieved here, on the same track, last May.
Report Courtesy CCA
Men LC2 4000m Pursuit

1 Jiri Jezek (Czech Republic)
4:40.899*
2 Carol Eduard Novak (Romania)
4:43.812
3 Roberto Alcaide (Spain)
4:44.964
4 Diego German Dueñas Gomez (Colombia)
4:57.962
5 Samuel Kavanagh (United States)
5:06.405
6 Simon Richardson (Great Britain)
5:07.175
7 Eric Bourgault (Canada)
5:09.260
8 Morten Jahr (Norway)
5:13.163
9 Tino Käßner (Germany)
5:20.732
* World record

Men LC3 3000m Pursuit

1 Tobias Graf (Germany)
3:50.198
2 Masaki Fujita (Japan)
3:59.759
3 Michal Stark (Czech Republic)
4:00.157
4 Fabrizio Macchi (Italy)
4:04.020
5 Mathieu Parent (Canada)
4:09.476
6 Antonio Garcia (Spain)
4:10.009
7 Carmelo Sanchez (Colombia)
4:14.082
8 Roger Bolliger (Switzerland)
4:16.317
9 Victor Hugo Garrido Marquez (Venezuela)
4:23.531

Men CP3 1000m Time Trial

1 Darren Kenny (Great Britain)
1:11.472
2 Rik Waddon (Great Britain)
1:11.513
3 Juan Emilio Gutiérrez (Spain)
1:16.530
4 Tomas Kvasnicka (Czech Republic)
1:18.128
5 Javier Ochoa (Spain)
1:18.746
6 Jaco Nel (South Africa)
1:23.038
7 Brayden Mcdougall (Canada)
1:24.797
8 Maurice Far Eckhard (Spain)
1:25.190

Men B & VI 1000m Time Trial

1 Neil Fachie/Richard Storey (Great Britain)
1:02.217*
2 Simon Jackson/David Readle (Great Britain)
1:04.904
3 Jose Enrique Porto/Jose Antonio Villanueva (Spain)
1:05.683
4 Clark Rachfal/David Swanson (United States)
1:05.727
5 Daniel Chalifour/Luc Dionne (Canada)
1:06.741
6 Michael Delaney/Con Collis (Ireland)
1:07.202
7 Eliecer William Orjuela Prada/Giovanni Rojas Agredo (Colombia)
1:07.964
8 Richard Bonhof/Jeroen Lute (Netherlands)
1:08.004
9 Brian Cowie/Devon Smibert (Canada)
1:08.178
10 Yannick Reich/Thorsten Goljasch (Germany)
1:08.542
11 Emil Stopierzylski/Lukasz Tunkiewicz (Poland)
1:08.665
12 Przemyslaw Wegner/Arkadiusz Garczarek (Poland)
1:09.069
13 Laurant Delez/Christophe Grenard (Switzerland)
1:09.663
14 Marek Moflar/Jiri Chyba (Czech Republic)
1:09.911
15 Andrew Fitzgerald/Paul Giblin (Ireland)
1:10.381
16 Arnold Polderman/Dennis Raadtgever (Netherlands)
1:10.656
17 Panteleimon Makridakis/Nikolaos Aggelidis (Greece)
1:11.335