November 10/09 18:47 pm - IMBA Canada News - November 2009

Posted by Editor on 11/10/09

Ontario mountain bikers come together at first ever provincial summit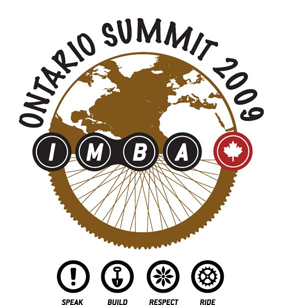 This September, the International Mountain Bicycling Association hosted its first ever provincial mountain bike summit at Chicopee Ski and Summer Resort, in Kitchener, Ontario. Over 65 attendees committed to work towards forming a working group to advocate for mountain biking in Ontario.

"Mountain biking is the fourth most popular activity in Ontario," said Mark Schmidt from the Canadian branch of IMBA. "That puts it ahead of golf, ahead of hiking, ahead of camping. The big concern is that there is no provincial advocacy body to lobby for the sport."

IMBA Canada is a national organisation and cannot lobby at the provincial level, leaving individual mountain bike clubs to approach the government for grants or policy changes.

The sport is healthy in Ontario, with over 130 clubs across the province. The riding here is so diverse that Schmidt and his partner Lora Woolner, who collectively run IMBA Canada have moved from the west coast back to Ontario.

"The riding on the west coast is amazing, but you just don't get the same diversity as you can find in Ontario," said Schmidt. "You really can get every kind of riding in here."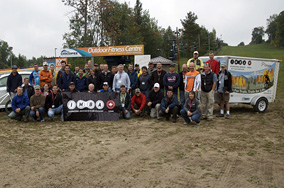 Over the three day conference, participants joined in a trail build session, and two days of seminars on managing mountain biking. The message to attendees was clear.

"For anyone who wants to grow the sport, you need to become one voice," said Chris LaForest, Director of the Bruce County Planning and Economic Development Department. For LaForest, land managers want to see an organized body, with a commitment to long term planning and strategy.

LaForest's comments were echoed by other panellists, including Graham Lamb of Parks Canada and Scott Laver from the City of Toronto.

"We need to be a big loud voice, and once we're a big loud voice, it'll work," said Schmidt.

Numerous clubs were represented at the summit, with three of the best illustrating how to build a successful club program.

The conference was held at Chicopee Ski and Summer Resort, and included a movie premier and silent auction on Saturday night.

"The proceeds of the movie night and auction are set aside as seed money to get this provincial group off the ground," said Woolner of the over $1700 raised. "We had great support from all of our sponsors to make this come together. This was the first provincial conference we have run, and we hope to continue in different provinces in the future."

Subaru/IMBA Trail Care Crew Gearing up for 2010

After ther successful year on the road (12 years and counting!), the Subaru/IMBA Trail Care Crew is gearing up for 2010. Is your club in need of assistance? If so, the Trail Care Crew offers a diverse array of educational offerings, ranging from classic Trailbuilding Schools to Club Care Workshops. Apply for a visit and you may be one of 4 Canadian clubs to host the Crew for a long weekend of volunteer activities. The application deadline has been extended to Nov. 30, so don't delay!

Sentiers du Moulin - The Next Mountain Bike Mecca?

What started with a Trail Care Crew visit two years ago in Lac Beauport, QC is now making headlines as an up-and-coming singletrack destination. At the time, the trail network was mostly based around ultra-wide XC ski trails, but with the keen design of IMBA Canada's Quebec Representative, Jerome Pelland, and the hard work of local trailbuilders, 4km of singletrack was added. This year, another 6km of singletrack was built with funding from a Mountain Equipment Co-op grant that was matched by a National Trails Coalition grant. A local mountain bike association now maintain the trails they ride. Read more - on page 11 of the November issue of Espaces.

Trailbuilding Resources en français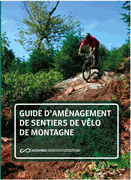 Produced by L'Association pour le Développement des Sentiers de Vélo de Montagne au Québec (ADSVMQ), in partnership with the Fédération Québecoise des Sports Cyclistes (FQSC), and IMBA Canada, Le Guide d'aménagement de sentier de vélo de montagne is the only trailbuilding book of its kind available in French. The full-colour, 183 page guide highlights the essentials from IMBA's Trail Solutions and Managing Mountain Biking books and is small enough to stash in a Camelbak. Available on the IMBA Canada online store for $35.