January 28/10 19:01 pm - Cove Bikes Signs Ben Boyko

Posted by Editoress on 01/28/10

Cove Bikes is excited to announce the return of Ben Boyko to its Factory Team Program in 2010 and beyond.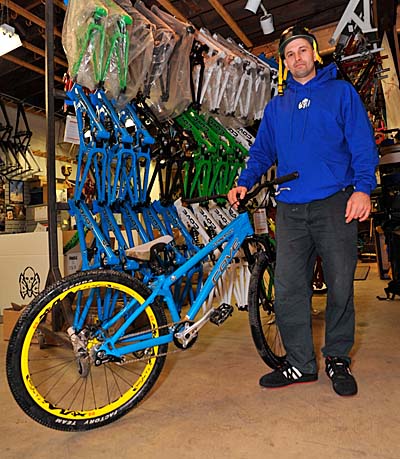 "I'm stoked as ever to be back riding on Cove, they have a perfect understanding of the sport as far as product development and the athletes are concerned. It's great to be with a Canadian company that has been involved in freeriding since day one. Cove has the bikes that match the new school riding and suit my style so I am super excited about the new partnership." says Boyko.

Running a full stable of Cove Bikes, including the highly anticipated G-Spot and the re-redesigned Hooker, Boyko will continue to unload his big bag of tricks all over contests, film projects and photo shoots this season.

"Ben's status within the industry and his already established presence in the media is the perfect platform to show the public what the G-spot is capable of," says Cove Sales Manager Stuart Kerr "plus his experience in product development can only strengthen our solid lineup of North Shore proven bikes."

Cove founder Chaz Romalis added "I'm stoked to have local talent representing Cove at a world class level."

Third year Cove Slopestyle athlete Eric Lawrenuk is pumped to have Ben on board. "I have always admired the perfect stunts that Ben builds, and how they make for sick cover shots. Maybe I can learn a thing or two about that from him!"

Boyko picked up his fresh Cove Foreplay frame and is already prepping for a trip to Spain this February with the FSA Gravity crew.


Cove Bikes is a North Shore based manufacturer of high-end freeride bikes. From its inception as the core North Shore bike shop to today's cutting edge bike producer, Cove leads the industry through innovation and progression. Hit www.covebike.com, Facebook and Twitter for more information.