March 6/10 16:36 pm - OCA Annual General Meeting Report

Posted by Editoress on 03/6/10

The Ontario Cycling Association held their Annual General Meeting on Saturday (March 6th) at the Toronto International Bicycle Show. 2009 turned out to be a banner year for the OCA, as it surpassed $1 million dollars in total revenue for the first time, recording a surplus of $77,569.

"We were concerned early in the year about how the economic conditions would affect us," commented Executive Director Jim Crosscombe. "As it turned out, membership grew slightly, and participation in most events was better than average."

In High Performance, Ontario continued to improve, winning the most medals of any province at Mountain Bike Nationals, and increasing the number of athletes on national team projects.

The membership also voted to change the composition of the Board of Directors, making the Past President position a one year, non-voting spot (previously voting, and continuing until a 'new' past president replaced the previous one). The voting position that the Past President previously held becomes a second Member at Large spot. The Board will solicit applicants for this new position.

Three elections were held, with all positions filled by acclaim:

VP Development - Matthias Schmidt (re-elected)
VP Finance and Administration - Malcolm Eade (re-elected)
Member at Large - Kevin Haviland (re-elected)

The OCA also announced the winner of the Club Challenge Award, which returns to Cycle Solutions/Angry Johnny's.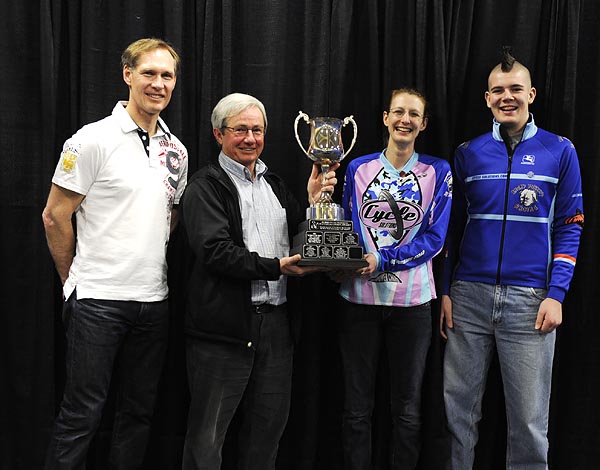 Cycle Solutions/Angry Johnny's club members with OCA President Duncan Vipond