March 8/10 13:28 pm - 2010 Tour of Utah Officially Announces Dates, Stages and Sponsors

Posted by Editoress on 03/8/10

Steve Miller, president of the 2010 Larry H. Miller Tour of Utah cycling race, confirmed today that August 17-22 are the official dates of the USA Cycling sanctioned pro race. In addition, Zions Bank is returning as presenting sponsor of the Tour for the fourth year (2006, 2008, 2009, 2010). Dubbed as America's Toughest Stage Race, the tour will consist of a prologue and five stages covering some of this country's most breathtaking terrain throughout central and northern Utah.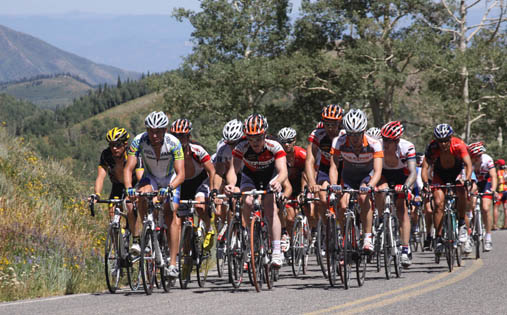 "I am pleased to be able to confirm the August 2010 dates for this year's race," said Steve Miller. "We had such an enthusiastic response to the 2009 event that local communities along the course are excited to see the Tour return, and last year's participants have provided feedback on how to make the race even tougher. In addition, based on last year's success, all existing sponsors have chosen to return making increased commitments to the race through cash, trade, advertising and marketing."

Once again, the Tour of Utah is on the official National Racing Calendar (NRC). The six-day stage race will begin with The Salt Lake Convention and Visitors Bureau Prologue on Tuesday, August 17 and end Sunday, August 22 with the legendary Park City to Snowbird Ski and Summer Resort "Queen" stage.

The remaining five stages will include the University of Utah Health Care Ogden to Research Park road race, the Heiden Davidson Orthopedics criterium in downtown Park City, the Teamgive time trial at Miller Motorsports Park, and the XANGO Thanksgiving Point to Top of Mt. Nebo road race. Race route details will be announced soon.

The Tour of Utah will also include a non-competitive ride for enthusiast cyclists the Saturday before called "The Ultimate Challenge." Detailed information for The Ultimate Challenge will be released soon.

For more information about the Tour, please visit www.tourofutah.com
.