March 8/10 14:10 pm - Blizzard Bike Club News

Posted by Editoress on 03/8/10

News from the Blizzard Bike Club in Fort St. John, BC for March 7th

The Blizzard Bike Club had an exceptional turnout for Sunday's exceptional weather. Eighteen riders came out for the first race of the 2010 season on the warm (+5) and dry Baldonnel road.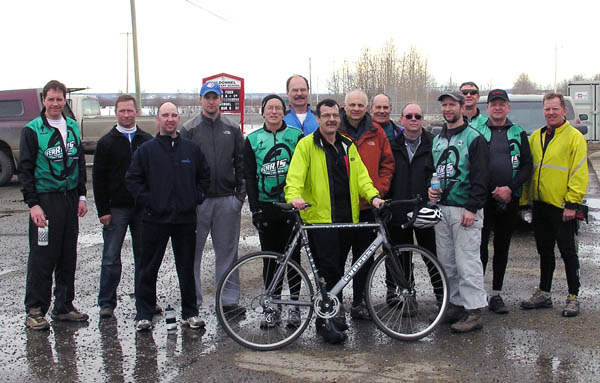 Vince Lowry won the 17 km staggered start event, with a time of 36:40 minutes. Andrew Spence was second at 38:48. Eric Lowry was third at 33:26, Dean Lowry 40:46 and Sam Keats 41:48.

In the 36 km event, Trevor McDonnell won an exciting 5 rider sprint by a half a wheel over Pat Ferris, Les Elliott, Gary Hilderman and Richard Howes, all with a time of 1:01:40 hours.

Thirteen riders started the 36 km, 2 lap event. The group split on the hill with Gary Hilderman, Pat Ferris, Richard Howes, Gord Harris, Les Elliott, Trevor McDonnell and Kevin Shaw. The group was down to the final five with 3 km's to go after a couple of attacks.

Other finishers were 6th Kevin Shaw 1:03:26, Gord Harris 1:05:58, Richard Wood 1:06:58, Robin Sipe 1:06:58, Bob Andrews 1:08:09, George Gamble 1:08:14, Roger St. Jean 1:08:49 and Ken Nix 1:15:35 after a corner crash.

Thank you to Sandy McDonald for timing!

Coming up next Sunday: Stage #1 of the three race 'Roubaix Cup' series. This difficult winter race series is purposely run on muddy, gravel, snowy and icy circuits despite the weather. Last years' races featured temperatures from -27 to -10 as well as fresh snow to deal with. Hopefully, this years' edition will be warmer. Pat Ferris is the defending champion having won it 3 times over the years. Bob Andrews won it in 2008 and Robin Sipe 1997.

Race time is 2 pm Sunday at the Baldonnel School.

Check out www.ferrisfastcycles.com for the club's 90 event annual schedule.