March 22/10 13:15 pm - Canadian Track Team Arrives in Copenhagen for Worlds

Posted by Editoress on 03/22/10

The well oiled machine that is the Canadian Track cycling team has arrived in Denmark, site of the 2010 World Championships. The athletes are feeling fresh and jet-lag free after their training camp in Apeldoorn [Netherlands] and are looking focused and confident. The riders are fine tuning little things as they head towards the first race day.
Julia Bradley "really felt a sense of pride as we walked into the velodrome together as a team in our red and white colours. The fact that Canada has a real presence at the World Championships is pretty special and I feel that it's just the start of great things to come from Canadian track riders."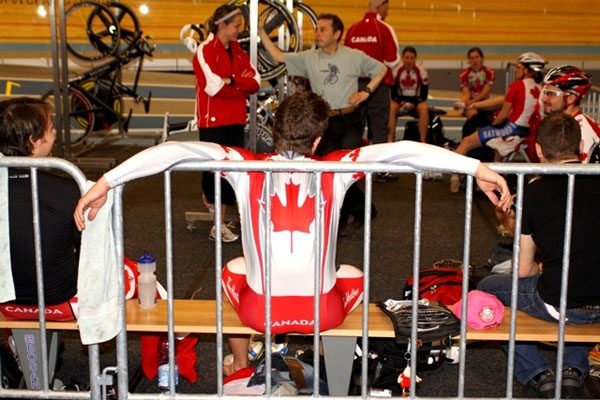 For the first ride on the Ballerup Super Arena the athletes became familiar with the track, the feel of the newly sanded wood and the freshly pasted stickers. Stephane Cossette thought the "track feels pretty fast compared to Apeldoorn, we just did an easy spin the first time on the track and tomorrow we are going to do full speed efforts. So I can't wait to see what that's going to bring."

Day two on the World Championships Track saw all the athletes do race pace efforts. "The team sprint guys did a standing 500 meters in a respectable time two days out from race day. Performing at the top of [their game at] the World Championships is still very new to these athletes and the staff is reminding them of their capabilities daily. We are working towards a personal best time and Canadian Record of 45.2" commented coach Tanya Dubnicoff.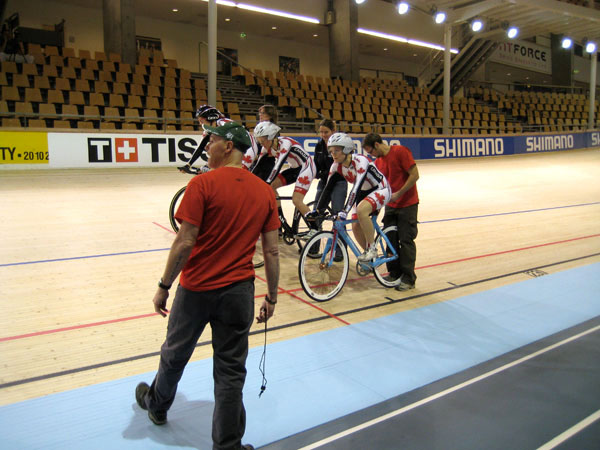 The Women's Team pursuit did standing kilos and flying 1.5 kilometre efforts. Coach Jeremy Storie still sees "room for improvement and, with the traffic on the track, it is tough to gauge just how fast they are riding. I am confident come race day they will have a clean ride and achieve the goal of a second ride for a chance at a medal."
Courtesy CCA