March 23/10 14:04 pm - Track World Championships: Preview

Posted by Editoress on 03/23/10

The 2010 Track World Championships begin tomorrow at the Ballerup Super Arena on the outskirts of Copenhagen, Denmark, and the Canadian team was finishing up their preparations today in a final training session. Canada's team of nine riders is the largest ever for a Track Worlds, and hopes are high for some strong performances.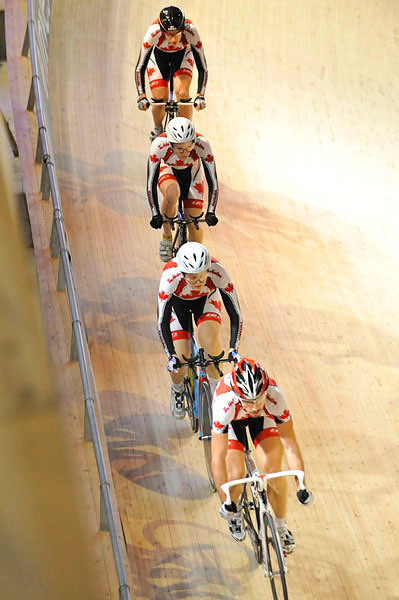 The Ballerup track has been freshly sanded and prepped for the championships, and all indications are that it is a fast track. "I haven't raced at this track before," commented Zach Bell, "but it does seem that everyone is going pretty fast."

According to sprinter Travis Smith, who has raced on the Ballerup track in World Cups, "it does seem to be faster than in the past, but I hoping that's because I'm stronger!"

There are four medal events tomorrow on the opening day, and Canada has riders in all four. Tara Whitten will race the Individual Pursuit, Monique Sullivan the 500 metre Time Trial, Zach Bell the Points Race, and the men's squad of Travis Smith, Joe Velocce and Stephane Cossette will compete in the Team Sprint.

One disappointment is that it is almost certain that Zach Bell will not be able to compete in the men's Omnium. Bell won the silver medal in this event (200m TT, Scratch Race, Individual Pursuit, 1000m TT and Points Race) at last year's Worlds but, according to national coach Richard Wooles, it is highly unlikely he will be able to ride this year.

"The qualification is quite convoluted, based on standings in a number of events from last season, and Zach doesn't qualify. We tried to get him in, but he is about fourth or fifth on the standby list, so it there is little hope."