March 30/10 17:02 pm - Victoria Cycling League – Round 2

Posted by Editoress on 03/30/10

Victoria Cycling League – Round 2 – The Hilly Criterium

On Sunday, (March 28th) as the skies cleared and the sun peeked out the gathered cyclists got a good look at the course they were about to suffer their way around. It was Newton Heights. The 1.7km loop gets harder and harder the more you do it. It has only 2 "parts". There is the flat & descent and then there is the climb. The 600m climb is itself in 2 parts with a shallow lead in which quickly ramps to over a 10% grade and increases to a maximum of 16%. Then the course turns right and the grade softens to a "mere" 6% for the second half of the climb. After going over the top it's a matter of trying to get back up to speed quickly and recover as much as possible in the all too short a time before you hit the bottom of the hill again and doing it all over again.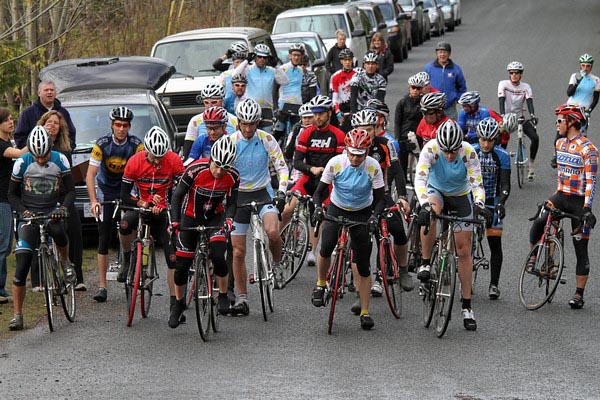 A Race Start
Sunday's race saw the A field set out to do 15 laps and the B field tackle it 12 times. The A field consisted of about 15 riders with a solid field of about 20 B riders setting out a few seconds behind them. Mixed in with the B field were also the 5 women who came out to contest the event.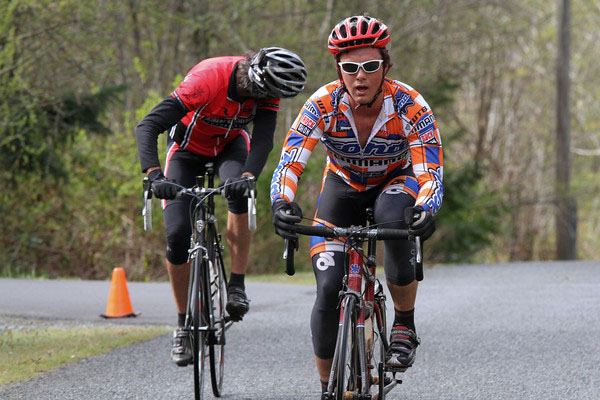 Cory Wallace
The A race saw the return to racing of perennial winner Bob Cameron (IRC) after losing almost a year due to injury. Also racing were strong men Cory Wallace (Kona-Freewheel), Ralph Lalumiere (Russ Hayes) and Steve Bachop (IRC). New to the A field were 4 riders from Tripleshot Cycling who moved up after strong performances last weekend in the B Race. The A Race was decided when Cory Wallace (Kona-Freewheel) made a decisive move going up the hill and soloed home. That was followed a few laps later when Raph Lalumiere (Russ Hayes) And Steve Bachop (IRC) tried the same thing. Raph stayed away with Steve dropping back to the main field where he ultimately led them in followed by Bob Cameron (IRC) and Bill Ethier (Tripleshot Cycling). Others suffered their way alone through the finish including your intrepid reporter who has never been so happy to see a finish line after being shot off the back of an uncaring pack half way through the race!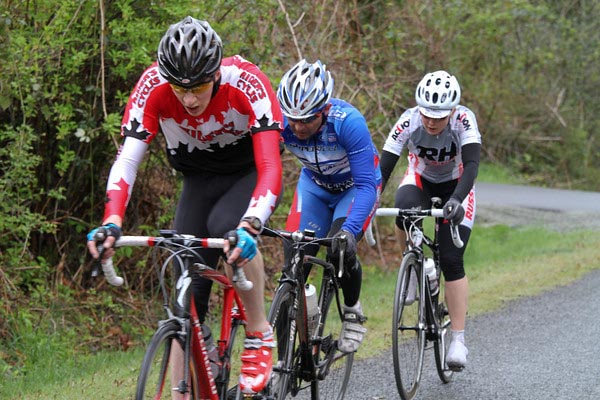 Shailie Sanbrooks hangs onto men's riders
In the B race there was talk about how after Tripleshot rode away with the win last week using brilliant team tactics that the others should look to do the same. The B Field was quickly off and hammering around the course with a few more riders being left to fend for themselves with each successive ascent of the hill. At the end the B podium was Matt Pieterson (unattached) over James Cameron (Pro City Racing) and Aaron Dusseault (Russ Hayes). More fodder for the A's perhaps? Other notable mentions in the B field are for both Michael Lawless and Steve Young (both Tripleshot Cycling) who took on Newton Heights in their first ever VCL race. Talk about trial by fire!

In the women's race 5 ladies were duking it out for hill supremacy. It was clear that the successful tactic was to stay with the main field of the B race for as long as possible as once you were out of the draft of the pack it was really tough slogging. The top 2 stayed with the men for the race with Shaillie Sanbrooks (Russ Hayes) taking the win over Megan Rathwell (Blue Bikes). Rounding out the women's podium was Marcy Brunett (Dirty Girlz) with Jen Erlendson (Tripleshot Cycling) and Sarah Clarke (dEVO) also staking a claim for overall points.

Results:

A Race – 15 laps (25.5k))
1 Cory Wallace (Kona - Freewheel)
2 Raph Lalumiere (Russ Hayes)
3 Steve Bachop (IRC)
4 Bob Cameron (IRC)
5 Bill Ethier (Tripleshot Cycling)
6 Jeff Drew (Victoria Wheelers)
7 John Taylor (Tripleshot Cycling)
8 Brian Ebert (Schwalbe)
9 Simon Tremblay (Pedal Your World)
10 Steve Munro (IRC)
11 Peter Lawless (Tripleshot Cycling)
12 Roland Rabien (Tripleshot Cycling)
13 David Hilhorst (Schwalbe)

B Race – 12 Laps (20k))
1 Matt Pieterson (Unattached)
2 James Cameron (Pro City Racing)
3 Aaron Dusseault (Russ Hayes)
4 Tom Malczynski (Pro City Racing)
5 Andy Pitre (Unattached)
6 Jon Johnson (Unattached)
7 Alex Hui Russ (Hayes)
8 Brad Smith (Unattached)
9 Steve Lund (VCA-Aviawest)
10 Colin Hayes (Riders Cycles)
11 Dave Spiers (Tripleshot Cycling)
12 Casey Ryder (Schwalbe)
13 Steve Young (Tripleshot Cycling)
14 Michael Lawless (Tripleshot Cycling)

Women – 12 Laps (20k))
1 Shailie Sanbrooks (Russ Hayes)
2 Megan Rathwell (Blue Bikes)
3 Marcy Brunett (Dirty Girlz)
4 Jen Erlendson (Tripleshot Cycling)
5 Sarah Clarke (dEVO)

Full Results

Photos by Duane Martindale
Report courtesy Peter R. Lawless