April 6/10 14:50 pm - Tour of California Announces Teams for 2010 - UPDATED

Posted by Editoress on 04/6/10

AEG, organizers of the Amgen Tour of California, have announced the 16 teams that will participate in the 2010 race next month and, as we revealed a few days ago, Canada's SpiderTech powered by Planet Energy will become the first Canadian team to participate in the race.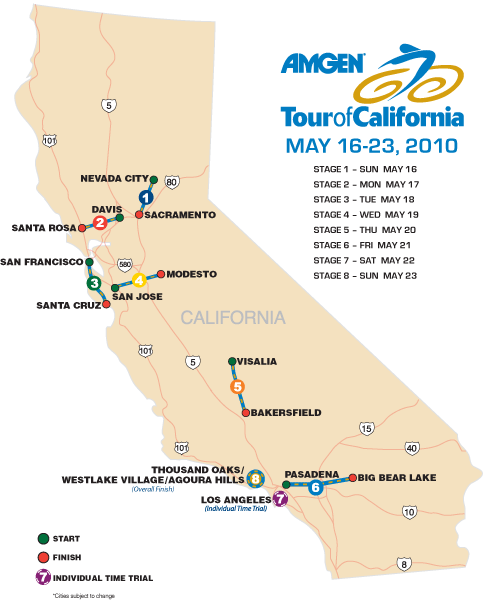 The 16-team field will be comprised of a collection of the world's best international professional cycling teams, along with a selection of top North American-based teams. The teams will be led by prominent UCI ProTour and Pro Continental teams, such as the three-time defending champion Levi Leipheimer and seven-time Tour de France champion Lance Armstrong's team RadioShack; 2009's No. 1-ranked Team HTC-Columbia, featuring sprint sensation Mark Cavendish; powerhouse Team Saxo Bank, featuring Tour of Flanders winner Fabian Cancellara and Tour de France runner-up Andy Schleck; Liquigas-Doimo, an exceptionally promising young Italian team; Colorado-based Garmin-Transitions; and BMC Racing Team, featuring current U.S. Pro champion George Hincapie.

Along with ProTour and Pro Continental teams, the domestic teams will be represented by return competitors Bissell, BMC Racing Team, Cervélo TestTeam, Fly V Australia, Jelly Belly Presented by Kenda, Kelly Benefit Strategies, Team Type 1, UnitedHealthcare Presented by Maxxis, and new competitor, Canada's Spidertech Powered by Planet Energy.
"It is the fantastic opportunity our team needs now," commented Steve Bauer, who back in Canada after the team had a strong showing at the Tour of Uruguay. " We have worked hard and made excellent progress with our athletes. We thank all of our partners that have enabled us to reach this level, which will be the perfect progression for our team's evolution. Team SpiderTech powered by Planet Energy will give it everything we have to race at our highest potential for the Amgen ToC."
The nearly 1300 kilometre, eight-day stage race will take place between May 16th and 23rd, and take the riders from Nevada City to Thousand Oaks/Westlake Village/Agoura Hills.

The 2010 Amgen Tour of California roster includes the following 16 professional cycling teams:

• Bissell (USA)
• BMC Racing Team (USA)
• Cervélo TestTeam (SUI)
• Fly V Australia (AUS)
• Garmin-Transitions (USA)
• Jelly Belly Presented by Kenda (USA)
• Kelly Benefit Strategies (USA)
• Liquigas-Doimo (ITA)
• Quick Step (BEL)
• Rabobank (NED)
• Spidertech Powered by Planet Energy (CAN)
• Team HTC-Columbia (USA)
• Team RadioShack (USA)
• Team Saxo Bank (DEN)
• Team Type 1 (USA)
• UnitedHealthcare Presented by Maxxis (USA)

"These teams, with the riders we expect to compete, represent the one of the strongest fields we have had at the Amgen Tour of California. Our move to May means that we will have Tour de France contenders in prime form racing here in the Golden State," said Andrew Messick, president of AEG Sports, presenter of the race. "We also are pleased to have a selection of top North American-based Continental teams, who will have a chance to compete with some of the world's best riders."