April 9/10 10:56 am - John Henry West Coast Super D

Posted by Editoress on 04/9/10

John Henry West Coast Super D, $15 early bird entry ends Apr. 12th


The special $15 early bird cutoff of Apr. 12th is fast approaching for the John Henry West Coast Super D in Belcarra, B.C., now in its second year. Visit www.westcoastracing.ca for full event details, and link to on-line registration. Don't miss out on your chance to race the legendary loamy technical singletrack of Belcarra at this value-packed $15 entry fee ($20 for non-licensed participants) that will also give you a chance at walking away with a ton of great swag and prizes from John Henry Bikes, Race Face, Ryders Eyewear, Norco, Schwalbe Tires and more!
Last year's event was a testament to the course design, which aimed to be 100% "bike neutral" through a carefully chosen combination of burly descents and a couple of climbs all wrapped around the marquee singletrack segments. This goal was borne out by the top 2 finishers, one of which was top 10 nationals DH racer Dan Skogland on his 6+6 steed, just over 1 second faster than top XC junior Sebastien Sleep on his pinner hardtail!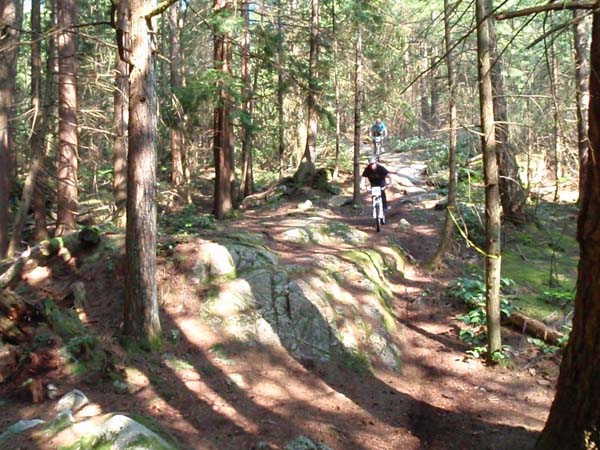 The 2010 course has been revamped to remove one major climb and add even more singletrack to keep the flow full of action from top to bottom, with the finishing elevation significantly below the starting elevation to fit the bill of a true Super D.

This year will also see the Super D incorporate free kids' mountain bike events (non-competitive) on 2 different age-appropriate layouts to make it an outing suitable for the whole family, which have traditionally been one of the best parts of the day of West Coast Racing's other events.
According to Willie Cromack of John Henry Bikes, the event's founding sponsor, "Super D styled events are the past and future of mountain biking. The start of mountain biking was all about inclusion and events like the John Henry Bikes West Coast Racing Super D bring back that spirit. The Super D is the place to be for fun and learning to rip. John Henry Bikes is pumped to be a part of this event." After seeing the smiles all around at last year's event, we're inclined to believe him!

The John Henry West Coast Super D is a perfect way to open the local mountain biking race season with a course suitable for all riders, and all bike types. The main event information page www.westcoastracing.ca/superd provides elevation profile and estimated finish times, plus you can check out a course preview helmet cam video

West Coast Racing is a community cycling club operating as a not-for-profit society run entirely by volunteers from within its membership. Various outdoor and indoor cycling programs are run by West Coast Racing year-round for mountain bikers, road riders, and cyclocrossers. West Coast Racing is also the organizer of the Cardiac Classic BC Cup XC at Burnaby Mountain on Jun. 13th, 2010 and the BC Cup stalwart Vanier Park BC Cup Cyclocross Classic in the fall of 2010.
Courtesy of West Coast Racing