April 9/10 12:46 pm - Stephen Meyer Podiums in Trinidad

Posted by Editoress on 04/9/10

Stephen Meyer from Ontario spent the weekend racing the Easter Grand Prix in Arima, Trinidad. The air was thick with smoke from the forest fires all over the surrounding mountains and it was 35 degrees during the day, but a moderate 28 in the evenings. As the lone Canadian "I was happy to see Erin Hartwell there with two American endurance riders (Kit Karson and Austin Carroll) and two sprinters (Chris Pritchard of Scotland and T.J. Mathieson of the U.S.A.). I owe him a huge shout-out for helping me out while I was down there." Ten countries were represented, including Spain, France, and Columbia.

After a poor showing in the early races on the first day, Meyer's legs finally came around for the final, with the feature event of the night being a 15 km scratch race; 30 laps on the 500 meter track. Four racers launched an attack right away and after 1500m the Canadian bridged up. Three of the riders got dropped leaving Meyer with just one other rider whom he rode off his wheel "leaving me out in the wind on my own. I stayed away solo, and took my first win of the weekend!"

The second day saw a few pretty gruesome crashes, and Meyer took 3rd place winning the field sprint in an unknown distance race. In the feature event of the night, a 15 km points race, he was third behind Carlos Alzate (Columbia) and Austin Carroll.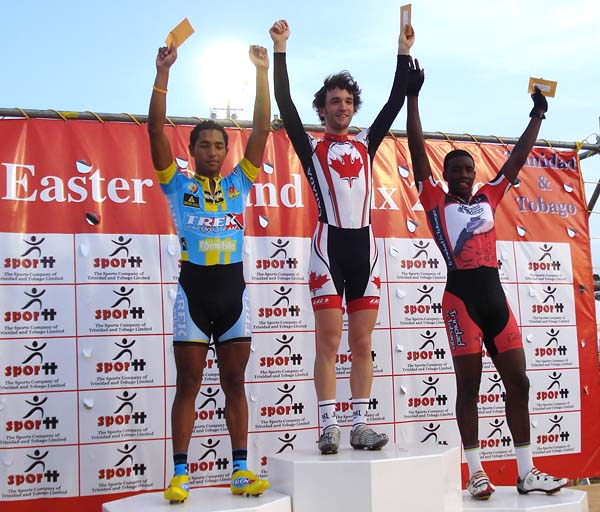 On the final night, "my legs were feeling pretty wrecked, and I was hoping that everyone else was feeling the same way. The first endurance event of the night was a 5 km scratch race. With 2 km to go, Alzate attacked, and I quickly bridged up to him. Neither of us wanted to pull for the final lap, so some cat-and-mouse action started. With the pack gaining on us, I attacked him in corner three, and took my second win on the weekend!

"Overall it was a great experience. I made it to Maracas Bay, had a Bake n' Shark, and met some really cool people, locals and the international racers. I will definitely be back, and wish luck to the Canadians going down for the Beacon Races!"

Canadian track riders are in LA this week-end for the Pan American Championship Selection Trials and then Daniele Defranceschi, Jean-Michel Lachance, Adam Thuss, and Stephane Cossette depart for a few weeks of racing in Trinidad.


To see Track Racing at the highest level, tune in to CBC on Saturday, April 10th from 3:30 to 5:30 pm EST for coverage of the 2010 World Track Cycling Championships where Tara Whitten won Two Gold Medals.

Partial Results

Match Sprint
1 Njisane Phillip (T&T) two straight rides
Haseem McLean (T&T)

3 Florian Vernay (France) two straight rides
4 Azikewe Kellar (T&T)

2000m Pursuit
1 Njisane Phillip (T&T
2 Elijah Greene (T&T)
3 Eduardo Colon (Puerto Rico).

5000m Pursuit
1 Stephen Meyer (Canada)
2 Carlos Alzate (Colombia)
3 Kristopher North-Karzen (USA)

Devil -take-the Hindmost
1 Carlos Alzate (Colombia)
2 Eduardo Colon (Puerto Rico)
3 Austin Carroll (USA)

1000M TT (kilo)
1 Njisane Phillip (T&T)
2 Samir Cambindo (Colombia)
3 Haseem McLean (T&T).

20,000 m
1 Eduardo Colon (Puerto Rico)
2 Darren Matthews (Barbados)
3 Jerron Williams (Guyana)
4 Veron Maharaj (T&T).