April 28/10 12:31 pm - Women's Learn to Race/Ride Skills Camp a Success

Posted by Editoress on 04/28/10

On the weekend of April 24-25 a unique women's only Learn to Ride/Race camp was held in Oakville Ontario. The host was the Eat-Clean Diet team, and the camp is geared for intermediate riders who have been riding for a few years and want to take their cycling experience to the next level.

In all 40 women came together for a full weekend of seminars and riding.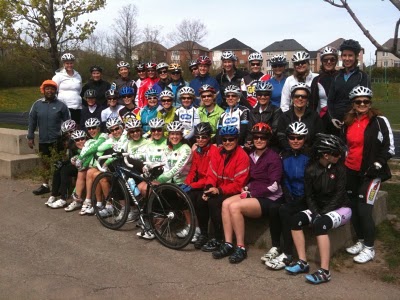 Day One kicked off with a discussion on nutrition. Tosca Reno, the author of The Eat-Clean Diet series spoke on nutrition for an active life - on a daily basis, before/during/after racing and helpful advice about eating for energy. Afterward Tosca fielded a lot of questions from the women about eating, working out and nutrition itself.

Next up was a presentation by Petrina Tulissi - an informative (and sometimes humorous) review of bike mechanics and maintenance.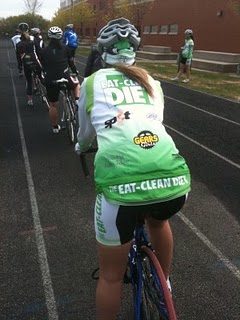 After lunch it was 'on-yer-bikes ladies' for a review of skills: Under the direction of Team riders Leigh Hargrove, Petrina Tulissa and Melina Crosby, the riders were taken through segments on hill climbing, sprinting/cornering, bike handling skills, shifting, mechanics and goal-setting. Next up, volunteers Peter Hargrove and Jim Dolson taught a group riding segment that had the women spotting and pointing obstacles on a closed track while learning the elements of drafting, group riding and paceline rules & etiquette."


On Day Two the schedule shifted around slightly to move the riding portion to the end of the day so that riders wouldn't be sitting around wet and cold after a rainy morning ride.

The morning seminar covered gearing and gear ratios, followed by an inspiring session of goal-setting, training journals and vision boards. A 'share' session amongst participants was followed by lunch

In the afternoon, under the direction of Oakville Cycling Club President and camp volunteer Rob Narejko, it was hands-on mechanic time. In small groups, the women took their wheels off and proceeded to change their "flat" tires. This session was the last of the in-class prep before the heading out into the cool, wet weather and their group riding drills: shifting, climbing, group riding and communication skills..


Leigh Hargrove, Team President: "I was so excited to be able to share my love of cycling with all these women who enjoy the sport and who showed up to expand their skills and meet some great riding partners this past weekend."

"I could tell that some participants were nervous about riding with a pack and drafting wheels - but by the end of the weekend the improvement was obvious and some of those "fear" barriers were definitely knocked down!"

"Most of us never have anyone officially teach us how to be more efficient on our bikes - whether we want to race or just improve our overall cycling experience. This camp was designed to help build riders' confidence on their bikes, understand their bikes (how to shift, change a tire, do a bike check, maintain their bikes) as well as how to ride in a group, do a paceline, double paceline, and echelon as well as effectively climb a hill and develop bike handling skills for cornering and sprinting."


A big thank you goes out to all team members, presenters Tosca Reno, Peter Hargrove, Jim Dolson and volunteers Phil Preston and Oakville Cycling Club president Robert Narejko.

This camp wouldn't take place without the support and help from the team's sponsors. Each camp participant received a goodie bag of product samples including a copy of The Eat-Clean Diet, ride-based nutrition packets of e load, a chamois cream made especially for women called Hoo-Ha Ride Glide, a discount off RaceDayRush.com's online membership, information about SPOT GPS 'safety' units and an invitation to join Gears Girls cycling club.

The team is thinking about running an advanced course in late August/mid-September as there was an interest in a follow-up course.

If anyone has any questions on how to run one I would be more than happy to offer advice/tips, etc. and can be contacted through womenscyclingteam.com.

About the team
The Eat-Clean Diet® Women's Cycling team was created to provide a supportive and encouraging environment for female competitive cyclists to assist them in taking their riding and racing to the next level while also working to develop women's cycling opportunities and awareness.