May 2/10 12:58 pm - World Cup Houffalize: Men's XC report and photos

Posted by Editoress on 05/2/10

The men's six lap race saw a series of upsets, with eventually fourth place finisher Jaroslav Kulhavy (Rubena-Birell-Specialized) crashing on the start line, blocking many of the top riders on the left side of the road. Manuel Fumic (Cannondale Factory) was one rider who wasn't blocked, and he immediately opened a 30 second-plus gap on chasers Julien Absalon (Orbea), Wolfram Kurschat (Topeak-Ergon) and top Under-23 rider Matthias Flückiger (Trek World Racing).

The chase received a blow when Absalon flatted late in the first lap. The defending Houffalize champion had to run for almost half a lap to the tech zone, dropping into the 30's before he began an impressive chase back to finish seventh.

Meanwhile, Fumic was continuing to hold down the lead lap after lap, as Kurschat and Flückiger couldn't close the gap. It took Hermida, coming back from the mid-teens after having been caught by the start crash, to finally catch the chasers and then Fumic as they started the final lap. After that, it was just a matter of time before the 2007 Houffalize winner was able to pull away from his rival to win the sixth World Cup of his career.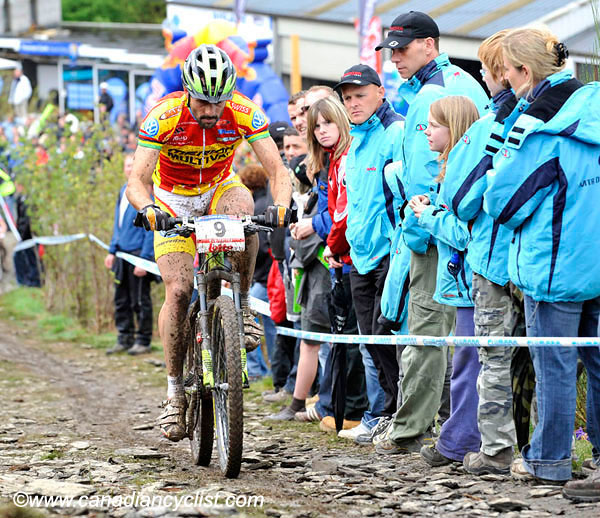 Jose Hermida on his way to a 6th career World Cup win
Julien Absalon's hopes were dashed by a flat on the 2nd lap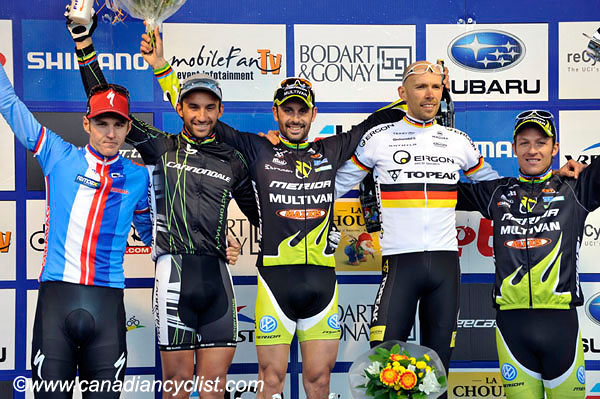 Men's podium: Jaroslav Kulhavy, Manuel Fumic, José Hermida, Wolfram Kurschat , Ralph Naef