May 14/10 21:41 pm - Amgen Tour of California: Pre-race Press Conference

Posted by Editor on 05/14/10

The 2010 Amgen Tour of California officially began today with a pre-race press conference in Sacramento attended by some of the top riders in the race. Lance Armstrong (RadioShack) headlined the event, joined by his team mate and three-time AToC champion Levi Leipheimer, George Hincapie (BMC), Mark Cavendish (HTC-Columbia), David Zabriskie (Garmin-Transitions) and the two Saxo Bank team mates Fabian Cancellara and Andy Schleck. Missing was Tom Boonen (Quick Step), whose team apparently got lost on a training ride.
After the obligatory speeches from sponsors, organizers and local dignitaries, the riders answered questions from the collected media. We will be posting videos shortly, but some of the highlights:

- Armstrong says that the entire team is supporting Leipheimer, who will be going for a fourth consecutive title. Leipheimer does indeed look very lean, much more 'mid-season' than the other riders. As to the main competition, Armstrong feels that the race will come down to the stage 7 time trial, and picks Zabriskie and Michael Rogers (HTC-Columbia) as the biggest threats. Interestingly, he did not pick Cancellara. Overall, Armstrong admits that he has had an up and down start to the season, commenting that as of today it is '50 days' to the start of the Tour.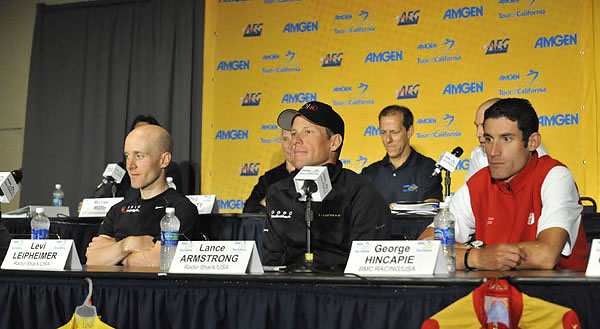 American cycling royalty
- Cancellara played down his chances, saying that he is just back from two and a half weeks off the bike, resting after the Classics. Everyone at the head table rolled their eyes at this. He and Schleck say that the Saxo Bank team is effectively the Tour team, with only Andy's brother Frank missing. There is no designated team leader at this point.

- Cavendish agreed that a major goal of his will be to win Sunday's first stage and take the yellow jersey. He adroitly dodged questions alluding to his recent rude gesture at the Tour of Romandie and removal from the race by his team...

- Organizers are pleading with fans to not paint on the roads, since this could lose them road permits for future editions of the race. Chalk is okay, but nothing semi-permanent. Apparently, Californians really love their roads...

- The number of media at the opening press conference was well down from last year, when Armstrong was making his return to racing. Also, with the Giro conflict, a number of European media were conspicuous by their absence.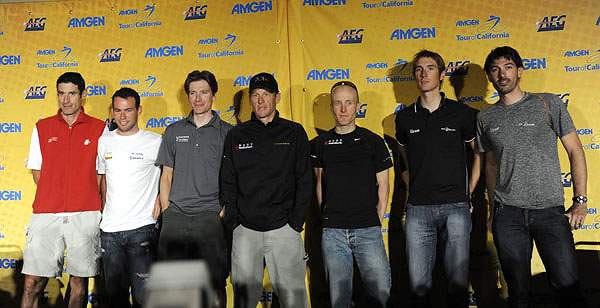 Hincapie, Cavendish, Zabriskie, Armstrong, Leipheimer, Schleck and Cancellara