June 10/10 11:50 am - Eat Clean Diet Announces Gatineau Squad

Posted by Editoress on 06/10/10

Gatineau will play host to women cyclists from around the world this upcoming weekend on June 12 and 13th in the 7th edition of the Grand Prix Cycliste de Gatineau, and the Eat-Clean Diet Women's Cycling Team will be there!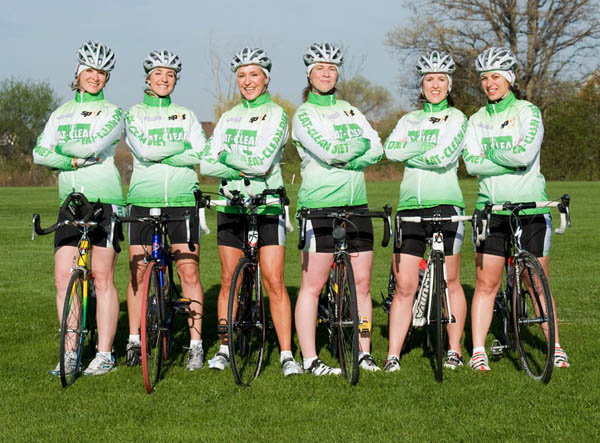 "We are excited to have a race of this caliber in Canada, especially after the cancellations of the races in Montreal" says team founder Leigh Hargrove. "Hopefully this race will continue to grow and become a staple on the international race calendar. The organizers have pulled out all the stops and are keen and dedicated to making this an impressive weekend. There will be over 80 women on the start line - it will be a great show!"

The Eat-Clean Diet Women's Cycling Team will be sending a composite team to the Gatineau. Hargrove, a former national team member, is on a comeback after taking 12 years off the bike. After some strong results this season, she is looking forward to the challenge of being back in a pro peloton.

Anne Samplonius, who has a plethora of wins over her career, including several Canadian National Championships, grand tour wins, and a silver medal at the 1994 World Time Trial Championships, will be joining the team for the road race as a guest rider and riding under her Team colours with the Vera Bradley Foundation Cycling team for the time trial. Her experience and expertise are a welcome addition to the team.

Krista Ruby, a member of Canada's Junior Worlds Track Team last year, joins us as a guest rider from La Bicicletta for the road race and is excited to test her legs in an international field and join the Eat-Clean Diet Women's Cycling Team for this race.

Cynthia Wilson, a local from Ottawa and Ride With Rendall cycling team member, is coming off an impressive sixth place GC finish at the Killington Stage Race and is excited to be racing in her back yard.

Rounding out the team roster is St. Kitts cyclist Kathryn Bertine. There are few sports this athlete has not competed or participated in, including touring with the Ice Capades, and it was an ESPN assignment that got her into racing her bike full time. The Eat-Clean Diet Women's Cycling Team is excited to have such a diverse and colourful group racing on the same team this weekend in Gatineau.

The Eat-Clean Diet Women's Cycling Team is a brand new cycling team devoted to encouraging and supporting women in cycling and creating opportunities for women in cycling. To find out more about the Eat Clean Diet Women's Cycling Team log on to www.womenscyclingteam.com.