June 14/10 17:01 pm - Wheels Of Speed Downhill

Posted by Editoress on 06/14/10

Wheels Of Speed downhill on June 13th in Willengen, Germany

Santa Cruz Syndicate's Greg Minnaar (SRAM/RockShox) placed 2nd Sunday day in the Milka Wheels Of Speed downhill in Willingen, Germany. Aaron Gwin took the win on this short, fast course with a 1:50.06 to Greg's 1:50.26 and Andrew Neethling was third at 1:50.99, and Josh Bryceland finished 17th with 1:55.72.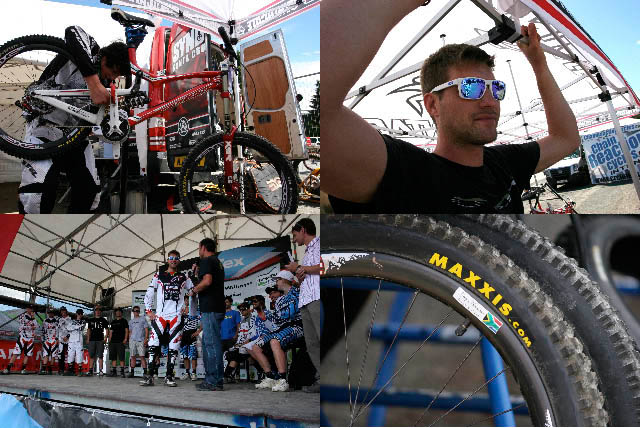 Willingen has been host to World Cup downhill racing and the Wheels of Speed event has been going on since. This race is held in conjunction with the Sympatex Bike Festival with thousands upon thousands of people in attendance. The Wheels of Speed is a great stop on the calendar and is known for having great prize money and riders are well taken care of and enjoyed the hospitality of the VIP lunches where everyone could relax and hang out. There were also rider presentations and signing sessions that incorporated the athletes into the festival.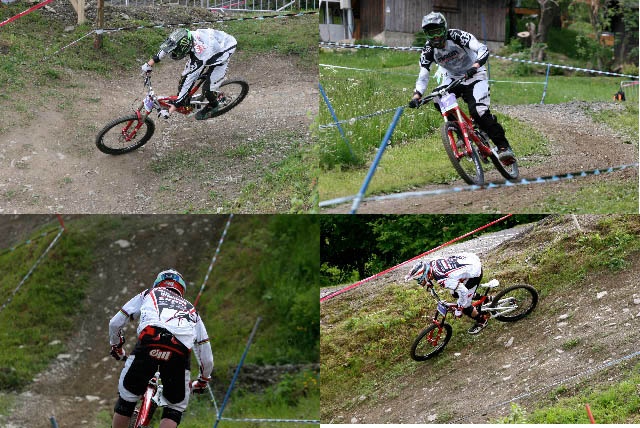 Riders have a great time on the track here, which is short, full of jumps, drops and rocks and at the speeds they were going made it very dangerous. If you hit everything right you would be on pace, but miss a little something and you were off the back.

Saturday was the seeding run and it turned into a rainy day. The start was delayed as the timing wasn't working for a bit and they had to use back up timing. Gee Atherton was the fastest by 2 seconds in seeding, Greg was 8th and Josh 13th. Race morning was dry and the day improved into a sunny afternoon. With the track easily accessible, thousands came out to watch the action packed race.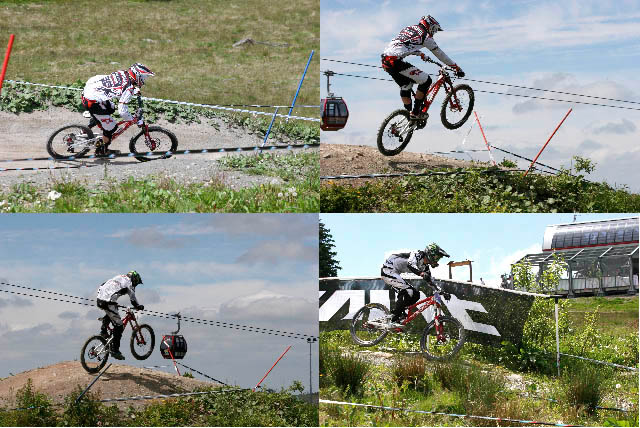 Greg had a great run going and held the hotseat for a while until Aaron Gwin unseated him. Gee was the last man down and hopeful for a win, but he suffered a rear puncture and had to roll into the finish. Aaron Gwin said, " I'm really happy to win. Before the start today I thought I really need to win today, my dental estimate to fix my teeth is $7,800.00, so I was really, really happy to win today." The prize money Aaron won will get him a lot closer to that new smile.

"I'm happy to come 2nd today and be the Tooth Fairy for Aaron. The racing was tight and I rode a little conservative through the rocks. We hit some really high speeds on the track and with all the jumps and drops you have to be accurate because it's a bit dangerous, but it's a good track to race on," said Greg.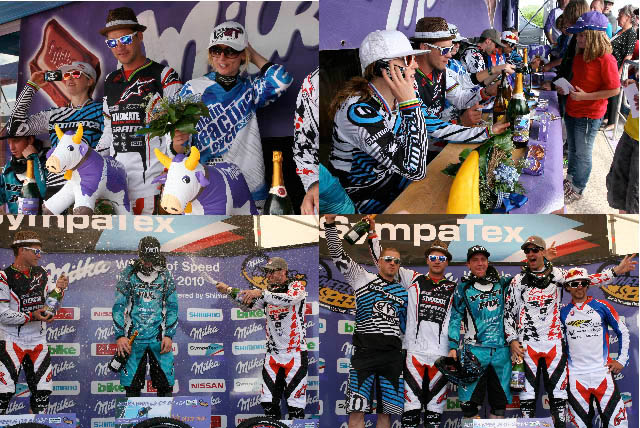 "It was a valuable weekend. It's not the type of track that suits me, so it was good to come here and practice something like this. I thought I would've done a bit better, but the wet seemed to give me a better advantage in qualifying, I have my bike feeling good going into Leogang," says Josh.

This week the Syndicate goes to Leogang, Austria for the next round of World Cup action with Greg in the leader's jersey. We are looking forward to racing at a new venue for the World Cup and will attempt to keep the leader's jersey in our camp.

Santa Cruz Syndicate press release

Pro Men


| | |
| --- | --- |
| 1 Aaron Gwin (Yeti Fox Shox Factory Race Team) | 1:50.06 |
| 2 Greg Minnaar (Santa Cruz Syndicate) | 1:50.26 |
| 3 Andrew Neethling (Trek World Racing) | 1:50.99 |
| 4 Dan Atherton (Commencal) | 1:51.69 |
| 5 Filip Polc (MS Evil Racing) | 1:52.03 |
| 6 Matt Simmonds (Chain Reaction Cycles/Intense) | 1:52.03 |
| 7 Chris Kovarik (Chain Reaction Cycles/Intense) | 1:52.19 |
| 8 Steve Smith (MS Evil Racing) ) | 1:52.55 |
| 9 Matti Lehikoinen (Chain Reaction Cycles/Intense) | 1:52.96 |
| 10 Florent Payet (Blackmountain Morewood United) | 1:52.99 |