Under cloudy skies, some of the top racers from Western Canada and the USA gathered for the Surprise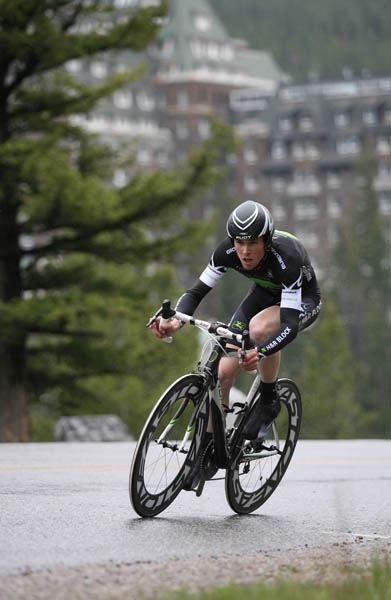 Corner Prologue 1.5km, the opening event of the 3rd annual Banff National Park Bicycle festival from June 17-20. In addition to the top riders in the Invited Men and Open Women categories, there are also races at the Bike Festival for less experienced racers in Categories 2 through 5 (beginner racers start out in Category 5). In total, 180 athletes are racing at the Banff National Park Bike Fest this year.
The Surprise Corner Prologue starts off unassumingly with a gentle climb up meandering Buffalo Street, parallel with the Bow River, for the first kilometre. But just after the 1km mark, the gentle meander turns mean, and the road throws riders a curve ball in the form of a hairpin turn, called Surprise Corner, steepens abruptly on the way to the finish line. At the start line, riders wait nervously, barely breathing. But by the time they reach the finish line, riders are breathing in audible gasps.

"It's short and hard!" exclaimed Michael Godfrey, a Category 4 racer from the Calgary-based Speed Theory team, "You probably won't find anyone who would argue with that!"

Justin Warsylewicz (Team Bicisport), and Mark McConnell (Synergy Racing) won the Category 4 and 5 prologues, respectively. Mike Sidic (Team H&R Block/Norco) won the combined Category 2/3 prologue.

Justin Kerr (Team H&R Block/Norco) stormed his way to the finish line in 2:36, winning the Invited Men category.

"We're very happy to be here," commented Mark Ernsting, director of Team H&R Block/Norco (Kerr was unavailable for comment), "With our team roster including riders from both Alberta and BC, this race is a focus of the season. We're looking forward to the next events - we plan to take the race one day at a time, in hopes of some good results."

Three seconds behind Kerr was second place finisher, Ian McKissic (Lenovo Cycling Team), with Marcel Aarden (Total Restoration Cycling Team) third.

Tara Whitten (Team Specialized Mazda Sampson) powered her way to a decisive win with a time of 2:59, establishing herself an eleven second lead over current National Road Race Champion, Alison Testroete (Total Restoration Cycling Team), with last year's Banff Bike Festival overall winner Julie Beveridge (Team Vienne Futurescope) in third place.

"I was happy with how the race went," said Whitten, "We have a pretty good women's field here, and we'll have some great racing over the next few days!"

The racing continues on Friday, June 18 with the 1A Sprint, 81km, sponsored by Collins Barrow Bow Valley LLP & Eric Harvie Professional Corporation.
Open Women

Time
Diff
1 Tara Whitten (Specialized Mazda Samson G Conseil)
2:59.1
2 Alison Testroete (Total Restoration Cycling Team)
3:10.4
0:11.3
3 Julie Beveridge (Vienne Futuroscope)
3:12.7
0:13.6
4 Steph Roorda (Incycle/Time to Track p/b Empowerment)
3:13.7
0:14.6
5 Leah Guloien (Total Restoration Cycling Team)
3:15.7
0:16.6
6 Laura Brown (Total Restoration Cycling Team)
3:17.4
0:18.3
7 Amy Dearden (Keller Rohrback Cycling Team)
3:21.9
0:22.8
8 Naomi Cooper (Trek Red Truck)
3:22.1
0:23.0
9 Leah Kirchmann (Trek Red Truck)
3:23.8
0:24.7
10 Marg Fedyna (ERTC/Revolution)
3:26.4
0:27.3
11 Jessica Hannah (Total Restoration Cycling Team)
3:26.7
0:27.6
12 Tricia Bailey (Keller Rohrback Cycling Team)
3:27.5
0:28.4
13 Karol-Ann Canuel (Vienne Futuroscope)
3:27.8
0:28.7
14 Christina Smith (Team Alberta)
3:28.1
0:29.0
15 Sarah Stewart (Total Restoration Cycling Team)
3:29.8
0:30.7
16 Tanya Salomon (Speed Theory)
3:30.6
0:31.5
17 Heather Kay (United Cycle Grassroots)
3:34.0
0:34.9
18 Shoshauna Laxson (Trek Red Truck)
3:35.8
0:36.7
19 Marylin Taylor (Speed Theory)
3:36.7
0:37.6
20 Pepper Harlton (Team Alberta)
3:37.0
0:37.9
21 Margie Smith (Wilson Mountain Sports)
3:37.6
0:38.5
22 Courtney Albert (Trek Red Truck)
3:37.7
0:38.6
23 Kristina Schultz (Mud, Sweat and Gears)
3:37.7
0:38.6
24 Andrea Bunnin (Team Saskatchewan)
3:38.4
0:39.3
25 Kailee Boyle (Speed Theory)
3:38.6
0:39.5
26 Liza Miranda (ERTC/Revolution)
3:41.3
0:42.2
27 Christine Chang (Keller Rohrback Cycling Team)
3:41.8
0:42.7
28 Anne Ewart (Trek Red Truck)
3:42.4
0:43.3
29 Julia Garnet (Team Saskatchewan)
3:45.8
0:46.7
30 Trudi Chalmers (Different Bikes)
3:46.8
0:47.7
31 Danika Medinski (ERTC/Revolution)
3:47.0
0:47.9
32 Susan Clarke (BCW Cycling)
3:47.8
0:48.7
33 Katy Curtis (Team Alberta)
3:48.1
0:49.0
34 Tanya Hopping (Team Alberta)
3:51.7
0:52.6
35 Alyssa Barker (United Cycle)
3:56.7
0:57.6
36 Rachel Canning (Local Ride Racing)
3:57.0
0:57.9
37 Kim Christie (Speed Theory)
3:58.4
0:59.3
38 Jenny Gayfer (Interior Grassland Cycling Club)
4:01.7
1:02.6
39 Laura Bennion (Speed Theory)
4:04.0
1:04.9
40 Bobbi Handford (Different Bikes)
4:04.2
1:05.1
41 Sandra Yaworski (Ind)
4:05.5
1:06.4
42 Anna Schappert (Team Manitoba)
4:11.0
1:11.9
43 Gail Wozny (Juventus Cycling Club )
4:13.1
1:14.0
44 Shawn Wenger (Interior Grassland Cycling Club)
4:14.7
1:15.6
45 Natalie Palmer (TCR Sport Lab)
4:28.3
1:29.2
46 Brittany Gillis (Horizon 100)
4:38.4
1:39.3
47 Brenda Guebert (Different Bikes)
4:51.7
1:52.6
48 Linda Sutherland (cyclobellas)
4:59.5
1:58.3
DNS Sonia Utting (Calgary Cycle p/b TOPGEAR)

Invited Men

1 Justin Kerr (Team H&R Block/Norco)
2:36.1
2 Ian McKissick (Lenovo Cycling Team)
2:39.1
0:03.0
3 Marcel Aarden (Total Restoration Cycling Team)
2:39.3
0:03.2
4 Cyrus Kangarloo (Total Restoration Cycling Team)
2:41.7
0:05.6
5 Aaron Schooler (Team H&R Block/Norco)
2:41.7
0:05.6
6 Cody Canning (ERTC/Revolution)
2:43.0
0:06.9
7 Cory Forrest (Total Restoration Cycling Team)
2:43.3
0:07.2
8 Jacob Schwingboth (Team H&R Block/Norco)
2:45.8
0:09.7
9 Patrick Stanko (Lenovo Cycling Team)
2:45.8
0:09.7
10 Tyler Trace (Trek Red Truck Racing p/b Mosaic Homes)
2:46.0
0:09.9
11 Ryan Iddings (Lenovo Cycling Team)
2:46.8
0:10.7
12 Sebastian Salas (Team H&R Block/Norco)
2:46.9
0:10.8
13 Bailey McKnight (CMC/Bow Cycle)
2:47.0
0:10.9
14 Shawn Bunnin (Total Restoration Cycling Team)
2:47.6
0:11.5
15 Dave Vukets (Trek Red Truck Racing p/b Mosaic Homes)
2:48.0
0:11.9
16 Dan Macdonald (Total Restoration Cycling Team)
2:50.3
0:14.2
17 Dan Skinner (Trek Red Truck Racing p/b Mosaic Homes)
2:51.0
0:14.9
18 Garrett McLeod (Team H&R Block/Norco)
2:51.4
0:15.3
19 Kris Dahl (CMC/Bow Cycle)
2:51.7
0:15.6
20 Mike Hone (Lenovo Cycling Team)
2:51.8
0:15.7
21 Colter Young (Juventus)
2:51.9
0:15.8
22 Curtis Deardon (Garneau Evolution )
2:52.1
0:16.0
23 Paul Tichelaar (ERTC/Revolution)
2:52.3
0:16.2
24 Manuel Fehlman (Pedalhead Road Works)
2:52.6
0:16.5
25 Craig DeBellefeuille (CMC/Bow Cycle)
2:52.8
0:16.7
26 Jared Green (Speed Theroy)
2:52.8
0:16.7
27 Zachary Taylor (Total Restoration Cycling Team)
2:53.0
0:16.9
28 Aaron Sands (Rundle Mountain Cycling Club )
2:53.4
0:17.3
29 Dustin Andrews (Team H&R Block/Norco)
2:53.5
0:17.4
30 Trevor Williams (Speed Theroy)
2:53.7
0:17.6
31 James Winter (Saskatchewan Cycling Association)
2:53.8
0:17.7
32 Justin Middleton (bicisport)
2:53.8
0:17.7
33 Trevor Gunderson (Pedalhead Road Works)
2:53.9
0:17.8
34 Craig Logan (Trek Red Truck Racing p/b Mosaic Homes)
2:54.7
0:18.6
35 Geoff O'Toole (Garneau Evolution )
2:54.9
0:18.8
36 Bredley Clifford (Saskatchewan Cycling Association)
2:56.1
0:20.0
37 Scott Manktelow (Rundle Mountain Cycling Club )
2:56.7
0:20.6
38 Mack Carson (Juventus)
2:57.0
0:20.9
39 Wes Richards (Lenovo Cycling Team)
2:57.1
0:21.0
40 Dan Wood (ERTC/Revolution)
2:57.4
0:21.3
41 Jeff Werner (Garneau Evolution )
2:57.9
0:21.8
42 Chris McGarity (Saskatchewan Cycling Association)
2:58.6
0:22.5
43 Cameron McKnight (ERTC/Revolution)
2:59.0
0:22.9
44 Spencer Smitheman (Juventus Cycling Club)
2:59.1
0:23.0
45 Guy Biggar (Saskatchewan Cycling Association)
2:59.2
0:23.1
46 Nic Jendzjowsky (Pedalhead Road Works)
3:00.5
0:24.4
47 Adam Thuss (Trek Red Truck Racing p/b Mosaic Homes)
3:00.7
0:24.6
48 Carson Bannon (Speed Theroy)
3:01.1
0:25.0
49 Zane Westerbeek (CMC/Bow Cycle)
3:01.2
0:25.1
50 Mike Laxdal (Westwood Cycle/Cannondale p/b Vision-Sports)
3:01.6
0:25.5
51 Keith Batstone (Rundle Mountain Cycling Club )
3:02.0
0:25.9
52 Lachlan Holmes (Speed Theroy)
3:02.2
0:26.1
53 Dallas Morris (Calgary Cycle p/b TOPGEAR)
3:02.6
0:26.5
54 Roddi Lega (Pedalhead Road Works)
3:03.3
0:27.2
55 Boris Martin (Trek Red Truck Racing p/b Mosaic Homes)
3:03.4
0:27.3
56 Brian Robinson (CMC/Bow Cycle)
3:03.6
0:27.5
57 Jason Thompson (Garneau Evolution )
3:03.8
0:27.7
58 Darren Anderson (Rundle Mountain Cycling Club )
3:04.0
0:27.9
59 Graham Rudge (ERTC/Revolution)
3:04.5
0:28.4
60 Matthew O'Hagan (Garneau Evolution )
3:05.4
0:29.3
61 Jason Kilmartin (Café Racers)
3:05.5
0:29.4
62 Frank Woolstencroft (Speed Theroy)
3:06.2
0:30.1
63 Jesse Collins (Calgary Cycle p/b TOPGEAR)
3:06.8
0:30.7
64 Anthony Steenbergen (Calgary Cycle p/b TOPGEAR)
3:07.1
0:31.0
65 Cuylar Conly (Saskatchewan Cycling Association)
3:07.1
0:31.0
66 Steven Soldan (Rundle Mountain Cycling Club)
3:07.1
0:31.0
67 Peter Toth (Juventus)
3:07.8
0:31.7
68 Shawn Ongers (Lenovo Cycling Team)
3:08.2
0:32.1
69 Shawn Taylor (Café Racers)
3:08.3
0:32.2
70 Jeff Bolstad (Calgary Cycle p/b TOPGEAR)
3:09.3
0:33.2
71 Kyle Anderson (Juventus Cycling Club)
3:10.7
0:34.6
72 Keth Jones (Garneau Evolution )
3:11.2
0:35.1
73 Dan Peters (Calgary Cycle p/b TOPGEAR)
3:11.9
0:35.8
74 Ryan Campbell (bicisport)
3:14.1
0:38.0
75 Jon Wood (ERTC/Revolution)
3:14.5
0:38.4
76 Sean Williams (Café Racers)
3:15.1
0:39.0
77 Nic Andrichuk (CMC/Bow Cycle)
3:15.2
0:39.1
78 Sam Loud (Westwood Cycle/Cannondale p/b Vision-Sports)
3:17.3
0:41.2
79 Stephen Ferris (Calgary Cycle p/b TOPGEAR)
3:17.3
0:41.2
80 Ryan Olson (Westwood Cycle/Cannondale p/b Vision-Sports)
3:19.3
0:43.2
81 Harley Borle (Speed Theroy)
3:20.3
0:44.2
82 Scott Laliberte (Westwood Cycle/Cannondale p/b Vision-Sports)
3:21.3
0:45.2
83 George Irwin (Juventus)
3:21.3
0:45.2
84 Simon Craig (Café Racers)
3:21.6
0:45.5
85 Shane Savage (Westwood Cycle/Cannondale p/b Vision-Sports)
3:24.0
0:47.9
86 Tom Ogryzlo (Pedalhead Road Works)
3:26.3
0:50.2
87 Bob Veroba (bicisport)
3:29.7
0:53.6
DNS Mark Webster (bicisport)
DNS Kent McKinon (Westwood Cycle/Cannondale p/b Vision-Sports)
DNS Mike Stickland (Pedalhead Road Works)

Cat 5

1 Justin Warsylewicz (bicisport)
3:01.2
2 Robert Welch (Speed Theory)
3:11.5
0:10.3
3 Eric Johnstone (Synergy Racing Club)
3:14.9
0:13.7
4 Joel Goralski (Ind)

3:18.2
0:17.0
5 Darcy Gullacher (Speed Theory)
3:22.9
0:21.7
6 David Donovan (TCR Sports Lab)
3:23.1
0:21.9
7 Dave Holmes (Speed Theory)
3:25.2
0:24.0
8 Dean Mitchell (bicisport)
3:27.9
0:26.7
9 Michael Burton (Juventus)
3:29.0
0:27.8
10 Robert Woolley (Speed Theory)
3:29.5
0:28.3
11 Peter Gabris (bicisport)
3:34.0
0:32.8
12 Reinier Paauwe (Speed Theory)
3:39.3
0:38.1
13 Clive Burke (Juventus)
3:52.2
0:51.0
14 Brenda Seasons (TCR Sportlab)
4:02.7
1:01.5
15 Gilles Lepage (Rundle Mountain Cycling Club)
4:06.4
1:05.2
16 Jill Sagan (TCR Sport Lab)
4:51.8
1:50.6

Cat 4

1 Mark Mcconnell (Synergy Racing)
2:52.9
2 Aaron Falkenberg (ERTC/Revolution)
3:02.7
0:09.8
3 Jeff Perron (Rundle Mountain Cycling Club)
3:05.8
0:12.9
4 Stephen Lund (Team Niklas)
3:07.9
0:15.0
5 Eric Jensen (Rundle Mountain Cycling Club)
3:09.3
0:16.4
6 Chris Taylor (Rundle Mountain Cycling Club)
3:12.7
0:19.8
7 Nicolas Garcia (Synergy Racing)
3:15.2
0:22.3
8 Rob Found (Velocity Cycling Club)
3:15.6
0:22.7
9 Brent Bittner (Rundle Mountain Cycling Club)
3:15.9
0:23.0
10 Rick Courtney (ind)

3:23.7
0:30.8
11 Michael Godfrey (Speed Theory)
3:24.6
0:31.7
12 Peter King (Blizzard)
3:29.8
0:36.9
13 Chad Kowalenko (Escape Velocity)
3:32.7
0:39.8
14 Jeff Bell (Highwood Cycling)
3:39.5
0:46.6
15 Carl Miiller (Speed Theory)
3:41.0
0:48.1

Cat 2/3

1 Mike Sidic (Team H&R Block/Norco)
2:48.8
2 Ian Auld (Calgary Cycle p/b TOPGEAR)
2:54.1
0:05.3
3 Ryan Correy (CMC/Bow Cycle)
3:01.0
0:12.2
4 Graham Courtney (Synergy Cycle)
3:02.7
0:13.9
5 Mackenzie Garvin (CMC/Bow Cycle)
3:05.8
0:17.0
6 Austin Miller (bicisport)
3:09.6
0:20.8
7 Stven Grandy (Glotman Simpson Cycling)
3:10.4
0:21.6
8 Dennis Bland (Speed Theory)
3:19.0
0:30.2
9 Travis Eltom (Pedalhead Road Works)
3:25.0
0:36.2
10 Mark Franklin (Calgary Cycle p/b TOPGEAR)
3:25.8
0:37.0
11 Matt Wheatley (Juventus)
3:28.2
0:39.4