The stage four time trial shook up the standings once again at the Tour de Beauce. To no one's surprise, Ben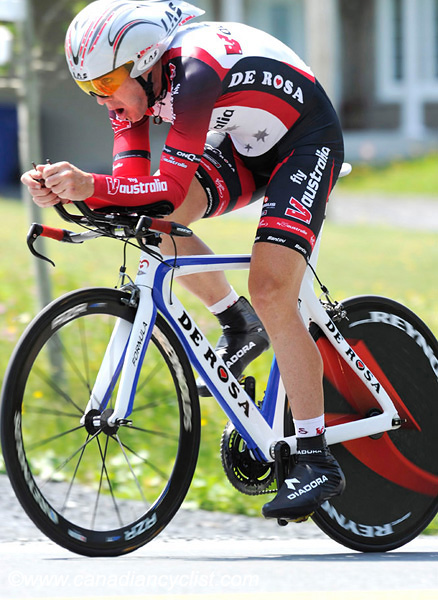 Day (Fly V Australia) won the 20 kilometre race against the clock, and took the Yellow jersey off the back of Marc de Maar (United Healthcare p/b Maxxis) less than 24 hours after the Dutchman had donned it. Day led an Australian sweep of the podium, with Nathan O'Neill (Bahati Foundation) taking second and Day's team mate Darren Rolfe third. Frank Parisien (SpiderTech p/b Planet Energy) was the top Canadian, in fourth place. Day also took the lead in the Points competition, while David Boily (SpiderTech p/b Planet Energy) retained the Best Young Rider jersey after a strong 17th place finish in the time trial.
The 20 kilometre out and back course was a rolling one, with a tight turn in the middle after a fast downhill section. Gusty breezes gave the riders a headwind on the way out and tailwind coming back. Jamie Sparling (Team Canada) set the first fast time of 26:36, which held up for 25 riders, before O'Neill smashed it by 32 seconds. O'Neill stayed in the top spot until Day finished a full minute faster and took control of the race. Rolfe rode a few places later to slot into third. Former Yellow jersey holder de Maar finished well back in 21st place, with second-placed Derrick St-John (Garneau Club Chassures) in 24th.

After the calculations were completed, Day now has a 46 second lead over team mate Rolfe, with Valeriy Kobzarenko (Team Type1) in third at 1:02. de Maar has dropped to fourth at 1:18. Parisien is now the top Canadian in the overall standings, in sixth at 1:34, with St-John down to eighth, 1:36 back. Boily is ninth at 1:49 and Ryan Roth (SpiderTech p/b Planet Energy) tenth at 1:52.

"I knew my form was good," commented Day, "but I hadn't expected to come into the time trial 39 seconds behind de Maar, so that was a bit of a worry. I'm very pleased to be in the lead, and I know we have a strong team to defend it over the last two days. It's a special race for me [he won in 2007, and subsequently married Isabel Vachon from the race organization], so it would be special to win."

Parisien, who is not generally the top time trialist on the SpiderTech squad, was pleased with his ride. "I didn't ride as well as I had wanted yesterday on [Mont Megantic], so I was a little bit angry today, and it helped me ride better. I hope to improve on my eighth place at Beauce last year, and maybe finish top-five, so this will help."

Race Notes

- Race leader de Maar and his team director Gord Fraser were angry with the officials, who claimed that the nose of his saddle pointed down too much, and needed to be raised. Fraser explained that de Maar has problems with an enlarged prostate [for which he has had surgery], and uses a special saddle. "If you look at it, you can see that it dips in the middle, but from front to back it is level. We broke a bolt trying to get it to the level they wanted. It is the same one he raced in Tour of California, and that he used last weekend at the Chrono Gatineau, with the same officials, and it was okay then."

Fraser also said that the same officials had passed the saddle of Ryan Roth, even though it was pointing down further than de Maar's [according to Fraser]. When he pointed this out, the officials made Roth adjust his saddle.

- Tomorrow the race moves to Quebec City for 11 laps of a 11.63 kilometre circuit through Old Quebec and along the St Lawrence river. The circuit is similar to previous years, but now goes through the Plains of Abraham national park instead of along the Grande Allée. It is the actual route which will be used for the ProTour race in September.
| | | |
| --- | --- | --- |
| Stage 4: Saint-René ITT, 19.28 km | Time | Diff |
| 1 Benjamin Day (Aus) Fly V Australia | 0:25:02 | |
| 2 Nathan O'Neil (Aus) Bahati Foundation | 0:26:03 | 1:01 |
| 3 Darren Rolfe (Aus) Fly V Australia | 0:26:03 | 1:01 |
| 4 François Parisien (Can) Spidertech p/b Planet Energy | 0:26:16 | 1:14 |
| 5 Caleb Fairly (USA) Felt-Holowesko Partners-Garmin U23 | 0:26:20 | 1:18 |
| 6 Morgan Schmitt (USA) Unitedhealthcare p/b Maxxis | 0:26:25 | 1:23 |
| 7 Ryan Roth (Can) Spidertech p/b Planet Energy | 0:26:27 | 1:25 |
| 8 Jay Thomson (RSA) Fly V Australia | 0:26:28 | 1:26 |
| 9 Francisco Mancebo Perez (Esp) Heraklio-Murcia | 0:26:29 | 1:27 |
| 10 Valeriy Kobzarenko (Ukr) Team Type 1 | 0:26:29 | 1:27 |
| 11 Jamie Sparling (Can) Canadian National Team | 0:26:35 | 1:33 |
| 12 Jai Crawford (Aus) Fly V Australia | 0:26:36 | 1:34 |
| 13 Darren Lill (RSA) Fly V Australia | 0:26:36 | 1:34 |
| 14 Jackson Stewart (USA) BMC Racing Team | 0:26:39 | 1:37 |
| 15 Nic Hamilton (Can) Canadian National Team | 0:26:46 | 1:44 |
| 16 Hugo Houle (Can) Garneau Club Chaussures | 0:26:49 | 1:47 |
| 17 David Boily (Can) Spidertech p/b Planet Energy | 0:26:49 | 1:47 |
| 18 Will Routley (Can) Canadian National Team | 0:26:54 | 1:52 |
| 19 Chris Butler (USA) BMC Racing Team | 0:26:54 | 1:52 |
| 20 Jeff Louder (USA) BMC Racing Team | 0:26:57 | 1:55 |
| 21 Marc De Maar (Ned) Unitedhealthcare p/b Maxxis | 0:26:59 | 1:57 |
| 22 Chris Baldwin (USA) Unitedhealthcare p/b Maxxis | 0:27:00 | 1:58 |
| 23 Christopher Jones (USA) Team Type 1 | 0:27:02 | 2:00 |
| 24 Derrick St-John (Can) Garneau Club Chaussures | 0:27:10 | 2:08 |
| 25 Jason Donald (USA) Bahati Foundation | 0:27:10 | 2:08 |
| 26 Corey Collier (USA) Bahati Foundation | 0:27:11 | 2:09 |
| 27 Sergiy Grechyn (Ukr) Amore & Vita - Conad | 0:27:14 | 2:12 |
| 28 Charles Dionne (Can) Fly V Australia | 0:27:15 | 2:13 |
| 29 John Murphy (USA) BMC Racing Team | 0:27:22 | 2:20 |
| 30 Jaume Rovira Pous (Esp) Heraklio-Murcia | 0:27:22 | 2:20 |
| 31 Javier Megias Leal (Esp) Team Type 1 | 0:27:29 | 2:27 |
| 32 Holger Slevers (Ger) Sc Wledenbruck 2000 | 0:27:30 | 2:28 |
| 33 Jean-Sébastien Perron (Can) Garneau Club Chaussures | 0:27:31 | 2:29 |
| 34 Björn Papstein (Ger) Sc Wledenbruck 2000 | 0:27:43 | 2:41 |
| 35 Thomas Rabou (Ned) Team Type 1 | 0:27:50 | 2:48 |
| 36 Lucas Euser (USA) Spidertech p/b Planet Energy | 0:27:55 | 2:53 |
| 37 Guillaume Boivin (Can) Spidertech p/b Planet Energy | 0:27:57 | 2:55 |
| 38 Max Jenkins (USA) Unitedhealthcare p/b Maxxis | 0:27:58 | 2:56 |
| 39 David Tanner (Aus) Fly V Australia | 0:27:59 | 2:57 |
| 40 Bobby Lea (USA) Bahati Foundation | 0:28:04 | 3:02 |
| 41 Vincent Quirion (Can) Équipe Québec | 0:28:09 | 3:07 |
| 42 Pieter Seyfert (RSA) DCM | 0:28:11 | 3:09 |
| 43 Alex Howes (USA) Felt-Holowesko Partners-Garmin U23 | 0:28:13 | 3:11 |
| 44 Volodymyr Bileka (Ukr) Amore & Vita - Conad | 0:28:14 | 3:12 |
| 45 Jar Deutschmann (Ger) Sc Wledenbruck 2000 | 0:28:14 | 3:12 |
| 46 Arnaud Papillon (Can) Équipe Québec | 0:28:14 | 3:12 |
| 47 Keir Plaice (Can) Canadian National Team | 0:28:18 | 3:16 |
| 48 William Dugan (USA) Team Type 1 | 0:28:19 | 3:17 |
| 49 Deon Locke (Aus) CKT Champion System | 0:28:19 | 3:17 |
| 50 Jaroslaw Dabrowski (Pol) Amore & Vita - Conad | 0:28:24 | 3:22 |
| 51 André Tremblay (Can) Équipe Québec | 0:28:27 | 3:25 |
| 52 Michael Joannisse (Can) Canadian National Team | 0:28:27 | 3:25 |
| 53 Jesse Reams (Can) Garneau Club Chaussures | 0:28:27 | 3:25 |
| 54 Jean-Michel Lachance (Can) Équipe Québec | 0:28:28 | 3:26 |
| 55 Jean-François Racine (Can) Garneau Club Chaussures | 0:28:29 | 3:27 |
| 56 Tim Abercrombie (Can) Garneau Club Chaussures | 0:28:33 | 3:31 |
| 57 Benjamin Martel (Can) Team Spirit-CIBC Wood Gundy | 0:28:35 | 3:33 |
| 58 Chad Beyer (USA) BMC Racing Team | 0:28:36 | 3:34 |
| 59 Alex Hagman (USA) Bahati Foundation | 0:28:39 | 3:37 |
| 60 Andrew Pinfold (Can) Unitedhealthcare p/b Maxxis | 0:28:47 | 3:45 |
| 61 Bruno Langlois (Can) Spidertech p/b Planet Energy | 0:28:55 | 3:53 |
| 62 Jacques Janse van Rensburg (RSA) DCM | 0:28:56 | 3:54 |
| 63 Fabio Calabria (Aus) Team Type 1 | 0:29:01 | 3:59 |
| 64 Raphael Gagné (Can) Équipe Québec | 0:29:05 | 4:03 |
| 65 Danny Summerhill (USA) Felt-Holowesko Partners-Garmin U23 | 0:29:06 | 4:04 |
| 66 Pascal Bussières (Can) Team Spirit-CIBC Wood Gundy | 0:29:08 | 4:06 |
| 67 Mart Ojavee (Est) CKT Champion System | 0:29:19 | 4:17 |
| 68 Maint Berkenbosch (Ned) Global Cycling Team | 0:29:22 | 4:20 |
| 69 Rafael Serrano Fernandez (Esp) Heraklio-Murcia | 0:29:24 | 4:22 |
| 70 Yuriy Metlushenko (Ukr) Amore & Vita - Conad | 0:29:27 | 4:25 |
| 71 Andreas Keuser (Ger) Restore Cycling Team Holland | 0:29:30 | 4:28 |
| 72 Yannick Bédard (Can) Team Spirit-CIBC Wood Gundy | 0:29:30 | 4:28 |
| 73 Travis Allen (RSA) DCM | 0:29:30 | 4:28 |
| 74 Hector Gonzalez Baeza (Esp) Heraklio-Murcia | 0:29:34 | 4:32 |
| 75 Jeffrey Wiersma (Ned) Restore Cycling Team Holland | 0:29:35 | 4:33 |
| 76 Jorne Videler (Ned) Global Cycling Team | 0:29:35 | 4:33 |
| 77 Antoine Matteau (Can) Team Spirit-CIBC Wood Gundy | 0:29:44 | 4:42 |
| 78 Ruurd-Jan Zwarts (Ned) Global Cycling Team | 0:29:46 | 4:44 |
| 79 Flavio Pasquino (Ned) Restore Cycling Team Holland | 0:29:47 | 4:45 |
| 80 Clinton Barrow (RSA) DCM | 0:29:51 | 4:49 |
| 81 Vincent Veilleux (Can) Team Spirit-CIBC Wood Gundy | 0:29:55 | 4:53 |
| 82 Aroussen Laflamme (Can) Team Spirit-CIBC Wood Gundy | 0:29:58 | 4:56 |
| 83 Walker Savidge (USA) Felt-Holowesko Partners-Garmin U23 | 0:30:00 | 4:58 |
| 84 Oliver Johr (Ger) Sc Wledenbruck 2000 | 0:30:02 | 5:00 |
| 85 Matthew Rice (Aus) Bahati Foundation | 0:30:04 | 5:02 |
| 86 Max Durtschi (USA) Felt-Holowesko Partners-Garmin U23 | 0:30:12 | 5:10 |
| 87 Stefano Maiorana (RSA) DCM | 0:30:14 | 5:12 |
| 88 Erik Kooiman (Ned) Global Cycling Team | 0:30:15 | 5:13 |
| 89 Danny Vrolijk (Ned) Restore Cycling Team Holland | 0:30:18 | 5:16 |
| 90 Jamie Ball (RSA) DCM | 0:30:19 | 5:17 |
| 91 Chris Barton (USA) BMC Racing Team | 0:30:23 | 5:21 |
| 92 Harm Bronkhorst (Ned) Global Cycling Team | 0:30:25 | 5:23 |
| 93 Hendrik Werner (Ger) Sc Wledenbruck 2000 | 0:30:29 | 5:27 |
| 94 Joris Boillat (Sui) CKT Champion System | 0:30:32 | 5:30 |
| 95 Salvador Guardiola Tora (Esp) Heraklio-Murcia | 0:30:44 | 5:42 |
| 96 Chris Heiberg (Ned) Restore Cycling Team Holland | 0:30:45 | 5:43 |
| 97 William Blackburn (Can) Équipe Québec | 0:30:46 | 5:44 |
| 98 Peter Van Agtmaal (Ned) Restore Cycling Team Holland | 0:30:47 | 5:45 |
| 99 Jock (Rodney) Green (RSA) DCM | 0:30:47 | 5:45 |
| 100 Roger Beuchat (Sui) CKT Champion System | 0:30:52 | 5:50 |
| 101 Fausto Fognini (Ita) Amore & Vita - Conad | 0:30:55 | 5:53 |
| 102 Holger Burkhardt (Ger) CKT Champion System | 0:31:00 | 5:58 |
| 103 Benjamin Stauder (Ger) CKT Champion System | 0:31:13 | 6:11 |
| 104 Dennis Klemme (Ger) Sc Wledenbruck 2000 | 0:31:21 | 6:19 |
| 105 Tim Nederlof (Ned) Global Cycling Team | 0:31:25 | 6:23 |
| 106 Laurent Dallaire (Can) Équipe Québec | 0:31:44 | 6:42 |
| 107 Marc Den Hoed (Ned) Restore Cycling Team Holland | 0:31:55 | 6:53 |
| 108 Bernardo Colex Tepox (Mex) Amore & Vita - Conad | 0:32:14 | 7:12 |
| 109 Marvin Guzman (Can) Team Spirit-CIBC Wood Gundy | 0:33:17 | Horsdélai |
GC

1 Benjamin Day (Aus) Fly V Australia
12:27:19
2 Darren Rolfe (Aus) Fly V Australia
at 0:46
3 Valeriy Kobzarenko (Ukr) Team Type 1
1:02
4 Marc De Maar (Ned) Unitedhealthcare p/b Maxxis
1:18
5 Morgan Schmitt (USA) Unitedhealthcare p/b Maxxis
s.t.
6 François Parisien (Can) Spidertech p/b Planet Energy
1:34
7 Jai Crawford (Aus) Fly V Australia
1:36
8 Derrick St-John (Can) Garneau Club Chaussures
s.t.
9 David Boily (Can) Spidertech p/b Planet Energy
1:49
10 Ryan Roth (Can) Spidertech p/b Planet Energy
1:52
11 Björn Papstein (Ger) Sc Wledenbruck 2000
2:21
12 Christopher Jones (USA) Team Type 1
2:40
13 Francisco Mancebo Perez (Esp) Heraklio-Murcia
2:48
14 Thomas Rabou (Ned) Team Type 1
2:50
15 Chris Baldwin (USA) Unitedhealthcare p/b Maxxis
2:52
16 Chris Butler (USA) BMC Racing Team
2:54
17 Caleb Fairly (USA) Felt-Holowesko Partners-Garmin U23
2:57
18 Will Routley (Can) Canadian National Team
3:06
19 Lucas Euser (USA) Spidertech p/b Planet Energy
3:07
20 Jaroslaw Dabrowski (Pol) Amore & Vita - Conad
3:17
21 Sergiy Grechyn (Ukr) Amore & Vita - Conad
3:28
22 Hugo Houle (Can) Garneau Club Chaussures
3:29
23 Darren Lill (RSA) Fly V Australia
3:36
24 Jackson Stewart (USA) BMC Racing Team
3:41
25 Volodymyr Bileka (Ukr) Amore & Vita - Conad
3:58
26 Jason Donald (USA) Bahati Foundation
4:20
27 Max Jenkins (USA) Unitedhealthcare p/b Maxxis
4:27
28 Corey Collier (USA) Bahati Foundation
s.t.
29 Jacques Janse van Rensburg (RSA) DCM
4:47
30 Alex Howes (USA) Felt-Holowesko Partners-Garmin U23
4:52
31 Holger Slevers (Ger) Sc Wledenbruck 2000
5:13
32 William Dugan (USA) Team Type 1
5:25
33 Alex Hagman (USA) Bahati Foundation
5:39
34 Jeff Louder (USA) BMC Racing Team
5:41
35 Chad Beyer (USA) BMC Racing Team
5:55
36 Benjamin Martel (Can) Team Spirit-CIBC Wood Gundy
5:56
37 Arnaud Papillon (Can) Équipe Québec
6:07
38 Andreas Keuser (Ger) Restore Cycling Team Holland
6:15
39 Raphael Gagné (Can) Équipe Québec
6:35
40 Charles Dionne (Can) Fly V Australia
6:57
41 Travis Allen (RSA) DCM
7:00
42 Jeffrey Wiersma (Ned) Restore Cycling Team Holland
7:04
43 Yannick Bédard (Can) Team Spirit-CIBC Wood Gundy
7:14
44 Vincent Quirion (Can) Équipe Québec
7:38
45 Deon Locke (Aus) CKT Champion System
7:39
46 André Tremblay (Can) Équipe Québec
8:02
47 Oliver Johr (Ger) Sc Wledenbruck 2000
8:05
48 Pascal Bussières (Can) Team Spirit-CIBC Wood Gundy
8:16
49 Nathan O'Neil (Aus) Bahati Foundation
8:17
50 Jay Thomson (RSA) Fly V Australia
8:20
51 Danny Summerhill (USA) Felt-Holowesko Partners-Garmin U23
8:22
52 Bernardo Colex Tepox (Mex) Amore & Vita - Conad
8:27
53 Rafael Serrano Fernandez (Esp) Heraklio-Murcia
8:49
54 Tim Abercrombie (Can) Garneau Club Chaussures
9:01
55 Peter Van Agtmaal (Ned) Restore Cycling Team Holland
9:09
56 Antoine Matteau (Can) Team Spirit-CIBC Wood Gundy
9:23
57 Clinton Barrow (RSA) DCM
10:05
58 Nic Hamilton (Can) Canadian National Team
10:08
59 Maint Berkenbosch (Ned) Global Cycling Team
10:18
60 Keir Plaice (Can) Canadian National Team
10:24
61 Bobby Lea (USA) Bahati Foundation
10:31
62 Jean-Sébastien Perron (Can) Garneau Club Chaussures
10:38
63 Jean-François Racine (Can) Garneau Club Chaussures
10:59
64 Pieter Seyfert (RSA) DCM
11:11
65 Joris Boillat (Sui) CKT Champion System
11:33
66 Jorne Videler (Ned) Global Cycling Team
13:00
67 David Tanner (Aus) Fly V Australia
13:21
68 Erik Kooiman (Ned) Global Cycling Team
13:21
69 Jaume Rovira Pous (Esp) Heraklio-Murcia
13:25
70 Jock (Rodney) Green (RSA) DCM
13:53
71 Harm Bronkhorst (Ned) Global Cycling Team
13:55
72 Mart Ojavee (Est) CKT Champion System
14:00
73 Andrew Pinfold (Can) Unitedhealthcare p/b Maxxis
14:03
74 Jar Deutschmann (Ger) Sc Wledenbruck 2000
14:10
75 Jamie Sparling (Can) Canadian National Team
14:12
76 John Murphy (USA) BMC Racing Team
14:25
77 Dennis Klemme (Ger) Sc Wledenbruck 2000
15:27
78 Hector Gonzalez Baeza (Esp) Heraklio-Murcia
16:27
79 Danny Vrolijk (Ned) Restore Cycling Team Holland
16:36
80 Guillaume Boivin (Can) Spidertech p/b Planet Energy
16:51
81 Yuriy Metlushenko (Ukr) Amore & Vita - Conad
17:00
82 Fausto Fognini (Ita) Amore & Vita - Conad
17:11
83 Matthew Rice (Aus) Bahati Foundation
s.t.
84 Bruno Langlois (Can) Spidertech p/b Planet Energy
17:17
85 Roger Beuchat (Sui) CKT Champion System
17:23
86 Benjamin Stauder (Ger) CKT Champion System
17:25
87 Stefano Maiorana (RSA) DCM
17:27
88 Max Durtschi (USA) Felt-Holowesko Partners-Garmin U23
17:57
89 Aroussen Laflamme (Can) Team Spirit-CIBC Wood Gundy
18:36
90 Jean-Michel Lachance (Can) Équipe Québec
20:18
91 Michael Joannisse (Can) Canadian National Team
20:26
92 Holger Burkhardt (Ger) CKT Champion System
21:06
93 Chris Barton (USA) BMC Racing Team
21:20
94 Walker Savidge (USA) Felt-Holowesko Partners-Garmin U23
21:29
95 Jesse Reams (Can) Garneau Club Chaussures
21:37
96 Jamie Ball (RSA) DCM
23:45
97 Hendrik Werner (Ger) Sc Wledenbruck 2000
24:24
98 Vincent Veilleux (Can) Team Spirit-CIBC Wood Gundy
24:26
99 Laurent Dallaire (Can) Équipe Québec
24:35
100 William Blackburn (Can) Équipe Québec
26:15
101 Salvador Guardiola Tora (Esp) Heraklio-Murcia
30:34
102 Flavio Pasquino (Ned) Restore Cycling Team Holland
31:03
103 Tim Nederlof (Ned) Global Cycling Team
31:23
104 Javier Megias Leal (Esp) Team Type 1
40:40
105 Fabio Calabria (Aus) Team Type 1
40:56
106 Ruurd-Jan Zwarts (Ned) Global Cycling Team
52:45
107 Chris Heiberg (Ned) Restore Cycling Team Holland
53:26
108 Marc Den Hoed (Ned) Restore Cycling Team Holland
58:29
Points

1 Benjamin Day (Aus) Fly V Australia
29 pts
2 Andrew Pinfold (Can) Unitedhealthcare p/b Maxxis
28
3 Sergiy Grechyn (Ukr) Amore & Vita - Conad
26
4 Charles Dionne (Can) Fly V Australia
26
5 Derrick St-John (Can) Garneau Club Chaussures
25
6 Valeriy Kobzarenko (Ukr) Team Type 1
25
7 Darren Rolfe (Aus) Fly V Australia
25
8 Rafael Serrano Fernandez (Esp) Heraklio-Murcia
20
9 Ryan Roth (Can) Spidertech p/b Planet Energy
19
10 Morgan Schmitt (USA) Unitedhealthcare p/b Maxxis
18
11 Caleb Fairly (USA) Felt-Holowesko Partners-Garmin U23
17
12 David Tanner (Aus) Fly V Australia
15
13 Marc De Maar (Ned) Unitedhealthcare p/b Maxxis
15
14 François Parisien (Can) Spidertech p/b Planet Energy
15
15 Yuriy Metlushenko (Ukr) Amore & Vita - Conad
14
16 Nathan O'Neil (Aus) Bahati Foundation
14
17 Jorne Videler (Ned) Global Cycling Team
12
18 Björn Papstein (Ger) Sc Wledenbruck 2000
12
19 Jamie Sparling (Can) Canadian National Team
11
20 Jay Thomson (RSA) Fly V Australia
11
21 Christopher Jones (USA) Team Type 1
11
22 Jeff Louder (USA) BMC Racing Team
11
23 Danny Summerhill (USA) Felt-Holowesko Partners-Garmin U23
10
24 Fabio Calabria (Aus) Team Type 1
9
25 Jaroslaw Dabrowski (Pol) Amore & Vita - Conad
9
26 Francisco Mancebo Perez (Esp) Heraklio-Murcia
9
27 Guillaume Boivin (Can) Spidertech p/b Planet Energy
8
28 Roger Beuchat (Sui) CKT Champion System
8
29 Volodymyr Bileka (Ukr) Amore & Vita - Conad
8
30 Jackson Stewart (USA) BMC Racing Team
8
31 Jai Crawford (Aus) Fly V Australia
8
32 Hugo Houle (Can) Garneau Club Chaussures
6
33 David Boily (Can) Spidertech p/b Planet Energy
6
34 Thomas Rabou (Ned) Team Type 1
5
35 Arnaud Papillon (Can) Équipe Québec
4
36 Holger Slevers (Ger) SC Wledenbruck 2000
3
37 Lucas Euser (USA) Spidertech p/b Planet Energy
3
38 Darren Lill (RSA) Fly V Australia
3
39 Alex Howes (USA) Felt-Holowesko Part
2
40 Walker Savidge (USA) Felt-Holowesko Part
2
41 Nic Hamilton (Can) Canadian National Team
2
42 André Tremblay (Can) Équipe Québec
1
43 Jean-Sébastien Perron (Can) Garneau Club Chaussures
1
44 Will Routley (Can) Canadian National Team
1
45 John Murphy (USA) BMC Racing Team
1

KOM

1 Rafael Serrano Fernandez (Esp) Heraklio-Murcia
28 pts
2 Valeriy Kobzarenko (Ukr) Team Type 1
28
3 Derrick St-John (Can) Garneau Club Chaussures
21
4 Marc De Maar (Ned) Unitedhealthcare p/b Maxxis
20
5 Björn Papstein (Ger) Sc Wledenbruck 2000
19
6 Sergiy Grechyn (Ukr) Amore & Vita - Conad
18
7 Danny Summerhill (USA) Felt-Holowesko Partners-Garmin U23
17
8 Jay Thomson (RSA) Fly V Australia
16
9 Darren Rolfe (Aus) Fly V Australia
14
10 Will Routley (Can) Canadian National Team
12
11 François Parisien (Can) Spidertech p/b Planet Energy
12
12 Jeff Louder (USA) BMC Racing Team
12
13 Javier Megias Leal (Esp) Team Type 1
9
14 Francis Mancebo Perez (Esp) Francisheraklio-Murcia
7
15 Walker Savidge (USA) Felt-Holowesko Partners-Garmin U
5
16 Jaroslaw Dabrowski (Pol) Amore & Vita - Conad
5
17 John Murphy (USA) BMC Racing Team
5
18 Andreas Keuser (Ger) Restore Cycling Team Holland
4
19 Matthew Rice (Aus) Bahati Foundation
3
20 Jean-Sébastien Perron (Can) Garneau Club Chaussures
3
21 Morgan Schmitt (USA) Unitedhealthcare p/b Maxxis
3
22 Chris Baldwin (USA) Unitedhealthcare p/b Maxxis
2
23 Chris Butler (USA) BMC Racing Team
2
24 Bobby Lea (USA) Bahati Foundation
2
25 Benjamin Day (Aus) Fly V Australia
2
26 Lucas Euser (USA) Spidertech p/b Planet Energy
1
27 Chris Barton (USA) BMC Racing Team
1
28 David Boily (Can) Spidertech p/b Planet Energy
1

Team GC

1 Fly V Australia
37:24:13
2 Spidertech p/b Planet Energy
at 2:46
3 Unitedhealthcare p/b Maxxis
3:12
4 Team Type 1
3:57
5 BMC Racing Team
5:58
6 Amore & Vita - Conad
8:26
7 Bahati Foundation
9:34
8 Garneau Club Chaussures
10:20
9 SC Wledenbruck 2000
11:35
10 Felt-Holowesko Partners-Garmin U23
12:54
11 Équipe Québec
17:26
12 DCM
17:56
13 Team Spirit-CIBC Wood Gundy
18:35
14 Restore Cycling Team Holland
19:12
15 Canadian National Team
19:17
16 Heraklio-Murcia
23:01
17 CKT Champion System
29:09
18 Global Cycling Team
33:32