June 19/10 18:02 pm - Test of Metal: full results, report and photos- UPDATED

Posted by Editoress on 06/19/10

Geoff Kabush demonstrated once again why he is considered Canada's pre-eminent mountain biker by beating a stellar field and setting a new course record in the 15th running of the North Shore Credit Union Test of Metal in Squamish.
Photo gallery by Patrick Graham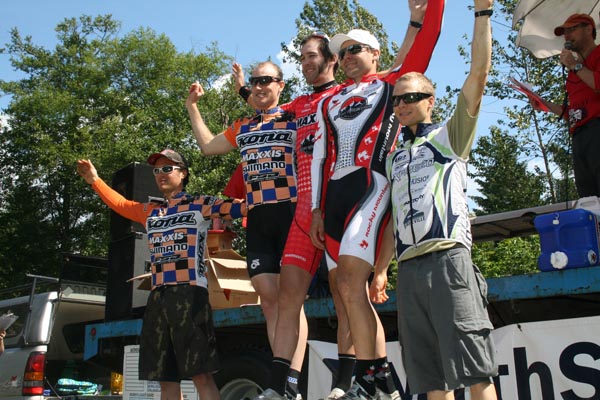 Kabush's finishing time of 2:29:25 shaved 45 seconds off last year's winning time set by Max Plaxton.

On the women's side, Catharine Pendrel defended her title with a time of 2:51:53. It was Pendrel's third Test of Metal title in the past four years. Second place for the men was Kris Sneddon (2:31:25) followed by Marty Lazarski (2:39:00). Sandra Walter (3:06:43) took second place for the won and Catherine Vipond (3:08:25) was third.
The men's race was unique featuring every past winner of the Test of Metal since its first running in 1996. Kabush and Plaxton were joined in the starting chute by past champions Carter Hovey, Michael Pruner, Chad Miles, Ruedi Schnyder, Andrew Kyle, Ricky Federeau and Neal Kindree.

T0M press release
Men

1 Kabush (Maxxis/RMB) 2:29:25. Course record
2 Kris Sneddon (Kona) at 1:40
3 Marty Lazarski (RMB) 3rd 9:15
4 Cory Wallace (Kona) 9:24
5 Matt Hadley (Xpresso) 5th 11:51
Women

1 Catharine Pendrel (Luna) 2:52:53
2 Sandra Walter (Local Racing) at 14:50
3 Catherine Vipond (Norco) 16:32
4 Wendy Simms (Kona) 4th 16:32
5 Brandi Heisterman, 25:53
For full results download the PDF